This article has links to products and services we love, which we may make commission from.

You are going to love your day trip to Key West (Cayo Hueso) because the Conch Republic is so much fun!
Cool architecture, lively bars, glorious weather, water sports, and Key Lime Pie; there are many reasons celebrities have become 'Freshwater Conches', choosing to settle in the southernmost point in the continental United States.
Key West is part of the Florida Keys archipelago.
To get there you drive over the Seven Mile Bridge, usually from Miami, or let someone else do the driving by booking a professional tour company.
We did this one day Key West tour from Miami and recommend it; an honest review and tour tips are provided at the end of this guide.
Now's let's dive into Hemingway's 'St. Tropez of the poor', Key West.
You may also like our guide, romantic things to do in Key West and our advice on how to spend three days in Miami.
Key West Day Trip: One Day Itinerary
If you are able, walking around Key West is easy and a great way to see the city which is like an open air museum with its old buildings and historic signs.
If you'd prefer to save time and be kind to your feet, consider the Conch Train Tour or the Key West Trolley.
While one day in Key West is going to be a whirlwind tour, you can pack a lot in as the island is compact.
However, you won't be able to do absolutely everything in our Key West day trip guide, so you will need to make a list of priorities – plan to do three, then see.
One of our favorite things to do in Key West is to sit by the marina, watching people tend to their boats. Bliss!
Things to Do on Duval Street
To help you get your bearings, this guide is going to be split into two sections.
The first section will share the best things to do at Duval Street and other must-do in Key West activities just off the main drag.
Since you are exploring as much of Key West in a day as possible, we're going to start with the farthest away points, Upper Duval and Bahama Village, and work back along Duval Street, sidestepping a couple of times so you don't miss out on any of the fun things to do.
Most of the sightseeing in Key West is done in the Historic District.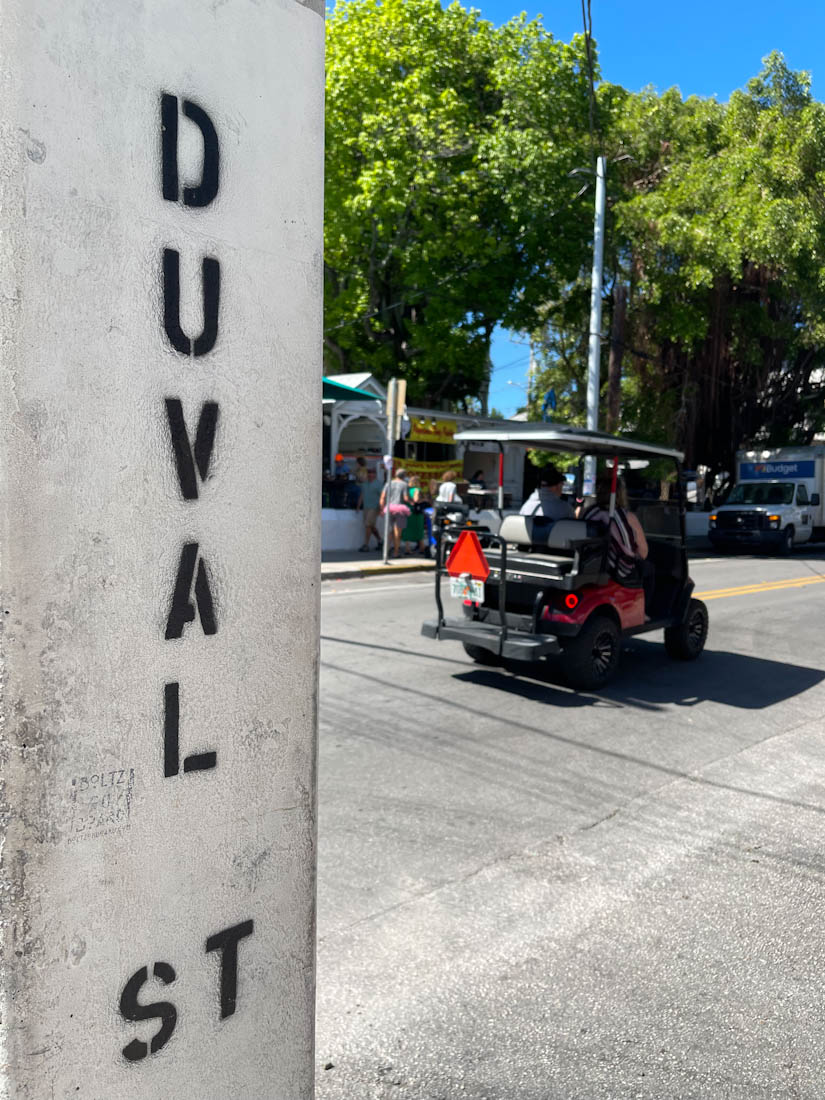 Southernmost Point Buoy
Before visiting Key West, most people know the cool fact that the city is the southernmost point in the continental USA and to celebrate this, there is a monument at the tip of the island called the Southernmost Point Buoy.
There is usually a short line for photos at the buoy, but it moves fast and people are usually willing to extend a hand and take a photo for you.
The marker states that the point where the colorful buoy stands is 90 miles to Cuba.
And no, you can't see Cuba, even if you squint!
Most tours like the narrated Conch Train Tour, stop at the Southernmost Point Buoy and it is a good starting point as it means you've got the farthest away Key West attraction out of the way first.
Saint Stephen Ame Zion Church
Saint Stephen Ame Zion Church (330 Julia Street) is a stunning building in Bahama Village.
It was constructed in 1900.
One of the few African Methodist Episcopal churches in the village, its name is dedicated to the first Christian martyr and patron saint of the poor, St. Stephen.
While other buildings in the neighborhood are built with wood, this unique structure is made from local limestone and coral, and it has survived fires and hurricanes.
The building closed as a church in 1979 and has been used as offices and a gallery since then.
Saint Stephen Ame Zion Church is part of the Key West Historic Marker Tour, which is one of the free things to do in Key West if you like a slow stroll while learning about history.
Key West Lighthouse Museum
You can't miss the Key West Lighthouse Museum (938 Whitehead St) as the 65-ft tower dominates the skyline in the Bahama Village.
This is the second attempt at the lighthouse, which was moved inland after a hurricane in 1846 destroyed the first tower built in 1826 at Whitehead's Point.
The 88 steps to get to the top of the tower are a little cramped so it is not recommended for those who have a fear of enclosed spaces or face difficulties walking.
At the top, you are rewarded with views over Key West.
There is also a small museum in the Keeper's House telling you about the history of the lighthouse, and the interesting story about its female light keeper, Barbara Mabrity.
Moondog Cafe
Moon Dog Cafe (823 Whitehead St) is a cute cafe/bar located in a cottage.
Here, you can buy delicious-looking (and smelling) cakes, bar meals, and booze.
Visitors can sit at the bar, in the cafe, out back in the garden, or on the patio.
Duval Street Decor
If visiting Key West during a holiday, get ready to see some wild decorations!
During fall, some of the residents go all out with their autumn and Halloween patio decor and we love to see it.
The Hemingway Home and Museum
It's no secret that American novelist, Ernest Hemingway, loved a place in the sun with lively bars, and good company, so you can see why he partially settled in Key West.
Today, you can visit The Hemingway Home and Museum (907 Whitehead St), the Spanish Colonial building he resided in during the 1930s.
During your visit, you can join the 20-30 minute guided tour of the house and then enjoy the grounds independently.
Want to hear a lesser-known fact about the house?
There are 60 polydactyl (six-toed) cats living there.
They originate from Hemingway's Snow White, a six-toed cat gifted to Hemingway by a ship's captain.
New Orleans House
If you are a gay man looking for a safe space to sleep at and enjoy the use of a swimming pool, 15-person Jacuzzi, clothing-optional deck, and on-site bar in Key West then New Orleans House might be just for you!
The Bourbon Street Bar is Key West's original and only video bar, it is home to five bars, and a clothing option garden.
This is where the famous red shoe drop takes place on New Year's Eve.
Rainbow Crosswalks
Just across from the New Orleans House is the fabulous Rainbow Crosswalks.
Four permanent vivid stripes brighten up Duval Street and Petronia Street, the heart of the Pink Triangle, Key West's LGBTQ+ neighborhood.
Did you know that Key West Mayor, Teri Johnston, is the first openly gay mayor of a Florida city?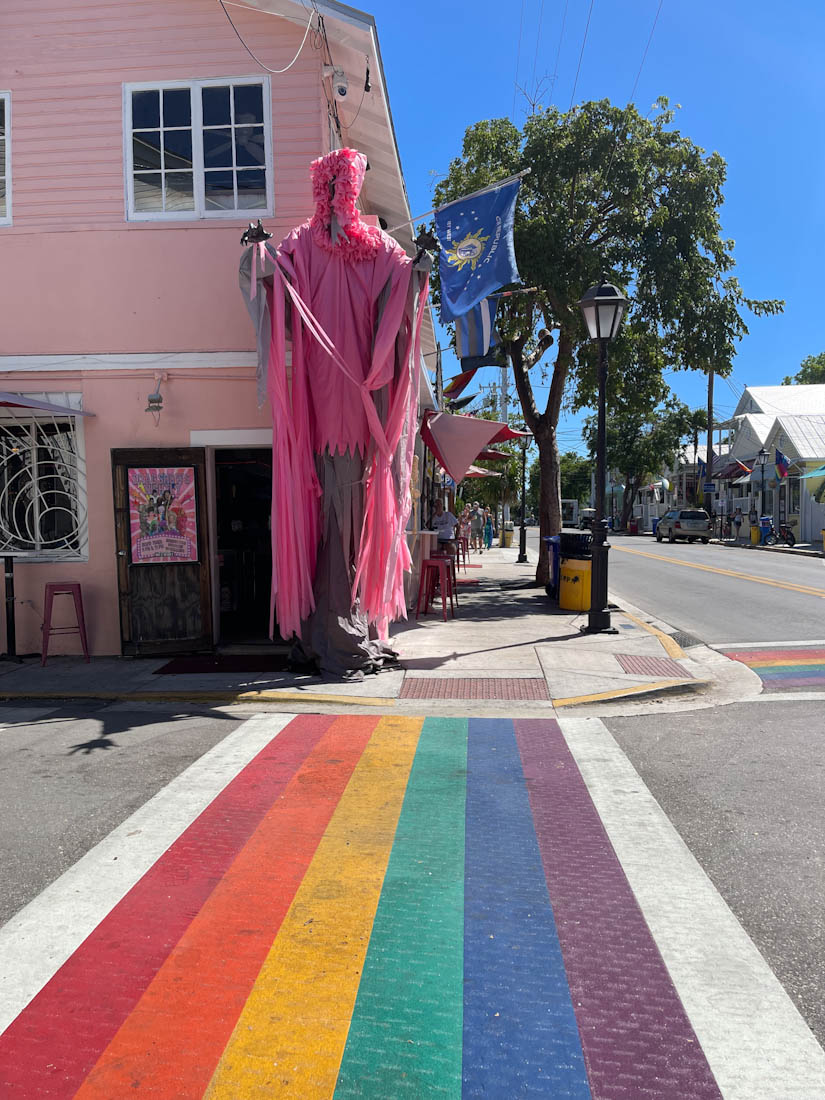 Bahama Village
The Bahama Village arch is located on Petronia Street, with the neighborhood running from Petronia along Fort Street to Louisa Street and Whitehead Street, plus all of the streets within that block.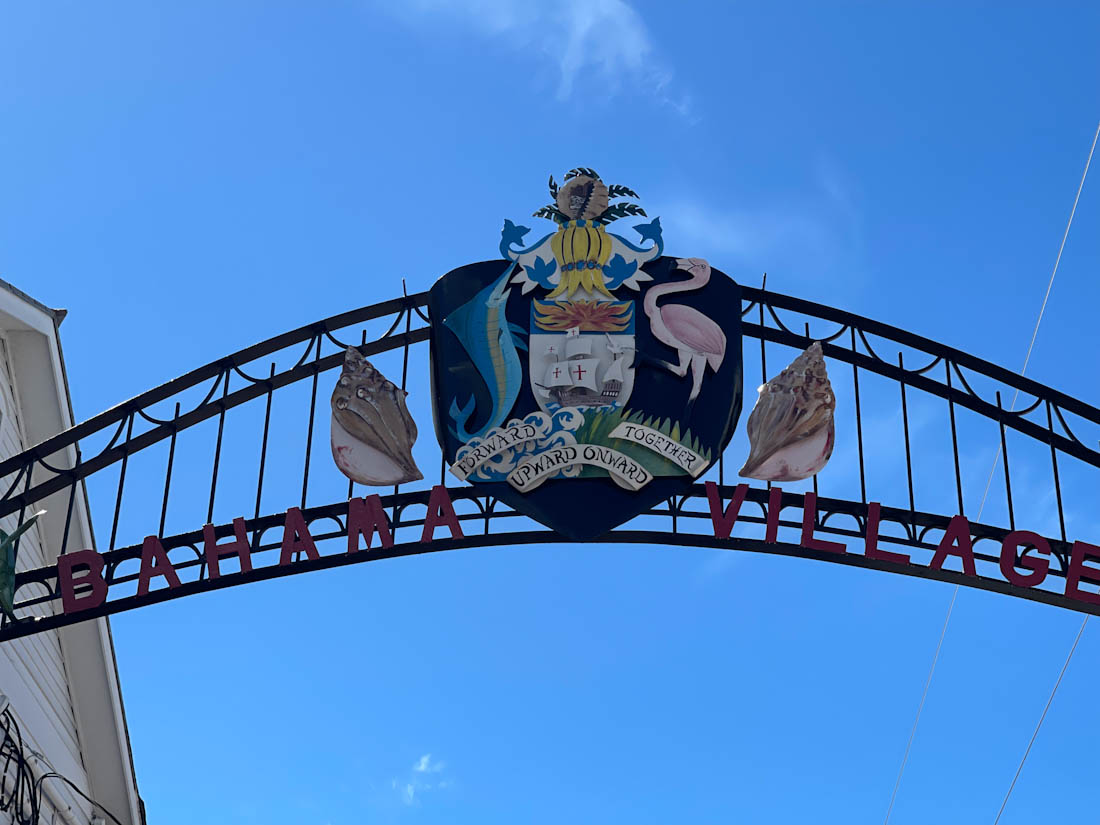 This is the neighborhood where the first Black Bahamian settlers arrived in the 19th century.
Some settlers moved from Key West to Coconut Grove in Miami to work on the area's first hotel, the Peacock Inn.
The annual Key West Goombay Festival is a great time to visit Key West if you want to experience a family-friendly event celebrating African and Caribbean heritage, featuring vendors, food, costumes, and a Junkanoo parade.
Zero Mile Marker Building
US 1 Mile Marker 0 (501 Whitehead St) is one of the most popular places to visit in Key West because it signifies the end of US 1, and the most south you can drive while staying in the country.
US 1 is also known as the Overseas Highway, and it starts all the way up north in Fort Kent, Maine at the Canadian border.
The route totals 2,369.49 mi (3,813.32 km).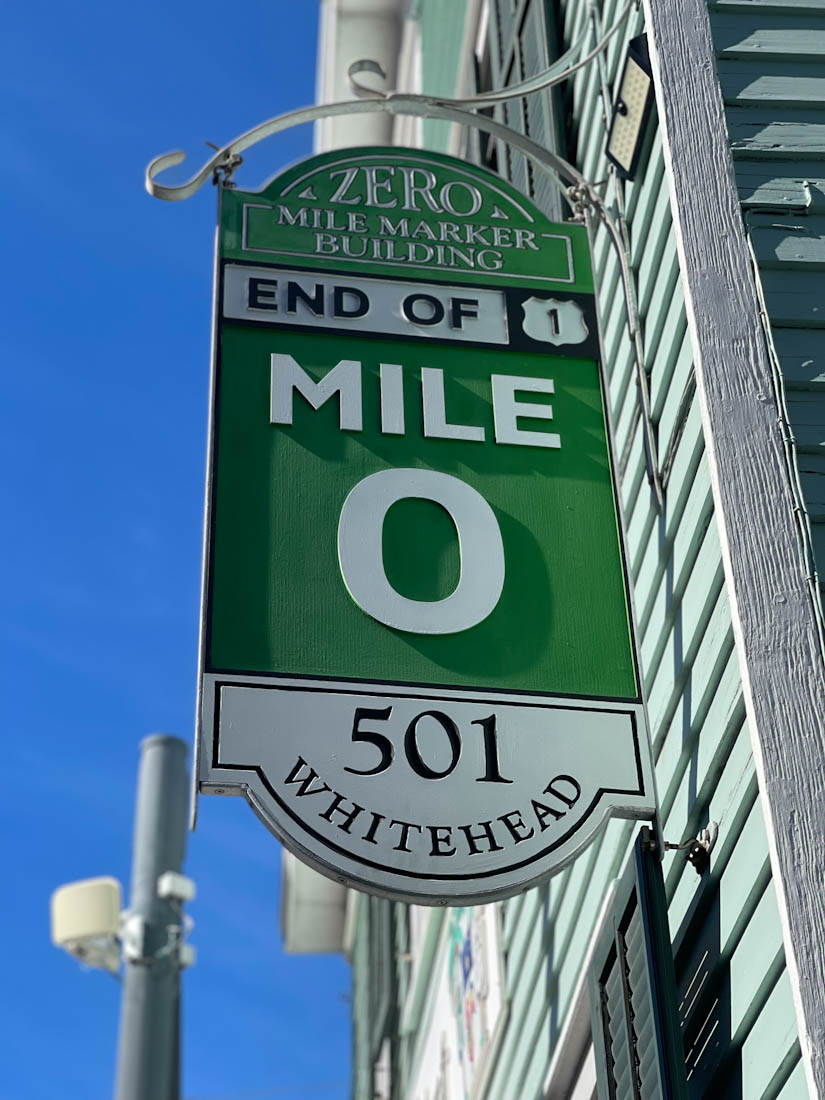 San Carlos Institute
San Carlos Institute (516 Duval St) is a museum and theater, as well as an educational and cultural space, started by the Cuban exile community in 1871.
The first building was located on Anne Street near Key West's old City Hall, the second was a larger building at Fleming Street in 1884 which was destroyed by the fire in 1886, today's building was opened in 1890.
At the San Carlos Institute, you can learn about Cuban patriots who campaigned for Cuba's independence from Spain.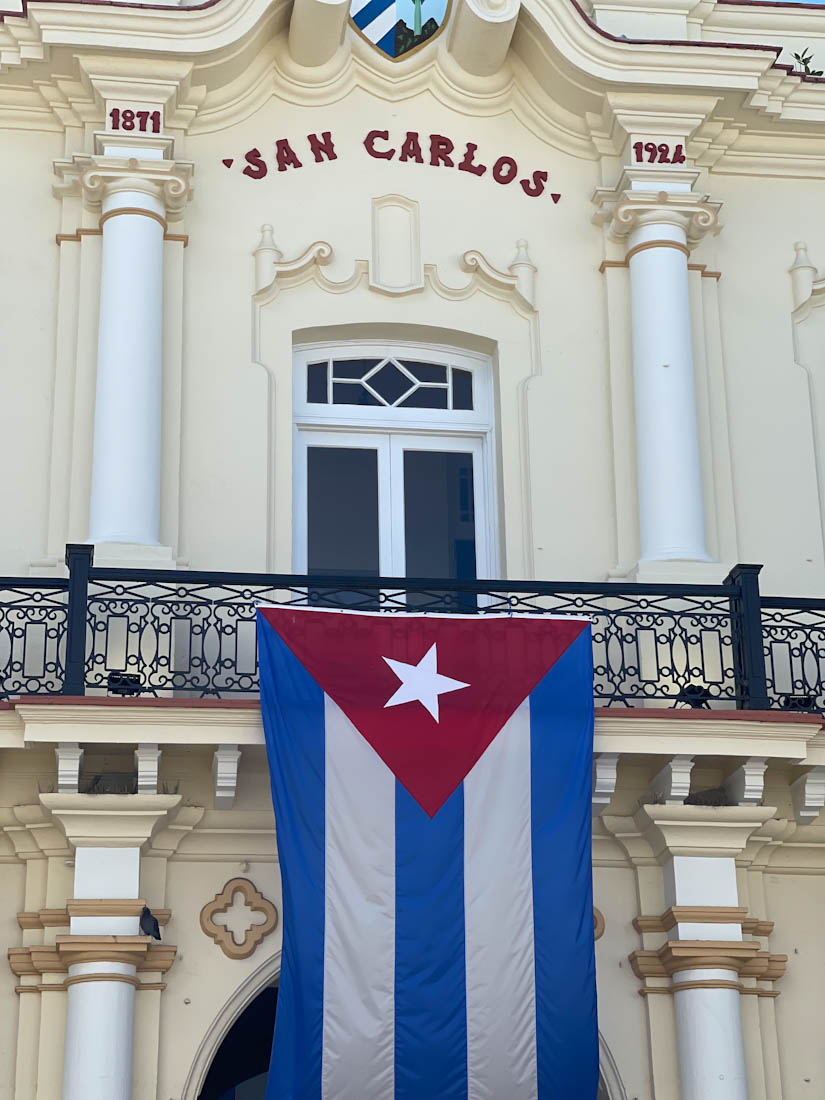 Tropic Cinema
Tropic Cinema (416 Eaton St) is a retro movie house showing a schedule of new, classic, and foreign movies.
It has four theaters, popcorn, wine, and beer.
Topic Cinema also features in our guide on things to do in Key West for couples.
St. Paul's Episcopal Church
St Paul's Episcopal Church (401 Duval St) has appeared in many forms since 1832.
Today's building held its first service on June 8th, 1919.
The stained glass windows were added in 1920 and the organ in 1931.
By the 1990s, the seawater and beach sand structure required addressing, and St Paul's was renovated in 1993.
The Oldest Schoolhouse
The original Oldest Schoolhouse (336 Duval St) was built around 1838 and moved to Duval Street after the hurricane of 1846.
The architectural style is Class Revival and it is thought that Madame Passaloque taught lessons in the building until 1860, making it the first school in Key West.
In 1962, the house was restored by Edward B. Knight who returned part of it to its original facade to show a before and after which helped kick-start the preservation of buildings in Key West.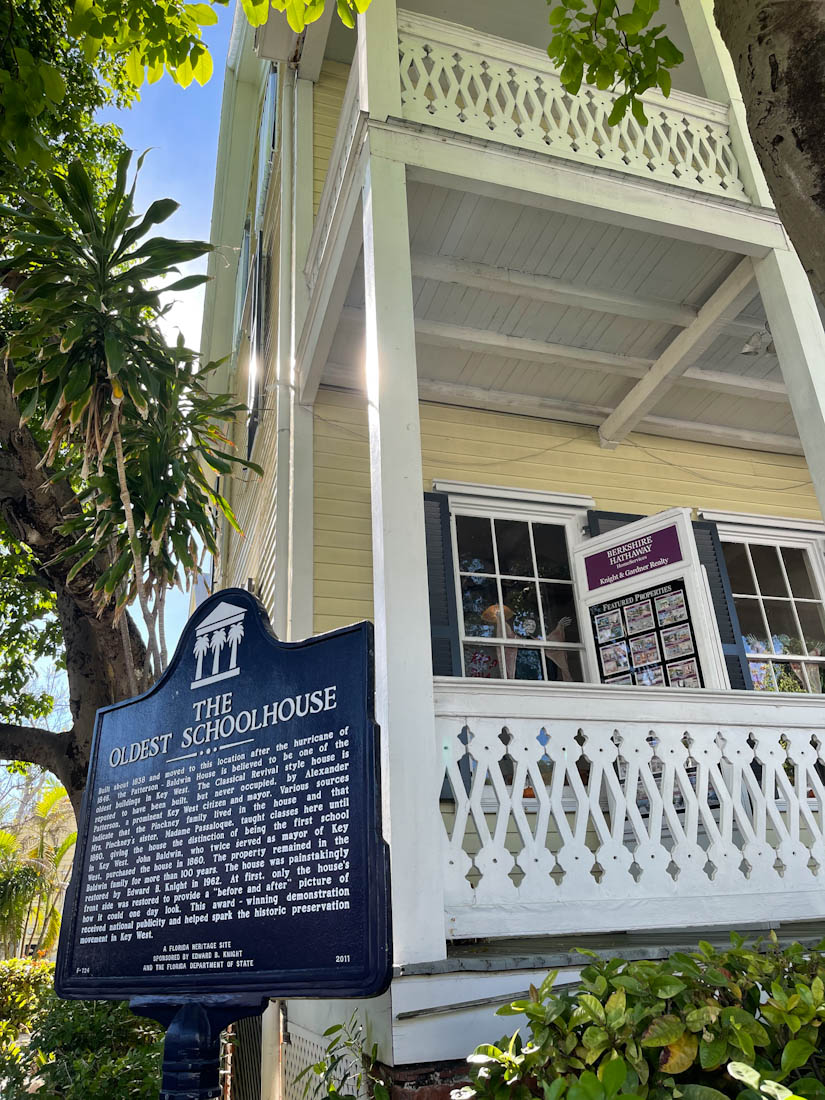 Key West Woman's Club
Martin Hellings House (319 Duval St) was constructed in Queen Anne brick in 1892, which was unusual for its time, as most other places were made out of wood.
This meant the house survived the fire of 1886, which destroyed the city.
After Helling's death in 1908, the house was converted into offices and used by The Key West Woman's Club established in 1915.
In 1940, The KWWC bought the building and opened Key West's first library in it.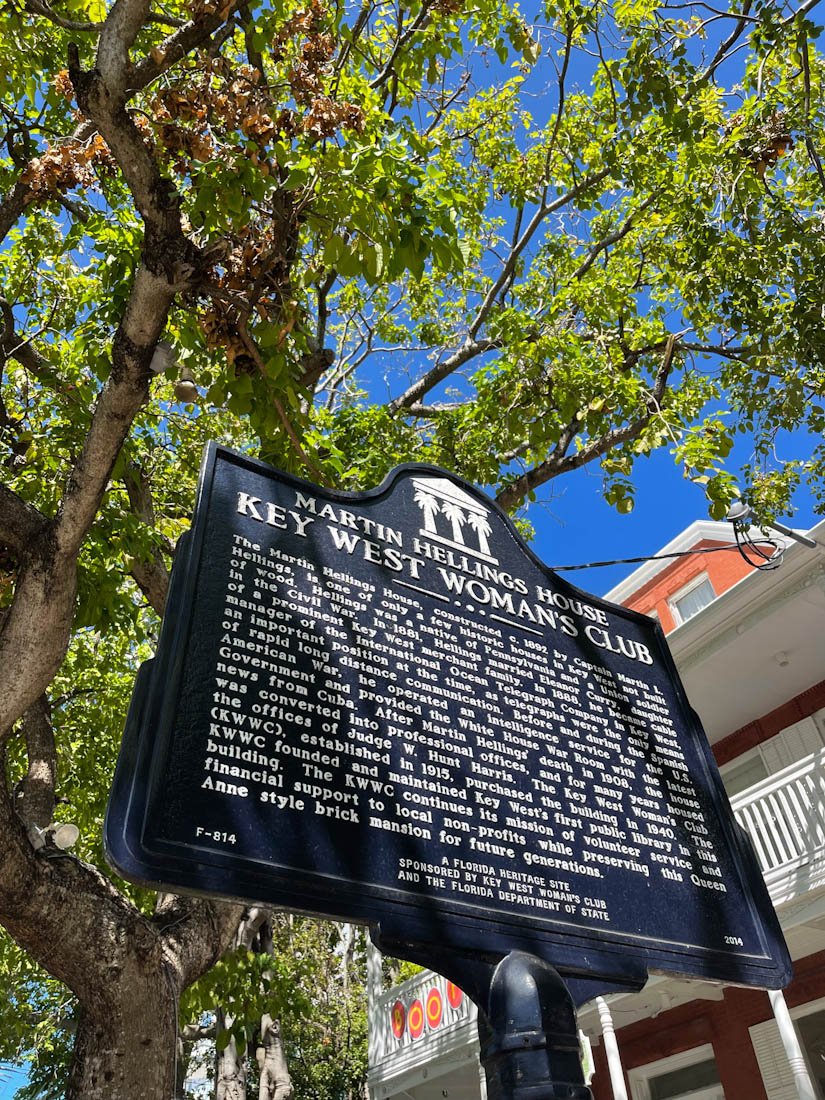 Oldest House and Gardens Key West
The Oldest House and Gardens Key West (322 Duval St) is not only the oldest in Key West but also the whole of South Florida!
The original house was constructed on Whitehead Street by Richard Cussan in the late 1820s.
Then it was moved to Duval Street so it could be expanded for Captain Francis Watlington, his wife, and nine daughters.
The house displays furniture, decor, and crockery, and has a nice garden with the original out shed.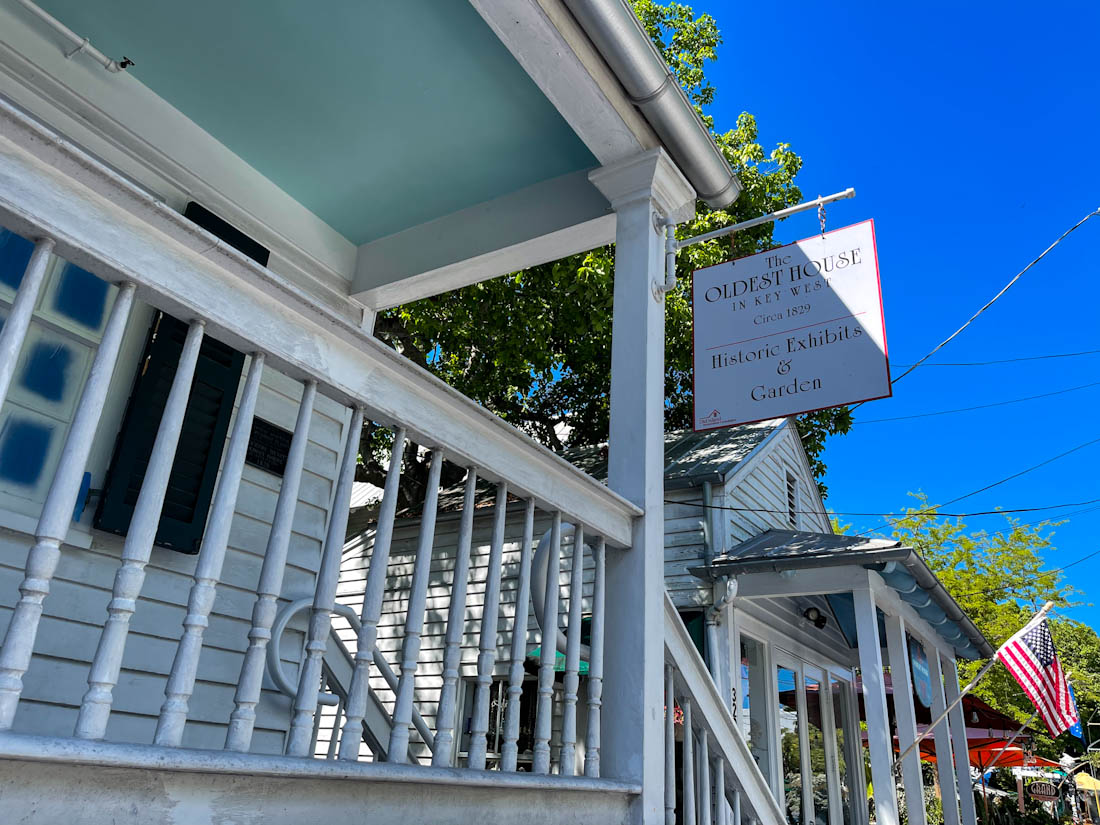 Milton W. Curry House and William Curry Homestead
Florida's first millionaire, and Key West's richest resident, Milton W. Curry HouseWilliam built Curry Homestead (511 Caroline St) in 1852, using his wealth from shipbuilding and other maritime-related businesses he did during the Spanish-American War.
In 1905, with the help of prized architect George Franklin Barber, Curry's son built the Georgian Revival house, retaining the kitchen hearth.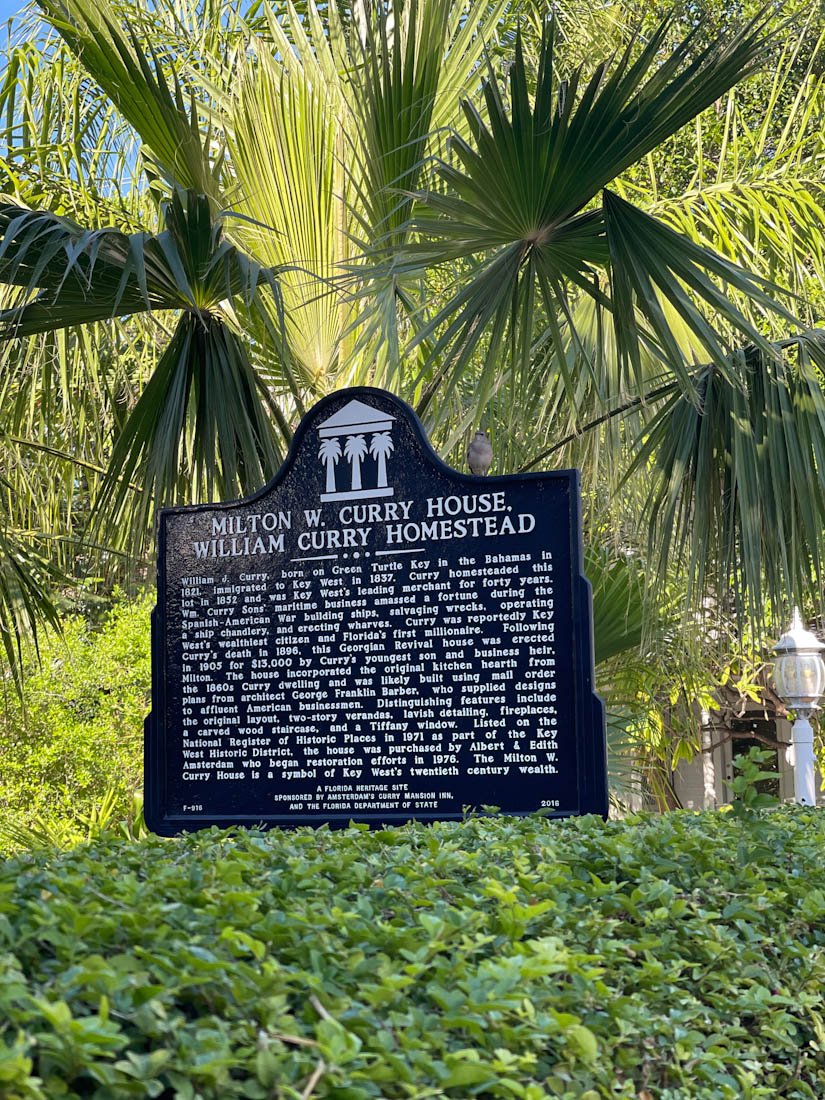 Key Lime Pie Bakery
One thing you have to do when visiting Key West for the day is stop by Key Lime Pie Bakery and sample the deliciously fresh Key Lime Pie.
The original (412 Greene St) has a couple of tables inside, benches outside, and a handful of hungry roosters.
You can buy pies by the slice or in full.
Key Lime Pie is made from lime juice, egg yolks, sweetened condensed milk, meringue (or whipped cream), and pie crust.
It is thought that Key Lime Pie originated from the city in the 19th century.
Sweetened condensed milk was used instead of fresh ingredients because refrigeration wasn't common in the Keys until the 1930s.
The store also sells chocolate-covered Key Lime!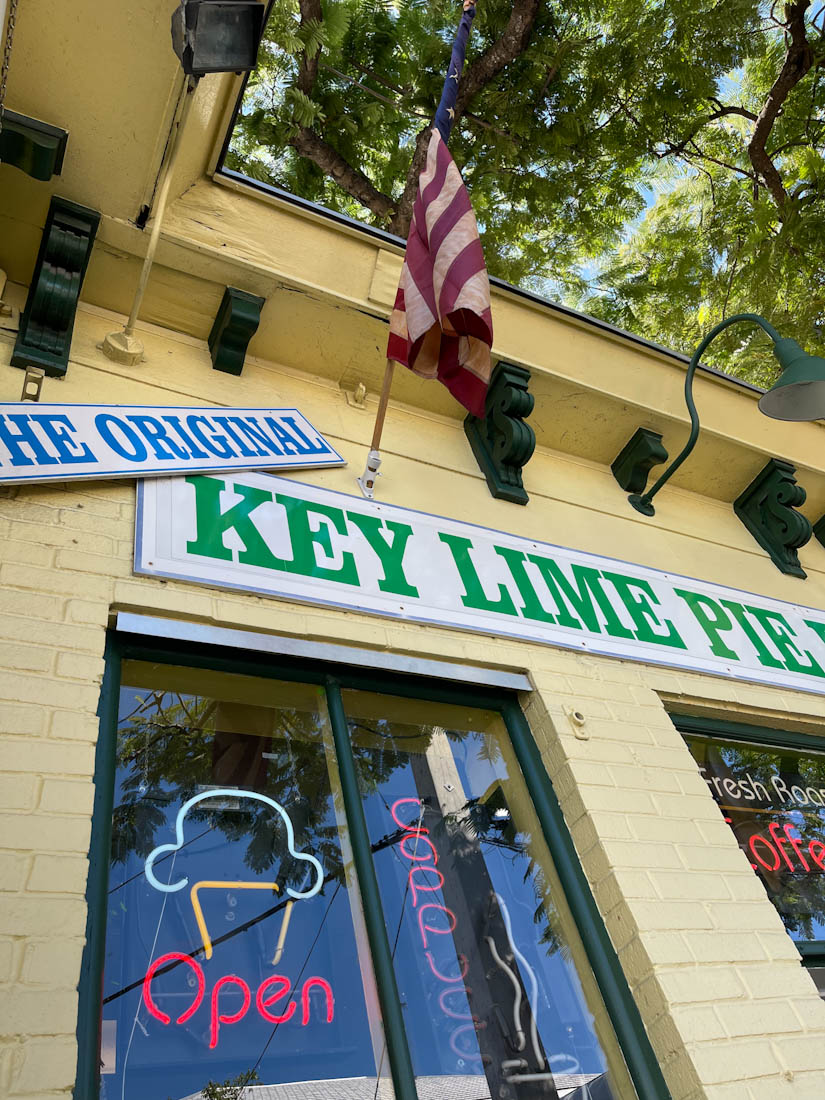 Curry at Tikka Bar
You can eat any kind of food you like in Key West including a hearty bowl of curry to soak up the Duval Street beers!
Tikka Bar (503 Greene St) is run by friendly staff and Chef Jeethu, who was born and raised in Northern India.
Jeethu learned to cook in Delhi before moving to Las Vegas to continue his career.
He helped introduce good curry to Fort Lauderdale before settling in Key West.
Tikka Bar is BYOB.
Duval Street Bars
You'll smell Duval Street before you see it!
Expect day drinking in dark spaces and cocktails on pretty patios, as well as live music across the pubs.
This party street is akin to Bourbon Street in New Orleans, LA, or Dirty 6h in Austin, TX.
Bar hopping along Duval is one of the best things to do in Key West at night.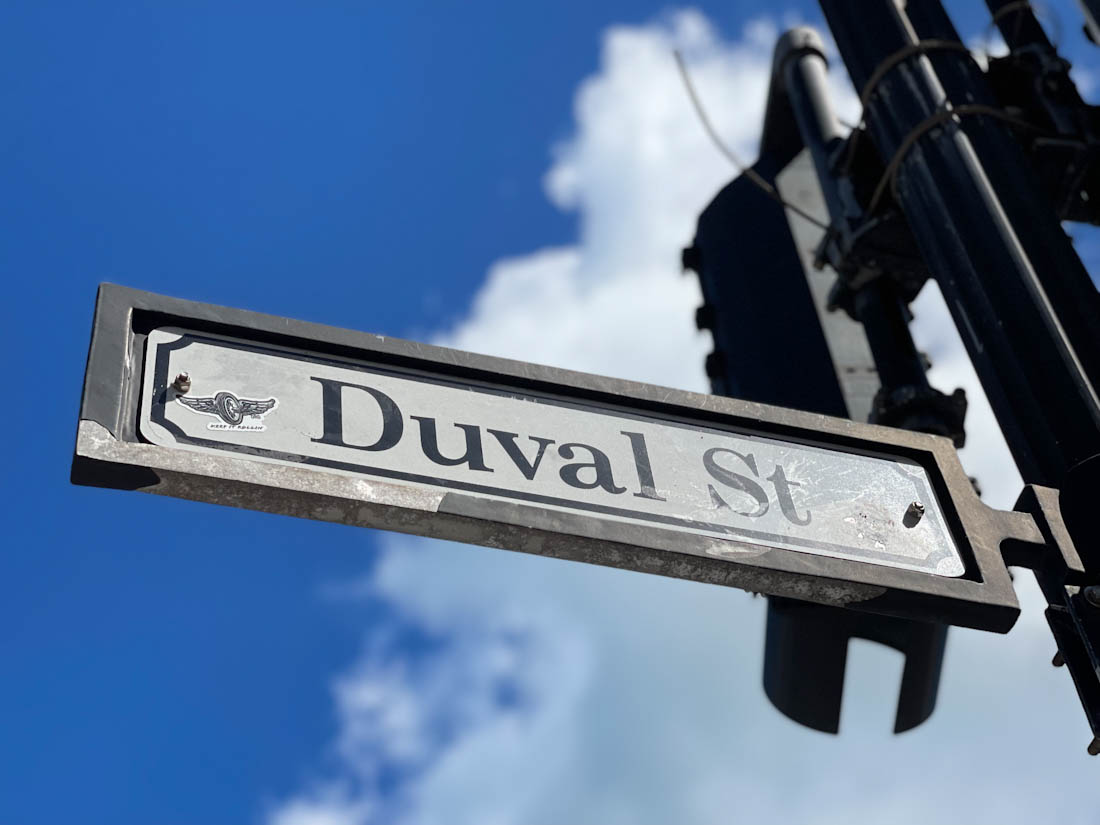 The Conch Shack
Have you even been to Key West if you've not tried the local conch fritters?
Conch is a native shellfish found on the coasts of the Bahamas, the Florida Keys, the Caribbean, and Bermuda.
This little shack (118 Duval St) next to the Hog's Breath Saloon sells conch fritters, fries, and other take-out items.
There is a small seating area at the front of the food hut.
Since you are only in Key West for a day this is a good quick lunch idea.
Sloppy Joe's Bar
Sloppy Joe's (201 Duval St) is an institution in Key West.
If you sunk a few here during the 1920s, you may have just had a tipple with Ernest Hemingway, a good friend of the owner, Joe Russell.
Hemingway and Russell not only drank together but also fished the Cuban waters and became each other's muses.
They remained friends until Russell's death in Havana in 1941, which took place whilst visiting Hemingway.
This special friendship is still remembered through the annual Ernest Hemingway Look-Alike Contest.
At New Year, party people flood the streets outside of Sloppy Joe's to see the conch drop at midnight, and this iconic bar is often the first stop of the risque revelers visiting Key West for Fantasy Fest in the fall.
Papa's Pilar Rum Distillery, Hemingway Rum Company
Take a tour of Papa's Pilar Rum Distillery, Hemingway Rum Company (201 Simonton St) which is located in a tobacco warehouse built in 1878.
During the tour, you will hear about the rum-making process, taste some kill-devil, and learn more about Papa Hemingway's influence on Key West.
Pilar was the name of Hemingway's boat.
Things to Do at Mallory Square and Historic Seaport
Some of the free things to do in Key West are located around Mallory Square and the Historic Seaport.
The square is also close to the water for the evening sundown celebration.
Mallory Square Festival Marketplace
Mallory Square Market (400 Wall St) is a small marketplace with a variety of shops like the Sunset Glassblower, Key West Sponge Market, and Key West Cigar City.
It is also where you will find tourist attractions such as the Shipwreck Museum.
The market is said to be named after Senator Stephen Russell Mallory, who was the son of Ellen Russell Mallory, The First Lady of Key West.
Ellen was the first female settler in Key West.
After the death of her husband, she rented out rooms in her house to seamen to make money.
During the outbreak of Yellow Fever, she tended to the sick in a nursing role.
Shell Warehouse
If you need to pick up swimwear, sun dresses, or just fancy some seashells as souvenirs, head to the Shell Warehouse (400 Wall St).
The range includes jewelry, home decor, and nautical Christmas trees.
Shipwreck Treasure Museum
Ahoy mateys!
Hop aboard the Key West Shipwreck Treasure Museum to learn about the city's fortunate and unfortunate maritime history.
With over 1,000 shipwrecks in Key West, there are a lot of stories to share.
Expect to spend around one hour on the self-guided tour.
This is a family-friendly Key West activity.
The Harry S Truman Little White House Museum
Not content with the temperatures in Washington DC, President Harry S. Truman made this property in Key West the Little White House (111 Front St).
Visitors can take a tour the Florida's only presidential museum which features original furnishing from the 33rd president.
Key West Museum of Art & History
Key West Museum of Art & History (281 Front St) is located at the historic Customs House which has previously acted as the customs office, postal service, and district courts.
The four-story building was built in the Richardsonian Romanesque style, popular by the end of the 19th century.
In the 1930s, the US Navy took over the building, then it sat empty for two decades before becoming the award-winning Key West Art & Historical Society Museum.
Key West Historic Memorial Sculpture Garden
Spend 20 minutes strolling through the Key West Historic Memorial Sculpture Garden (401 Wall St) while reading the plaques underneath the busts of the famous faces who influenced Key West.
There are over 35 sculptures of the likes of philanthropist, Margo Golan, and former slave, farmer, businessperson, and civic leader, Sandy Cornish.
If you look down you will see bricks with inscriptions too, these bricks are paid for by donation.
The Wreckers
The Wreckers by sculptor James Mastin, is an 18 by 25 ft monument that pays homage to those who watched for shipwrecks, saving lives and enjoying the loot!
Wrecking was one of the earliest economies in Key West, and it made it the richest East Coast city, south of New York, during the mid-1800s.
Conch Train Tour
If you are wondering what to do in Key West for a day that saves time, consider the Conch Train Tour to speed up the visits to the top attractions.
The journey takes around 75 minutes, so if you are pressed for time you can sit back, relax, and listen to the expert guide share humor and history about Key West.
If you have time, you can get off at any of the stops and visit the landmark, then hop back on the next train.
The trains are open-air, great for hot days, and offer perfect views.
Key West Historical Military Memorial
Back by the waterfront, there is the Key West Historical Military Memorial which details the city's military activity between the 19th and 20th centuries. 
Mallory Square at Sunset Celebration
Key West is known as the 'home of the sunset' and this tagline sees millions of people flocking to Mallory Square Pier for the Sunset Celebration each year.
Performers and vendors line the water to entertain, while visitors wait for the main show, the sunset, which gets the biggest cheer.
Look out for the green flash that hits the ocean just before the sun does.
Note: If you're doing a one day trip to Key West from Miami by organized tour, you will see the sunset from the bus. Find out more below.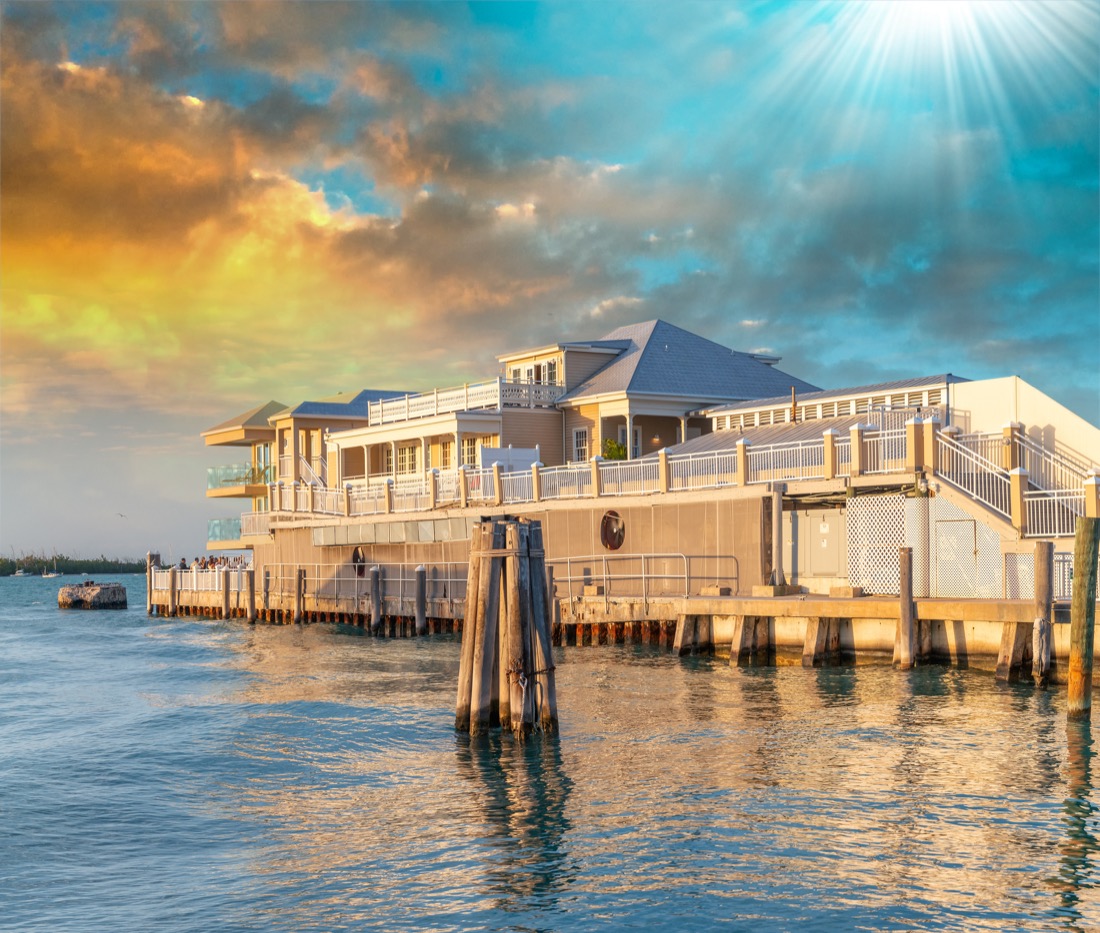 Sunset Boat Tour
If you prefer to be on the water during sunset, this cruise departs in time for the pastel hues hitting the city.
Set sail aboard a 105-foot schooner America 2.0 for two hours, gliding past Fort Zachary Taylor, Sand Key Reef, Mallory Square, and Sunset Pier.
A complimentary alcoholic and non-alcoholic drink is included.
Historic Seaport
A day in Key West can easily be spent feeling the warmth of the sun on your skin while watching the boats bob in the water at the Historic Seaport, or any of the marinas.
Be sure to keep your eyes on the water for dolphins and manatees!
Restrooms and water fountains are located at the marina.
Key West Snorkeling and Dolphin Tour
If your number one thing to do in Key West is water sports, go for a tour like this snorkel and dolphin cruise.
The 3-hour tour sails to Key West Wildlife Refuge, only accessible by boat.
Here, you snorkel in the shallow waters where you will hopefully see bottlenose dolphins!
If you are doing a day tour from Miami be aware that a water sports tour, although epic, will take up a big chunk of your time in Key West so pack food for the bus ride back.
Cuban Coffee Queen's Greetings From Key West Mural
Capture the signature Greetings From Key West postcard by Letty Nowak located at the Cuban Coffee Queen (284 Margaret St).
The Cuban Queen cafe serves coffee, breakfast, Cuban sandwiches, and rice and beans dishes.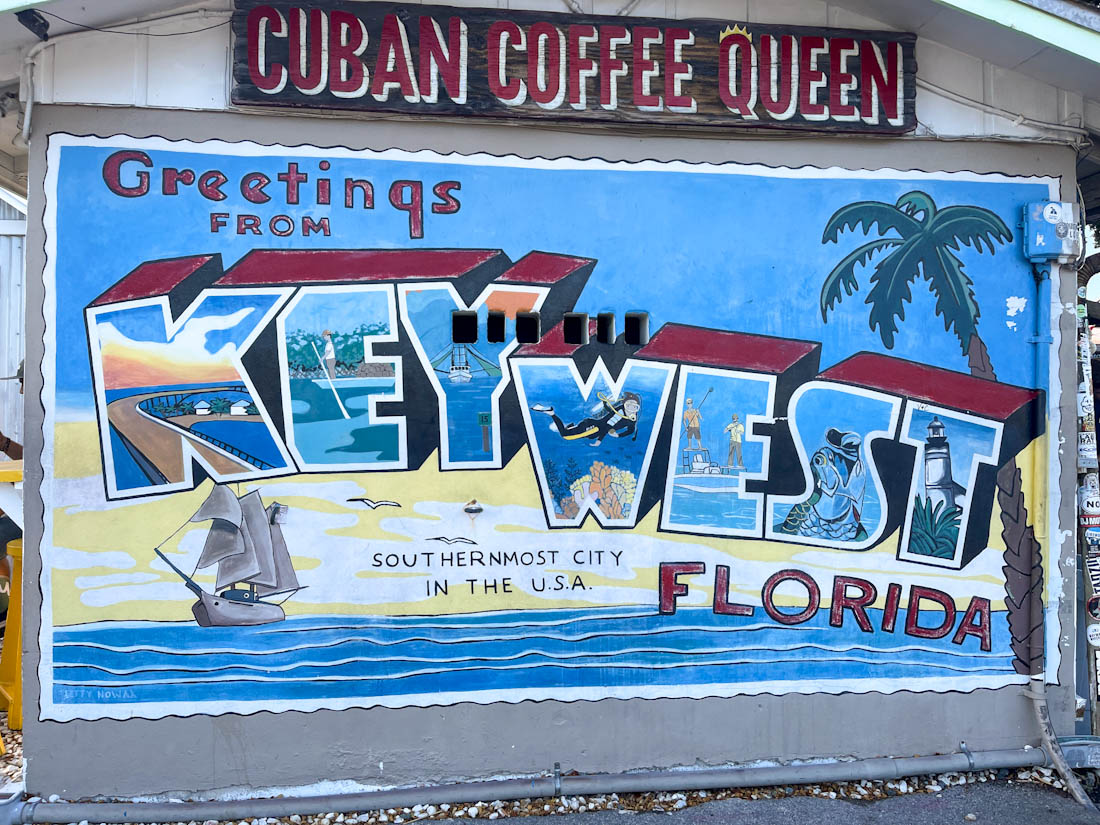 Sails To Rails Museum at Flagler Station
You'll be waiting a long time for a train from Key West's Flagler Station (901 Caroline St)!
The Sails To Rails Museum is a museum packed with information and artifacts related to the rail service in Florida.
The station is named after The Father of Miami, railroad industrialist, and oil tycoon, Henry Flagler, who also has a beach city on the East Coast of Florida named after him – Flagler Beach.
Flagler rode his train into Key West on 22nd January 1912, greeted by amazed locals and dignitaries from overseas.
You can also visit one of Flagler's houses, Whitehall, at West Palm Beach.
The Seven Mile Bridge, The Eighth Wonder of the World
There is only one way in and out of Key West if you are driving and that is over the Seven Mile Bridge which was originally completed in 1912.
Today's version of the bridge officially opened in 1982, after four years of construction.
However, more development was needed when part of the old bridge began to collapse in 2008.
Today, the bridge is used by holiday-makers driving to and from the Florida Keys, and as a fishing pier.
If you are doing a day trip from Miami, you might just catch the sunset on the drive home.
From Miami: Key West Bus Tour Review
If you are planning a Key West one day trip from Miami please read our honest review first.
Key West One Day Trip From Miami Summary
The bus picks you and other visitors up from the Miami Downtown location of Bayside Marketplace, or for an additional fee a central Miami Beach hotel.
The ticket advises you to be there 10 minutes before the pickup time of 07:05.
However, the bus didn't arrive for us until 07:50, with the tour guide blaming people for being late in Miami Beach.
The drive to Key West is long, around 3.5 hours with one stop at a small gas station which is next to a Mcdonald's.
Although, the drive over the 43 bridges and 31 islands to get to Key West is really lovely and doesn't feel like 3.5 hours. Download some TV shows on your phone or bring a book to help lose time.
During the journey, the tour guide will share information in English and Spanish, although it was a little hard to hear over the speaker.
They also suggest some tours you can do in Key West which are coordinated with the bus schedule.
No pressure if you don't want to do any of the tours.
If you do choose to do a water-based tour, remember that the tour will take up most of your time in Key West.
Pack some layers for your upper and lower body as the bus air conditioning can be cold.
The bus toilet is as clean as the patrons on the bus leave it.
The day trip allows for ample time in Key West as the departure time is 17:00, giving you just short of five hours to get a picture at the Southernmost Point Buoy, a drink on Duval, visit one museum, shop at Mallory Square, and have a quick bite to eat.
The ride back does feel longer, most people will fall asleep, full of Key West conch fritters and rum.
There is no stop during the journey back to Miami.
Pros
Bus trip to Key West with driver
Tourist information on the way down
Tours of offer for those who want to coordinate one into their schedule
No pressure to do additional tours
Comfortable bus if you pack layers
4-5.5 hours in Key West
Cons
The pick-up time can be later than advertised, reducing time in Key West
No upstairs seats at Miami pick-up, window views are fine from downstairs higher seats
Sunset is viewed from the bus, so there is no joining in the Mallory Sunset Celebration
No stop on the way back, buy snacks in Key West
Overall, we were satisfied with the day tour to Key West.
It got us there and back, and we had such a fun day in Key West.
See if the tour is right for your style of travel and book here.