This article has links to products and services we love, which we may make commission from.

Looking for some new ideas for date night in DC? Change things up with some fun suggestions or enjoy a romantic evening for a special celebration.
Washington DC is incredibly eclectic for its small size, so you truly do have endless options when it comes to date ideas.
Enjoy a wide range of fun and interactive activities or sample your way around the world in DC's diverse dining scene.
You don't need to splash out to have a great date here, either.
DC famously has tons of free things to do, so you can take advantage and enjoy a budget-friendly date filled with learning and sharing together.
For more general ideas that aren't specifically date-friendly, check out our recommended things to do in DC.
You might also like our guide to the best day trips from DC if you want to really impress your sweetheart!
Best Date Ideas in DC
With so many romantic things to do in DC, we had to break this guide into sections to make it easier for you.
First, we have fun activities for couples in DC so you can get outdoors or play some games together — perfect for first dates or for long-term couples looking to have some fun!
Next, you'll find cultural activities for date night, which are plentiful in DC!
Then we cover the free and budget-friendly things couples can do together, followed by our favorite food and drink options for memorable date nights.
This guide finishes off with romantic hotels in DC if you're booking a couples getaway.
Fun & Interactive DC Date Ideas
Head to Yards Park
Located near Nationals Stadium, The Yards (355 Water St SE) offers dining and drinks with epic views to enjoy along the Anacostia River.
Stroll the riverfront boardwalk together for quality time and a chance to chat.
This is a perfect DC date spot whether it's your first date or your hundredth!
Rent a Paddleboat on the Tidal Basin
In good weather, you can't beat this fun and romantic date in DC!
Rent a paddleboat and slowly cruise around the Tidal Basin to enjoy the stunning Downtown scenery.
For a truly romantic experience, you need to time this for cherry blossom season to bask in the beauty of pink and white blossoms fringing the water!
This is a popular tourist spot, of course, so just plan accordingly and try to avoid the peak crowds so you don't have to wait too long to get out onto the water; although that's just more time to talk and enjoy the view from shore while you wait!
Take a Ghost Tour
Need an excuse to get a little closer?
Take a ghost tour together for a few fun frights that require handholding!
It's not that DC is the most haunted city in the States, but with all the political games afoot and DC being a hub where prominent people gather, there have certainly been some mysterious happenings and unfinished business…
This tour goes through Georgetown while this tour shares all the creepy stories around the White House area.
This ghost tour covers the Capitol Hill area and all its restless spirits.
Whichever area of the city interests you most (or is most convenient), you'll undoubtedly learn some new stories and facts even if you call that neighborhood home.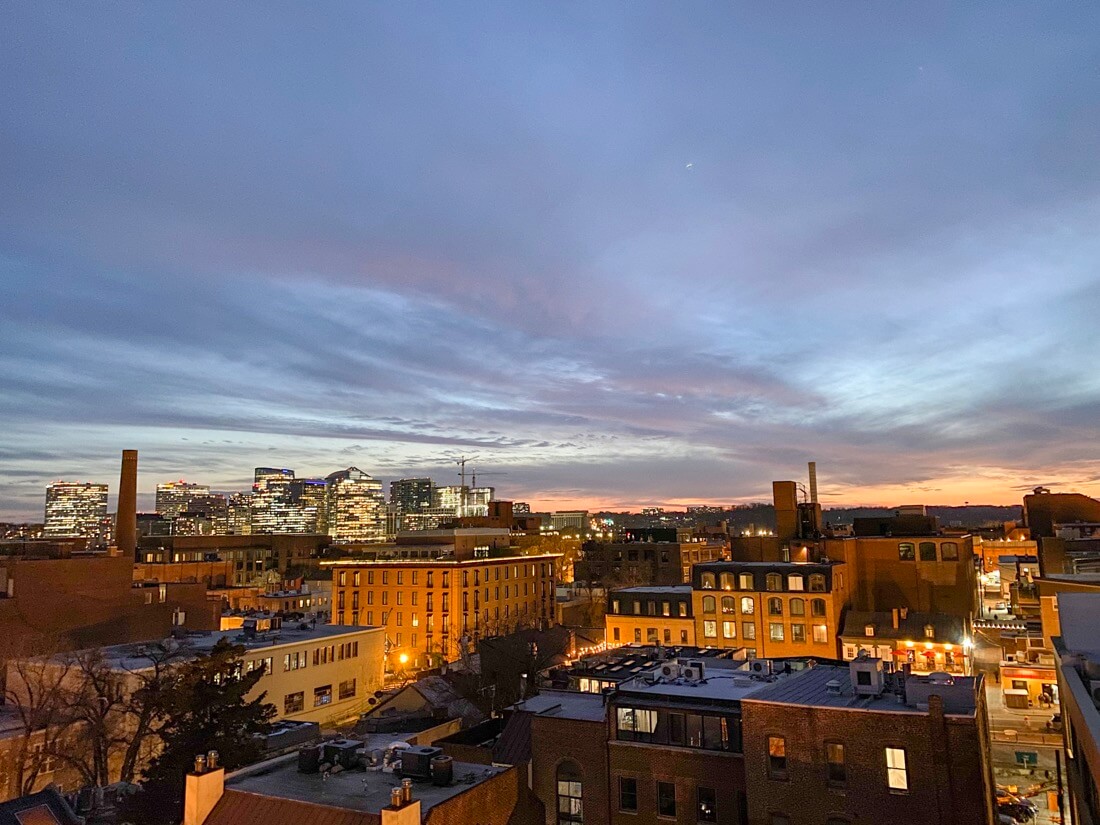 Try an Escape Room Together
Let's see how well you work together!
This escape room in Georgetown will challenge you to collaborate to come up with creative solutions to puzzles and clues.
Choose from five different settings, including a cabin in the woods, a pirate ship, an Egyptian tomb, the Titanic, or try to find the Elixir of Life hidden behind various puzzles you need to solve.
Choose your adventure and have some fun together!
Note: you may be joined by others so it won't be a private event; also contact them for any accessibility needs before you book.
Play Golf…Indoors!
There are several spots in DC where you can play mini-golf indoors.
No matter the weather, get out there and see who has the best game!
There are plenty of options for indoor mini-golf in DC…
In Dupont, go to Swingers (1330 19th St NW); in Penn Quarter, there's Puttery (800 F St NW) or Five Iron Golf (575 7th St NW); or head to the H Street Corridor to hit up H Street Country Club (1335 H St NE).
Throw Axes
Hopefully, you don't need to get any rage out on just the first date, but throwing axes can certainly be a fun stress relief!
Head to Bad Axe Throwing (2419 Evarts St NE Unit C) or Kick Axe Throwing (1401 Okie St NE STE 102) to learn how to throw axes together.
You never know, it might be a useful skill in the next zombie apocalypse.
Go Ice Skating
While only seasonal, ice skating is always a romantic date idea!
In the winter, head to Washington Harbour in Georgetown or the National Sculpture Gallery in Penn Quarter to enjoy an outdoor skating rink experience.
Whether you're both graceful or more like Bambi on ice, you'll enjoy the laughs and set the mood with one of the most romantic things to do in DC in December, January, or February.
Go Bowling at The Eleanor
Head to The Eleanor (100 Florida Avenue NE) to go head-to-head in the bowling lanes.
It's a classic bowling lanes experience complete with arcade games and a retro vibe.
Except you'll also find delicious cocktails, $1 oyster specials, and a classic DC brunch scene here, too!
Step up your bowling game with this DC local favorite.
Eat and Shop at Eastern Market
Forever a favorite in DC, head to Eastern Market on a Saturday to stroll the indoor food hall and the outdoor stalls.
Peruse the variety of handmade crafts, vintage wares, and delicious local food — you'll learn a lot about your date as you walk and talk!
The Capitol Hill neighborhood around Eastern Market is also full of picturesque colorful row houses so you can keep walking and talking to enjoy the views all morning.
Hang out at Hi-Lawn at Union Market
Hi-Lawn (1309 5th St NE) offers an expansive rooftop bar area at Union Market that's perfect for lazy days spent outdoors!
From summertime beers and games to autumn firepits and cozy cocktails, this space is perfect for getting to know your date better in a fun and casual environment.
The owners took inspiration from the High Line in NYC, which is one of our favorite parks in New York.
Giant Jenga and Giant Connect 4 are available, plus you'll get live music and DJs on weekend nights.
Bring a blanket for a picnic or snag a chair to get comfy.
Laugh Together at DC Improv
DC Improv (1140 Connecticut Ave NW) is definitely one of the most fun date night ideas in DC!
Get ready to laugh (or possibly cringe) and enjoy a live comedy show at DC's best venue for it.
A few things to know before you go…
This is a classic comedy club setup, so you'll be seated at a table of 4 to 6 (so other people will be there with you) and can order from the full menu to enjoy dinner and entertainment together.
There's also a full bar service available.
Check the time on your tickets for when doors will open; the line will likely be outdoors so — in bad weather — don't show up too early or you'll be standing outside uncomfortably.
The venue is accessible, with an elevator available from the lobby to the club level.
Take a Potomac River Cruise
With the beautiful Potomac River fringing the city, you should take advantage with a delightful river cruise for a special date.
Enjoy views of the monuments from the river as you glide by on a 2-3 hour outing.
Far too often overlooked by locals, this is a lovely DC date option!
This cruise aboard the Spirit of Washington includes a buffet lunch or dinner option at your own private table.
Alternatively, this cruise aboard The Odyssey includes a 3-course brunch with unlimited mimosas or a 3-course dinner; the dress code is smart casual.
This is one of the more unique date night ideas in DC that most locals overlook — don't miss out!
For more places to visit in Washington DC in the evening, check this guide.
Admire Artistic Flair at ARTECHOUSE
Going to ARTECHOUSE (1238 Maryland Ave SW) is all about Insta-worthy content and quirky fun.
This immersive visual art space includes a wide variety of exhibits that feel like an adult playground based on technology and creativity.
Get your ticket in advance and skip the line to go straight to the exhibits.
You'll find ample opportunity to take fun selfies together!
Free or Budget-Friendly Date Ideas in DC
See a Show at the Kennedy Center
From international stars to local legends, the Kennedy Center (2700 F St NW) is the perfect spot for a special date night in DC.
If you're dating on a budget and want to enjoy a show, head to the Kennedy Center's Millennium Stage, which hosts a wide range of free performances.
You can also stroll the grounds and enjoy the ambiance of one of DC's most prominent performing art centers.
Watch the Sunset in Georgetown
Georgetown offers some of the best sunset spots in the city, especially at Graffiti Cliffs.
Wander the pretty streets and admire the architecture together as you stroll and chat before heading down toward the water for a sunset view.
Watch the Sunrise or Sunset from the Lincoln Memorial Steps
For a romantic start to the day, start with sunrise views from one of DC's most iconic spots.
Head to the Lincoln Memorial to sit on the steps first thing in the morning as the Reflecting Pool does its job of reflecting the pretty dawn colors.
You won't be the only person out there — this city starts early and stays out late, with tons of professionals getting their morning exercise on the Mall in the wee hours.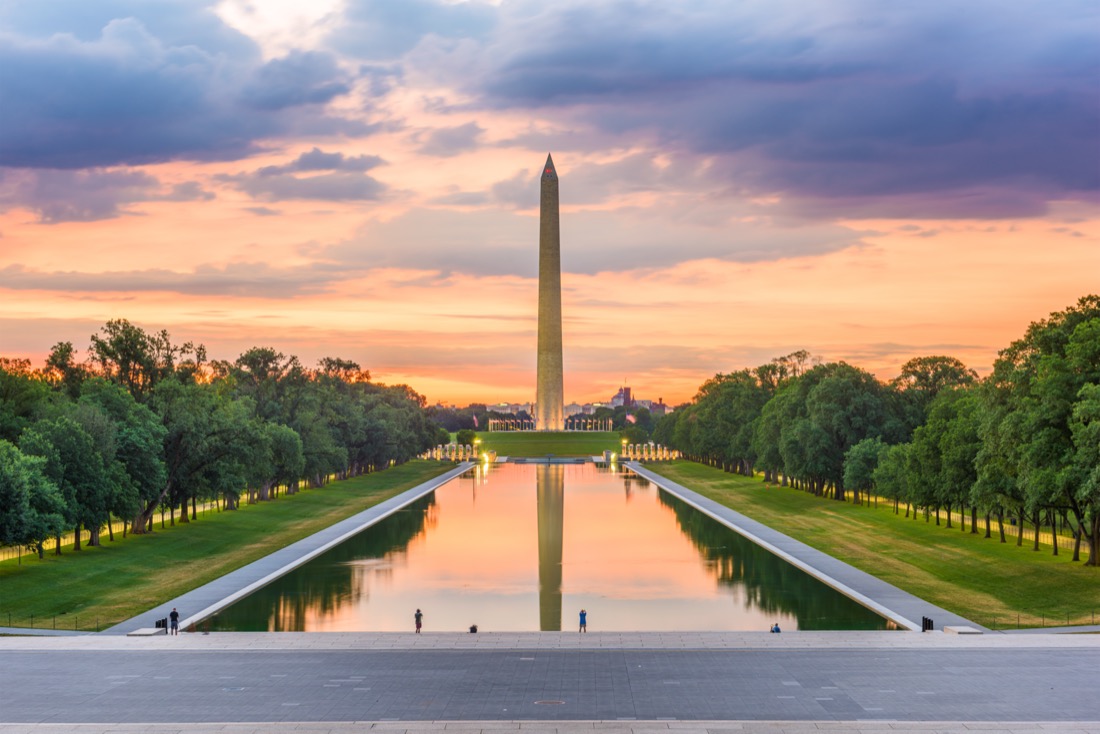 See the Monuments by Moonlight
The stark white marble really shines on a full moon night, so head outdoors for a stroll along the Reflecting Pool to maximize your viewing opportunities without having to trek several miles.
If you don't feel like walking, add a little extra cheesy romance into your DC date night with this classic trolley tour of the monuments at night.
You'll enjoy the tour and get to play tourist at home!
Tour the White House
Did you know you could tour the White House for free?
Few DC locals take advantage of this opportunity, so schedule a tour and take your date!
Whether you're both born and raised in DC or transplants or just visiting, take a tour to learn more about the people's house and its history.
You'll have plenty to talk about over dinner afterwards!
Take Your Pick of the Smithsonians
DC offers countless free things to do, and the Smithsonians are some of the most interesting examples.
They're all free and all conversation-starters, with unique angles on art, history, pop culture, and more.
Take your pick and enjoy date after date of learning and sharing together without spending a penny!
Spend Time in the Sculpture Garden (Year-Round)
Whether you go for Jazz in the Garden during the summer or ice skating in the winter, the National Sculpture Garden is always a good idea for date night in DC.
The sculptures spark plenty of conversation while the pretty space is also perfect for people-watching.
It's conveniently located so you can walk up to Penn Quarter for a nice dinner afterward, too.
Marvel at the Library of Congress
The Library of Congress (101 Independence Ave, SE) is located right next to the Capitol, but it doesn't often land on the tourists' top 10 radar.
This stunning architectural gem is also all too often overlooked by locals, so grab your date and enjoy strolling the halls and rooms of this fascinating building.
It's free to enter, just book a ticket time in advance.
You can also enjoy their Live! at the Library event every Thursday evening.
Enjoy the special event on offer for free, which could be a film, conversation, performance, or other interesting activity.
Register for a ticket in advance; there is a cash bar happy hour as well.
Better yet: Plan your visit during the holiday season for the gorgeous festive decor!
Snap a Cute Selfie
When you want to show off your new significant other, you need to take a cute selfie in a photogenic spot.
Go to Palmer Alley in CityCenterDC for an ideal backdrop of twinkling lights or seasonal decor that sets the stage for that cute selfie together.
It's a popular photo spot for engagement shoots, too.
Alternatively, head to Union Market for a photo in front of the Heart Wall.
Because nothing says you're a new couple like a heart-filled selfie!
Go for a Walk in a Park
DC might be a city, but it is absolutely filled with green spaces to enjoy!
A few perfect spots for a date that includes a walk in the park include the C&O Canal, Rock Creek Park, the Haines Point Loop Trail, Theodore Roosevelt Island, the National Arboretum, Meridian Hill Park (also called Malcolm X Park), or Dumbarton Oaks Park.
Cultural Activities for Couples in DC
Some of the more romantic things to do in Washington DC revolve around the cultural institutions in the city where you can enjoy a quiet space to talk, share ideas, and learn together.
These are some of our favorites.
Peruse The Phillips Collection Galleries
The Phillips Collection (1600 21st St NW) is a lesser-visited museum in Dupont Circle that's perfect for a DC date.
The art galleries are hosted in a beautiful building, perfect for browsing with your sweetheart.
There are often special events happening, too, including the Phillips After 5 evening events with a cash bar and special performances or activities.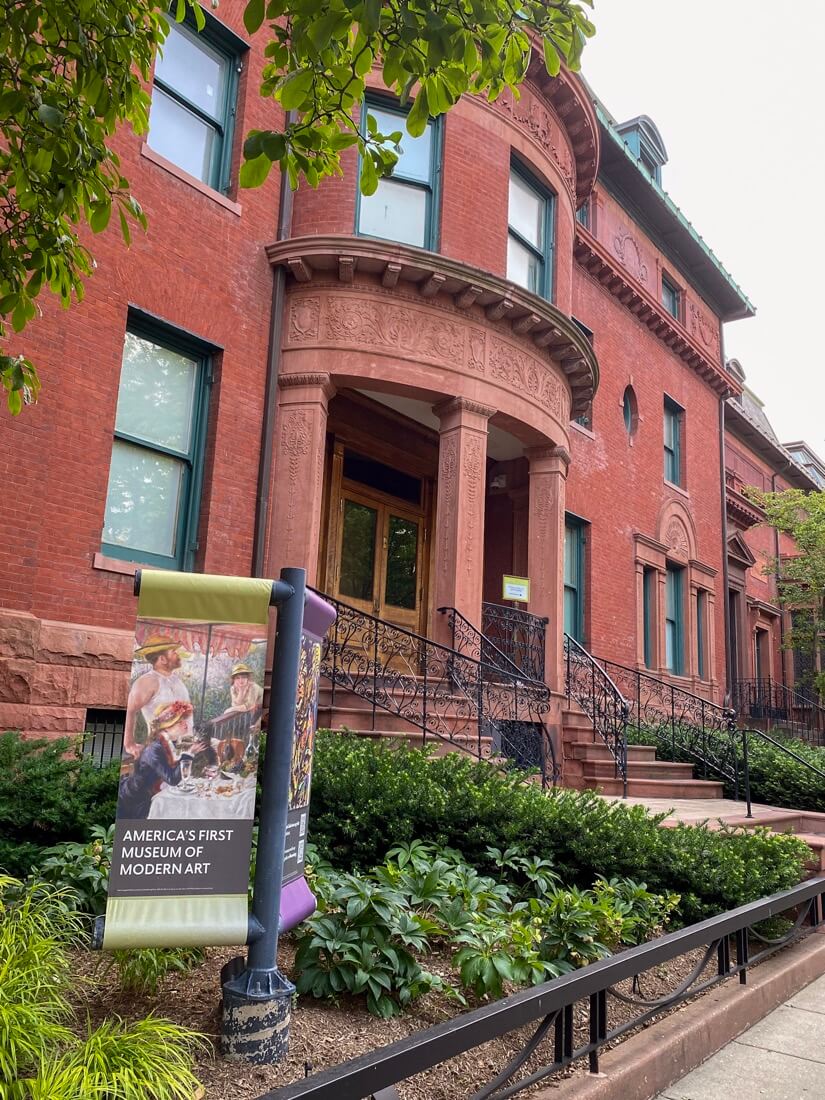 Learn at the National Building Museum
The National Building Museum (401 F Street NW) is a unique space to learn and dig deeper together.
The building itself is an architectural beauty, but its exhibits often tackle challenging issues like affordable housing, evictions, and the walls we construct to separate ourselves from others.
There are also plenty of lighter exhibits, from fun houses to architectural photography, models, designs, and more.
Take an Architecture Tour Together
Whether you've lived in DC all your life or you're one of many transplants, you can always learn more about the stories behind the facades of these beautiful buildings.
Impress your date with an educational — and fun! — architecture tour to learn more together.
This one goes through Georgetown and this one traverses Dupont Circle and Embassy Row.
Taste Macarons from Ladurée
The famous Parisian bakery has two locations in DC: in Georgetown (3060 M Street) and at Union Market (1309 5th St NE).
Grab a box of their delectable macarons to share as you stroll through the city together.
There's something a little extra romantic whenever Paris is involved!
Enjoy the Views from Rooftop Bars and Restaurants
A rooftop drinking and dining experience always sets the scene for the perfect DC date night!
There are multiple great options across the city, including VUE Rooftop Lounge (515 15th St NW), Officina at The Wharf (1120 Maine Ave SW), The Graham in Georgetown (1075 Thomas Jefferson St NW), Top of the Gate at the Watergate Hotel (2650 Virginia Ave NW), or The Rooftop Bar at the InterContinental (801 Wharf St SW).
Sip Cocktails at a Speakeasy
Want to impress your date with your insider knowledge?
Head to a sneaky speakeasy for delicious cocktails with a twist!
Head to U Street to check out The Gibson (the unmarked black door found at 2009 14th St NW), a classic speakeasy boasting beautiful cocktails.
There's no kitchen, so head around the corner to Ben's for a bite later.
Just a few blocks away, The Cellar Bar (aka Dram and Grain) offers candlelit tables and a lively cocktail-focused atmosphere beneath The Imperial (2001 18th St NW).
Another great option is The Alex, hidden behind a door that requires a code in The Graham Hotel in Georgetown (1075 Thomas Jefferson St NW).
With a speakeasy, the experience of finding and accessing the bar is a fun way to share an adventure together.
The seclusion and secrecy make speakeasies some of the most romantic places in DC.
Take a Food Tour
You probably feel like you know all the cool spots to eat and you're subscribed to the Washingtonian for the latest restaurant news.
But a food tour offers a whole new level of understanding of a neighborhood.
Forego the typical happy hour meetup and instead opt for this food tour on U Street or this Georgetown food tour to delve deeper.
Got a sweet tooth?
Don't miss this donut tour! (Yes, that's a thing.)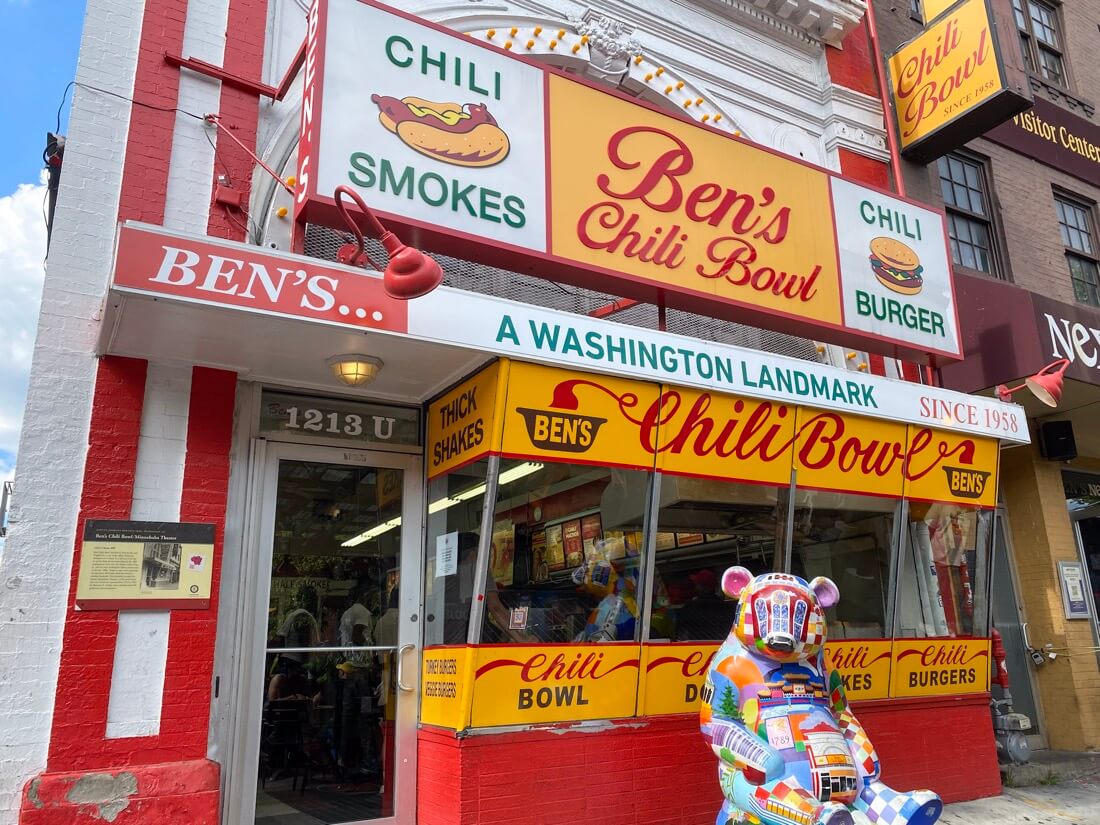 Visit Fancy Estates in DC
DC is awash with historic estates where some of the country's (and the world's) most famous people have lived…as well as some who are lesser known.
Learn and admire the fancy homes together for a casual day date!
Head to the Tregaron Estate (3100 Macomb St NW) to wander its extraordinary 20-acre woodland garden designed by landscape architect Ellen Biddle Shipman.
An alternative is Dumbarton Oaks in Georgetown (1703 32nd St NW) with its beautiful grounds designed by Mildred Bliss and Beatrix Farrand.
Before leaving, be sure to stop into Lover's Lane for a photo op!
Just down the road, head to Tudor Place (1644 31st St NW), which was the home of Martha Washington's descendants.
The House & Gardens at Hillwood (4155 Linnean Ave NW) is yet another beautiful estate from yet another strong DC woman, Marjorie Merriweather Post.
Each of these estates offers a glimpse into the lives, art collections, and devotion to detail these prominent women had and then gifted to the public.
Romantic Restaurants in Washington DC
Looking for a DC anniversary idea or hoping to wow a first date?
These are the best date night restaurants in DC that are sure to impress, no matter how long you've been together.
From cozy spots to Michelin stars to fancy feasts, it's all here and arranged by general neighborhood area.
Georgetown & West End
1789 Restaurant (1226 36th St NW)
Martin's Tavern (where JFK proposed to Jackie) (1264 Wisconsin Ave NW)
Fiola Mare (3100 K St NW)
La Chaumière (2813 M St NW)
Blue Duck Tavern (1201 24th St NW)
Dupont Circle & Adams Morgan
Residents Bar (1306 18th St NW)
Iron Gate (1734 N St NW)
Tail Up Goat (*Michelin-starred) (1827 Adams Mill Rd NW)
Downtown
The Lafayette at the Hay Adams Hotel (800 16th St NW)
Mt Vernon Square & Gallery Place-Chinatown
Tiger Fork (922 N St. NW, Blagden Alley NW)
The Dabney (*Michelin-starred) (922 N St. NW, Blagden Alley NW)
Centrolina (974 Palmer Alley NW)
Penn Quarter
minibar by José Andrés (*Michelin-starred) (855 E St NW)
Cranes (*Michelin-starred) (724 9th St NW)
Fiola (*Michelin-starred) (601 Pennsylvania Ave NW)
Logan Circle & Shaw & Cardozo (U Street)
Le Diplomate (1601 14th St NW)
Barcelona Wine Bar (1622 14th St NW)
Cork Wine Bar & Market 91805 14th St NW #7)
Georgia Ave-Petworth/Park View & Bloomingdale
The Red Hen (1822 1st St NW)
St Vincent Wine Bar (3212 Georgia Ave NW)
Ivy City & Union Market District
Gravitas (*Michelin-starred) (1401 Okie St NE)
Masseria (*Michelin-starred) (1340 4th St NE)
Capitol Hill
Bistro Cacao (316 Massachusetts Ave NE)
Rose's Luxury (*Michelin-starred) (717 8th St SE)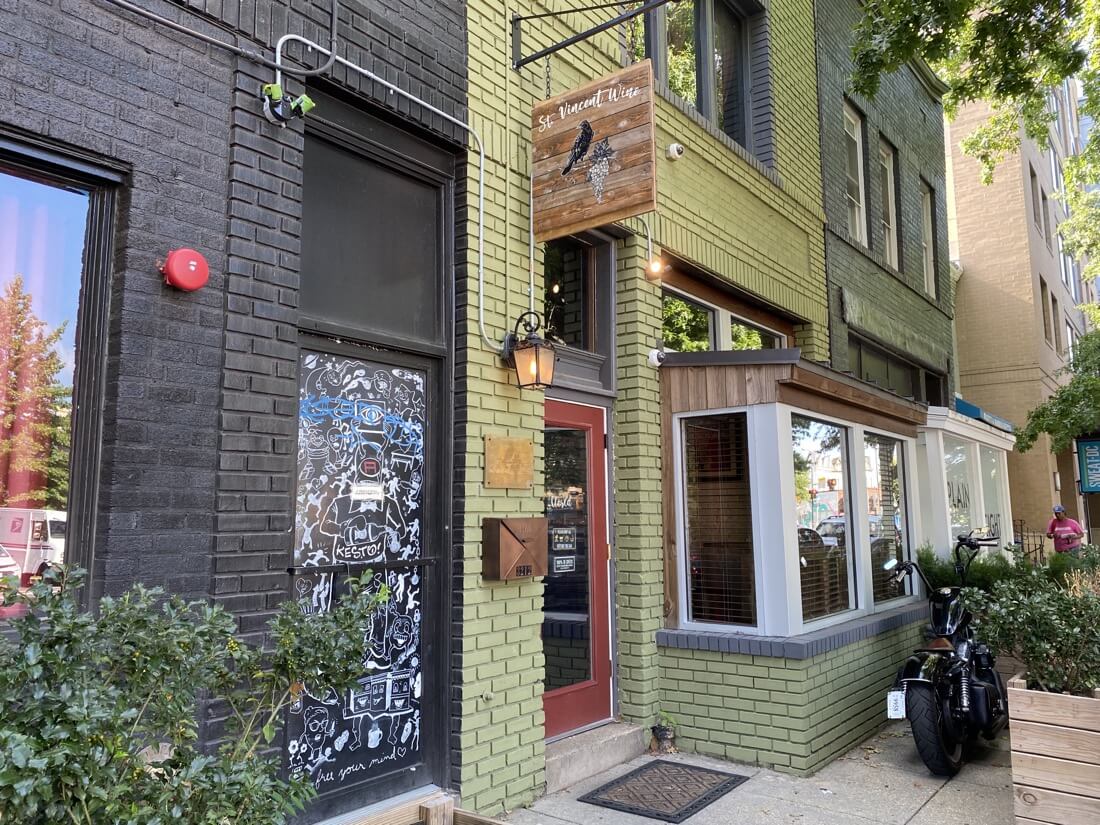 Romantic Washington DC Hotels
The Jefferson
The Jefferson (1200 16th Street NW) is a luxury boutique hotel with an on-site restaurant and a separate on-site bar and lounge.
It's always a popular choice for a romantic stay in DC for its beautiful architecture, top-class services, and ideal location with easy access to all the best things to do in the city.
The Hotel Washington
The Hotel Washington (515 15th Street NW) is a classic choice for a romantic DC getaway.
It boasts an on-site spa, lovely patio dining space, and one of our recommended rooftops for dining and drinks at the VUE.
The Darcy
The Darcy Hotel (1515 Rhode Island Avenue NW) is known to be an upscale, sophisticated hotel in DC that couples love.
Enjoy a daily gin tasting, or check out their on-site dining and drinks options at Gerrard Street Kitchen or Bluestone Lane.
The Darcy is also one of the best gay-friendly options and is an active supporter of the DC Pride events.
The Graham
The Graham in Georgetown (1075 Thomas Jefferson St NW) is tucked away off busy M Street in Georgetown, giving you a perfect reprieve from the popular area without being far away from all the best restaurants, bars, and shops.
Enjoy the rooftop bar, check out the speakeasy, and stop by their 21+ Garden area for a romantic escape from the hustle and bustle.
Final Words
Ready to start checking off all these options for date night in DC with your sweetheart? We hope this guide inspired you to go try something new!
Share your favorite date spots in the comments below.