This article has links to products and services we love, which we may make commission from.

Looking for fun and romantic date ideas on Long Island? This guide offers a plethora of options, from free outdoor activities to museums and galleries to interactive things to try together (axe throwing, anyone?).
If you're looking for ideas to celebrate an extra special occasion, Long Island boasts plenty of beautiful spots that are perfect for a photo op.
And if you're looking for more fun and casual first date ideas, we have you covered, too!
For an even wider range of suggestions, check out our guide to the best things to do on Long Island.
You might also like our guide to NYC romantic things to do.
Romantic Things to Do on Long Island
Our suggestions for the best Long Island date ideas are organized from west to east, all the way to Montauk.
At the end of our guide, you'll also find specific recommendations for the best romantic restaurants on Long Island as well as a couple of romantic getaway hotels to really make it a special occasion.
Want to explore from NYC but don't have a car?
This day trip will take you out to The Hamptons for scenery, a wine tasting, and some shopping.
Take a Hike at Sands Point
The hiking trails at Sands Point Preserve (127 Middle Neck Road, Sands Point) offer a lovely space for an outdoor adventure together.
The preserve sits on the original Guggenheim estate and part of it was the "East Egg" described in F. Scott Fitzgerald's novel The Great Gatsby.
The grounds are now a 216-acre park where couples can hike, walk, or jog together.
Be sure to stop by and see the stunning Hempstead House while you're here!
Play at The American Guitar Museum
Music-loving couples looking for a free date will not be disappointed with The American Guitar Museum (1810 Hyde Park Rd., New Hyde Park).
The museum is filled with guitar memorabilia and a guitar repair shop.
Keep your money and still impress your date when you take them to this unique Long Island treasure.
It's definitely a fun date idea on Long Island for music enthusiasts!
Snap Selfies at The Long Island Monster Gallery
The Long Island Monster Gallery (47A Roselle St., Mineola) provides couples with a different date experience on Long Island.
This gallery is not a haunted house, but it's the perfect date for horror aficionados looking to experience life-sized movie monsters, theatrical sets, lighting, and soundtracks.
The gallery is open year-round.
Be sure to make reservations in advance and arrive on time!
Experience The Planting Fields
The Planting Fields (1395 Planting Fields Road, Oyster Bay) is a perfect example of the opulent 1920s-era gold coast estates that Long Island is known for.
This estate is on the National Register of Historic Places and is currently managed by the Planting Fields Foundation.
Head to the estate for a lovely day date for couples who want to explore 409 acres of art, architecture, and greenhouses.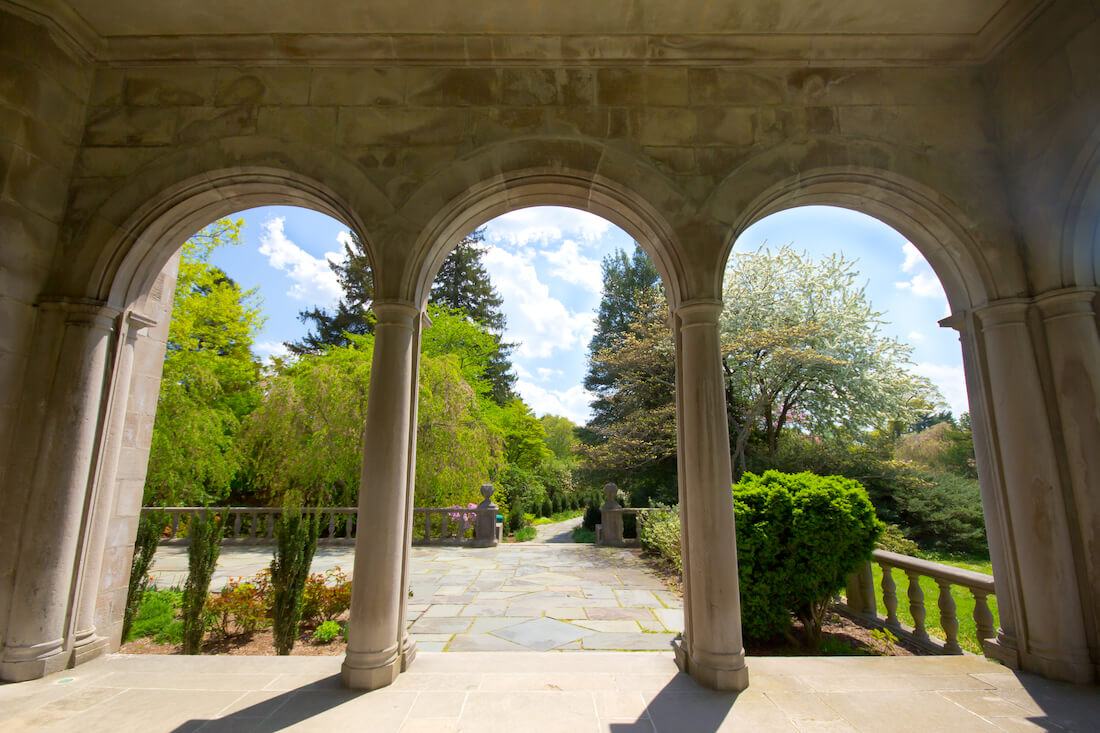 Test Your Ice Skating Skills
Ice skating together is definitely a cute date idea on Long Island!
Head to the Town of Oyster Bay Ice Skating Center at Bethpage Community Park (1001 Stewart Avenue, Bethpage) for an indoor skating rink.
You could also opt for one of the outdoor rinks for a fun winter date idea!
There are seasonal rinks at Marjorie R. Post Community Park Ice Rink (at Unqua & Merrick Road, Massapequa) and at Syosset-Woodbury Community Park Ice Rink (7800 Jericho Turnpike, Syosset).
Ice skating is a fun way to get some exercise and show off your skills, or huddle together as you shuffle around the rink like Bambi.
Throw an Axe
Couples looking for an adventurous date idea have to go to NY Axe (11 Mitchell Ave., Farmingdale).
Axe throwing has become a popular outing for adults looking to take out some frustrations and practice their aim.
See how you do and have fun on this interactive date together!
Visit a Real-Life Castle
Can't afford that trip to Europe right now?
Don't worry, you can still experience the wonders of a real-life castle at Oheka Castle (135 West Gate Drive, Huntington).
Built in 1919, the luxurious guest rooms and suites offer one of the best Long Island anniversary ideas for an overnight or weekend getaway if you're looking to impress!
The building is listed on the National Register of Historic Places and the hotel is also a member of Historic Hotels of America.
You might also like our guide to historic hotels in New England if you're looking to venture further afield soon!
You can also just enjoy a visit to Oheka Castle during the day, walking the ground together and admiring the stunning scenery.
Mansion tours are also available.
Go to a Show at The Paramount
Take your date to The Paramount (370 New York Avenue, Huntington) for a show and find out if you have the same musical taste.
The Paramount has been in business since 2011 and hosts more than 200 music, comedy, and other events annually.
When you visit, be sure to grab a slice at Ella's right next door.
Tour the Vanderbilt Museum & Planetarium
Vanderbilt Museum & Planetarium (180 Little Neck Road, Centerport) is one of the best Long Island attractions for couples.
The museum was formerly the private estate of William K. Vanderbilt II, one of the most storied families in US history.
Today, it offers visitors the chance to visit 43 waterfront acres of exhibits including a seaplane hangar, a boathouse, a curator's cottage, and the mansion itself.
Walking the grounds and discussing the history of the Vanderbilt family can be an interesting way to get to know someone new.
Explore the Lighthouse on Fire Island
There is something about a lighthouse that screams romance.
From the water views to the historic charm, visiting the lighthouse on Fire Island (Field 5, Robert Moses State Park) is an excellent place to take a date.
The park offers unique tower tours and the opportunity to explore the nature trails, exhibit center, and keeper's quarters.
Since it is open year-round, this could be a winter date idea on Long Island but look at the website in advance for days of operation and transportation options.
After you take photos of the lighthouse, be sure to stop into FIV Fire Island Vines (17 E Main St, Bay Shore) for a drink and a charcuterie board.
It's the perfect end to a perfect date on Long Island!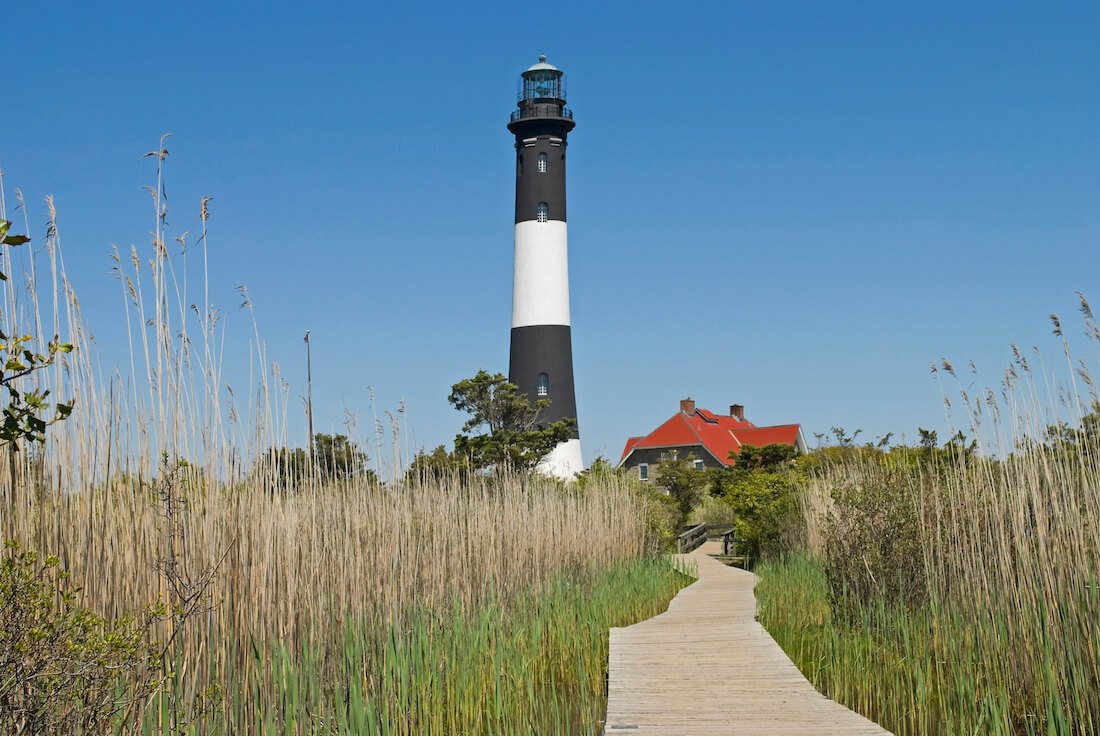 Roll the Dice at Jake's 58 Casino
Who needs Vegas or Atlantic City?
Stay on Long Island instead and take your date to Jake's 58 Casino (3635 Express Drive North, Islandia).
Couples can have fun here while taking their chances at the slot machines or enjoying some live entertainment.
Laugh Together at a Comedy Show
McGuires in Bohemia (1627 Smithtown Avenue, Bohemia) is another option for a fun date night idea on Long Island.
A comedy show is a terrific way to take the pressure off of the conversation and break the ice.
Hopefully, you will either laugh together hysterically or bond over bad jokes from comedians that bomb.
Play Mini Golf or Ride Bumper Cars
If you are looking for a fun and down-to-earth date idea for Long Island check out Tiki Action Park (1878 Middle County Rd. Centereach).
They've been voted as the best miniature golf on Long Island for eleven years in a row!
A day or night filled with miniature golf and bumper cars is sure to come with laughter, which always makes for a good date.
Relive your childhood together for some fun!
Check their website to see when the park opens for the season (typically at the end of March).
Go Bowling
Bowling is an excellent choice for a low-key and inexpensive first date idea on Long Island.
At AMF Centereach (40 Horseblock Road, Centereach), you'll be able to see who is the most competitive and find out whether or not either of you is a good sport.
There will also be plenty of things to distract you in case the date isn't going well.
Meander The Village of Port Jefferson
One of the most romantic places to go on Long Island is The Village of Port Jefferson.
In Port Jefferson, couples can explore shops and restaurants and view the picturesque harbor.
Make sure to stop by the Port Jefferson Gallery at The Village Center for some village history and rotating exhibits from local artists.
Just fifty miles from New York City and easily accessible from Connecticut by ferry, this could be a wonderful option for a romantic day trip to Long Island!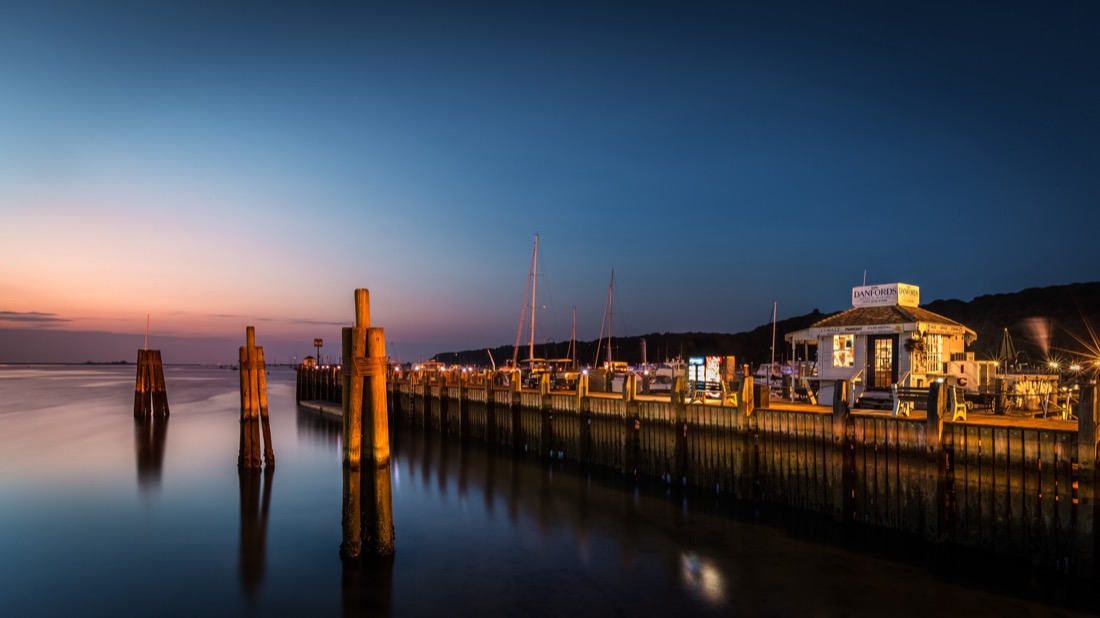 Sip & Paint at Muse
Another fun date idea on Long Island is Muse Paint Bar (134 Main Street, Port Jefferson).
You don't have to be the next Picasso or bring any supplies, just relax and let the instructor guide you step by step as you sip and sip again.
You'll have something to bring home to remember your date by and you'll get to spend lots of quality time together, too.
Play at Country Fair Park
Country Fair Park (3351 Route 112, Medford) offers that old-school timeless fun of an arcade, mini-golf, bumper caps, plus laser tag and batting cages if you want to get a little more active.
This is an ideal spot for a summer date idea on Long Island!
The entertainment park opens for the season in March.
Test Your Skills in an Escape Room
Consider an escape room for a unique date idea on Long Island.
The experience can help you get to know a person and see how they act under pressure.
You'll need teamwork and problem-solving skills to get out, so this could help you test your partnership!
Escape Game Long Island has two locations (718 Portion Road, Ronkonkoma, and 70 Horseblock Road, Brookhaven) both of which offer a wide variety of game and room options.
Take a Walk on the Beach
Some of the most romantic places in Long Island have to be the beaches.
Coopers Beach (268 Meadow Lane) in Southampton is known for its cleanliness and its fluffy white sand; it is consistently rated as one of the best beaches in the country!
Open from March-September, Coopers Beach offers several amenities, including the opportunity to rent beach chairs.
You can watch for dolphins and whales, which are often visible from shore.
When visiting, keep in mind that there is a fee for entry and parking can be expensive.
Take Your Crush to a Crush Vineyard
If you are looking for romantic things to do on Long Island, consider enjoying a glass of wine with that special someone at Lieb Cellars (13050 Oregon Rd, Cutchogue).
Since its founding in 1992, the vineyard has expanded to include three vineyard sites, two tasting rooms, and a full-service custom crush winery.
Make sure to make an advanced reservation before arriving.
Explore more of Long Island's wineries on this delightful guided bike tour.
Visit Greenport
Long Island is filled with quaint villages to explore and The Village of Greenport is no exception.
Whether it is the Cherry Blossom Festival in the month of May, the Maritime Festival in September, or the Gallery Walk from June – December, there is no shortage of activities for couples to enjoy in Greenport.
Taste Wine on the Waterfront
If you want to impress a date, you can't go wrong with tasting wine on the waterfront.
Kontokosta Winery (825 North Road, Greenpoint) is a family-owned and operated farm that gives couples the opportunity to taste great wines in an idyllic atmosphere.
Be sure to make reservations in advance for what is without a doubt one of the most romantic places on Long Island.
Head to Montauk Point Lighthouse
Another one of the most romantic places on Long Island is Montauk Point Lighthouse (2000 Montauk Hwy).
Head to what seems like the edge of the Earth and bask in the beauty together.
Certainly one of the more popular spots on our list, its history extends all the way back to George Washington, who commissioned it in 1792.
Enjoy the drive out together to the eastern tip of the island and then snap some selfies as you soak up those 360° views.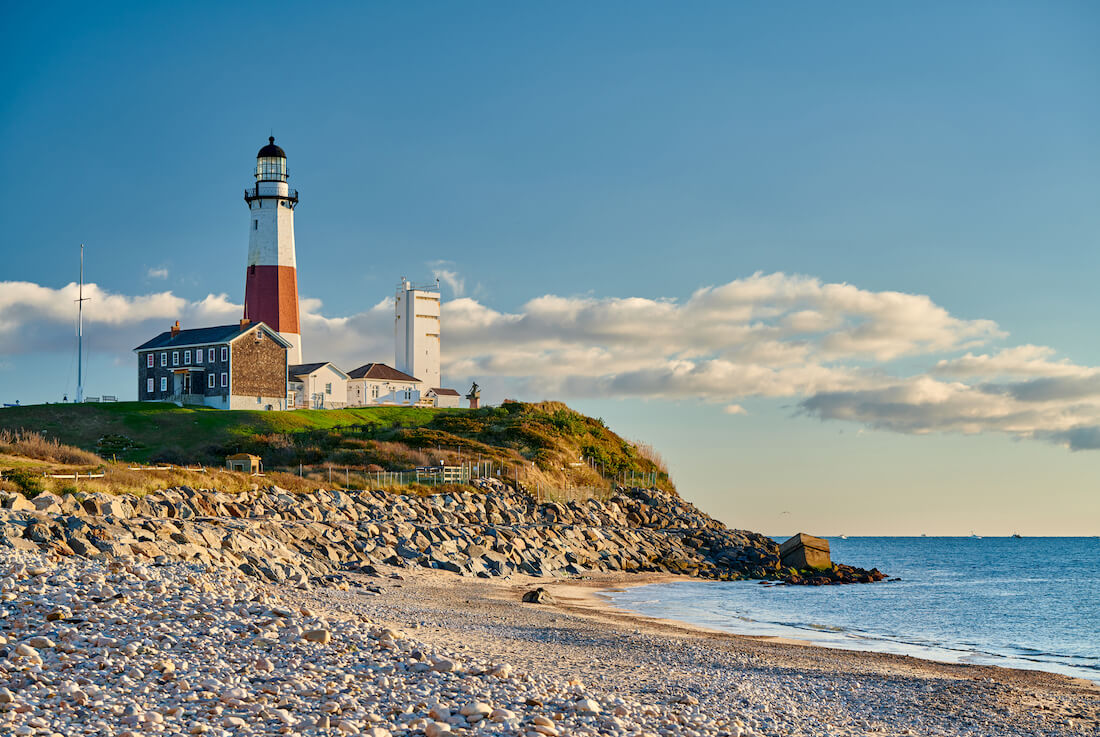 Romantic Restaurants on Long Island
Looking for the most romantic restaurants on Long Island for a special celebration?
These are sure to impress, whether it's an anniversary, Valentine's Day, or just an excuse to get dressed up and enjoy a memorable meal together
flora
For a romantic dinner on Long Island, head to flora (149 Main St, Westhampton Beach) to enjoy their delightful array of cocktails and seasonally-focused menu.
Their plate presentation is on point and will set the stage for a special night out.
Make a reservation online, although walk-ins are welcome if it's a last-minute special celebration.
Charlotte's Speakeasy
For a unique night out, head to Charlotte's Speakeasy (294 Main St, Farmingdale) and use this week's secret password to get in.
Tucked away downstairs below Charlotte's Desserts, you'll be whisked away into the roaring 1920s during the Prohibition era.
This space was an actual speakeasy that the owners of Charlotte's Desserts unearthed during renovations.
They decided to renovate the downstairs, too, and recreate this historic atmosphere for the Farmingdale community — which was apparently a hotbed for illicit alcohol at that time!
You can call to book a table for a meal or just enjoy the bar at your leisure.
Romantic Hotels on Long Island
Maybe you're local but looking for a special getaway nearby (because who wants to drive 5 hours for a weekend?!), or maybe you're getting out of the city for a weekend of relaxation together.
These are some of the best options for romantic places to stay on Long Island.
The Inn and Spa at East Wind
The Inn and Spa at East Wind (5720 NY-25A, Wading River) is an idyllic romantic getaway on Long Island.
Cozy up in this iconic space, enjoy a couples massage, and eat a delicious dinner in their downstairs restaurant, Desmond's.
Book a stay together to feel totally refreshed and rejuvenated!
The Quogue Club
The Quogue Club (47 Quogue St, Quogue) is a luxury boutique hotel perfect for a romantic getaway on Long Island.
Choose from a custom-designed room or a private cottage on their historic property.
Since 1828, the Hallock House has been welcoming guests to their property; recent renovations have revived traditional elements like the beautiful front porch.
The Club is a private dining membership for locals while the rooms and cottages welcome guests from all around.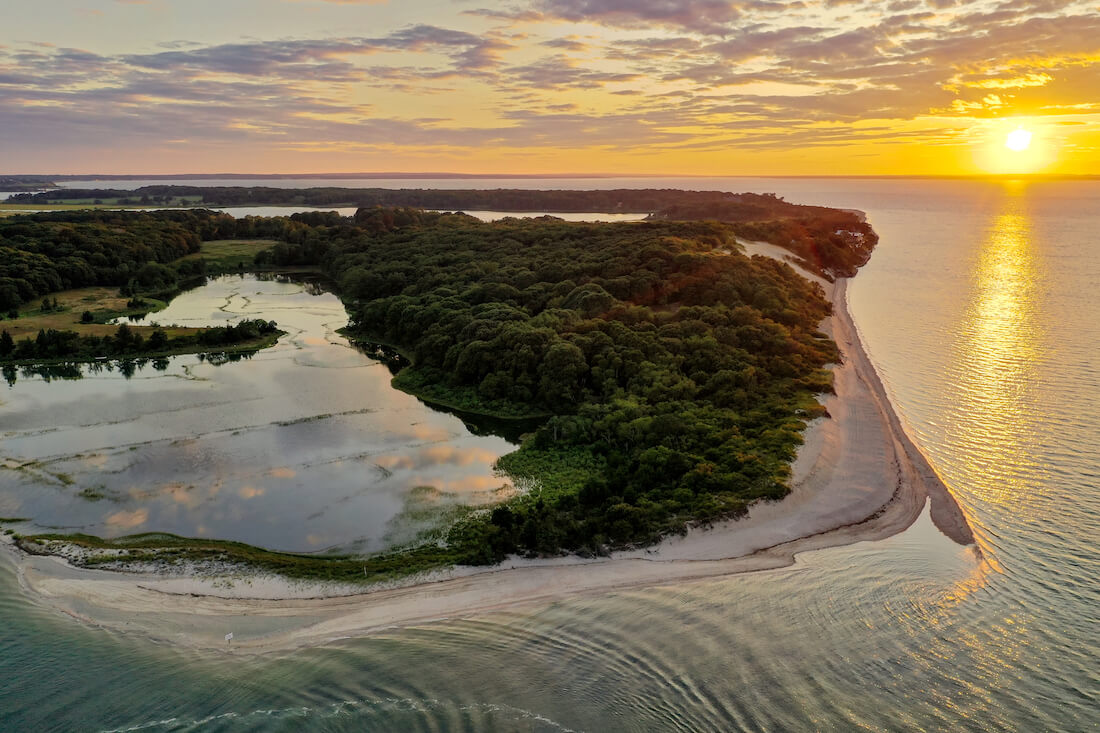 Final Words
Are you ready to try out all these date ideas on Long Island? We'd love to hear your favorite spots in the comments below.