This article has links to products and services we love, which we may make commission from.

Wondering what to do in Connecticut in spring? Whether you're local or visiting, spring in CT is a delightful time to get outdoors and enjoy the warming weather and colorful scenery! Flowers start to bloom in March and long summer days are within reach by May.
A Connecticut spring vacation is always a lovely idea!
If you're local, get out and experience more of the fun things to do in Connecticut before the busier summer tourist season starts.
If you're visiting, you'll enjoy a more local experience!
You might also like our other seasonal guides for Connecticut in the winter and in the fall.
And don't skip all the fun things to do in Mystic CT!
You might also want to see our full guide to New England in the spring.
Things to Do in Connecticut in the Spring
Our guide is organized from northern Connecticut heading south to the coast.
We start with a statewide celebration of spring in CT and then share our favorite recommendations town by town and event by event.
Migration Madness, Multiple Locations
Hosted by the Connecticut Audubon Society, spring in CT is marked by Migration Madness.
Migration Madness is a fundraiser to support bird conservation.
It takes place in the middle of May and is a fun competition to spot as many migratory bird species as possible over a weekend.
Take a guided bird walk with the Audubon Society or head out on your own to compete and win special prizes!
Even if you don't win, you'll enjoy the beauty of nature in springtime, so it's really a win-win situation.
Easter Eggspress at the Connecticut Trolley Museum, East Windsor
One of the coolest Connecticut attractions in spring is the Easter Eggspress at the Connecticut Trolley Museum (58 North St).
Head out on a trolley ride, take part in a scavenger hunt, and make some Easter-themed crafts to earn special Easter eggs.
Kids will love the activities and get to learn about the cool history of transportation at this museum.
The Trolley Museum also features in our CT winter guide — it's one of our favorite attractions for fun seasonal events!
Housatonic Anglers, Cornwall
Fly fishing is an iconic activity during springtime in Connecticut, and the Housatonic Anglers (26 Bolton Hill Rd) are a super knowledgeable resource to help you get started.
Take a full- or half-day trip along the Housatonic River, the Farmington River, and smaller connecting streams.
All the equipment and lunch are included with your trip, making this an incredibly special spring adventure.
Berkshire Balloons, New Hartford
You should make a point to visit Connecticut in spring just so you can soar in a hot air balloon with Berkshire Balloons (120 Turnbull Rd).
Open for decades, a flight with Berkshire Balloons is perfect for all ages and people who hope to catch a glimpse of the sweet Connecticut spring.
You could also enjoy a hot air balloon in Western Mass if you're local to the area!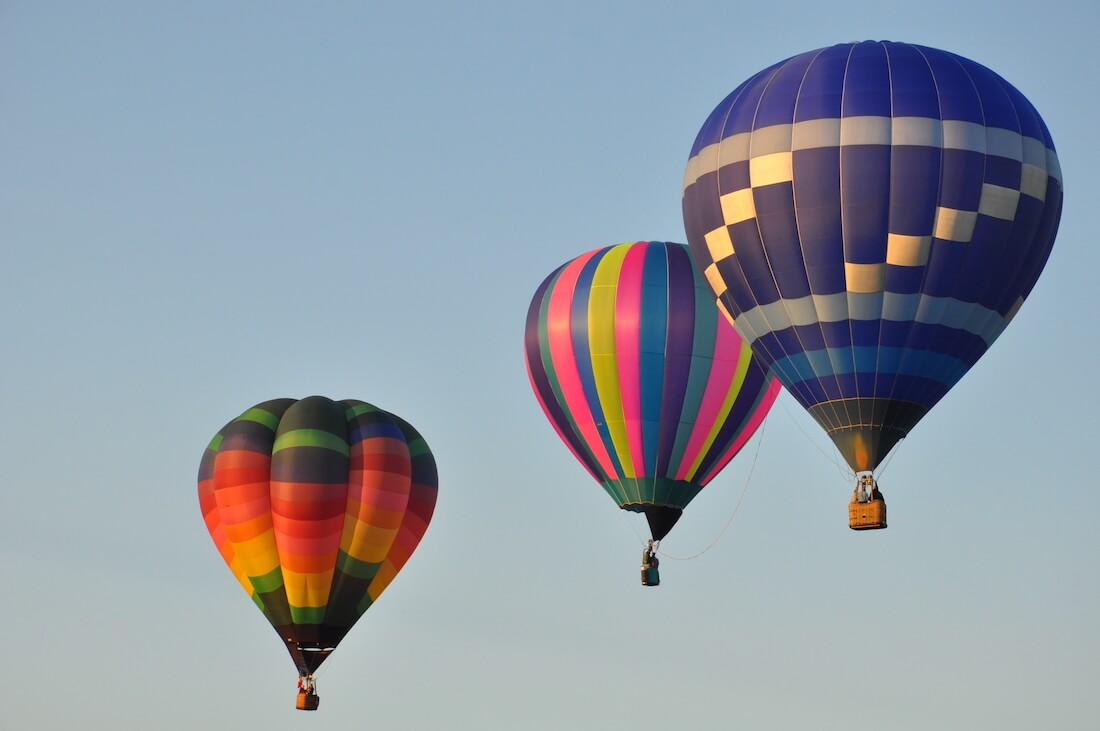 Collinsville Canoe & Kayak, Collinsville
Collinsville Canoe & Kayak (41 Bridge St) opens its rental service in early May and offers canoes, kayaks, and paddleboards to its customers.
Their shop also features a launch into the Farmington River, which means you can take your hourly rentals up and down the river for as short or long a trip as you'd like.
If you're looking for other places to kayak in CT, you should check out our complete guide!
Elizabeth Park, Hartford
Elizabeth Park in Hartford (1561 Asylum Ave) is one of the best places to visit in Connecticut in spring to see flowers on display.
The park features one hundred acres of gardens and green spaces and is on the National Register of Historic Places.
From March to June, you can expect beautiful blooms from tulips, daffodils, perennials, irises, and roses.
Hartford Yard Goats, Hartford
If you're looking for fun places to go in Connecticut in spring, look no further than Dunkin' Donuts Park (1214 Main St) to see a Hartford Yard Goats baseball game.
Opening Day in the stadium is in early April, so pick up a pair of tickets and enjoy an exciting Minor League Baseball game this spring.
May Market at Hill-Stead Museum, Farmington
The May Market at the Hill-Stead Museum (35 Mountain Rd) is a great event to celebrate late spring in Connecticut.
There are dozens of exhibitors supporting the museum's annual fundraiser, vending artworks, flowers, treats, textiles, jewelry, and so much more.
Check out this event, explore the museum's 150 acres of gardens and trails, and enjoy the history of this beautiful estate.
White Flower Farm, Morris
Opening for the season in early spring, White Flower Farm (167 Litchfield Rd) is a large garden and garden supply shop.
Thousands of daffodils and tulips, cottage-core gardens, and full greenhouses greet you on a self-guided tour through some of the most iconic flowers of the region.
Be sure to shop the retail store for all your garden needs, as well!
Flowers in Hubbard Park, Meriden
Hubbard Park (999 W Main St) is one of the best places to see in Connecticut in spring, thanks to more than 600,000 daffodils that bloom every year.
Schedule your visit for mid-April when the flowers are in full swing, and wander through these amazing flowers to celebrate the new season.
While you're at the park, climb Castle Craig Tower, an old stone observation tower that was built and dedicated in 1900.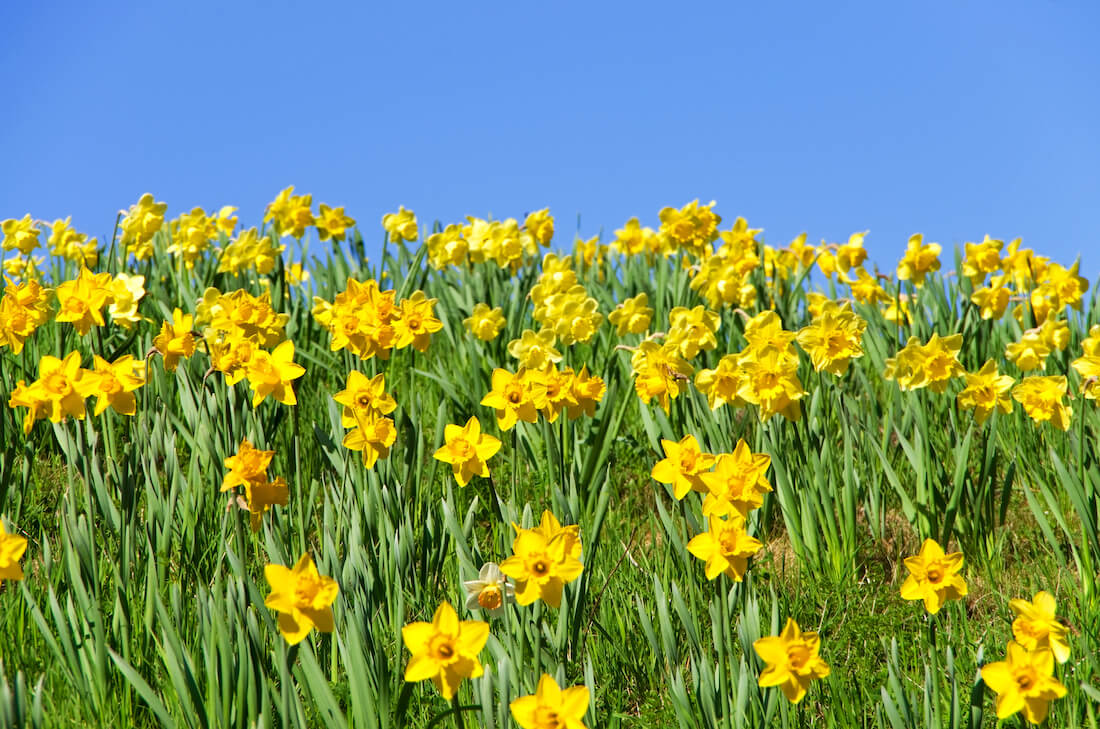 Wicked Tulips, Preston
One of the most spectacular places to check out is Wicked Tulips Flower Farm (382 Route 164).
You won't believe your eyes when you see almost 80 different tulip varieties on this pick-your-own flower farm.
Stroll through massive fields of tulips, take amazing photos, and bring bouquets of flowers back home with you from your travels!
Pick-Your-Own Daffodils at Halfinger Farms, Higganum
If you prefer daffodils to tulips, head to Halfinger Farms (489 Candlewood Hill Rd) to pick your own fresh spring daffodils.
The farm is truly an amazing place to see in Connecticut in spring, and bringing back a bundle of daffodils is a perfect way to celebrate the season and brighten up your home.
Lavender Pond Farm, Killingworth
If you miss the early spring flower displays of tulips and daffodils, don't worry—Lavender Pond Farm (318 Roast Meat Hill Rd) allows you to enjoy these purple blooms in late spring and into the summer.
You can even take a tour of the farm on the Lavender Express, a little train that will take you around and show you the behind-the-scenes of a lavender farm operation.
Wander through nearly 10,000 lavender plants, take pictures, and pick up a bundle of flowers from the shop on your way out!
CT Spring Boat Shows, Essex
Taking place in late April, the CT Spring Boat Show (11 Ferry St) is a yearly boat show that is totally in-water.
If you're a boat-lover, come visit Connecticut in spring to check out these boats and take one out to sea!
The show is also an annual fundraiser for Sails Up 4 Cancer, so go ahead and support a good cause by stopping by.
Florence Griswold Museum Gardens, Old Lyme
The Florence Griswold Museum is one of the best places to go in Connecticut in spring to view beautiful gardens and flowers.
The museum features American art from the 18th century to the 20th century and is a historic place from the time of the Lyme Art Colony.
Walk through the gardens that inspired so many of the paintings done by the Art Colony residents.
Plus, each spring, the museum hosts a Garden Luncheon, which allows you to enjoy the gardens, dine on light fare, and meet other art enthusiasts!
New England Science and Sailing, Stonington
If you're looking for something for the kids to do during the Connecticut April vacation, sign them up for boating or science programs at New England Science & Sailing (72 Water St).
With programs like Marine Mavens, which teaches skill-building out on the water to young women and girls, NESS is a perfect place to go during spring break in Connecticut.
Check out their upcoming events in spring to find the right opportunity for the young ones in your life.
Wooster Square Park, New Haven
Wooster Square Park certainly has to be one of the most beautiful Connecticut places to visit in spring.
Located between Wooster Place and Chapel, Academy, and Greene Streets, Wooster Square is bursting with cherry blossom trees, which typically bloom at the end of April.
The Cherry Blossom Festival is an iconic event in New Haven every year, and you can't miss it!
Each year, thousands of people celebrate the planting of 72 Yoshino Japanese cherry blossom trees here back in 1973, with annual blossoms that delight locals and visitors alike.
The exact dates of peak bloom vary every year based on the weather, but the festival tends to happen the third weekend of April.
East Rock Park, New Haven
East Rock Park (41 Cold Spring St) is an incredible place to visit in the spring to experience a huge concentration of migratory songbirds.
The Audubon Society considers the park a High Conservation Priority thanks to its essential habitats.
You can easily spot more than 20 different species of warblers, but up to 200 species of birds have been identified within the park's bounds.
Colorblends House & Spring Garden, Bridgeport
Spring is the best time to visit the Colorblends House & Spring Garden (893 Clinton Ave) because it features beautiful spring flowers, like snowdrops, crocuses, and iconic tulips and daffodils.
While you enjoy this uniquely-designed garden, you can also explore the 1903 mansion, built in the Colonial style, and pick up special spring flower bulbs from their shop.
Olive and George Lee Memorial Garden, New Canaan
The small Olive and George Lee Memorial Garden (89 Chichester Rd) is a special example of unique horticulture and landscape design in New Canaan.
Just under 3 acres, the garden has been in operation for more than 80 years and features unique and rare flowers that bloom all spring long.
Admission is free and you can even arrange a guided tour, which is curated specially for the flowers in bloom during any given week.
Bartlett Arboretum and Gardens, Stamford
If you're wondering where to go in Connecticut in spring, we highly recommend you make the Bartlett Arboretum (151 Brookdale Rd) a stop on your travels.
While it's free to enter all year round, its 13 gardens really come back to life with vibrant and joyful colors in the springtime.
Besides the amazing flower displays, you can also take a guided springtime hike to learn more about the wildlife that calls the grounds home.
Stamford Museum and Nature Center
The Stamford Museum & Nature Center is a wonderful place to visit this spring in Connecticut, especially in early March when they celebrate Maple Sugar Fest Sunday.
You can enjoy games, activities, and delicious maple samples all afternoon for the price of a standard admission ticket!
While CT isn't the haven of all things maple the way that Maine or Vermont might be, you can still enjoy the end-of-winter seasonal tapping and tasty treats in Connecticut.
Connecticut Spring Weather
You can expect temperatures to increase from the low 40s to the low 70s throughout the spring in Connecticut.
About half of the days will be overcast in spring, and you can expect precipitation about 30% of the days.
Especially earlier in the season, be sure to pack layers and be prepared for volatility, but by late spring you can more reliably count on sunnier, warmer days.
Final Words
Are you ready to enjoy all the beauty and fun of a Connecticut spring? We always are!
Share your favorite things to do in the spring months in the comments below.