This article has links to products and services we love, which we may make commission from.

Who wouldn't want to visit Connecticut in fall? It is the state that inspired the biggest New England TV show that adores autumn after all!
Whether you are chasing down the 'real' Gilmore Girls Stars Hollow or planning a relaxed road trip around the Connecticut foliage locations; this guide shares the best fall things to do in CT from nature walks, scenic overlooks, historic locations, spooky tours, pumpkin picking, and tasty cider.
With lakes, mountains, covered bridges, fun cities, and cozy towns; you can easily spend a long weekend or extended vacation in The Nutmeg State.
Plus, its proximately to Massachusetts and Rhode Island help make up a dreamy New England road trip.
Plan for fall temperatures ranging between 50F and 74F, from September to November.
You may also like our guide to haunted hotels in New England.
Would like to see more than just Connecticut but not sure if it is possible? Check out our one week fall road trip itinerary.
Connecticut in Fall Attractions and Destinations
Mystic, CT in the Fall
Mystic is a great place for Connecticut fall getaways.
The town has a variety of fall activities for people of all ages, from spooky tours to classic fall activities and foods.
Take a Ghost Tour
First, Seaside Shadows has some great ghost tours in Mystic that will get you in the Halloween spirit.
They have a variety of tours depending on what you are looking for, including a downtown Mystic ghost tour, a whiskey pub crawl, and a paranormal pub crawl.
And, if you want something even scarier, they have a moonlit graveyard ghost tour and a tour of Elm Grove Cemetery.
Visit Elm Grove Cemetery
Whether you take a guided tour here or visit on your own, Elm Grove Cemetery (197 Greenmanville Ave) is a spooky place to visit.
The cemetery opened in 1853, and you are bound to feel the spirits of ghosts here, as there are more than 13,000 graves here.
Explore the Charles W. Morgan Ship
Another one of the spooky places to visit in CT in the fall is the haunted Charles W. Morgan ship (75 Greenmanville Ave).
The ship, built in 1841, is the oldest commercial ship still floating in the United States.
Many visitors and workers have felt a presence or seen a ghost on or near the ship, so keep your eyes peeled during your visit.
Whittles Willow Spring Farm Pick-Your-Own
Need something a little less scary?
Take a trip to Whittles Willow Spring Farm (1030 Noank Ledyard Road), where you can pick your own pumpkins and apples in the fall.
There is also a market at the farm where you can get other fall produce and plants like fall mums and corn.
B.F. Clyde's Cider Mill
Finally, you have to visit B.F. Clyde's Cider Mill (129 N Stonington Rd), a national landmark and the oldest steam-powered cider mill in the country that has been open since 1881.
You can buy a variety of ciders, donuts, wine, and other fresh local fall foods here, and if you visit when the press is running, you can see a demonstration.
Here's our guide for more ideas of things to do in Mystic.
Norwich, CT in Fall
The city of Norwich in New London County has three rivers that flow through it, Yantic, Shetucket, and Quinebaug.
It is also where you will find Indian Leap at Yantic Falls.
Indian Leap Norwich, CT in Fall
Another waterfall where you can see some beautiful fall foliage in Connecticut is Indian Leap, also called Uncas Leap or Yantic Falls.
The area is meant to commemorate the Battle of the Great Plains and the Mohegan Tribe, who have a lot of heritage here and are free to access.
And the waterfall is a part of a larger surrounding park and trail system, so you can spend some time hiking here, either along the challenging 2.8-mile Heritage Trail or the easier one-mile Uncas Leap Trail.
Hartford, Connecticut, in Fall
Hartford is one of the best fall towns in Connecticut if you want some fall activities in a city.
The best places to find Hartford fall foliage include parks in the city.
And, there are other things to do in the fall too, like tours and cemeteries.
Hartford also features in our guides to Connecticut in winter and in the spring — there is always something fun to do!
West Hartford Hauntings
At the end of October, you can take a haunted tour through the Old North Cemetery with the West Hartford Historical Society (80 North Main St. West Hartford).
On the lantern-lit tour, you learn about the spooky deaths, diseases, and history of the cemetery and town.
Bushnell Park
The first place in Hartford, Connecticut, for fall foliage is Bushnell Park, which is in the heart of downtown.
It is US's first publicly funded park!
The park has more than 150 varieties of trees that change color in the fall, and the Tree Walk is a great activity.
Bushnell is a four-season nature space with events taking place throughout the year from ice skating in winter to live music in summer and Arch Tours of the gothic Soldiers and Sailors Memorial Arch from spring until October.
Look out for the foliage framing Connecticut State Capitol too.
Riverside Park
Another great park is Riverside Park (20 Leibert Rd), where you can explore the forest on miles of unpaved trails.
Or, you can row on the river and admire the Connecticut autumn leaves from the water.
There are also areas to play sports at the park, a playground, and many picnic spots.
Goodwin Park
Goodwin Park (1235 Forbes St, East Hartford) is yet another park where you can peep the fall leaves.
You can play sports here like softball, baseball, football, and basketball, or have a picnic and play at the playground.
Cedar Hill Cemetery
Another one of the cool things to do in Connecticut in October is to visit Cedar Hill Cemetery (453 Fairfield Ave).
Not only is there a lot of beautiful fall foliage in the cemetery, but you might also come across some spooky spirits since the cemetery is haunted.
Charter Oak Landing
Charter Oak Landing (50 Reserve Rd) is a riverfront park is a great place to walk among the fall trees and water in the fall.
There is also a boat launch if you want to see Hartford from the water and a playground if you visit with kids.
Jerram Winery
One of the best fall activities in CT for adults is a visit to the Jerram Winery (535 Town Hill Rd, New Hartford).
Not only can you taste some delicious local wine, but you can also walk through the vineyard, which is stunning in the fall.
The winery is a farm winery which means it used to be part of a working farm, and it is at the site of the original settlement in the early 18th century.
Southford Falls State Park
Less than an hour's drive from Hartford is the 126-acre Southford Falls State Park (175 Quaker Farms Rd, Southbury).
You can visit the waterfalls at the northwest end of the Park on the Eight Mile River and Eight Mile Brook, one of CT's covered bridges.
You may also like our guides to Vermont's covered bridges and New Hampshires's covered bridges.
Litchfield, CT Fall Foliage
Litchfield Hills, Connecticut fall foliage is some of the best, which is where the town of Litchfield, CT is.
You will find plenty of fall activities, including state parks, farms, and even hot air balloon rides.
This region is said to have inspired Amy Sherman-Palladino, the creator of Gilmore Girls.
Will you find a coffee stop that beats Luke's?
For a more comprehensive guide on what to do in Connecticut during all seasons, check our CT bucket list.
Topsmead State Forest
Hiking in Topsmead State Forest is one of the great fall things to do in CT near Litchfield.
If you visit during peak season, you will see some of the most vibrant colors on a hike, or you can picnic here and spend the day surrounded by colors.
Hikes range from 0.5 (Bernard Stairs Trail) to 1.5 miles (Songbird Trail) so they are classified as easy routes.
This nature reserve was donated to the people of CT in 1972 by its owner, Edith Chase, after her death.
Topsmead is one of our favorite free fall things to do in Connecticut.
It is also a very popular photography spot for proposals and pregnancy shoots.
White Memorial
White Memorial (80 Whitehall Rd) is the state's largest privately held Conservation area.
Established in 1913 by siblings Alain and May White, the 4,000-acre in the hills of northwestern Connecticut offers 40 miles of trails through forest, fields, and wetlands, and over 50 entrances.
The most popular trail is the 1.2-mile wooden walkway over Bantam River, the Little Pond Trail, also known as the Boardwalk Trail.
The park has 10 ponds, Bantam Lake Shoreline, White Memorial's Point Folly Marina, Apple Hill, and the centuries-old Catlin Woods.
White Memorial is where you'll find some of the best fall foliage in Connecticut.
If you enjoy watersports, you may be interested in our guide to kayaking in CT.
Bunnell Farm
Bunnell Farm (498 Maple St) has a lot of fall activities in CT.
In the fall, there is a corn maze, a pumpkin patch where you can pick your own pumpkin, and free hayrides.
It is located near all the great places for foliage in Litchfield, so you can stop here between state parks.
Hot Air Balloon Ride
Aer Blarney Balloons (92 Town Line Road, Bethlehem) offers one of the unique things to do in Connecticut in the fall.
You can take a hot air balloon ride over Litchfield Hills, where you can get a bird's eye view of the fall foliage.
The flight takes around one hour and flyers are advised to wear waterproof shoes and to pack an extra layer.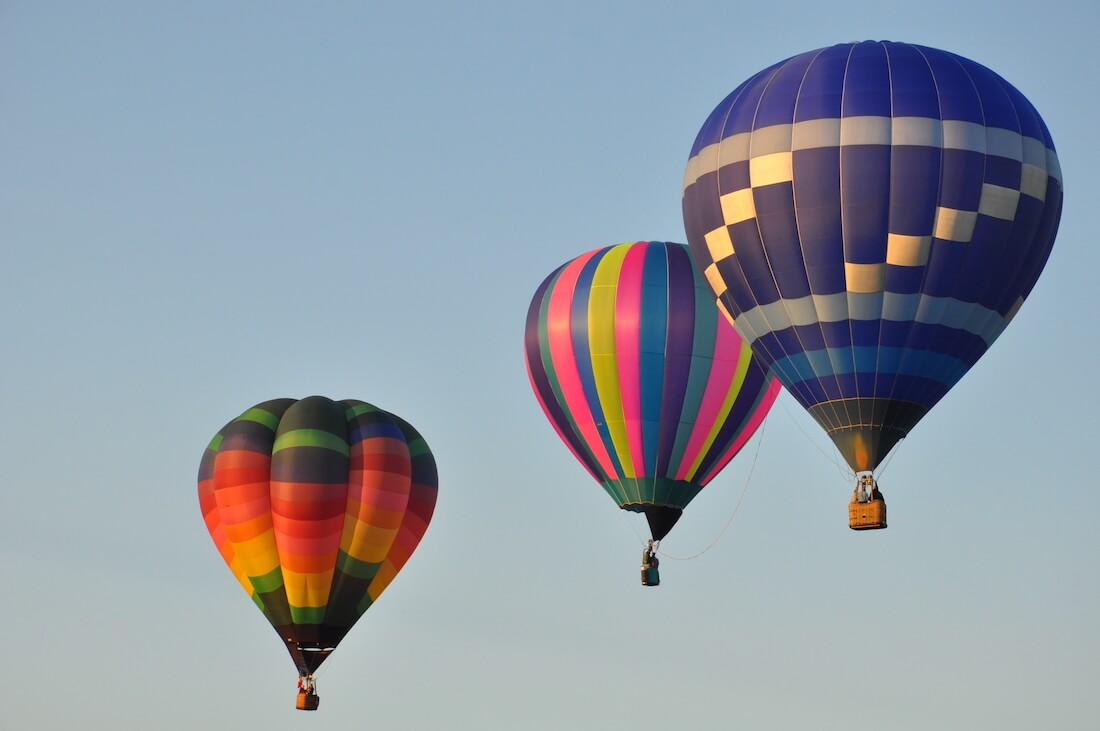 Mount Tom State Park
Mount Tom State Park (Mount Tom Rd, Washington Depot) is another great place to hike and see the fall colors.
It is one of the oldest parks in the state park system, established in 1915.
Mt. Tom's summit reaches 325 feet above sea level!
Be sure to visit the stone lookout tower for great views of the foliage, which is one of the hikes at the park.
The trail is less than a mile and is 500 feet in height.
Black Rock State Park
Black Rock State Park (2065 Thomaston Rd) is located in the Western Highlands town of Watertown, less than 15 minutes from Litchfield.
Early settlers used the area for graphite lead mining, and artifacts dating back to the Mohegan, Paugussett, and Tunxis tribes have been found at the park.
The state park stretches 439 acres and features a large rock face, Black Rock; views of Thomaston, Watertown, and portions of Waterbury can be seen from this point.
Black Rock Pond is surrounded by pine, hemlock, and oak; the perfect setting for fall photography.
The Mattautck Trail is a 42-mile hike, which covers the park and towns of Wolcott, Plymouth, Thomaston, Watertown, Morris, Litchfield, Warren, and Cornwall.
Trick or Treat at Meadow Street, Litchfield
Meadow Street in Litchfield is renowned for its Halloween decoration efforts which sprawl from house to lawn!
Previous years have featured skeleton horse-drawn carriages.
Cornwall/Goshen, CT in Fall
The Cornwall/Goshen area of Connecticut is home to the rugged hills of Mohawk Mountain State Forest State Park.
Mohawk Overlook
Mohawk Overlook (Toomey Rd) provides panoramic views over the Taconic Mountains and Berkshire Mountains.
It is located in Mohawk Mountain State Forest State Park where you'll also find the 1,683-foot Mohawk Mountain, Mohawk Trail, Cunningham Tower, and The Black Spruce Bog.
Route 7 Connecticut Foliage
One of the top Connecticut fall foliage driving routes is along Route 7.
Route 7 runs along the west side of Connecticut from north to south, and you could easily spend a couple of days or more exploring all the sites and towns along it.
Along the route, you should stop at a stretch of the Appalachian Trail, West Cornwall, and Kent Falls State Park, all of which are great for leaf peeping in Connecticut.
Kent's Halloween Thriller Mob Dance
For years, the fun people of Kent have put on a free Halloween Thriller Mob Dance which invites locals and visitors of all ages to join in a rendition of MJ's spooky classic.
Kent Falls State Park, CT in Fall
Kent Falls State Park (462 Kent Cornwall Rd) has some of the best leaf peeping in Connecticut.
You can take a quarter-mile hike up the Kent Falls Trail to admire the park with all its beautiful fall colors.
There are scenic viewpoints along the trail, but the best is at the top overlooking the 250-foot Kent Falls as it flows into the Housatonic River.
Bulls Covered Bridge
Bulls Covered Bridge is built over the Housatonic River.
The single-lane bridge was constructed by Jacob and Isaac Bull in 1760, and it still stands today as one of New England's many covered bridges.
You'll want to get out of your car at this stop on your Connecticut road trip to hear the water below the bridge.
Greenwich CT Fall Foliage
Next, we take a tour of Greenwich's spooky season offerings.
Greenwich Audubon Center
The first of the best places to visit in Connecticut in the fall in Greenwich is the Greenwich Audubon Center (9613 Riversville Rd) which is set over 686 acres of diverse habitat.
The nature preserve has a lot of birds, but it is also a beautiful place to visit and explore in the fall when the leaves change colors.
Babcock Preserve
Next is the Babcock Preserve, another nature preserve with great foliage in the fall.
There are 300 acres here to hike, picnic, and spot birds.
Mianus River State Park
Finally, one of the last places to visit in Connecticut in fall is Mianus River State Park (Merriebrook Ln, Stamford, CT 06902)
Mianus River State Park has trees blooming with vibrant colors in the fall, and it is a great place to spot bald eagles who live along the river.
At the 389-acre park, you can mountain bike, hike, and fish.
It is also a popular spot for pet owners and their furry friends since dogs are allowed here.
Connecticut Fall Foliage Map
No matter where you decide to go to see the Connecticut fall foliage, you want to try your best to go during peak foliage.
This New England Foliage Map has up-to-date information on where the foliage is at its peak, and it's updated daily for the most accurate results.
Keep in mind that the northern corners tend to peak first, then the center of the state, and finally the southern corners.