This article has links to products and services we love, which we may make commission from.

It's holiday market time in Boston! We love the festive season for all the sparkling lights, beautiful decorations, and awesome ways to support local creators and producers. Check out all the best Boston Christmas markets to shop local and support community creators.
There are multiple season-long holiday markets in the city, but also a number of one-day events you'll want to add to your schedule.
Want some more festive fun?
Check out our guide to Boston Christmas lights or enjoy all these MA lights if you want to go farther afield.
You'll also love all these fun things to do in Boston in the winter.
Can't-Miss Boston Christmas Markets + Christmas Shopping
These are the best holiday markets in Boston that you have to check out during the festive season.
Do your Christmas shopping in Boston for fabulous local options boasting everything from clothing and jewelry to homewares and skincare and more.
Holiday Market @ Snowport
Running from early November through December 31st, the Holiday Market at Snowport is a festive favorite in Boston.
The Seaport has become quite the cool spot in recent years — it's one of our favorites for date night in Boston!
Snowport has quickly become an annual hot spot, with local vendors from across New England selling fabulous wares at the holiday market.
Food and drink vendors are also on-site, so grab a mulled wine before you start shopping!
Reserve a curling lane for free before you go into the market.
To get even more festive, time your visit for Light Up Seaport to enjoy a holiday stroll and the annual tree lighting.
Dogs are welcome and this is a very family-friendly Christmas market.
SoWa Winter Festival
The SoWa Winter Festival (550 Harrison Ave) offers just a few weeks of fabulously festive events that you won't want to miss.
Plan to shop for local crafts, listen to live music, and grab a seasonal drink as you celebrate Boston's Art + Design District.
This annual winter wonderland in Boston starts the day after Thanksgiving and runs to mid-December, so plan your visit early to not miss out.
Note it is a ticked event at the door — there is no advance ticket purchase.
Dogs are unfortunately not allowed at this market.
Downtown Boston Holiday Market
Head to Downtown Crossing for the annual Downtown Boston Holiday Market, held only on Fridays and Saturdays.
Local vendors rotate through during the event, so you can stop by more than once!
This Christmas market opens the day after Thanksgiving and runs through mid-December.
Go on a Saturday to see Santa.
You can also enjoy the beautiful Macy's Christmas tree all lit up while you're here!
Holiday CrEATor Market at Boston Public Market
Boston Public Market (100 Hanover St) hosts an annual Holiday CrEATor Market, bringing additional local vendors into the year-round trading space.
You'll find farm stalls, fish stalls, and other food-related stalls all year at the Boston Public Market.
Head there on weekends (Fridays through Sundays) between Black Friday and Christmas to peruse the options and support local producers and creators from around New England.
Holiday Market at Eataly Boston
Eataly's Holiday Market shows off their artisanal Italian products so you can buy a pre-packaged holiday gift box or create your own.
The market and restaurants are all located in the Prudential Center (the Pru), so you can buy your festive food and drink and then hit the other shops for more Christmas shopping.
The Somerville Flea Holiday Markets
The Somerville Flea Market is a popular spot all year-round, but especially for the Holiday Market!
Come wintertime, the market heads indoors at Arts at the Armory (191 Highland Ave).
There are two holiday markets in December, so plan your weekend shopping in advance.
Harvard Square Holiday Fairs
The Harvard Square Holiday Fairs (33 Dunster St) run Fridays through Sundays in December each year.
Running since 1986, the fairs bring the community together year after year.
Shop the local vendors, chat with creators and artists, and enjoy the community atmosphere.
CraftBoston Holiday Market
Run by the Society of Arts + Crafts, the CraftBoston Holiday Market is a virtual shopping opportunity to support local vendors even if you can't make it to Boston in person.
This is also one of the longest-running Boston Christmas markets — opening in early November and closing in early January.
The Society of Arts + Crafts was founded in 1897 in Boston, so you can bet you're supporting a well-established and productive community of creators!
Not sure what to gift someone? Buy a gift card instead.
Virtual Allston-Brighton Winter Market
The Virtual Allston-Brighton Winter Market helps you shop from local creators specifically from the Allston-Brighton and Cambridge areas right from the comfort of your own cozy couch.
All proceeds go directly to the vendors, so feel good about supporting local businesses this festive season!
Listen to the local musicians' playlist as you shop online to support even more local creators.
Christmas in Boston at Faneuil Hall
Can't time your visit perfectly for a holiday market in Boston this year?
No worries — shop all-year round at Christmas in Boston at Faneuil Hall!
The store features all sorts of fun and festive items.
Stock up during your Boston trip in the fall…or any time of year!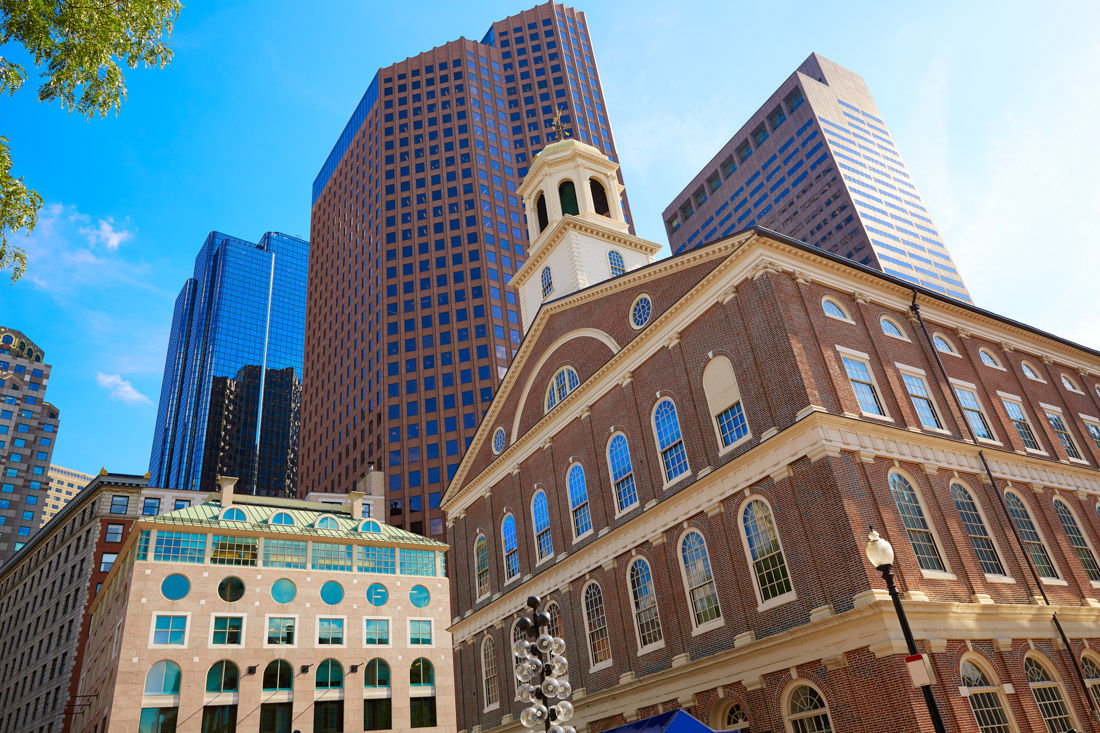 One-Day Christmas Markets & Christmas Fairs in Boston
Old South Church Christmas Fair
The Old South Church (645 Boylston St) hosts an annual Boston Christmas Fair the first weekend of December each year.
Head to this historic building to enjoy the timelessness of handcrafted items.
The festive fair includes dozens of local artists, live music, and holiday cookies to enjoy, too.
Winter Market at Canal District Kendall in Cambridge
The Winter Market at Canal District Kendall in Cambridge is open the first weekend of December only, so plan ahead!
Enjoy local artists' crafts and artisanal food, plus live music and craft-making for all ages.
Weather permitting, there is also an ice skating rink to enjoy!
Small Business Saturday at Bow Market in Somerville
Head to the lovely Bow Market in Somerville (1 Bow Market Way) for a festive Small Business Saturday event.
Small Business Saturday started to counter the big-brand Black Friday focus, and it's been hugely successful for independent shops for years now.
Enjoy local vendors, twinkling lights, firepits, and free hot cocoa or coffee for the first 200 visitors.
Small Business Saturday Holiday Market at Union Square
Boston Women's Market runs an annual Small Business Saturday Holiday Market in Union Square (Warehouse XI, Somerville).
These two holiday markets in Somerville are the ideal way to start your Christmas shopping while buying local!
Harpoon Holiday Market in the Seaport
If you miss the Small Business Saturday Holiday Market, head to the Seaport the following weekend for another holiday market hosted by the Boston Women's Market and Harpoon Brewery (306 Northern Ave).
Don't miss the Harpoon Tree Keg lighting that evening!
Christmas carolers will also be there to add to the festivities.
High Street Place Holiday Market
Head to High Street Place Food Hall (100 High Street) for a special evening holiday market also run by the Boston Women's Market.
For one evening only, enjoy all the local creators, delicious food, and even a champagne vending machine!
This is a free, non-ticketed event, so feel free to stop by after work.
The Fenway Holiday Markets
Yet another fabulous opportunity run by the Boston Women's Market, head to The Fenway Holiday Markets for a weekend of local shopping and festive fun.
The Friday evening event is held at The Station (1400 Boylston St) while the Saturday marketing is at TimeOut Market Boston (401 Park Dr).
Festive drinks, live music, and tons of shopping opportunities await!
Boston Women's Holiday Market in Brighton
Head to The Charles River Speedway in Brighton (525 Western Ave) for yet another one-off Boston Women's Market holiday events!
Shop from local vendors, and enjoy sipping and tasting your way through, courtesy of local producers.
Artisans set up at Garage B.
No tickets are required for this event.
Winter Fest at Boynton Yards in Somerville
Boynton Yards in Somerville hosts Winter Fest (101 South St) for a community-focused and family-friendly parking lot party.
Plan on live music, mulled wine, snacks, local shopping, and even an ice sculpture carving demonstration for festive fun.
JP Crafts Fair
The Jamaica Plain Crafts Fair (6 Eliot St) is an annual favorite for the community in JP.
Head there the first weekend in December for a one-day Boston craft fair featuring local artists and creators.
Plan on children's activities, live music, yummy food, and lots of festive fun!
Annual Union Square Holiday Stroll
The Annual Union Square Holiday Stroll is a wonderful tradition designed to support unique local businesses in the community.
Join for a day of special offers and treats, plus a storefront decoration contest.
Bazaar Mezzana at Bar Mezzana
Popular local Italian eatery Bar Mezzana hosts the fabulous Bazaar Mezzana where you can shop for locally-crafted products and produce.
Book your brunch reservation, too, and enjoy a delightful day out!
Final Words
Are you ready to celebrate the festive season with all these Christmas markets in Boston? We certainly are!
Let us know in the comments below all your favorite ways to shop local during the holiday season in the city.
Our Boston Guides