This article has links to products and services we love, which we may make commission from.

As the holiday season approaches, there's no better place to be than the enchanting city of Orlando at Christmas.
With its twinkling lights, festive spirit, and a touch of warm Florida charm, Orlando transforms into a winter wonderland that promises unforgettable holiday memories.
Whether you're a local looking to rediscover your own backyard or a traveler seeking a magical Christmas experience, Orlando offers a sleigh-load of festivities that will leave you enchanted.
From dazzling light displays that illuminate the night to whimsical holiday-themed attractions that bring joy to all ages, this guide is your key to unlocking the best of Orlando's Christmas celebrations.
Join us as we unwrap a world of enchantment, from charming markets to thrilling seasonal shows, and discover why spending Christmas in Orlando is a gift you won't want to miss.
Embrace the holiday spirit, create cherished moments, and let the magic of Orlando make this Christmas one to remember.
You might also like our guide to things to do in Orlando all year round.
We also have guides to help you visit Orlando on a budget and find the best things to do on i-Drive.
Best Things to Do in Orlando at Christmas
Our guide covers all the fun and festive Christmas stuff to do in Orlando, starting at Lake Eola in the heart of the city and making our way out to the theme parks and surrounding towns where special events are worth the few extra minutes of driving.
Enjoy the celebrations and let's get into the holiday spirit together!
Take a look at our favorite things to do in Florida in the winter if you'll be spending time beyond Orlando, too.
Eola Wonderland Christmas Tree Show
Celebrate Christmas in Orlando and get into the holiday spirit at the Lake Eola Wonderland Christmas Tree Show (512 E Washington St).
Each year, downtown Orlando puts together a stunning display of lights synchronized to music on their giant Christmas tree.
The tree comes to life right here in the heart of Orlando every evening starting in early December at hour intervals, creating a mesmerizing show for visitors of all ages.
Grab a snack and a cozy cup of hot cocoa and bask in the festive spirit at this delightful Christmas attraction by the beautiful Lake Eola!
See The Nutcracker at the Dr. Phillips Center
There's hardly a better way to dive into the magic of the holiday season than by catching the ballet classic The Nutcracker at the Dr. Phillips Center (445 S Magnolia Ave).
This show tells the tale of Clara and her Nutcracker Prince, brought to life by graceful dancers that seemingly float across the stage.
The Dr. Phillips Center is also highly accommodating when it comes to accessibility concerns, providing wheelchairs, wheelchair lifts to certain tiers, elevators, wheelchair-accessible restrooms, and assistive listening devices to anyone who may need it.
An evening enjoying the stunning performance that the professional dancers put on is a surefire way to create lasting memories in downtown Orlando at Christmas.
Mathers Social Gathering
The sounds of low chatter and jazzy holiday tunes, dim lighting, tasteful decorations that make you feel right at home, and a cocktail menu that is sure to impress; Mathers Social Gathering (3 Phoenix Building, 30 S Magnolia Ave) is sheer holiday elegance.
This local spot is a speakeasy with an incredibly sophisticated atmosphere to it that's situated in a historic building in downtown Orlando.
To get in, look for the dressed-up doorman outside who will lead you into the elevator that brings you up to the bar, as long as you're following the dress code and don't have a baseball cap on!
During the Christmas season, Mathers creates the most stunning display with decorations, making a night out with your friends or a romantic date night even more special.
Savor seasonal cocktails and delicious bites such as flatbreads and cheese boards while basking in the warm ambiance.
Celebrate this special season in style while in the cozy surroundings of Mathers Social Gathering.
Ivanhoe Village Jingle Eve
One of the best holiday events in Orlando is the Ivanhoe Village Jingle Eve (1001 N Orange Ave).
This neighborhood comes utterly alive for an evening with holiday cheer, featuring live music, twinkling lights, great food and beverages, and joyful decorations.
Spend time checking out the local shops and boutiques that are perfect for finding special gifts and treats for your loved ones.
Celebrate the season with this community-driven event that will surely help you get into the holiday spirit.
Holiday Movies at Ivanhoe Park Brewing
Enjoy your favorite holiday classics while savoring an ice-cold brew at Ivanhoe Park Brewing (1300 Alden Rd).
This brewery regularly hosts movie nights throughout the year, and when the holiday season rolls around, you can catch fan favorites like How the Grinch Stole Christmas, Home Alone, Elf, and A Christmas Story.
You can take your pick from the brewery's wide selection of refreshing beer and cider to sip on during the film.
The perfect way to enjoy a night out with friends, Ivanhoe Park Brewing for a holiday film is a wonderful Christmas activity in Orlando.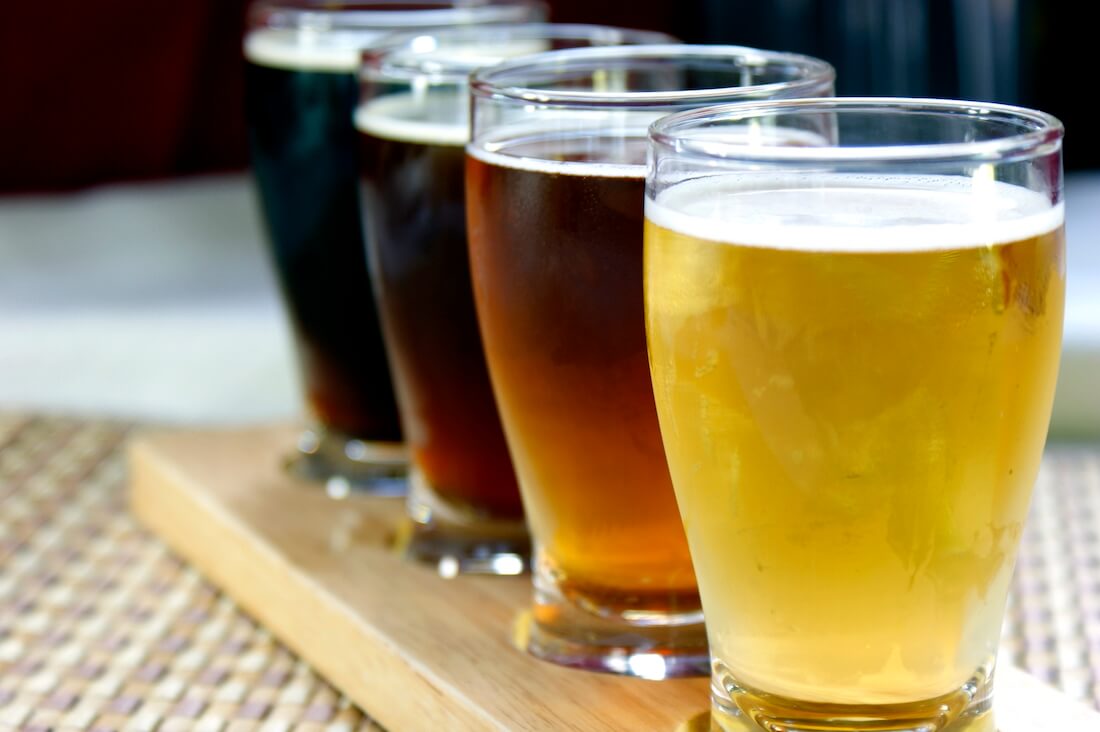 Festival of Trees at the Orlando Museum of Art
Kick off the holiday season with the Festival of Trees event at the Orlando Museum of Art (2416 N Mills Ave).
Occurring in mid-November, make your way to this incredible museum that puts up decorated trees, wreaths, and gingerbread houses, each a unique work of art crafted by designers.
Explore the adorned galleries and marvel at some of the most beautiful Christmas trees in Orlando.
With special events during the festival like Cocktails with Santa and a Reindeer Romp for children, this is a great way to support the community and jump right into the Christmas festivities.
Dazzling Nights at Harry P. Leu Gardens
There's no better place to experience Christmas lights in Orlando than during Dazzling Nights at Harry P. Leu Gardens (1920 N Forest Ave).
This beautiful botanical garden comes to life once the holidays roll around with a million sparkling lights and whimsical displays.
There is also a fantastic laser show, Christmas characters, an inflatable area for kids to play on, and candy cane pathways.
Immerse yourself in this beautifully illuminated garden and create special memories with loved ones at this joyful holiday event.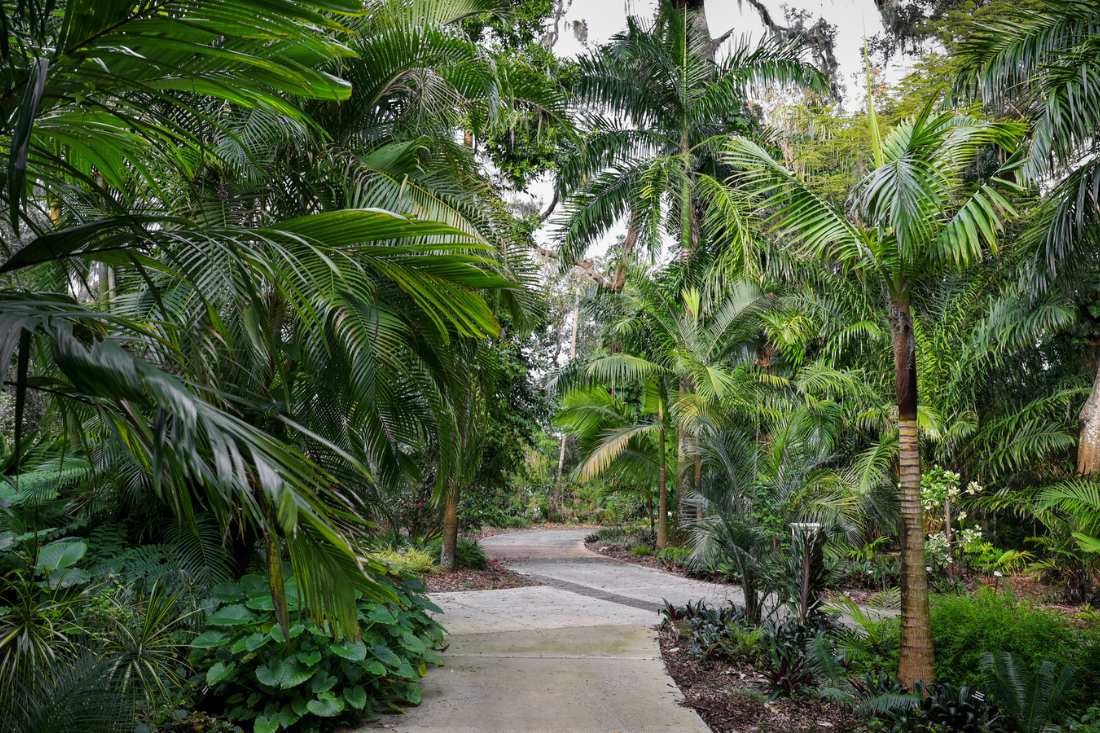 Winter Park Boat Parade
Central Florida's most popular Christmas boat parade is without a doubt the annual Winter Park Boat Parade on Lake Virginia (410 Ollie Ave, Winter Park).
Gather along the lakeshore to spectate as the decked-out boats wrapped in twinkling lights glide across the water.
The shimmering lights on the water's surface are really a special sight to see.
Feel the holiday spirit and join the community in celebrating the longest-running holiday parade in Central Florida!
Christmas in the Park
Winter Park is already one of Central Florida's most charming towns and, during Christmastime, it somehow becomes even more perfect!
Christmas in the Park (150 W Morse Rd, Winter Park) is an annual festival hosted by the Charles Hosmer Morse Museum of American Art to kick off the holiday season.
Bring a lawn chair or blanket and watch as breathtaking stained-glass windows are lit up as Bach Festival Choir and Brass Ensemble perform live.
Christmas in the Park is a special tradition where the Christmas spirit fills the air in an extraordinary way.
Dancing Fountains and Holiday Lights at Cranes Roost Park
If you're searching for a fantastic Christmas light show in Orlando, head over to Cranes Roost Park (274 Cranes Roost Blvd, Altamonte Springs).
On the opening night, this lakeside park goes all out with a choreographed firework display, live music and dance performances, displays throughout the park, and activities for kids.
There are additional activities throughout the month of December that include meet-and-greets with Santa and Mrs. Claus, movie nights, and concerts.
Every night the fountains in the lake light up and come to life as they dance to holiday music, creating an amazing spectacle.
To make cherished memories this holiday season, come to Cranes Roost Park and take leisurely evening strolls near the lake and among the thousands of glittering lights.
Wekiva Island's Winter Wonderland
Wekiva Island's Winter Wonderland (1014 Miami Springs Dr, Longwood) is a world of Christmas fun!
This adorable island oasis right on the Wekiva River is transformed into a festive escape with a huge Christmas tree, dazzling lights, and snow flurries.
The Island puts out canoes for patrons to fill up with donated toys and rumor has it that Santa and Mrs. Claus make appearances, too.
The unmatched beauty of Wekiva Island paired with the magic of holiday spirit makes this event something truly special!
If you want to enjoy more time in this special place, book this paddleboarding tour to enjoy the serenity.
Visit Santa at the Mall at Millenia
If you have little ones, it's practically a rite of passage to get pictures with Santa Claus taken!
A great place to pay a visit to Mr. Claus is at the Mall at Millenia (4200 Conroy Rd).
Children can share their Christmas wishes with Santa while surrounded by the merry wonderland the Mall at Millenia puts together each year.
There's nothing quite like experiencing the special Christmas joy through the eyes of your kids when it's finally their turn to meet with Santa.
You'll then get to go home with photos you can put on display and hold near and dear to your heart for many years to come.
Crayola Experience Colorful Christmas
Make this Christmas a vibrant one at the Crayola Experience Colorful Christmas event (8001 S Orange Blossom Trail).
At this holiday event in Orlando, the Crayola Experience has a giant snow globe kids can play in, Christmas-themed crafts, interactive activities, and animatronic characters that really help set the scene.
You can have a blast designing your own ornaments to bring home for your tree or even craft personalized gifts that you can't put a price on!
The event goes on from mid-November until early January, so bring the whole family and add a colorful twist to your celebrations this season!
Grinchmas in Who-ville
Make your way to Who-ville to celebrate the holidays with the grumpiest and most loveable character of the Christmas season – the Grinch!
Grinchmas at Universal Orlando (6000 Universal Blvd) allows you to join in with the Who-ville community and enjoy the decorations as well as the marvelous shows and meet-and-greets they put together.
While you're here, you should of course check out the rest of the theme park and the amazing efforts they put in with the décor and hop on your favorite rides!
A Grinchmas experience is bound to leave you laughing and with unforgettable memories as you embrace the bright spirit of this Christmas festival in Orlando.
Mannheim Steamroller at Universal Orlando
When it comes to Christmas concerts in Orlando, hardly anything can top seeing Mannheim Steamroller at Universal Studios (6000 Universal Blvd).
Experience the unique sound of Mannheim Steamroller, which has become the iconic soundtrack of the Christmas season.
The ensemble makes its way to Florida each year and puts on an enchanting show that both kids and adults can get swept away in.
Rejoice in the magic of the holidays with phenomenal live music at one of Orlando's premier theme parks.
Santa Workshop Experience at ICON Park
Santa's Workshop Experience at ICON Park (8375 International Dr) feels just like stepping into a winter wonderland.
This Christmas festival in Orlando is complete with interactive activities, crafts, and of course, the opportunity to meet and take photos with Santa.
If you do purchase a photo with Santa, you get an included ride on The Wheel, a 400-foot ferris wheel that provides panoramic views!
ICON Park transforms during the holiday season and is the perfect place to celebrate with the whole family.
ICE! at Gaylord Palms
Experience frosty wonders at ICE! at Gaylord Palms (6000 W Osceola Pkwy, Kissimmee).
Discover out-of-this-world themed ice sculptures carved by skilled artisans, bringing cherished holiday stories to life.
Stroll through the displays in your provided parkas, zoom down slides made of ice, and fully immerse yourself in this chilly holiday adventure.
It's easy to understand why this is such a fan-favorite Christmas event in Orlando — there's truly nothing like seeing your favorite characters and winding your way through tunnels made of ice.
Take part in all of this extraordinary fun, plus see the gingerbread houses at Disney and the snowfall in Celebration during this festive holiday celebrations tour!
Check out more fun things to do in Kissimmee while you're here.
Disney Springs Christmas Tree Stroll
See just how many Christmas trees you can find by embarking on the Disney Springs Christmas Tree Stroll (1486 Buena Vista Dr, Lake Buena Vista).
This is a great free Christmas activity to enjoy in Orlando, especially if you want to entertain your little ones in a special way.
Stroll through the beautifully decorated grounds that have elaborately themed Christmas trees scattered throughout and mark your map with the coordinated sticker so you can get a prize at the end.
If you need a break, stop at any of the several restaurants or cafes to fuel up, and you can even get some holiday shopping done at the stores while on your search for trees!
The Christmas Tree Stroll makes for a great day of fun where Disney magic and Christmas joy blend together seamlessly.
Book this magical tour for an extra special festive experience!
Mickey's Very Merry Christmas Party
When it comes to Christmas celebrations, no one does it like Mickey's Very Merry Christmas Party, held at Magic Kingdom (1180 Seven Seas Dr, Lake Buena Vista).
The entire park is decorated to the nines, with lights, trees, wreaths, and garland as far as the eye can see.
The park is open during special evening hours for this party held on certain days in November and December.
There are magical holiday parades, fireworks, and character meet-and-greets that the entire family will be wowed by.
You can truly feel the Christmas cheer in the air at this fantastical holiday party, and it's certainly the place to eat, drink, and be merry with those you love most.
Skip the lines and get your tickets in advance.
Gingerbread House Display at Disney's Grand Floridian
If you're on an Orlando Christmas vacation, don't miss out on seeing the amazing Gingerbread House Display in Disney's Grand Floridian Resort (4401 Floridian Way, Lake Buena Vista).
The life-sized, intricately decorated gingerbread house that the hotel puts on display each year is nothing short of a work of art and is free to see!
Walk around to observe each area of the house and find Disney Easter eggs as the tantalizing scent of gingerbread fills the air.
Disney goes all out in everything they do, so be sure to stop by and admire this seasonal masterpiece.
Celebration, Florida
No visit to Orlando is complete without stopping by the delightful town of Celebration.
Celebration is where you can actually experience some Christmas snow in Florida!
Check out our complete guide to Christmas in Celebration for ideas and recommendations.
Holiday Boat Ride
While you're in Orlando at Christmas, you should take advantage of the fair weather and get out onto the water.
Take this special holiday boat ride to get into the festive spirit with twinkling lights all around you as you cruise along.
Departing from Saint Cloud, you'll be surrounded by seasonal cheer with a hot chocolate and 20,000 Christmas lights on board your boat as you ride around Lake Toho.
Oh, What Fun! At Lake Nona
Lake Nona's lovely town center turns into Peppermint Square for the supremely entertaining event Oh, What Fun! (6877 Tavistock Lakes).
The square comes alive with nightly snowfall, live performances, vendors with special holiday treats, stories told by Santa, and an abundance of twinkling lights, of course.
The event also has a special celebration to kick off the first night of Hanukkah with a menorah blessing and lighting!
Lake Nona truly goes all out with the holiday festivities during Oh, What Fun!, making this one of the best places to visit in Orlando for Christmas.
A Christmas Tour of Mount Dora
Take this Christmas tour of Mount Dora, about 40 minutes north of Orlando, for a true Hallmark-town feeling in Florida!
Stand beside a three-story-tall Christmas tree, check out the lights on the iconic hotel in downtown Mount Dora, and see the marina filled with decorations and boats lit up with over 1,000,000 LEDs!
Pay a Visit to Christmas, Florida
Did you know that when in Orlando, you're only about 30 minutes away from a town that's actually called Christmas?
A small, sleepy town, Christmas, Florida is in the holiday spirit year-round, with its giant Christmas tree visible from the main road and streets named after iconic characters like Dasher and Blitzen.
During the Christmas season, though, the town really thrives with an abundance of lights and other fun decorations.
You can take a moment to pop into the Post Office and write a heartfelt letter to Saint Nick and address it from the very place that retains the holiday's name.
A pit stop in Christmas to snap some pictures and send your wishes to Santa is a one-of-a-kind way to celebrate the season in a destination that doesn't often get too wintery.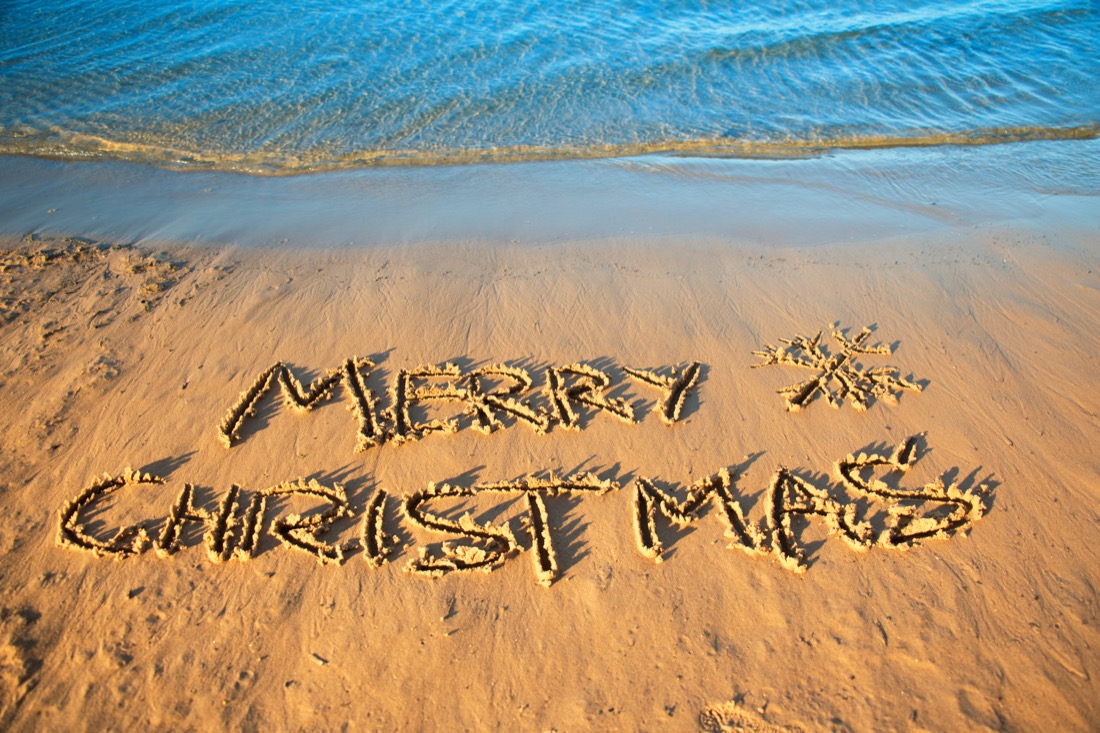 Final Words
Are you ready to celebrate Christmas in Orlando? We hope this guide helped you plan some truly joyful moments!
Share your favorite seasonal celebrations in the comments below.
Our Orlando Travel Guides