This article has links to products and services we love, which we may make commission from.

Seeing the cherry blossoms in Washington DC is a bucket list trip for many. For those who are lucky enough to live nearby, it's an annual event that even the most jaded of DCists can't help but enjoy.
The beauty of these white and pink blossoms around the Tidal Basin lifts the spirits and reignites local appreciation for the Downtown DC area (that is…except for the traffic).
The Tidal Basin isn't the only place in DC to see cherry blossoms, though!
In this helpful guide, we'll share the best places to view cherry blossoms in Washington DC, alongside information on the National Cherry Blossom Festival and when to plan for cherry blossom season in DC.
As with all things in nature, it's impossible to pinpoint a precise date when you should be in DC for peak bloom; it varies every year.
If you're trying to make travel plans, don't skip the section at the end of this guide with useful insights on years past and when to aim for a visit.
Seeing the cherry blossoms is certainly one of the most romantic things to do in DC, but there are tons of other ways to enjoy a special date night all year-round.
Don't skip all our favorite things to do in DC from museums to tours to memorials and more.
You may also like our recommended day trips from DC to see more while you're here!
DC is also one of our recommended stops on this Maine to Miami east coast road trip itinerary if you want to time your whole adventure.
Planning to come back? Don't skip DC in the fall — there are tons of fun things to do!
Just plan ahead if you're aiming to visit DC during the National Cherry Blossom Festival — book early during this very busy time of year!
About the National Cherry Blossom Festival, Washington DC
The National Cherry Blossom Festival in DC celebrates the gift of 3,000 cherry blossom trees from the mayor of Tokyo to the city of Washington, DC, back in 1912.
And these cherry blossom trees — or sakura — truly are the gift that keeps on giving.
While they were originally planted in 1912, over a century later we can still enjoy their beauty each year as they simultaneously bloom in a spectacular scene.
Additionally, in 1981, after flooding destroyed many sakura trees in Japan, cuttings from these gifted trees in DC were sent to replant and repopulate the cherry blossom trees in Japan.
A festival of some kind has occurred in DC since 1927, but today's National Cherry Blossom Festival is a multi-week celebration of nature, the arts, transnational friendships, and cultural appreciation.
With many free events all across the city (and beyond DC's borders), the Cherry Blossom Festival is community-focused while attracting some 1.5 million visitors over a month-long period each spring.
This is one of the world's most popular celebrations of spring that you won't want to miss!
Stay up-to-date on upcoming events and activities across the city on their website.
Just some trivia: a 10-day cherry blossom festival is also held in Macon, GA – also known as the "Cherry Blossom Capital of the World".
You may also want to take a less than an hour's drive to Maryland to see more blooms.
Best Place to See Cherry Blossoms in DC: The Tidal Basin
The original DC cherry blossom trees were planted on the northern side of the Tidal Basin in West Potomac Park.
The Tidal Basin is surely still the best place to see the cherry blossoms in Washington DC, but there are multiple vantage points around the Basin where you'll want to go to enjoy different angles.
If you're able to, it's ideal to walk all around the whole Tidal Basin to enjoy every vantage point and to bask in the beauty of these blossoms.
If you're in a huge rush, then aim for the MLK Memorial area to see what you can from that convenient and very popular spot.
Short on time? You can cover even more ground with this bike tour specifically offered only during the National Cherry Blossom Festival!
The Jefferson Memorial
The Jefferson Memorial is less frequently visited than the other memorials around the Tidal Basin, simply because it's on the far side, away from the National Mall.
During cherry blossom season in DC, Mr. Jefferson finally gets a deluge of new visitors!
The walk along the Tidal Basin towards the Jefferson Memorial will give you an up-close-and-personal view of the trees, with petals on the ground creating a pretty pink and white carpet.
Don't forget to turn around and frame the Washington Monument behind you with low-hanging blossoms.
From this side of the water, you can look across at the line of trees that were the original gifted trees from the mayor of Tokyo in 1912.
This is a perfect place to start your walk all around the Tidal Basin for picture-perfect DC cherry blossom views.
The Jefferson Memorial also makes for a beautiful photo opp from the opposite side of the water looking back, so make sure you do the full loop!
The FDR Memorial
After seeing the Jefferson Memorial and continuing your walk along the Basin past it, you'll head towards the Franklin Delano Roosevelt Memorial on the western side of the Tidal Basin.
First, stop by the Japanese Pagoda.
This 3,800-pound stone structure was gifted to Washington, DC, by the mayor of Yokohama in Japan back in 1957.
From there, it's just a very short walk to the FDR Memorial, which features several statues, plaques, and sculptures you won't want to miss.
This is another lesser-visited spot that deserves much more attention throughout the year, but cherry blossom season certainly brings plenty of visitors to this side of the water.
Starting in front of the FDR Memorial, many photographers line up to get that shot along the water looking back towards the Washington Monument.
There are several larger spaces along the water here that help with crowds, too.
The MLK Memorial
Continuing past the FDR Memorial with the water still on your right, you'll reach the inspiring Dr. Martin Luther King Jr Memorial.
Standing before his imposing stone figure might take your breath away.
This stretch of the Tidal Basin is filled with the original Yoshino trees, so you'll be walking amidst white and pink-blossomed trees just overhead on your way there.
If you continue walking past the MLK Memorial, you'll also reach the Japanese Lantern; this stone structure was yet another gift from the Japanese in 1954.
This extraordinary structure was carved in 1651 and stands 8.5 feet tall, weighing approximately two tons.
Each year during the National Cherry Blossom Festival, the lantern is lit (Olympic torch-style) by top US and Japanese officials.
How to Get to the Tidal Basin in DC
The closest Metro stops to the Tidal Basin are Smithsonian (Blue, Orange, and Silver Lines) or L'Enfant Plaza (Blue, Orange, Silver, Green, and Yellow Lines).
Both are about a mile walk from the Tidal Basin and you'll be closest to the Jefferson Memorial side.
If you're driving, there is limited parking on West Basin Drive (closer to the FDR and MLK Memorials) or on Ohio Drive SW (which stretches along East Potomac Park, so the walk could be quite long).
There is also a parking lot along Ohio Drive under the 14th Street bridge; just be sure to follow any road closure signs or changes in typical traffic patterns during the Cherry Blossom Festival.
Parking is very difficult in this area, so public transit or using a rideshare is advised.
For a more accessible option, this bus tour will bring you to the best spots to see the cherry blossoms around the Tidal Basin.
Other Places to View Cherry Blossoms in DC
There are plenty of other Washington DC cherry blossoms to enjoy beyond the original gifted trees around the Tidal Basin.
This is especially helpful if you miss peak bloom time by a week or so — since there are different types of sakura that bloom at different times, you're bound to still see some trees in bloom in one or more of these locations.
Starting closest to the Tidal Basin and working our way out, check out these other spots in DC to see the beautiful blossoms.
East Potomac Park
If you're already over at the Jefferson Memorial, then keep going in this direction to enjoy East Potomac Park.
This is certainly one of the best places in DC to see cherry blossoms and it's conveniently just around the corner from the Tidal Basin.
The trees here often reach their peak bloom two weeks after the trees around the Tidal Basin.
There is parking along Ohio Drive, which loops around the entire peninsula.
You'll find various clusters of cherry blossom trees here, as well as a favorite spot for cyclists who live in and near the city!
East Potomac Park is far less visited than the Tidal Basin so you can expect smaller crowds all around.
The Washington Monument
Many of the trees you see around the grounds of the Washington Monument were part of a second gift by the Japanese government, this time numbering 3,800 in total.
Given its convenient location on the Mall, this is always a busy spot year-round.
The stark contrast of the Washington Monument obelisk against the fluffy pink and white petals of the cherry blossoms makes for a striking image in person, as well as in photos.
You'll capture this view from around the Tidal Basin, but you can also get a little closer around the grounds of the Monument itself for a different angle.
From the Potomac
The Potomac River runs along East Potomac Park, meaning you can enjoy a lovely view of the DC cherry blossoms and cityscape from the water.
This 2-hour brunch cruise is a perfect way to start your day with a better vantage point before getting up close along the Tidal Basin or elsewhere.
This 2-hour lunch buffet cruise is a great alternative if you're looking for something a little more casual.
Just be sure to book far in advance — these cruises sell out quickly during peak season!
For an all-encompassing tour, book this open-top bus and river cruise tour to see the best of the DC scenery as conveniently as possible.
The US Capitol
The US Capitol building offers another beautiful spot to see cherry blossoms in Washington DC.
At the opposite end of the National Mall, it's about a 1.5-mile walk from the Washington Monument.
Along the way, you can stop into a variety of Smithsonian Museums for free!
Alternatively, use the Capital Bikeshare or get an Uber to cut down on walking time.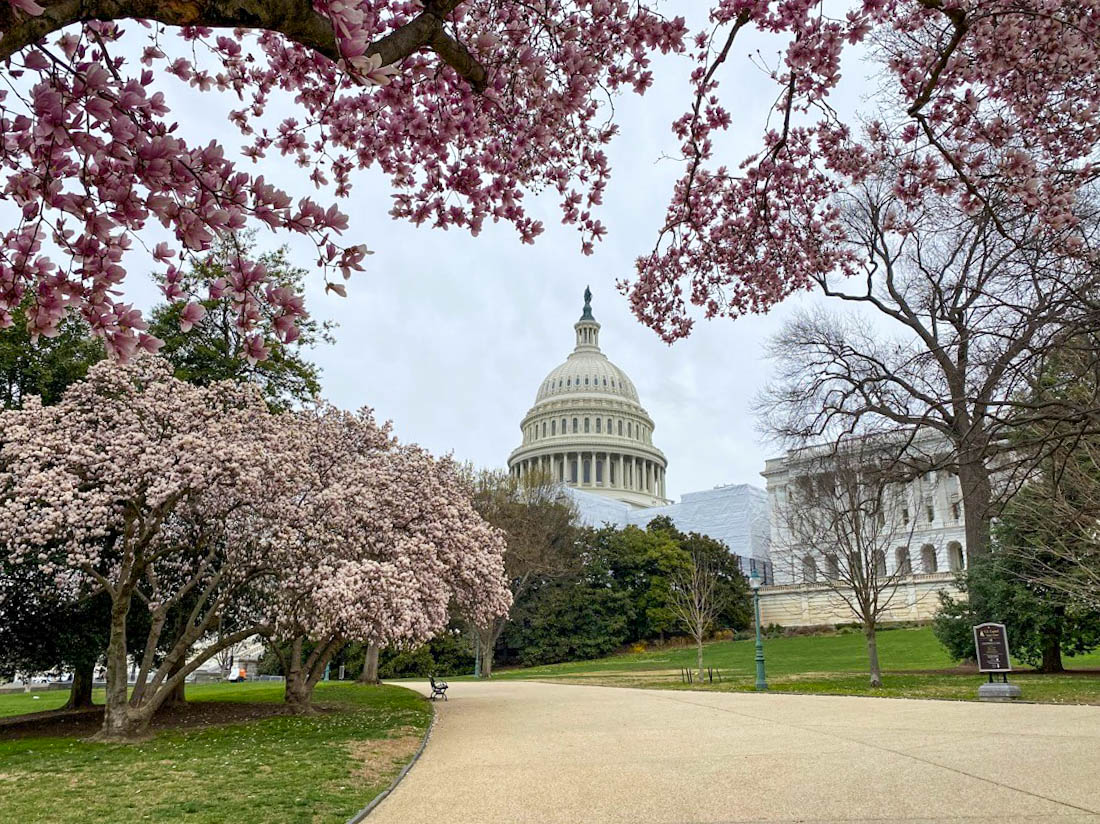 Congressional Cemetery
Although not quite as lighthearted given it's a cemetery, heading to Congressional Cemetery (1801 E St SE) offers a different perspective on these beautiful cherry blossom trees.
There is a central path lined with cherry blossoms that offers a beautiful photo opportunity.
While you're there, look for the gravestones of various members of Congress who died while in office.
This was actually the very first national cemetery, created in 1807 — more than 50 years before Arlington National Cemetery.
It is also listed as a National Historic Landmark.
There are countless community events and activities centered around Congressional Cemetery, so it is certainly not a place solely for honoring the deceased, but very much a lively space for residents of Southeast DC.
Among its unique aspects are the on-site beekeeping, grazing goats, and a membership-driven dog walking program.
Dumbarton Oaks
Dumbarton Oaks (1703 32nd St NW) is a lovely oasis in Georgetown that you won't want to miss!
Head to this historic estate to visit the house and gardens, which include a delightful spot to see cherry blossoms in DC away from the crowds at the Tidal Basin.
Set amidst the popular and very busy Georgetown area, step into the 16 acres of terraced gardens and orchards at Dumbarton Oaks to enjoy a moment of serenity.
Behind the estate is Dumbarton Oaks Park, which is accessed most easily via Lover's Lane (3058 R St, NW).
This park is free to enter and stroll through, so it serves as a nice alternative to the Gardens.
Just don't expect the same styled garden space with cherry blossom trees; this is more of a natural woodland park with less curation.
LeDroit Park Arch
While this probably isn't a spot you'll need to go out of your way to seek out since it's so small, there's a beautiful photo opportunity with the cherry blossom trees that frame the LeDroit Park Arch at the corner of Florida Ave and 6th Street NW.
If you're a history buff or you love beautiful architecture, however, then you should definitely take the time to learn more about LeDroit Park's history.
Due to the architectural significance of multiple homes in this area, the LeDroit Park Historic District is recognized on the National Register of Historic Places.
This was also a hot spot of integration in Washington DC, with LeDroit Park originally being fenced off as a guarded, whites-only subdivision in the late 1800s.
This became a focal point, with the fence being torn down in 1888 and integration starting in the neighborhood.
There were many prominent Black residents over the next century and more — this is still a hub for the community, also bordering the prominent Howard University campus.
Learn all this and more via Cultural Tourism DC's 16 trail markers with more insights into the local history of this part of DC.
Enjoy even more cultural insights on this U Street food tour; iconic Ben's Chili bowl is just a 10-minute walk from LeDroit Park Arch!
The Basilica of the National Shrine of the Immaculate Conception
The largest Catholic church building in all of North America is the impressive Basilica of the National Shrine of the Immaculate Conception in Washington DC (400 Michigan Avenue, NE).
Its Romanesque-Byzantine style is jaw-dropping and admired by fans of architecture, but its grounds are just as impressive — especially if you want to see some cherry blossoms in DC!
Pink and white blossoms pop up all around, creating a pretty foreground for photos of the Basilica itself.
It's right next to the Catholic University campus in Northeast, so you can hop on the Red Line and get off at the Brookland-CUA stop.
Just keep in mind the cherry blossoms often bloom around Easter, so there will be events that could make the Basilica busier than usual.
U.S. National Arboretum
The US National Arboretum (3501 New York Avenue, NE) makes for a beautiful adventure in Washington DC all year round.
It's one of our favorite places to visit in Washington DC in the fall for its colorful display of leaves.
In the springtime, head to the National Arboretum to seek out the cherry blossoms.
You can drive to the Arboretum, or consider renting a bike from the Union Station area if you're only using public transport; it's an easy, fairly flat ride from there!
The grounds of the Arboretum are extensive.
Be sure to see the National Capitol Columns while you're there — they weren't built to properly support the dome of the Capitol building, so they became unusable and ended up standing around in the Arboretum instead.
It's a bit of an odd sight, but a popular photo opp nonetheless!
Stroll or ride around the many paths on the more than 400 acres of the Arboretum and you'll see cherry blossoms among a great many other spring blooms!
Best Places to See Cherry Blossoms Near DC
Just outside of DC, you can easily head to the following locations in Virginia to see more cherry blossoms.
Arlington National Cemetery
While this is technically in Virginia, Arlington National Cemetery is just across the Potomac River and offers a beautiful place to see some cherry blossoms.
In the Cemetery's 600+ acres, there are more than 400 cherry blossom trees, primarily of the Yoshino variety (like the ones around the Tidal Basin).
You'll find some around the Confederate Memorial in Section 37, as well as the later-blooming Kwanzan trees in Section 35 near the Woodhull Memorial Flagstaff.
The cemetery is a sobering sight, with seemingly endless rows of white grave markers following the terrain in every direction.
It's simultaneously beautiful, especially in the springtime as flowering trees like the cherry blossoms offer a little extra brightness amidst an otherwise somber space.
Dive deeper to better appreciate this important place — this walking tour of Arlington National Cemetery will provide more context and background to important people and moments in US military history.
Or combine your Arlington visit with a whistle-stop tour of DC's most popular memorials and monuments on this bus tour.
Old Town Alexandria
If you take the Metro, you should stop first at the George Washington Masonic National Memorial (101 Callahan Drive, Alexandria) to see the cherry blossoms around the green park space at the base of this behemoth of a monument.
The Memorial is near King Street Station (Blue and Yellow Lines).
From there, you can either walk or take the free King Street Trolley into the heart of Old Town Alexandria.
You'll find streets lined with cherry blossom trees in the spring, which make for a beautiful photo opportunity in front of traditional architecture.
From there, you should rent a bike for a trip to Mount Vernon, George and Martha Washington's home along the Potomac River.
You'll cycle along the Mount Vernon Trail, where pockets of cherry blossom trees can be seen, before arriving at historic Mount Vernon, complete with more cherry blossoms to enjoy.
Old Town Alexandria and Mount Vernon is a perfect day trip from DC that you won't want to skip!
You could also combine Old Town and Mount Vernon on this 5-hour tour with no need for the Metro or bike rental.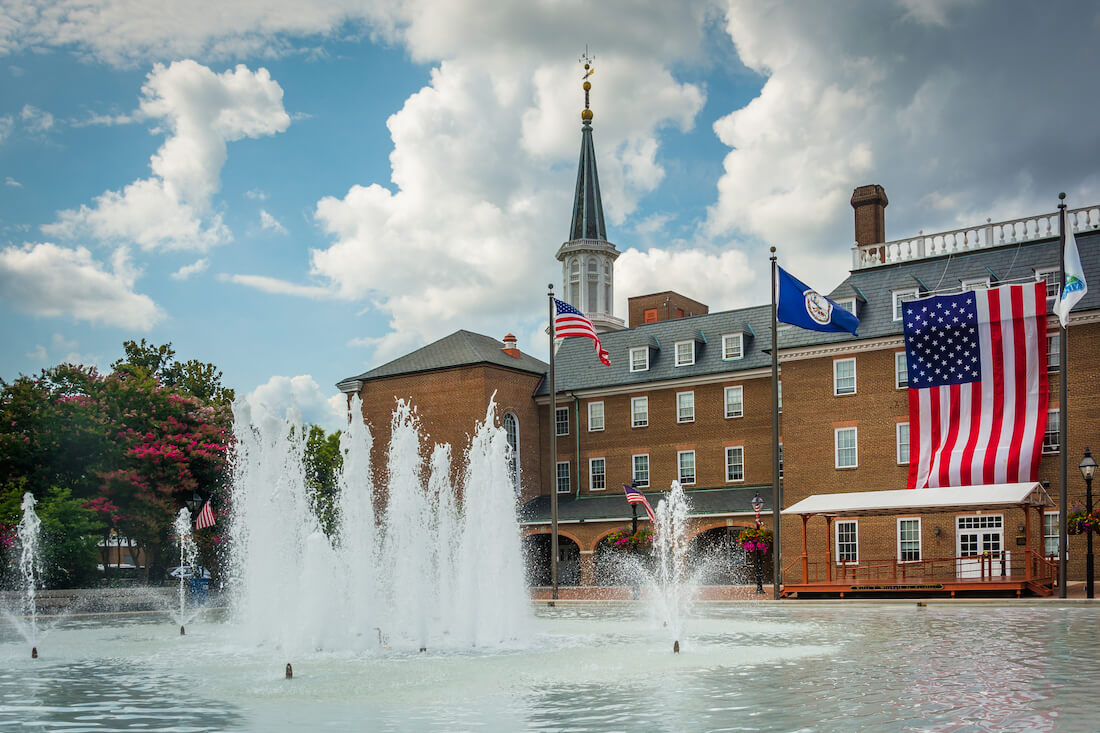 When is Cherry Blossom Season in Washington DC?
While the dates for the National Cherry Blossom Festival are announced each year as an approximation, the exact dates for peak bloom will vary within that timeframe.
To plan a trip to DC for cherry blossom season, you'll want to aim for the end of March or the beginning of April.
The majority of the trees planted around the Tidal Basin are Yoshino cherry blossoms, which bloom for about 2 weeks at a time.
The cherry blossom trees in East Potomac Park are mostly Kwanzan trees, which tend to bloom two weeks after the Yoshino trees.
If you end up coming too early for the peak bloom, you might still luck out with the early blossoms on the Weeping Cherry trees, which are interspersed around the Tidal Basin and East Potomac Park especially.
Track the current bloom data via the National Park Service Bloom Watch.
You can also try to plan based on the data from past years collated by the US Environmental Protection Agency.
You might enjoy the luck of the Irish if you plan a trip around St. Patrick's Day in DC; an early cherry blossom bloom could let you celebrate both wonderful events in the city!
Final Words
Are you ready to plan your bucket list trip to see the cherry blossoms in Washington DC now? We hope so!
Share your favorite photo spots or tips in the comments below.