This article has links to products and services we love, which we may make commission from.

Are you planning a trip to see the cherry blossoms in New York this spring?
While most people probably think of Washington, D.C. when on the hunt for cherry blossoms, NYC is home to thousands of flowering cherry blossom trees and dozens of varieties, but the three most common species you'll see are the Kwanzan, Yoshino, and Okamé.
The Kwanzan cherry tree, also known as the Japanese cherry tree, has the typical double pink petal flowers, is only 15-25 feet tall, and blooms in early May.
Yoshino cherry trees were gifted to NYC from Japan in 1912 and are recognizable for their light pink (nearly white) flowers, bloom in early April, and are about twice the size of Kwanzans and Okamés at 35-45 feet.
Okamé cherry trees are generally the first to bloom in late March and stand at around 15-20 feet tall but have vividly bright pink flowers.
There are also beautifully colorful crabapple and magnolia trees blooming all over the city in locations like Central Park, Riverside Park, Prospect Park, Silver Lake Park, and many other popular NYC spots.
It would be impossible to visit New York between April and May and not see any blossoms, even if you aren't specifically looking for them and this guide has the best spot to fill your camera roll with fluffy pink Japanese cherry blossoms in NYC.
Looking to visit more places in New York this spring? Check this guide.
Where to See Cherry Blossoms in New York
Best Places to See Cherry Blossoms in Manhattan
You will probably spend most of your time in Manhattan, where most of the iconic NYC sights and locations, such as Central Park, Washington Square Park, and Union Square are.
One of the best parts about visiting Manhattan in the springtime is that you'll want to walk as much as possible, and there are cherry blossoms everywhere you look.
For the best blossom tour, start with a coffee and bagel at Washington Square Park and take a short walk up Union Square via University Place (0.5 miles/10 minutes).
After you check out the markets, walk west on 14th street to Little Island, one of the city's newest public parks (1 mile/20 minutes).
The walk from Little Island to Central Park is pretty far, so it would be wise to walk 10 minutes to the subway at 14th St/8th Ave and hop on the A/C train to Columbus Circle.
From there, the best route is to go from Columbus Circle to Cherry Hill (0.8 miles/15 minutes) to Pilgrim Hill (0.5 miles/10 minutes) to Cedar Hill (0.5 miles/10 min) to the Great Lawn (0.6 miles/13 minutes) to the Reservoir (0.2 miles/5 minutes).
For the last part, you may want to take a cab; otherwise, you can walk (30 minutes/1.5 miles) to the start of Cherry Walk, which is also a 30-minute/1.5-mile walk.
Once you reach the top of Riverside Park, turn onto Riverside Drive, walk to Sakura Park (0.5 miles/10 minutes), and watch the sunset under the canopy of cherry trees.
If you're going to NYC on a budget, you may want to read this guide.
Central Park
Central Park's cherry blossoms are a true NYC delight – and there are several great locations for picnicking underneath and basking in the pink petal showers of the Yoshino and Kwanzan Cherry trees.
The best spots are generally between 72nd and 96th Street, including Cherry Hill, the Reservoir, Great Lawn, Cedar Hill, and Pilgrim Hill.
Central Park also features in our guide to romantic things to do in NYC.
Little Island
One of NYC's newest spots, Little Island (Pier55 in Hudson River Park West 13th Street,) is a great place to gaze out onto the Hudson River and sit under the shade of the pink and white Yoshino tree.
Sakura Park
NYC's Sakura Park (Riverside Dr., Claremont Ave. W. 122 St.) is filled with gorgeous blooms in the spring and provides a little oasis in Morningside Heights, just a few subway stops outside of the tourist areas.
Riverside Park
Riverside Park's Cherry Walk stretches from 100th to 125th St and is a part of Riverside walk, which spans from 72nd to 158th St.
It's the perfect place to take a stroll, sit on a park bench, look out onto the Hudson, and enjoy a moment of peace.
Union Square
Visit the year-round Greenmarket at Union Square (Broadway To 4 Ave., E 14 St. To E 17 St.) and snack on some artisan goods while you sit on a bench under the blooming Kwanzan tree, and people watch.
Washington Square Park
Washington Square Park (5 Ave, Waverly Pl., W. 4 St., and Macdougal St.) is known for its iconic water fountain and arch.
It also has the most incredible Kwanzan Cherry trees, perfect for playing chess, reading a book, or doing yoga underneath.
Best Places to See Cherry Blossoms in Brooklyn
All the best cherry blossom spots in Brooklyn are within easy walking distance from each other.
If you're leaving from Manhattan, you can take a 20-minute subway ride on the B train from Bryant Park to 7th Ave and walk about 5 minutes from the train stop to start at the Grand Army Plaza area of Prospect Park.
Luckily, from there, you can easily walk to the Brooklyn Botanical Garden, Japanese Hill, and Pond Garden (0.7 miles/15 minutes) to see some of the city's most famous blooms.
The route from the BBG to Green-Wood Cemetery takes you right through the middle of Prospect Park (3 miles/1 hour), but it is a long walk, so a taxi might be preferable as there isn't a direct public transport route.
Green-Wood Cemetery's route from Battle Avenue to Valley Water to Sylvan Water is a luxurious walk (1.1 miles/22 minutes).
Once you exit the cemetery from Sylvan Ave and 5th Ave, it is a short walk south down 5th Ave (0.6 miles/13 minutes) to Sunset Park.
Sunset Park
The views at Sunset Park (41 St., 44 St., bet. 5 Ave., and 7 Ave), particularly at sunset, have gorgeous views that stretch to the Statue of Liberty, and they're only made that much more glorious when the Kwanzan cherry trees are in full bloom and painting the ground in pink petals.
Sunset Park is also home to Japan Village where you can warm up your spring weathered hands with ramen and beer under pretty lanterns!
Brooklyn Botanical Garden
Brooklyn Botanical Garden (990 Washington Ave) has 26 different species of cherry blossoms, mostly surrounding the Japanese Hill and Pond Garden but also Cherry Cultivars Area, Osborne Garden, Parking Lot Hill, Overlook Slope, Cherry Esplanade, Cherry Walk, South of Rose Family Bed, and Washington Avenue Display.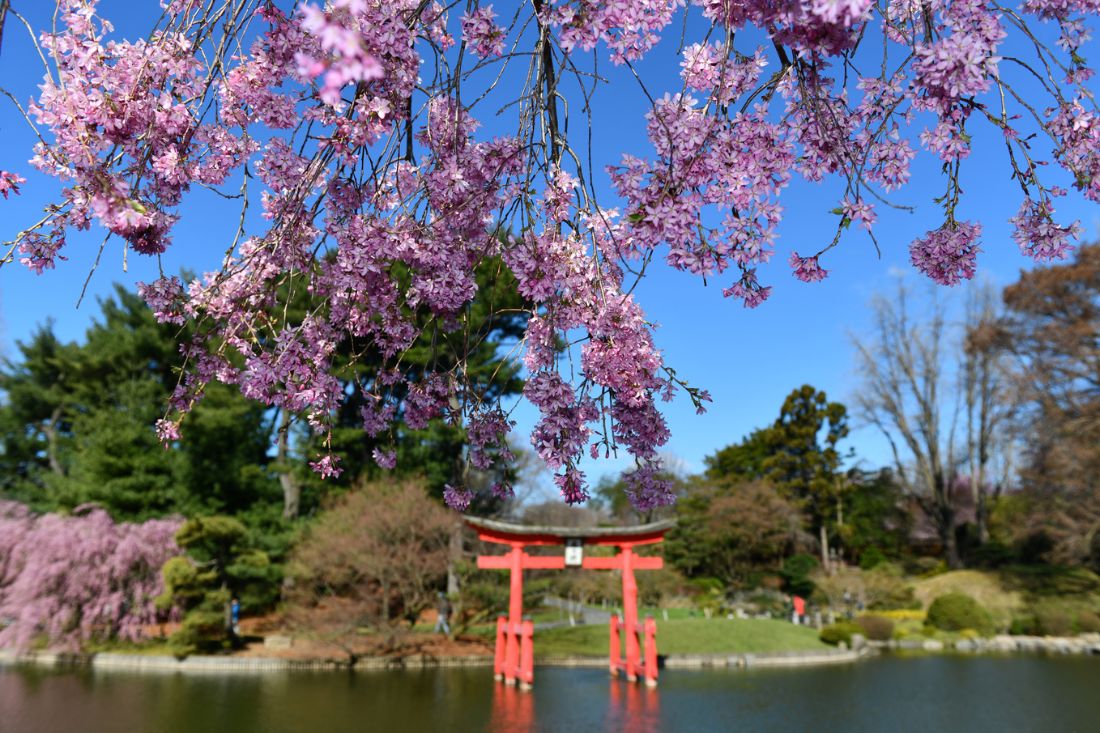 Green-Wood Cemetery
A cemetery usually isn't high on the list of best places to see cherry blossoms in NYC.
Still, Green-Wood Cemetery (500 25th St) truly is an explosion of pink in the springtime, especially around Valley Water and Sylvan Water ponds and while walking along Battle Avenue.
Prospect Park
Prospect Park is the Central Park of Brooklyn, complete with a boathouse, concert space, and lots of luscious blossoms, especially if you hang out around Grand Army Plaza.
Brooklyn Museum is next to Prospect Park so if the heavens open during you cherry blossom walking tour, consider popping in to view the permanent and visiting exhibitions.
Read this guide for more things to do when it rains in NYC.
Best Places to See Cherry Blossoms in Queens
The largest borough in NYC, it's impossible to do your tour of the cherry blossoms in Queens, NY, solely on foot.
However, you can easily take a taxi or public transport to get around some longer stretches.
If you're coming from Manhattan, the easiest way to get to Queens is by taking a 5-minute journey on the 7 train from Grand Central Station to Vernon Blvd – Jackson Av, and from there, it is just a short walk (0.3 miles/6 minutes ) to Hunter's Point South Park.
From Hunter's Point, you can walk north on Vernon Blvd (2 miles/40 minutes) or walk 5 minutes east down 50th Ave to take the 15 minutes Q103 bus journey from Vernon Blvd/50 Av directly to Rainey Park.
The journey from Rainey Park to Flushing Meadows Corona Park is complicated and requires walking along with various subway and bus connections – this would be a good time to get a taxi for the 20-minute car journey.
Flushing Meadows Corona Park is a large park with lots to offer, so you'll enjoy strolling east via the Herbert Hoover Promenade through the park towards the Queens Botanical Gardens (1.4 miles/25 minutes)
If you're coming just before cherry blossom season, this St. Patrick's Day guide will come in handy.
Hunter's Point South Park
Take a stroll along the east river waterfront lined with Yoshino Cherry trees and check out the Manhattan landscape at Hunter's Point South Park (Center Blvd. bet. 50 Ave. and 2 St.).
Plus, you can bring the kids to the playground, shoot hoops at the basketball court, or lounge on the green.
Rainey Park
Rainey Park (Vernon Blvd. bet. 33 Rd. and 34 Ave.) is popular for its baseball field and riverside promenade but also its blossoms all season long, with the Okame trees blooming first and the Kwanzan trees blooming later on in the season.
Flushing Meadows Corona Park
The Okame cherry trees at Flushing Meadows Corona Park (Grand Central Pkwy, Van Wyck Exwy) are often the first blooming trees in the city.
Visit the Unisphere for some of the best cherry blossoms in New York City, but you can also play various sports, ride a bike, or even kayak while you're there.
Queen's Botanical Garden
The Queen's Botanical Garden (43-50 Main Street) Cherry Circle is a curved walkway lined with cherry blossoms at the entrance of the park that also serves as a memorial in which trees can be adopted in honor or memory of a loved one.
Best Places to See Cherry Blossoms in The Bronx
The Bronx may not have as many cherry blossom viewing spots, but the ones they do have are well worth the trip up from Manhattan!
The NYBG is easy to get to from Manhattan, and it is only a 40-minute subway ride on the B/D train from Bryant Park to Bedford Park Blvd.
Then walk eight blocks down the hill on Bedford Park Blvd, turn left onto Southern Blvd. and walk one block to Mosholu Entrance (1 mile/10 minutes).
It is easiest to get a taxi from the NYBG to Pelham Bay Park, and it's about a 20-minute journey away.
Pelham Bay Park
Not only is Pelham Bay Park (Bruckner Blvd, Eastchester, Hutchinson) the largest public park in NYC, but they also have a beautiful display of Yoshino cherry trees on the southeast side of the park, just at the entrance to City Island.
New York Botanical Garden
You can see over 200 glorious cherry blossoms at the New York Botanical Garden (2900 Southern Blvd) along the curved path of the Cherry Collection, the Arthur and Janet Ross Conifer Arboretum, in front of the Enid A. Haupt Conservatory, and on Daffodil Hill.
New York Botanical Garden is also one of the places you can visit during Easter in New York for their Orchid Show.
Best Places to See Cherry Blossoms in Staten Island
Staten Island is the only NYC borough not connected by subway – but that means you can take the free Staten Island Ferry when you visit, which is a fun adventure.
You can get to the Ferry from the Whitehall Terminal at the bottom of Manhattan; the ride is 25 minutes long and offers cool skyline views and the Statue of Liberty.
Once you're at the Staten Island Ferry Terminal, you can walk 5 minutes to the Richmond Terrace/St George Ferry bus stop, take the S40 to Richmond Terrace/Snug Harbor Rd E, and from there, walk 5 minutes to Snug Harbor Cultural Center.
From Snug Harbor, you can walk directly to Silver Lake Park (1.1 miles/25 minutes).
You can get the S61, S62, or S66 bus from various stops on Victory Blvd, which runs through Silver Lake Park for a short 5-10 minute ride to get to Clove Lakes Park or easily walk there (1 mile/15 minutes)
If you're feeling adventurous, may also like our guide to outdoor activities in NYC.
Silver Lake Park
You'll see Yoshino and Kwanzan cherry trees (among many other flowers) on the northern side of the lake at Silver Lake Park (Victory Blvd., Clove Rd., Forest Ave).
While visiting, you can also play tennis, tee off at an 18-hole golf course or just gaze out onto the lake.
Clove Lakes Park
Clove Lakes Park (Forest Ave., Victory Blvd., bet. Clove Rd. and Brookside Ave., Royal Oak Rd.) is popular for its hiking trails, paddleboat rentals, and ice skating rink – but you'll love seeing the Yoshino cherry trees in all their glory.
Snug Harbor Cultural Center
The best spots for blossom spotting at Snug Harbor Cultural Center (Richmond Ter., Tysen St., Kissel Ave., Henderson Ave.) are the Chinese Scholar's Garden and along Cottage Row, but anywhere you visit during the spring is going to be overflowing with colorful blooms.
Bonus Locations in NYC to See Cherry Blossoms
If you've never ventured to Randall's Island or Roosevelt Island, you are in for a treat!
The easiest way to get to Randall's Island is by taking the M35 bus from 125th Street and Lexington Avenue.
However, you can also take a taxi or walk across the 103rd Street Footbridge, or the RFK Triborough Bridge runs between 125th Street and 2nd Avenue.
To see the cherry blossoms in Roosevelt Island, you'll have to take the aerial tram from E 60 St & 2 Av, which is its own fun adventure.
Randall's Island Park
If you can't get enough of the blossoms, you must visit Randall's Island during their annual Cherry Blossom Festival.
But if your schedule doesn't line up, it's still well worth the visit to escape the city for an afternoon of pink and tranquility.
Roosevelt Island
Roosevelt Island's cherry blossoms absolutely cannot be missed, and with Yoshino trees blooming early in the season and Kwanzan trees blooming later on, you've got over a month to see them along the waterfront framing the view of the NYC skyline.
Cherry Blossom Festival NYC
Listed below are several cherry blossom festivals in New York you can find during your visit.
If you're looking for year-round activities and places to visit, read this guide.
Randall's Island's Cherry Blossom Festival
Randall's Island's annual cherry blossom includes face painting, crafts, paper flower making, kite flying, crafts, live performances, and a bike tour of the blossoms.
The event is free and usually takes place every 1st of May, but be sure to check their website for an updated schedule.
Buffalo Cherry Blossom Festival
Around April 30 to May 1, Buffalo, NY is coming alive with its celebration of the gorgeous cherry blossom trees that decorate its Japanese Garden.
There's live music, interactive activities for all ages, food trucks, and even pink boat rides across Mirror Lake.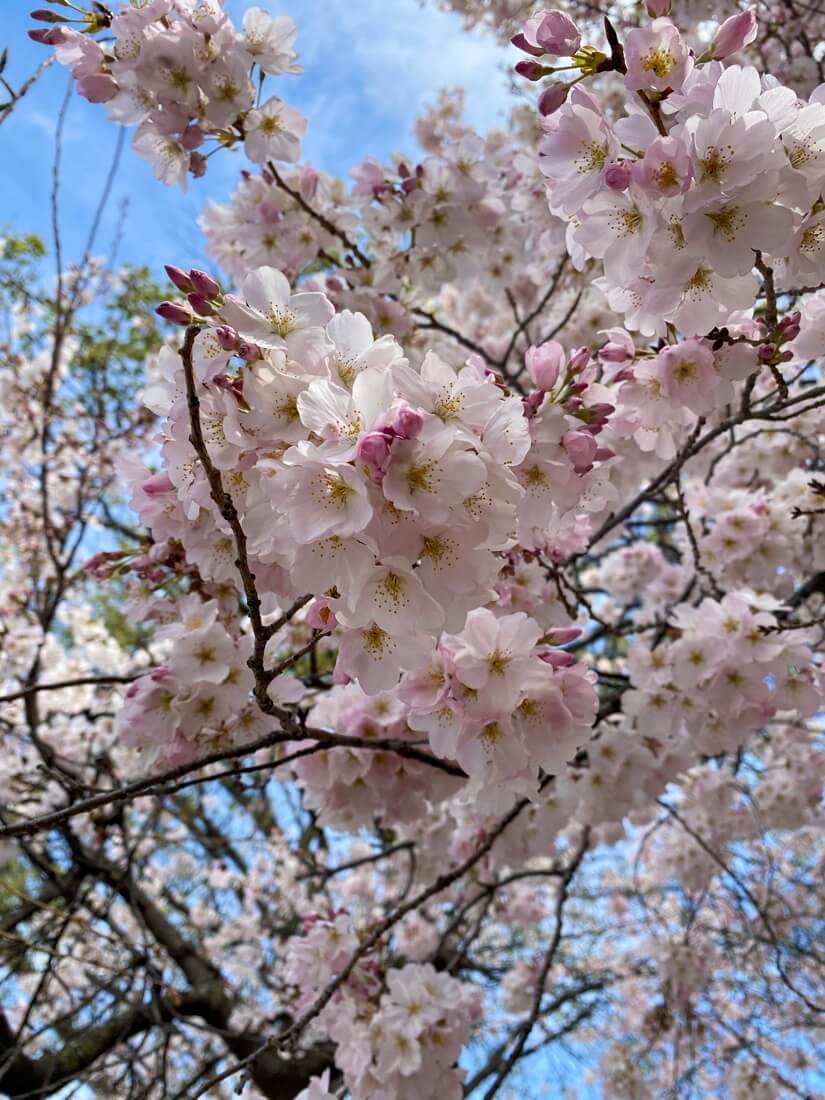 You can also head to the Buffalo History Museum to experience Japanese cultural displays like bonsai, origami, folk dolls, and more.
Final Thoughts
Clearly, cherry blossom season in NYC has to be on your travel bucket list.
Luckily for you, there are over 40,000 cherry trees in the city, so all you have to do is come at the right time of year and let nature do the rest of the work.
Enjoy Our NYC Travel Guides
NYC By Season