This article has links to products and services we love, which we may make commission from.

Cape Cod in the winter means quiet beaches where locals walk their dogs, no traffic as you're crossing the bridge, and a milder winter weather experience than you'd get in the rest of Massachusetts.
While the Cape might be a beloved summertime beach destination, it's a hidden gem for an off-season escape.
Book a Cape Cod weekend winter getaway to enjoy lower prices, smaller crowds, and genuinely local events — especially during the holiday season!
Plan your trip with these recommended things to do on Cape Cod in the winter and enjoy the wonders of the season.
You might also like our guide to winter in Massachusetts or check out our Boston winter guide if you'll be spending more time in the city.
And don't skip our full list of fun things to do down the Cape for even more ideas.
Things to Do All Winter on Cape Cod
This guide starts with general winter activities down the Cape, and then we offer specific recommendations for Christmas-related events followed by New Year's Eve/Day events.
Cross Country Ski in Beebe Woods, Hyannis
While thick, fluffy snow may be hard to find on Cape Cod, you can still try your hand at cross-country skiing in Beebe Woods this winter.
Rent your skis for a day or for the whole weekend at Puritan Cape Cod Ski Shop (408 Main St, Hyannis) and head out into the woods on any of the trails, roads, and paths.
Cross-country skiing is a perfect way to spend a cold winter day in Cape Cod.
Ice Skating at Charles Moore Arena
If you love winter skating, you'll have to visit the Charles Moore Arena (23 O'Connor Rd, Orleans).
This skating rink has very affordable admission and rental rates.
Take the whole family for even more fun and excitement!
Helmets are required for anyone who is skating for the first time.
Winter Birding on the National Seashore
Cape Cod's off-season might seem like a quiet, possibly boring experience, but the natural scenery is incredible.
Some of the best winter birding in the area happens on the Cape Cod National Seashore (99 Marconi Site Rd, Wellfleet).
You'll find so many incredible birds, including Black-bellied Plovers, Wood Ducks, Yellow-breasted Chats, and more as you explore the coastline.
The National Seashore is also a perfect Cape Cod date idea all year-round!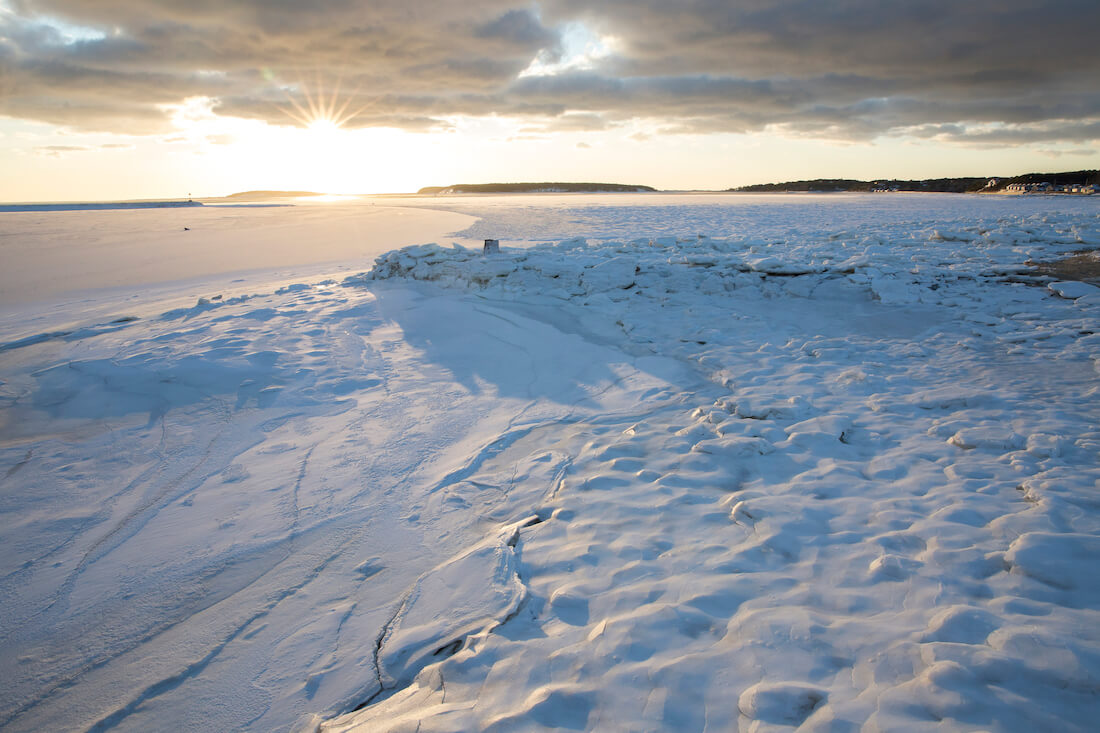 Cape Cod Winter Beach Strolls
There's something extra magical about seeing the iconic Cape Cod dunes covered in a light blanket of snow while the sandy beach remains clear.
Enjoy a winter stroll on the beach with no tourists around.
You might see locals walking their dogs or just enjoying the bracing breeze on their own, but otherwise the winter beaches are quiet.
You can enjoy a later sunrise in the winter, too, so grab a hot cup of joe and get out there to greet the day!
Christmas on Cape Cod
Cape Cod Central Railroad Polar Express
The Cape Cod Polar Express (70 Main St, Buzzards Bay) is one of the most fun Cape Cod winter activities for the entire family.
Bring the Polar Express movie to life with this unique railroad adventure, complete with golden tickets, Santa, silver bell souvenirs, and so much more.
For an overnight trip, book a stay at the Buttermilk Bay Bliss holiday home (Puritan and Cranberry Rd) for the whole family and enjoy the coziest winter accommodations.
Falmouth Village Christmas Parade
If you're looking for one thing to do in the winter on Cape Cod, make the Falmouth Village Christmas Parade be it.
The parade is one of the biggest and most extravagant in the region, and it is broadcast globally every year.
It begins at Dillingham Ave and Davis Straights, where it proceeds along Main St until the Village Green.
Marching bands, decorated floats, talented performers, and Santa Claus are all featured at this amazing parade.
Falmouth Holiday Market and Gift Gallery
If you're tired of shopping the same massive box stores for expensive and generic holiday gifts, make a trip to the Falmouth Holiday Market and Gift Gallery for truly unique gift shopping.
From the end of November up until Christmas Eve, you can visit the Falmouth Art Center (137 Gifford St, Falmouth) to shop local artists' original works.
Find something amazing for everyone on your list and enjoy the holiday cheer at this annual event.
A Christmas Carol Comedy Special
For a show filled with holiday cheer and tons of laughs, pick up your tickets for 'A Christmas Carol' Comedy Special put on by the Falmouth Theatre Guild (58 Highfield Dr, Falmouth).
You'll love the show, with many of your favorite characters from the story, a few new characters, audience participation, and more.
The show is put on in early December, so grab your tickets while you can.
Falmouth Village Holiday Stroll
Holiday Strolls are a classic winter thing to do in Cape Cod, but the Falmouth Village Holiday Stroll (Main St and Queens Buyway) might be the most festive.
All the shops and restaurants are decorated in their most festive looks, and they look their best over the Holiday Stroll weekend, which takes place in early December.
Enjoy live music, crafts, activities for kids, and delicious treats all up and down the street, and get swept up in the holiday cheer.
If you fall in love with Falmouth this holiday season, book a stay at the Frederick William House (594 Palmer Ave) for cozy, vintage accommodations.
Glassblowers' Christmas at the Sandwich Glass Museum
For the entire month of December, the Sandwich Glass Museum (129 Main St) hosts local glass artists for the amazing Glassblowers' Christmas.
This indoor show and sale is free to view.
Still, it will be hard to leave without purchasing one of the beautiful glass ornaments on display in the forest of Christmas trees in the gallery space.
Gardens Aglow
Take part in a true local favorite Cape Cod winter attraction: Gardens Aglow is a stunning holiday light display at the Heritage Museums and Gardens (67 Grove St, Sandwich).
Meet Santa, ride the 1908 Looff Carousel, roast marshmallows, and wander through the festively-lit garden paths.
Be sure to grab tickets on their website before you go, because walk-ins are not always guaranteed.
Holiday on the Cape by Cape Symphony
Every year in early December, the Cape Symphony (2235 Iyannough Rd, West Barnstable) puts on a Christmas show called Holiday on the Cape.
Multiple talented artists put on a spectacular show full of holiday cheer and magic.
This performance features singing, dancing, and more, wrapped up in one special night.
Order tickets for the show on the Cape Symphony website.
Gingerbread Lane at Harbor Overlook Artist Shanties
Gingerbread Lane (51 Ocean St, Hyannis) is a holiday season special in the Hyannis HyArts District, a well-known hotspot for new and established artists.
On Gingerbread Lane, you'll find delicious food and drinks, fun outdoor games, and holiday-specific treats like meeting Santa and singing Christmas carols.
Check the website for special events because some start in late November!
Yarmouth Port Christmas Stroll
If you're not as excited about over-the-top holiday events, go for the more scaled-down Yarmouth Port Christmas Stroll.
This event is free for everyone and takes place between Route 6A and Strawberry Lane in any weather.
You'll find live entertainment and music, activities for kids, fun trolley rides, and tasty treats at the Christmas Stroll.
Giants Holiday Lights Sculptures in Dennis
Giants, the yearly extravagant light sculpture display in Dennis, Sandwich, and a few other towns along Route 6A in Cape Cod is a beautiful thing to see in winter.
The artist is Michael Magyar, and he installs his sculptures along Route 6A for all visitors to see.
He has made more than two dozen sculptures and adds more every year.
The Lighting of the Lobster Pot Tree
One of the most iconic Cape Cod winter attractions is the Lobster Pot Christmas Tree (Commercial and Standish St) in Provincetown.
Every year, the Provincetown community builds and decorates a massive pyramid made of green lobster traps.
Red bows, thousands of LED Christmas lights, and a giant anchor make this an amazing sight to see.
It is lit up all season long and is a perfect picture opportunity for the family.
This is one of our favorite Christmas light displays in Massachusetts!
Christmas in Edgartown, Martha's Vineyard
Just off of Cape Cod, head to Martha's Vineyard for a special Christmas-themed event.
Dubbed one of New England's most charming winter festivals, Christmas in Edgartown is a delightful celebration of the holiday season.
For more than four decades, this Vineyard festival has been entertaining locals and travelers alike.
Enjoy concerts, holiday shopping, arts and crafts, and the yearly lighting of the Edgartown Lighthouse.
Plan a magical getaway in early December to enjoy Christmas in Edgartown!
Be sure to check out the other Martha's Vineyard towns while you're there.
Nantucket Christmas Stroll
Nantucket is another of the islands off of Cape Cod.
It's also one of the most festive towns in the area!
The Nantucket Christmas Stroll in early December is the highlight of the festivities.
Most of the Stroll takes place on Main Street, though tons of events occur across the downtown area.
The Christmas Market is the main attraction, but you can also find contests, a Santa meet-and-greet, and live music all weekend long.
NYE and New Year's Day on Cape Cod
Cape Symphony New Year's Day Party
For one day only each year, Cape Symphony (2235 Iyannough Rd, West Barnstable) puts on a special show to ring in the New Year.
The New Year's Day Party features musical performances in the same style as the Vienna New Year's concert.
This event mixes tradition with modernity, making it one of the best cultural activities you can do in Cape Cod in winter.
New Year's Day Polar Plunge
Looking for a (freezing) adventure on your Cape Cod winter vacation?
Take the New Year's Day Polar Plunge at Smugglers Beach (S Shore Dr) in South Yarmouth.
The water will likely be hovering around 40 degrees Fahrenheit on New Year's, but each plunge is a fundraiser for the local senior citizen community.
First Night Chatham
First Night Chatham is a family-friendly and alcohol-free New Year's Eve event that features arts, live music, and other events.
Ring in the New Year with this joyful community and celebrate local artists and musicians all night long.
The most festive parts of the night include the town photo at the Chatham Lighthouse, the Noise Parade, and the incredible fireworks at Veterans Field.
Book your stay in Chatham at the regal Captain's House Inn (369 Old Harbor Rd) so you don't have to worry about driving when the night is over.
First Light Provincetown
Looking for a fun place to visit in Cape Cod in winter to ring in the New Year?
Head to Provincetown for its annual First Light event, where you'll find live music, discos, and beautiful fireworks.
The most notable event at First Light is the classic Canteen Holiday Market, a European-style art market with unique gifts and artworks.
After your celebratory night in Provincetown, book your stay at Anchor Inn Beach House (175 Commercial St).
We're big fans of Provincetown, so plan to come back in the summer to enjoy the fun vibes and beautiful scenery!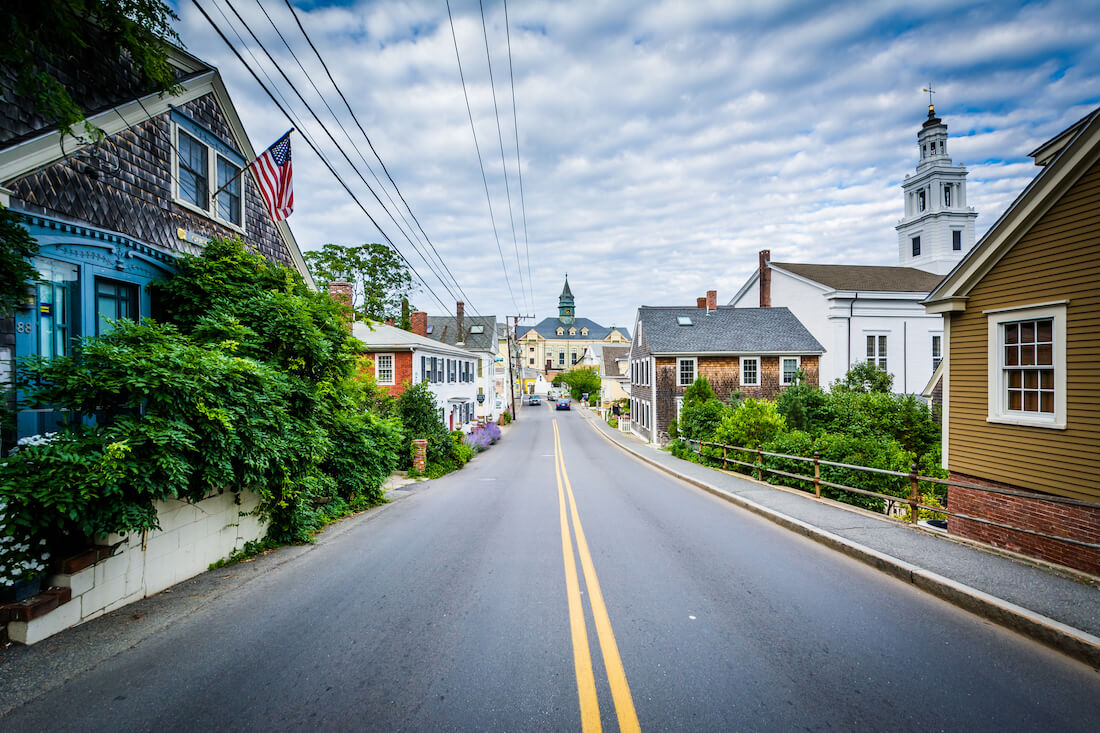 Cape Cod Winter Weather
The temperature in a typical Cape Cod winter ranges between 25 degrees Fahrenheit and 42 degrees Fahrenheit.
The coldest month is January and the average monthly snowfall is between 1.0 and 5.2 inches.
There is not usually very much snow in Cape Cod because the ocean brings warmer temperatures in the winter.
If you're looking for a reprieve from the typical New England winter snow, then the Cape might just be the answer!
Final Words
Are you feeling ready now to visit Cape Cod this winter? We hope this guide helped you plan the perfect trip!
Let us know your favorite winter activities and attractions in the comments below.
Massachusetts Guides
Massachusetts Destinations