This article has links to products and services we love, which we may make commission from.

Looking for all the best things to do in Burlington, VT during winter? Check out all our favorite places to drink, play, and enjoy the coldest season of the year in this small lakefront city. From the frozen shoreline to the cozy bars, you can embrace the winter months like a true Vermonter!
Burlington is known as an artsy city with an awesome food and drink scene, so stay indoors to not miss out on all the local culture while you're here.
Prefer to embrace the ice and snow?
Sledding, ice skating, and winter hikes are all an option, too!
If you visit Burlington often, check out our tips for things to do in the fall or the spring, and check out our favorite nearby hikes, too.
For more things to do beyond Burlington, you might like our guide to winter in Vermont or get our recommendations for visiting Killington or Stowe during the winter.
Here are our favorite winter things to do in the city, starting with the most popular and then onto the lesser-known spots and local secrets.
Have fun!
Fun Winter Things to Do in Burlington
Do Some Holiday Shopping on Church Street
There is nothing better than exploring the quaint shops along Church Street in Burlington, VT.
With over 60 local retailers, two hours of free parking in the Downtown Garage, and tons of restaurants and cafes to fuel up at, you could spend a whole day just on this single street.
Stop by Crow Bookshop (14 Church St) for new and used books or Frog Hollow Gallery (85 Church St) for high-quality crafts by local artists.
Explore the Beautiful Frozen Lake
Once the lake has frozen over in the winter in Burlington, locals and tourists alike love to walk out onto the ice to explore.
Especially in the deepest winter months, the ice is thick enough to skate, walk, and more.
The two best parks to visit to start walking around on the lake are Leddy Park (216 Leddy Park Rd) and Oakledge Park (Flynn Ave).
Plus, both parks have restrooms and other amenities like picnic tables.
Have a Laugh at the VT Comedy Club
If you're looking for some warm, indoor fun, be sure to grab tickets to a show at the Vermont Comedy Club (101 Main St).
This locally-owned comedy club features tons of acts, from standup to sketch comedy to improv.
The intimate showroom seats 120 at round cabaret tables and has a full food and drink menu.
Check the website for a full schedule of upcoming acts and for tickets.
Take a Well-Deserved Brewery Walk
Burlington is a very small city, but you'd be surprised to learn there are five breweries and one cidery within the city limits.
The best part of Burlington is that the entire city is walkable, which means you can try all six of these places while staying on foot.
Map your route, and be sure to include the following:
Want to get the most out of the city's brews?
Book this guided tour to get all the insights and learn about how Burlington led the way in today's popular craft beer culture.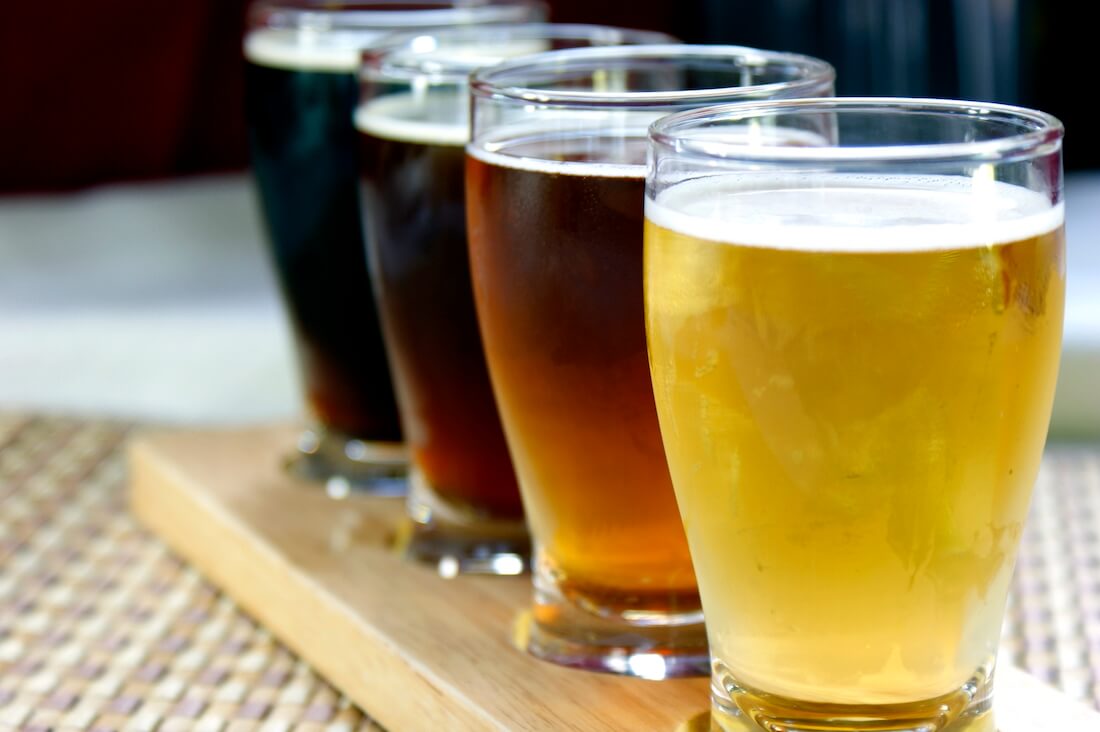 Catch a Show at the Flynn Theater
For even more indoor culture, grab a ticket to a show at the Flynn Theater (153 Main St).
The Flynn was founded in 1930 as a vaudeville and movie theater.
It has since blossomed into a multipurpose venue for local events, performing arts, and more.
The ornate and vaulted ceilings, heavy red velvet curtains, and vintage seating all allow you to step back in time to enjoy the best-performing art Vermont has to offer.
Visit the Burlington Winter Farmers Market
Most people might think of a farmers market as a summer staple, featuring booths with tomatoes and fresh fruits.
The Burlington Winter Farmers Market (345 Pine St) has the same mood; it's just indoors and the tables boast root vegetables and preserved treasures.
Stroll along the indoor market and browse all the best winter produce, jarred goods, prepared food, and fresh bread you can imagine.
Unfortunately, the winter market only occurs on select Saturdays, so be sure to check the website before you visit.
Have a Stiff Drink at the Burlington Distilleries
For such a small city, it's a little strange that there is not just one distillery in Burlington, but two.
The harsh winters make a stiff drink that much more appealing!
Visit the iconic Mad River Distillers (137 St Paul St) and Smugglers' Notch Distillery (28 Church St) while you're visiting Burlington, VT in winter.
Both have excellent tasting rooms, but Mad River features a full bar and cocktail menu.
Take a Tour of the Coziest Bars in Burlington
There are so many small, cozy bars in Burlington that are perfect to duck into out of a snowstorm.
The three best cozy bars to visit this winter in Burlington are The Archives Arcade Bar (191 College St), The Light Club Lamp Shop (8 N Winooski Ave), and Three Needs Taproom (185 Pearl St).
All three feature dim lighting, soft and welcoming seating, and an atmosphere that is perfect for gathering all your friends.
Who cares how bad the weather is when you're sharing quality time with friends indoors?!
Enjoy Family-Friendly Drinks at Lake Champlain Chocolates
While we've mentioned a number of boozy beverages in Burlington to stay warm in winter, there's nothing quite like a delicious hot chocolate from Lake Champlain Chocolates (65 Church St).
These certainly aren't your pre-packaged Swiss Miss cups of cocoa!
Their creative menu will delight the whole family.
Go ahead and indulge in their deliciousness.
Take an Art Class at Burlington City Arts
If you're looking for a creative outlet this winter in Burlington, sign up for an art class at Burlington City Arts (405 Pine St).
Pottery, screen printing, painting, drawing, and way more are waiting for you at the BCA Studios.
Take a one-day class or a series of them if you're staying for a while.
Browse the catalog, check the class schedule, and reserve your spot online when you're ready.
Tour the Best Gallery in Burlington
While lots of tourists love the BCA Center Gallery (135 Church St) for its fine art installations, it can be a little small for the true art lover.
Instead, for a lovely museum visit in Burlington, Vermont in the winter, head to the University of Vermont's campus for the Fleming Museum of Art (61 Colchester Ave).
Admission is free and its collection features more than 25,000 objects for your viewing pleasure.
The museum is unfortunately only open while the university is in session, so if you're visiting the city on a holiday break, you might have to miss the incredible Fleming.
Warm Up at a Speakeasy
If you've got a little extra cash burning in your pocket, there is no better thing to do in Burlington in winter than to visit a cash-only speakeasy.
Lincoln's (191 College St) is a little-known bar that literally looks like a hole in the wall.
You'll have to find the secret door entrance to get in…
Once inside, red velvet seating, dim lamps, and a true speakeasy atmosphere greet you.
This bar is one of the best places to visit in Burlington in the winter…once you find it!
Find the Best Winter Cafes
Sometimes, a warm cup of coffee is all you need to help shake off the bitter cold winter air.
The best cafe in Burlington to visit for the coziest atmosphere is Muddy Waters (184 Main St).
This cafe has been a Burlington staple for more than 20 years.
It's filled with plants, complete wood interiors, and super strong coffee.
Step inside and be sure to check out the small nooks and crannies…you might just find a love note or two!
Take an Amazing Winter Hike in Burlington
If you want to take a brisk winter hike in Burlington this winter without ever leaving city limits, Centennial Woods is a perfect place to visit.
It's a great thing to do in Burlington, VT in winter because you don't have to brave the icy roads to get to the Green Mountains.
You just have to be ready to explore a smaller span of woods!
More than 70 acres of mature forests and a well-developed trail system make this natural area a delight to wander after a fresh blanket of snow has fallen.
Stroll on a Special Burlington Winter Walk
While Centennial Woods is a great place to hike, there are a few other spots to visit for a calm winter walk.
The best winter walk destination in Burlington is the Intervale Center (180 Intervale Rd).
There are so many well-maintained trails that loop through community gardens, woods, river systems, and more.
You'll love the scenic views, wildlife sightings, and snowy natural areas.
Go Sledding at Calahan Park
Of course, sledding is one of the best Burlington, VT things to do in winter!
For a fun day out, be sure to visit Calahan Park (2 Locust St) for incredible sledding hills.
Even though it's a relatively small park, you'll have tons of fun sliding down the steep hills all afternoon long.
The best part of this park is that it also has restrooms!
Go Ice Skating at Leddy Rink
Ice skating is one of the most iconic things to do in Burlington in winter, and you can get your fill at the Leddy Arena (216 Leddy Park Rd) this season.
Public skating, skate rentals, a lounge, and a pro shop are all waiting for you at Leddy Arena.
Oddly enough, you can get out of the winter chill by getting onto the ice!
Snow in Burlington
Burlington certainly gets its fair share of snowfall each year.
The city averages over 72 inches of snow annually…the national average is only 28 inches!
February is the snowiest month, averaging 8 inches of snow, so get ready for the best wintertime activities…
And pack all the warm layers!
Final Words
Are you ready to visit Burlington this winter? We hope this guide helped you plan all the best things to do and see while you're there.
Let us know your favorite winter spots in the city in the comments below.
Our Burlington VT Guides