This article has links to products and services we love, which we may make commission from.

Thinking of taking a Boston to Maine road trip? There are so many options that are within easy reach of Boston, so you can choose anything from a simple day trip to a multi-day road tripping adventure.
We recommend three stops in Maine: Portland, Camden, and Bar Harbor.
Of course, there are so many beautiful towns in Maine that you should visit — these are just 3 recommendations.
Need a primer on the state? This guide to the cities in Maine and what to do in each will help.
You can do any of these trips individually; Portland is the closest at just 1 hour, 45 minutes while the longest drive is from Boston to Bar Harbor at 4 hours, 40 minutes.
Alternatively, make a longer trip of it and stop at all three spots along the way.
We've organized them from closest to farthest in reference to Boston so you can drive north along the beautiful Maine coastline and choose your stops en route.
Each stop includes recommended things to do as well as places to stay in case you're opting for overnights.
If you're following this whole Boston to Maine road trip itinerary, then we recommend at least 4 nights in total; you'll want one night in Portland, one night in Camden, and two nights in Bar Harbor.
The total Boston to Maine road trip distance covers 285 miles if you go all the way to Bar Harbor.
This road trip is perfect for a summer vacation in Maine or enjoy the stunning fall foliage by heading out from Boston in late September or October.
Before you strike out from Boston, check out our guides for everything fun to do in the city!
Our Boston Guides
Enjoy a Road Trip from Boston to Maine
First Stop: A Boston to Portland, Maine Road Trip
At just under two hours, a Boston to Portland ME road trip is perfect for a day trip or a whole weekend getaway.
It's also one of the best first stops when driving from Boston to Maine for a longer adventure.
Getting There
For the quickest route from Boston to Portland, leave Boston via Route 93 to Route 95N until it hits Route 295 as you approach the city; this is usually 1 hour and 45 minutes.
This drive covers 110 miles total.
For the most scenic drive from Boston to Portland, Maine, go part of the way via the highway-free, coastal route.
You'll still take Route 93 to Route 95, but get off at exit 90 to go into the Hampton Beach area of New Hampshire; this should be about an hour's drive to this point.
From there, take Route 1A along the coastline all the way to Portsmouth (only about a 30-minute drive) before jumping back onto 95N to 295N at Portland (another 50 minutes or so).
This will add around 40 minutes and just an extra 10 miles to your Boston to Portland drive, but the coastal bit is a lovely reprieve from the main highway.
It also worth planning a stop at Cape Elizabeth in Cumberland County, for views over the Casco Bay and to see the Portland Head Light in Fort Williams Park.
You can even do a tour of the museum located in the former keepers' house.
Alternatively, drive on to Portland and do a Portland Head Light day tour where a local historian takes you to the lighthouse instead.
If you prefer to do a self-guided tour, consider this audio tour, which we've personally used at Acadia National Park in Maine.
Things to Do in Portland, Maine
Once you get to Portland, there are so many fun tours and adventures to go on to make the most of your road trip stop.
If you're only doing a day trip from Boston, then you'll want to plan ahead and book a tour to maximize your time.
If you're spending a whole weekend in Portland, you'll have ample time to explore this small coastal city.
Portland is also known as quite the foodie city these days, so take advantage of any of the local food tours or just hit up some awesome local spots on your own.
We recommend you grab lunch at Hot Suppa (703 Congress St) for hearty Southern-inspired meals, and a potato donut at The Holy Donut (177 Commercial St).
If you are town for seafood, check out the seasonal Portland Lobster Co (180 Commercial St).
If you'd rather dive deeper into the local culinary history and top spots, go for the Old Port Seafood Lovers Tour to try lobster roll, New England or seafood chowder, and Maine craft beer.
Check availability and reserve your seat at the table through Viator or GetYourGuide.
Another food tour wroth checking out is the Old Port Culinary Walking Tour on Viator and GetYourGuide, which takes you to four or five different restaurants to sample local delights.
Both of these tour honors Portland's strong foodie culture and lets you explore the amazing Old Port neighborhood, a historic district with cobblestone streets and charming brick buildings.
This Old Port area is right along the water, and you'll definitely want to take advantage of this coastal location!
For a unique Portland experience, make sure you take the Schooner Tall Ship Cruise on Casco Bay.
You'll get to view the beautiful Portland coastline from the sea, and you might be able to spot all kinds of sea life and wildlife from this famous tall schooner sailboat.
That cruise also features as one of the most romantic things to do in Portland, in case you're looking for more date ideas during your visit.
There are tons of small islands in Casco Bay, many of which were previously the homeland of Indigenous people before Europeans arrived.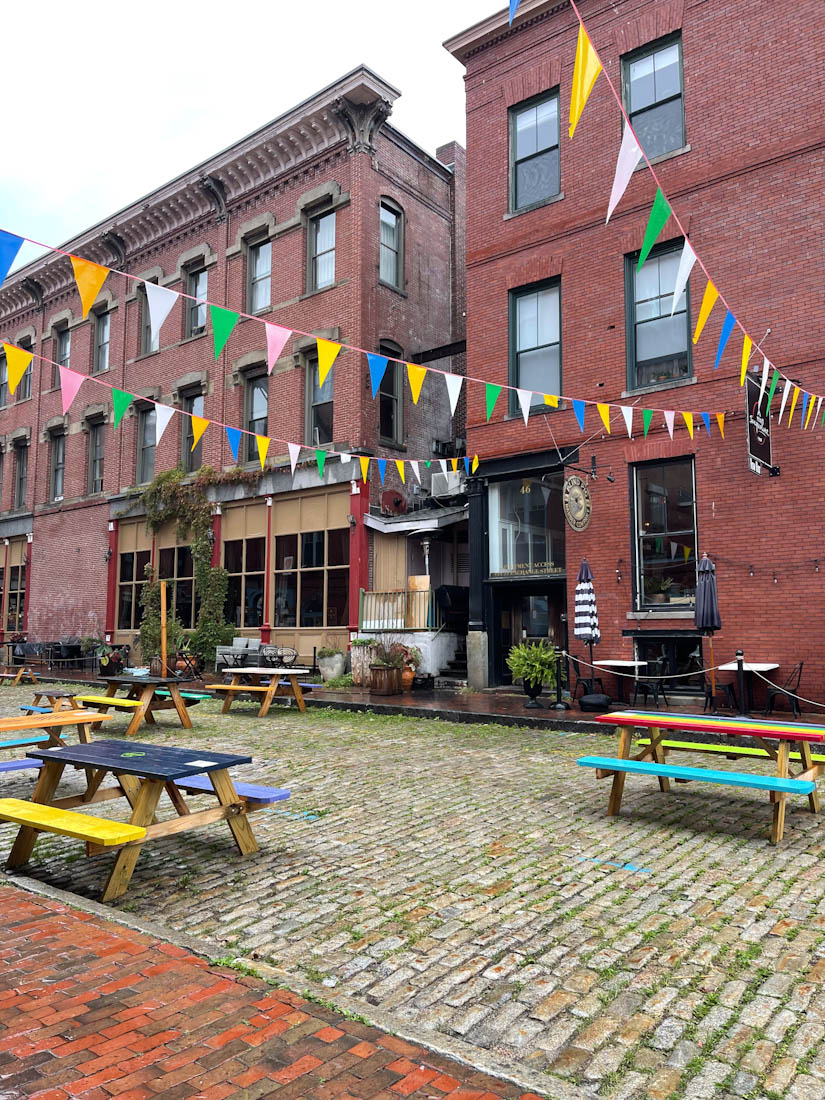 There are many layers of history in Portland; the city's motto is Resurgam, which means "I will rise again" in Latin.
Delve beneath the surface with a locally-led tour to learn more.
A more general approach to the rich history of Portland is featured in this 2-Hour Guided History Tour as well as in the Hidden Histories Downtown Walking Tour.
We always recommend you dig deeper than the basic history of a place.
Beyond the cursory background you can find in a guidebook or school history book, listen to the less frequently told stories, too.
For a more nuanced historical perspective of Portland, make sure you take the Black History Guided Walking Tour and the Women's History Guided Walking Tour.
You'll learn about the complicated history of the city and the historical figures that helped to create a more just and equitable future.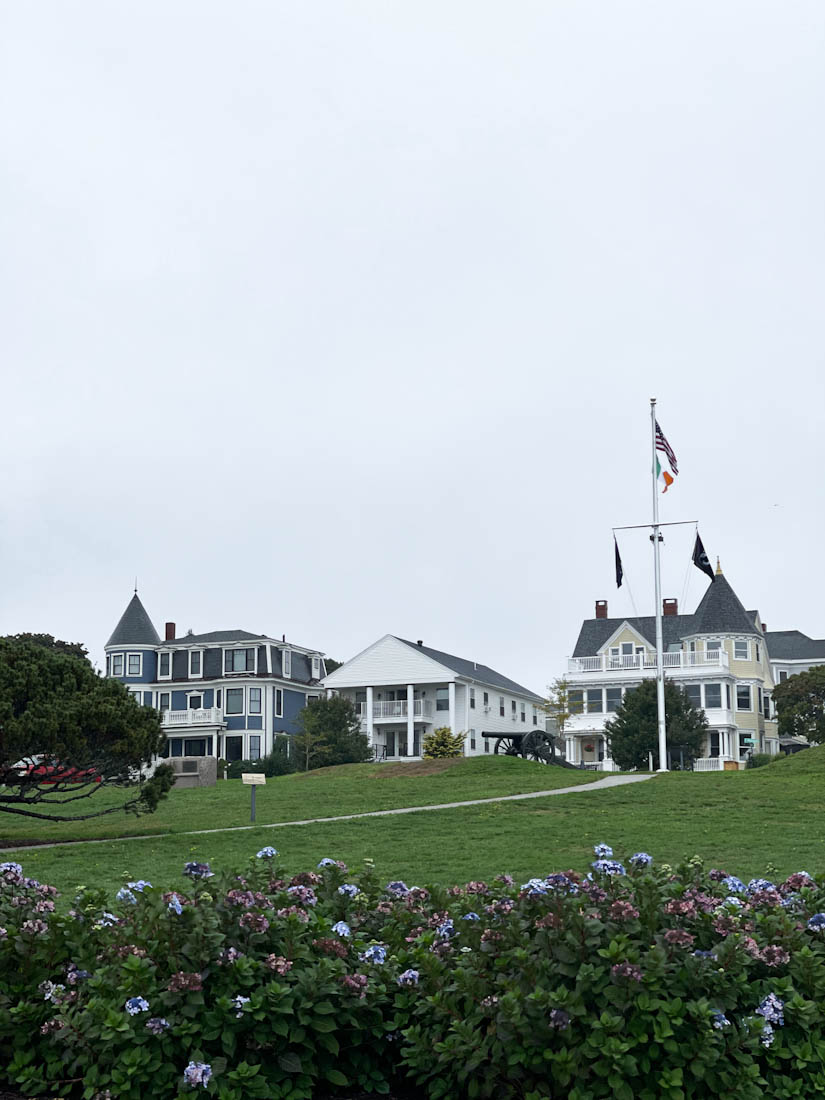 Where to Stay in Portland, ME
There are tons of hotels in the Portland area, but our favorites are The Francis (747 Congress St) and The Press Hotel (119 Exchange St).
The Francis is a historic landmark with a spa, laundry, and tons of family games.
Check out the rates for your stay at Expedia, Hotels, or Booking.
The Press Hotel, part of the Autograph Collection, is a gorgeous luxurious hotel with a restaurant, fitness center, and even a small art gallery.
Check out the rates for your stay at Expedia, Hotels, or Booking.
Staying the night in Portland means you can continue your Boston to Maine road trip the next day!
For even more places to stay, check out our other Portland accommodation guides:
Second Option: A Boston to Camden, Maine Road Trip
If you're continuing your road trip from Boston after a stop in Portland, we recommend you take the 1.5-hour trip to scenic Camden, Maine.
Alternatively, you could skip Portland altogether and drive straight from Boston to Camden ME in about 3 hours and 15 minutes.
Getting There
If you're starting from Portland, take Route 295 out of the city and then hop onto Route 1 when you reach Brunswick.
If you'd rather skip Portland, go straight from Boston to Maine right into Camden instead.
Take Route 93N out of Boston until it hits Route 95N, which will take you to Portland; hop onto Route 295 just before Portland and then you'll follow the route as described above.
The total distance from Boston to Camden, Maine, is 192 miles; if you start in Portland, it's just under 82 miles to Camden.
Things to Do in Camden, Maine
As soon as you arrive in Camden, make sure you stop for lunch at the Boynton-McKay Food Co. (30 Main St), a local favorite for creative and flavorful dishes.
There is so much to do in Camden's natural beauty, but one of the best options is to simply explore the coastline.
Megunticook Falls (33 Main St) on Camden Waterfront Harbor is a perfect spot to enjoy the shore and take in the natural beauty of the Megunticook Lake meeting the ocean.
From there, you can pick your way among the rocks around the bay, checking out the natural wonder Maine's coasts have to offer.
Camden also features in our guide to Maine in the spring for its lovely Merryspring Nature Center at that time of year.
Some other beautiful spots in Camden include: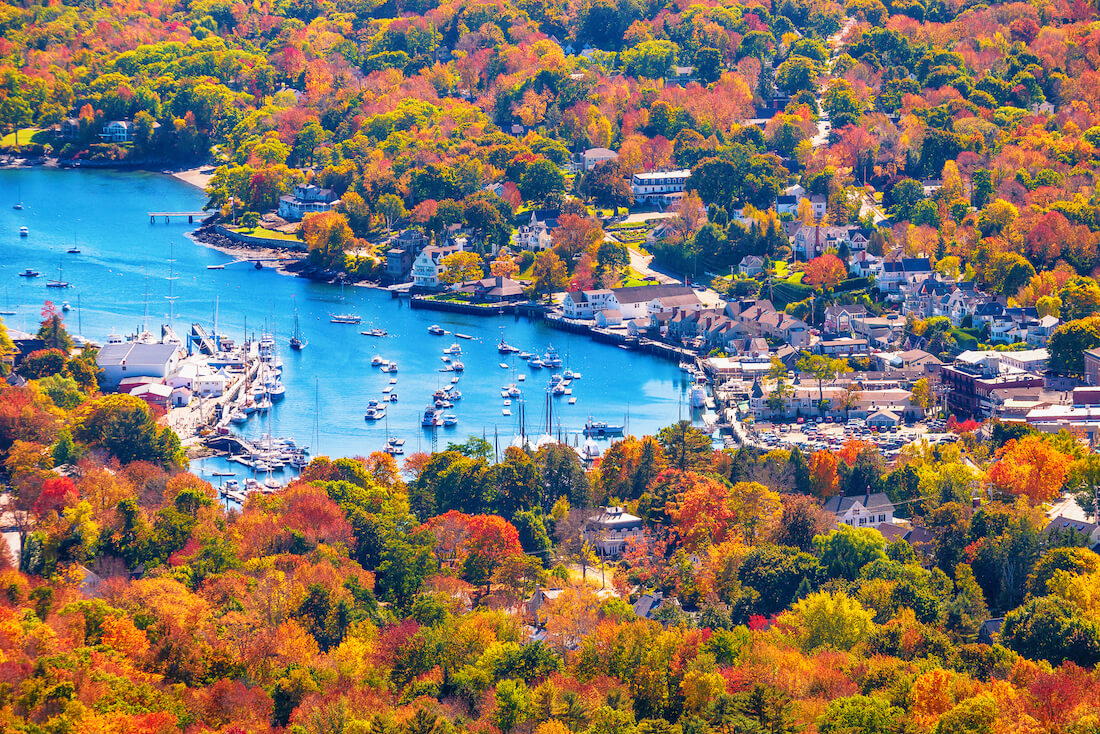 Where to Stay in Camden, ME
Whether you're planning a one-night stay or more, the Blackberry Inn (82 Elm St) and 16 Bay View are quaint and charming options for your trip.
Blackberry Inn is a 7-minute walk from the gorgeous Camden Harbor Park, and it feels like you're staying in a historic mansion!
Plus, you won't want to miss the full English/Irish or American breakfast every morning.
Check out the rates for your stay at Expedia, Hotels, or Booking.
16 Bay View is a more upscale option right on the water — walk out the front door and take a few steps to the edge of the Megunticook River, which leads to the Camden Harbor.
You'll love the fitness center, nightly bar, and the beautiful balcony for every room.
Check out the rates for your stay at Expedia, Hotels, or Booking.
The Longest Option: A Boston to Bar Harbor Road Trip
The last stop on this Boston to Maine road trip is beautiful Bar Harbor.
Bar Harbor is the largest town on Mt Desert Island, which is where you'll also find Acadia National Park.
As New England's only National Park, you can't skip the hiking trails and stunning views if you're road tripping in Maine!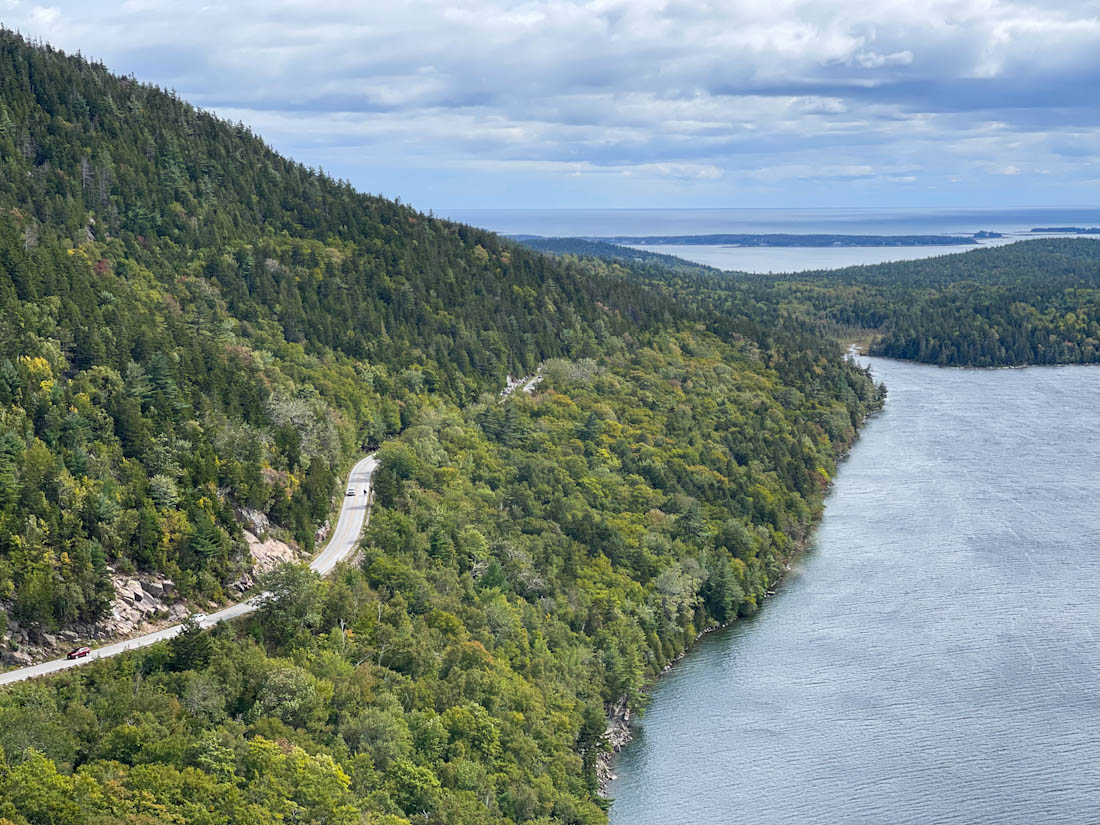 Getting There
If you're following our whole Boston to Maine road trip itinerary, then it's just another 1 hour and 40-minute drive from Camden to Bar Harbor.
If you want to skip Camden and just want to travel from Portland, that drive will take you just under 3 hours.
If you're just opting for the Boston to Bar Harbor road trip, the drive will take you about 4 hours and 40 minutes.
Whether you stop in Portland or not, the shortest route from Boston to Bar Harbor lets you skip Camden but does go right through Portland.
Take Route 93N out of Boston until it hits Route 95N.
Follow 95 until it meets Route 295 at Portland; you'll travel north on 295 until it takes you back onto Route 95.
Once you reach Bangor, you'll take exit 182A to get onto Route 395, which turns into Route 1A.
You'll follow Route 1A straight into Ellsworth, which is the last major town before Mt Desert Island; you might want to stop for some groceries and fuel here.
At Ellsworth, 1A turns into Route 3, which will take you across the bridge and on toward Bar Harbor.
If you're traveling to Bar Harbor from Camden following our full Maine coast road trip, you can just continue north on Route 1, hugging the coast for a while until cutting across to Ellsworth and taking Route 3 on toward Bar Harbor.
The total Boston to Bar Harbor driving distance is about 285 miles; from Camden to Bar Harbor is just around 77 miles.
Things to Do in Bar Harbor, Maine
Once you arrive in Bar Harbor, grab lunch at Geddy's (19 Main St), a no-frills seafood restaurant with the full coastal menu experience.
The most prominent attraction in Bar Harbor is the iconic Acadia National Park, known for its towering mountains and cliffs and incredible coastline views.
Acadia is one of the top-ten most visited national parks, pointing to its awe-inspiring beauty and unforgettable natural areas.
To get the most out of Acadia without hiking all of its 158 miles of trails, take this Acadia National Park Self Guided Driving Tour.
You'll be able to explore more than 27 miles of historic driving roads while taking in all the best scenic views the park has to offer.
For more adventures in Bar Harbor itself, make sure you check out this Culinary Walking Tour with Tastings which you can book through Viator and GetYourGuide.
Don't skip the Historical Guided Walking Tour if you want to learn more about this area.
You may also like our guide to Bar Harbor in the fall or Acadia in the fall for more inspiration.
Where to Stay in Bar Harbor, ME
Whether you decide to stay one night or several, there are so many wonderful hotels and inns to make you feel totally at home in Bar Harbor.
Two of our favorite hotels are the affordable Moseley Cottage Inn and Town Motel (12 Atlantic Ave) and the beautiful Bar Harbor Grand Hotel (269 Main St).
The Moseley Cottage Inn and Town Motel is a sweet bed and breakfast just steps away from Agamont Park.
Free and abundant parking at Moseley is ideal for road trippers; plus, the bed and breakfast is within walking distance from downtown!
Check out the rates for your stay at Expedia, Hotels, or Booking.
The Bar Harbor Grand Hotel is an upscale accommodation with an outdoor heated pool, a daily deluxe breakfast, a fitness center, and a truly castle-like external appearance.
Just a short walk away from the Abbe Museum, Grant Park, and the West Street Historic District, adventurers of every kind will love staying in the Grand Hotel.
Check out the rates for your stay at Expedia, Hotels, or Booking.
For even more accommodation options, check out our Bar Harbor hotel guides: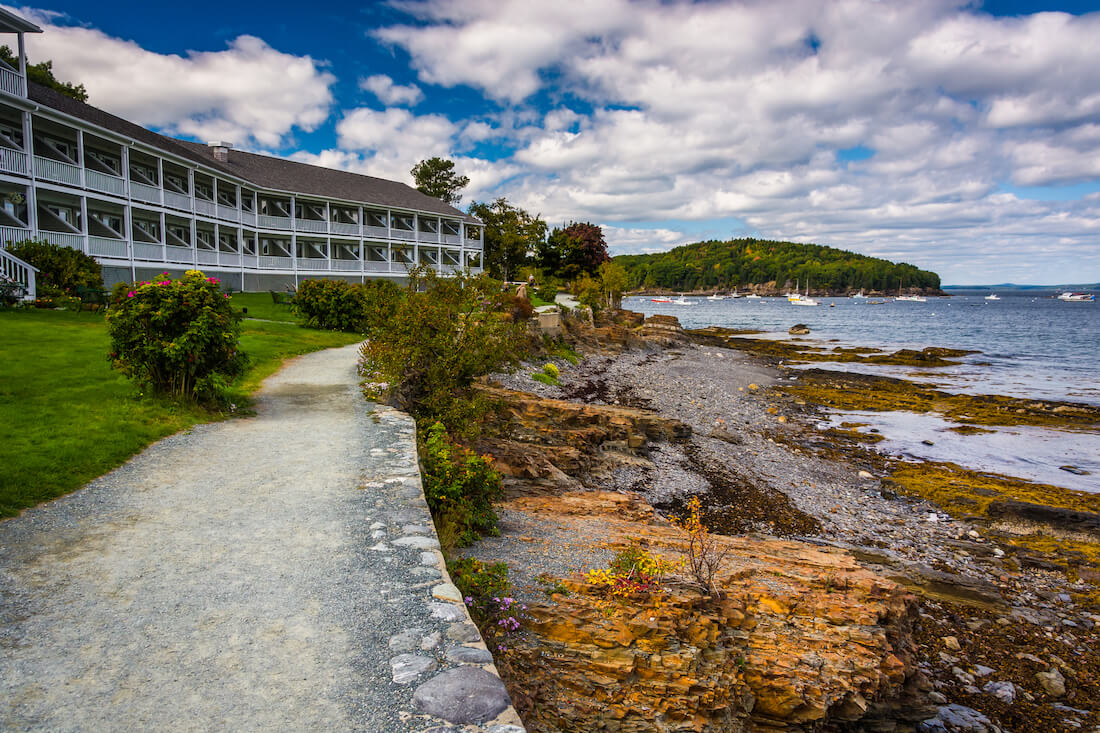 Final Words
Here's the full Boston to Maine road trip map for you to follow more easily.
Did you follow our advice for this Boston to Maine road trip from start to finish? Or did you just choose one stop along the way? We'd love to hear your experiences in the comments below!
Maine Destinations