This article has links to products and services we love, which we may make commission from.

Wondering what to do in Boston in spring? The city starts to come alive after a long winter, bringing exciting events, outdoor activities, and endlessly gorgeous green spaces and gardens to enjoy.
Bask in the beauty of spring in Boston with our guide to the can't-miss events and best places to explore in the city during the season.
If you're local, you might also like our other seasonal guides for inspiration! Check out Boston in the fall or winter to plan ahead.
If you're planning a family vacation during school spring break, then you'll want to get more ideas from our guide to Boston with kids.
And get even more ideas across the state in our spring in Massachusetts guide.
Experience the Best of Boston in Spring
As the snow melts and the flowers start to bloom, everyone in Boston gets excited about the better weather.
It's the start of baseball season, fun outdoor places start to open back up, and many cultural spaces start to lengthen their opening hours as more tourists come back to the city.
Spring is a lively time in Boston!
Starting with the most popular springtime things to do in Boston, we hope our guide helps you plan the best trip or regular outings in your own backyard.
Catch the Red Sox at Fenway
There is nothing quite like cheering on the Red Sox, the local team, in the springtime in Boston!
Fenway Park is the oldest Major League Baseball stadium in the country, having opened in 1912.
Opening Day usually takes place at the end of March or the beginning of April, so be sure to check the schedule and grab tickets for a home game!
Local tip: Brush up on the lyrics for Sweet Caroline — it's a Sox favorite.
St Patrick's Day in Boston
If you're in the city in mid-March as spring starts to peep through the snow, then you'll have to celebrate St Patrick's Day in one of the most iconic places to do so.
Whether you take part in a pub crawl, learn more about Irish history on the Irish Heritage Trail, or even check out the annual Irish Film Festival, you'll find tons to do in Boston on the holiday.
Check out our complete guide to St Patrick's Day in Boston for even more ideas.
Lilac Sunday at Arnold Arboretum
Springtime is known for its early flowers in bloom, and the Arnold Arboretum (125 Arborway) is one of the best places to visit to enjoy the Boston spring flowers.
Be sure to go to the Arboretum during Lilac Sunday, an annual event featuring tours from experts, activities for kids, picnics, and almost 400 flowering lilac plants.
You'll be able to learn about the different kinds of lilacs and soak in the warm spring sun.
Spring Blooms at Boston Public Garden
Besides Arnold Arboretum, some of the best spring flowers can be found in parks and gardens throughout the city.
The Boston Public Garden (4 Charles St) is the oldest public botanical garden in the country, making it one of the best places to visit in Boston in spring.
Located in Beacon Hill, head to the garden to see amazing magnolia trees in full bloom and to walk among more than 26,000 tulips.
If you're driving into the city to enjoy the spring weather and scenery, check out our parking guide to Boston for everything you need to know!
Even More Spring Blooms in the Esplanade and Rose Kennedy Greenway
There are two more notable parks you must check out this spring for their unmissable flower gardens.
Visit the Esplanade along the Charles River to see tons of cherry blossom trees in full color, typically in April.
Alternatively, walk the Rose Kennedy Greenway for the best rose bushes, wildflowers, and pollinator-friendly gardens.
The Esplanade and Rose Kennedy Greenway also features in our guide to parks in Boston.
Boston Marathon
You don't have to run 26 miles to enjoy the Boston Marathon!
This is one of the biggest spring events in Boston — and the world's oldest annual marathon.
While the route snakes through multiple towns and cities in Massachusetts, racers finish in Copley Square in the heart of Boston.
Be one of 500,000 spectators at New England's most viewed sporting event and get caught up in all the excitement!
Patriots Day Parade
Patriots Day is one of the busiest days of the year in Boston, not just because of the Boston Marathon through the city, but because of the historical celebrations to commemorate the day.
The Patriots Day Parade remembers the Battles of Lexington and Concord, the very first events of the American Revolutionary War.
Marching through Downtown and the North End, 500 participants move through the city and end at Paul Revere Mall.
This is a fun way to introduce the kids to US history!
Patriots Day Reenactments
History buffs will love the other events taking place on Patriots Day in Boston.
This spring on Patriots Day, follow the Freedom Trail in Boston to learn about the start of the American Revolution in the places where revolutionaries gathered and plotted together.
If you're looking for things to do in Boston during Spring Break, this is a great option to keep kids engaged while they're not in school.
Beyond Boston, you can partake in more Patriots Day activities to learn about the Minutemen — the key figures in the American Revolution — and take guided tours around the historic areas of Lexington and Concord.
The Freedom Trail is one of our favorite free things to do in Boston.
Boston Calling
Taking place every year at the end of May during Memorial Day Weekend, Boston Calling (Harvard Athletic Complex) is a fun and energetic music festival you won't want to miss.
Across multiple days and multiple stages, you can enjoy some of the biggest names in music at this iconic Boston spring event.
Art in Bloom at the MFA
If you love art, one of the best things to do in Boston in the spring is to check out Art in Bloom.
Art in Bloom is a special event hosted by the Museum of Fine Arts (465 Huntington Ave) every year at the end of April, and it features several dozen floral arrangements that are creative interpretations of original artworks.
Entry to the event is included with a General Admission ticket to the museum, so don't worry about paying anything extra.
Going to the MFA is always a lovely Boston date idea, too!
Boston Farmers Market
The farmers' markets in Boston are some of the best in the region, and the Brookline Farmers Market (Centre St West Parking Lot) is truly amazing.
The farmers' market starts up again in early June each year.
Featuring new fruits, vegetables, flowers, and more every week, you'll love visiting the market just as spring turns to summer.
Massachusetts Craft Brewer Festival
If any beer lovers are looking for things to do in Boston this spring, they should run to the Massachusetts Craft Beer Festival (539 Tremont St) at the end of April.
Put on by the Massachusetts Craft Brewers Guild, you'll be able to try beers from 40 different breweries across the state.
Support local, try new craft beers, and enjoy the start of outdoor beer garden weather!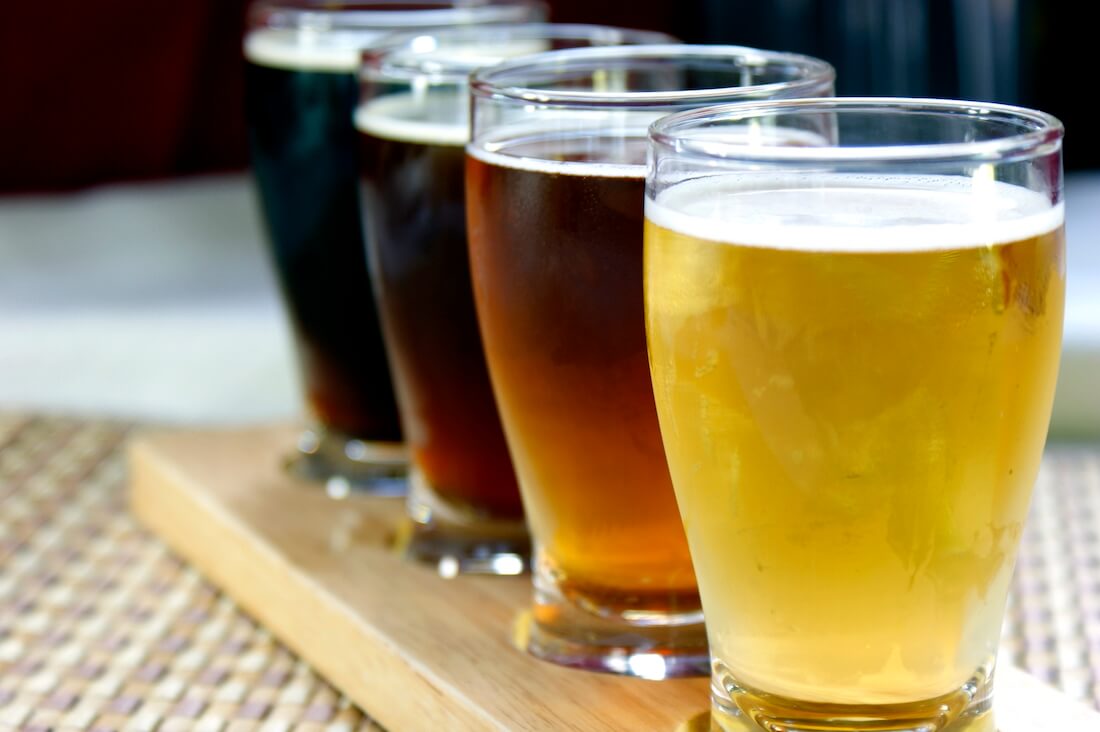 Kayak or Paddleboard Charles River
During the nice weather in Boston, one of the most fun outdoor activities is renting a kayak or paddleboard to take out on the Charles River.
Paddle Boston's (1071 Soldiers Field Rd) rental season opens in early May — so take advantage during those early warm days before summer tourists arrive!
You can explore nine miles of the river, which conveniently has no swift current to compete with.
Stop for a picnic, check out views of the Esplanade and the skyline, and enjoy the city by water!
Swan Boats
One of the most iconic activities in Boston in the springtime is to take a Swan Boat out in the Boston Public Garden lagoon.
Opening Day takes place in mid-April and reservations are not required to ride the Swan Boats, so you can decide to get out on the pond spontaneously!
The Boston Public Garden in the spring is absolutely gorgeous, and what better way to enjoy it than out on the water?
Note: Do not feed the living birds on the pond, as it is absolutely not permitted by the Parks Department.
Browse the Brattle Book Shop Outdoors
When the weather is nice, America's oldest antiquarian bookstore, Brattle Book Shop (9 West St), hosts an outdoor browsing experience, making it one of the best Boston spring activities for avid readers.
You can shop more than 250,000 books, from rare collections to general reading.
Wander the sprawling tables and pick up a new (old) book to read!
Irish Film Festival
For more than 20 years, the Irish Film Festival (multiple locations) in Boston has been celebrating Irish films and showing them to an enthusiastic audience.
The festival, which takes place in March, is the largest outside of Ireland and offers awards for films across several categories.
When Boston's spring weather is still a little murky in March, an indoor film festival is a perfect way to wait it out!
Wicked Queer: Boston's LGBTQ+ Film Festival
For an exciting weekend filled with queer films and storytelling, head to Wicked Queer (multiple locations) this spring in Boston.
This film festival is one of the longest-running festivals of its kind in North America and aims to celebrate every expression of queerness through its films.
The festival takes place at the end of March and the beginning of April.
Boston International Film Festival
If you're a movie lover and you're looking for something to do in Boston in April, check out the Boston International Film Festival.
You can trust these are some of the best independent films that are being shown across the globe, and you can see them all at four theaters across the city.
Discover your new favorite film from any of the 60 represented countries at this amazing festival — it's the perfect way to spend early spring days!
Independent Film Festival
Every year at the end of April and beginning of May, Boston's Independent Film Festival showcases dozens of amazing, independent films in theaters across the city.
You'll love finding new directors and watching new and unique stories being told through the eyes of independent directors.
Duckling Day Parade
Located in the Boston Public Garden, the Duckling Day Parade celebrates Mother's Day and the classic book, Make Way for Ducklings by Robert McCloskey.
For more than 30 years in early May, families have dressed as characters from the book and marched through Boston Common and the Public Garden, ending at the famous duckling sculpture.
More than 1,000 people gather every year, making it a perfect activity in the spring for families.
Boston Design Week
At the end of April and beginning of May, Boston Design Week (multiple locations) brings together designers and design enthusiasts for events, activities, and more across the city.
From landscape design to architecture to handmade custom design work, this varied and busy festival is fun for artists and spectators alike.
Waterfront Bike Tour
If you're looking for something fun and active to do outdoors this spring in Boston, you should take a waterfront bike tour.
This nearly 3-hour tour gives you a complete experience of the city from along the Charles River.
You won't want to miss this relaxed outdoorsy adventure with a knowledgeable guide!
When is Spring in Boston?
The spring months in Boston occur from the end of March to the end of June, but it really starts to get warm in Boston in April.
March will likely still be cold and blustery in the city, so watch the weather carefully before you visit.
Boston Spring Weather
Temperatures in spring in Boston range from mid-40s to high 60s.
You can expect cloudy days about half of the time, chilly nights, and occasional rain showers.
Plan to bring plenty of layers to be ready for typical spring weather volatility.
Final Words
We hope this guide helped you plan you trip to Boston in spring! If you're local, we hope we inspired you to go check out something new in your own city.
Share your favorite Boston springtime events and activities in the comments below.
Our Boston Guides