This article has links to products and services we love, which we may make commission from.

The city of Boston offers a rich history and vibrant culture, and it's always a great place to visit, but what do you do when the rain starts pouring down and you're stuck indoors?
Don't let the gloomy weather dampen your spirits!
Boston in the rain can be a wonderful experience for those who are willing to embrace it.
Despite the occasional downpour, this historic city has so much to offer that can be enjoyed even on a rainy day.
From indoor attractions and cultural experiences to delicious food and shopping, there's no shortage of fun things to do in Boston when it rains.
In this guide, we'll explore some of the best things to do in Boston indoors, so you can make the most of your time in this beautiful city, even when the weather isn't cooperating.
If you're planning to see the city on a budget, you may also like our guide to free things to do in Boston.
Indoor Things to Do in Boston
Boston Athenaeum
If you're looking for things to do in Boston when it's raining, you should visit the Boston Athenaeum (10 1/2 Beacon St), a library, museum, and cultural center that is supported by its members.
Located in the heart of Boston, you can wander through the bookshelves and admire the art throughout the building, including paintings, sculptures, and more.
If you have a research project you're working on, you can even make an appointment to check out their multiple special collections.
VERSUS Arcade Bar
Head to the VERSUS Arcade Bar (42 Province St) for a ton of indoor activities for adults in Boston.
VERSUS is the first arcade bar located in Downtown Crossing, and it merges the best retro arcade games with 80s-inspired interior design.
You'll love the creative cocktails, bar food, and the most fun game from your childhood.
Old State House
The Old State House in Boston is one of the things to do on a rainy day in Boston for history buffs and those who appreciate a glimpse into America's colonial past.
This historic building was the center of political activity during the American Revolution and was the site of the famous "Boston Massacre" in 1770.
Hear all the historic and interesting stories about the place in this self-guided audio tour while you explore the interior of the building.
Spooky Ghost Tour
Not quite indoors, but there is a Boston trolley tour that whisks guests around Beantown in a vintage-looking cart while sharing stories about its sordid past.
There are some stops at notable places such as the graves of John Hancock, Paul Revere, and Samuel Adams, so pack a raincoat or umbrella.
For more on the city ghost tours, check out our round-up here.
Take a Private City Tour
For another truly unique and special rainy day activity in Boston, book a private city tour, complete with a custom itinerary filled with indoor activities.
A local guide will take you to some of the city's iconic places like the Massachusetts State House and the Old State House.
This also includes a driving tour where you can see important spots on the Freedom Trail.
Faneuil Hall Marketplace
One of the best Boston indoor activities for a family is a visit to the Faneuil Hall Marketplace (4 South Market Building).
There are food and dessert booths for every kind of eater, whether you're picky or adventurous.
You can also find unique shops, Boston souvenirs, and interactive art and science exhibits that will wow the whole family.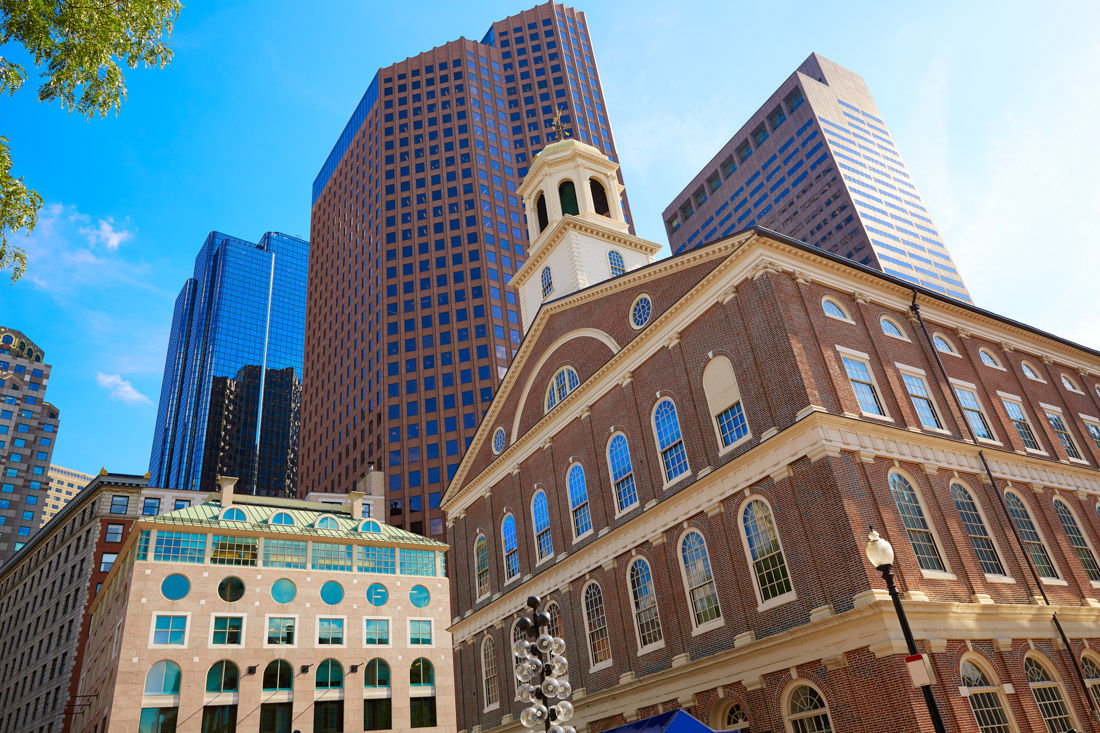 Boston Public Market
The Boston Public Market (100 Hanover St) is a non-profit project that was created to support the growth and success of local business owners and entrepreneurs.
This year-round marketplace hosts more than 30 New England artists, artisans, and specialty food producers in one building.
Explore the different vendors, grab a fresh and local lunch, and enjoy one of the most special Boston indoor activities.
Improv Asylum
Regularly voted Boston's best comedy shows, the Improv Asylum (216 Hanover St) is a perfect indoor activity in Boston for locals and travelers alike.
The coolest part of the show at this venue is that no two shows are ever alike, which means you can enjoy a different show every time you visit!
Museum of African American History
Visiting the Museum of African American History (46 Joy St) is one of many things to do indoors in Boston that can teach you the city's deep history.
You'll find real, honest stories of American history that do not exclude the truth of the African-American experience.
Learn about life in the 18th and 19th centuries and travel along the Black Heritage Trail for even more context.
Central Rock Climbing
Looking for things to do in Boston on a rainy day for an active family?
Head to Central Rock Climbing (99 Beverly St) to do some amazing indoor rock climbing.
The gym is very close to North Station and even features classes and programs for beginners.
From bouldering to top rope climbing to lead climbing, there is something fun for climbers of every level.
Museum of Science
Visiting the Museum of Science (1 Science Park) is truly one of the best things to do in Boston when it rains because you get the opportunity to explore interesting and cool exhibits that explain the world around us.
It is one of the largest science institutes in the world and welcomes more than 5 million people every year.
Wander through the temporary and permanent exhibits and discover something new about our surroundings!
The Museum of Science also features in our list of nighttime activities in Boston.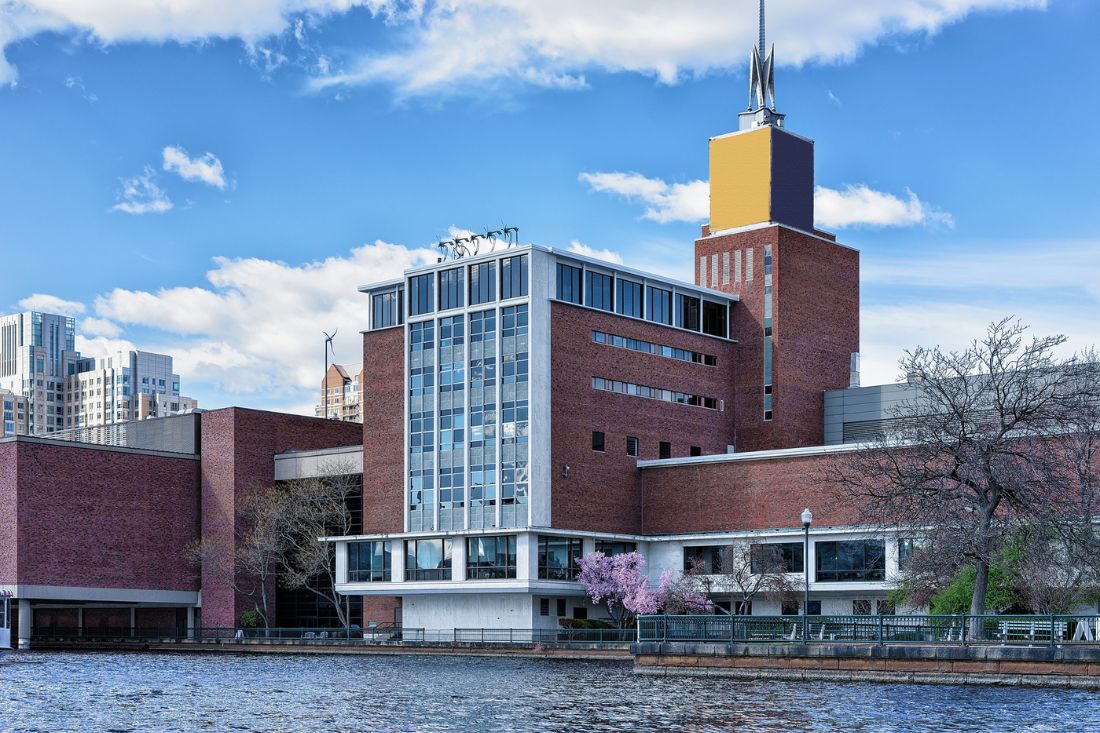 USS Constitution Museum
The USS Constitution Museum (Building 22, Charlestown Navy Yard) is worth visiting for its rich history and cultural significance.
The museum is located on the grounds of the Charlestown Navy Yard, where the USS Constitution, the oldest commissioned warship afloat in the world, is docked.
Visiting the museum is one of the most fascinating things to do in Boston when it rains for visitors of all ages with all the interactive exhibits, historical artifacts, and educational programs that bring the history of the ship and the US Navy to life.
You can take a guided historical city tour that includes entry to the museum as well as other historical sites in Boston.
Boston Children's Museum
Check out the second oldest children's museums in the world when you visit the Boston Children's Museum (308 Congress St).
By playing, collaborating with others, and interacting with tons of cool exhibits, kids of all ages (including adults) will have a blast at this museum.
Looking for more kid-friendly activities in Boston? Check this guide.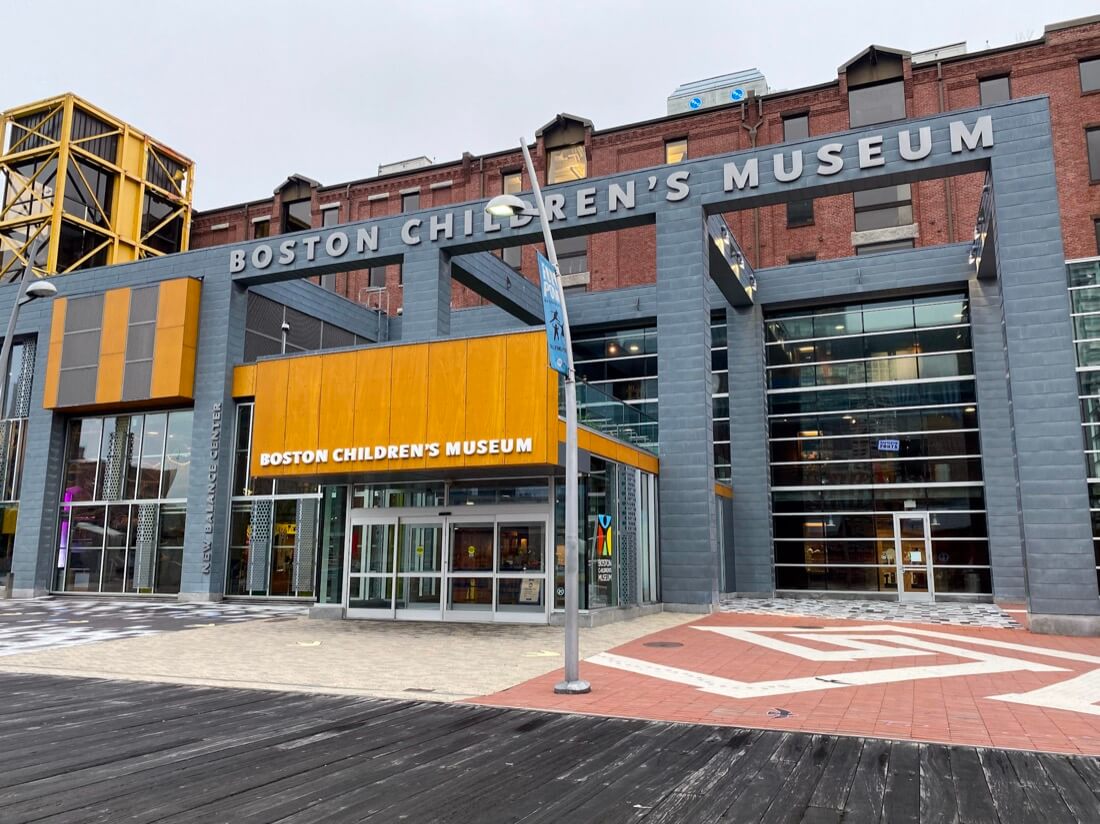 Institute of Contemporary Art
You should grab a ticket to the Institute of Contemporary Art (25 Harbor Shore Dr) and wander through the amazing gallery exhibits on a rainy afternoon.
You'll find some of the best contemporary art from across the globe, including 2D art, sculpture, and multimedia works.
Even better, admission is free on Thursdays after 5:00 PM and is always free for youth 18 and under, making the ICA one of the best free indoor activities in Boston.
Emerson Colonial Theatre
The Emerson Colonial Theatre (106 Boylston St) is the oldest continuously run theater in the city, making it one of the coolest historic Boston indoor attractions.
Catch a show in the beautiful Theater District, and be sure to visit any of the four full-service bars throughout the theater.
Add snack and beverage packages to your ticket when you order online, and enjoy the amazing live events at this venue.
If you're looking for a little more information about Boston's history, take this guided trolley tour and stay out of the rain!
The Wang Theatre
While the Theater District is a vibrant, lit-up scene outdoors, there are also lots of theaters to duck into if you're looking for fun things to do in Boston on a rainy day.
The Wang Theatre (270 Tremont St) is one of the most famous and ornate theaters in the city, and the shows they host are some of the best you can find.
Check the schedule and order tickets online to any of the interesting performances on the calendar.
Boston Public Library
While stepping into a library might not seem like it would be among the coolest things to do in Boston if it rains, the iconic Boston Public Library (700 Boylston St) puts that assumption to shame.
The BPL is the first for many library superlatives: the first free municipal library in the country, the first to lend books, and the first to have a children's department.
The library also hosts frequent events in the Central Library, so be sure to check out their featured events to see if there's anything going on during your rainy day in the city.
SoWa Vintage Market
SoWa Boston is the Art and Design district in the city, and the SoWa Vintage Market is definitely one of the most interesting features of the district.
Open on Sundays and during First Fridays, the Vintage Market is a collection of vendors curating showrooms filled with vintage clothes, jewelry, furniture, and unique objects.
If you'd rather not shop, restaurants are some of the best places to go when it rains, so take a guided seafood tasting tour if the weather isn't cooperating.
Prudential Center
The Prudential Center (800 Boylston St) has a wide variety of Boston indoor attractions, which makes it a perfect destination if you're wondering what to do in Boston if it rains.
From interesting shops to some of the best restaurants in the city, you won't run out of fun things to do in 'the Pru.'
You can even check their events calendar to see if there's anything neat happening on the day you plan to visit!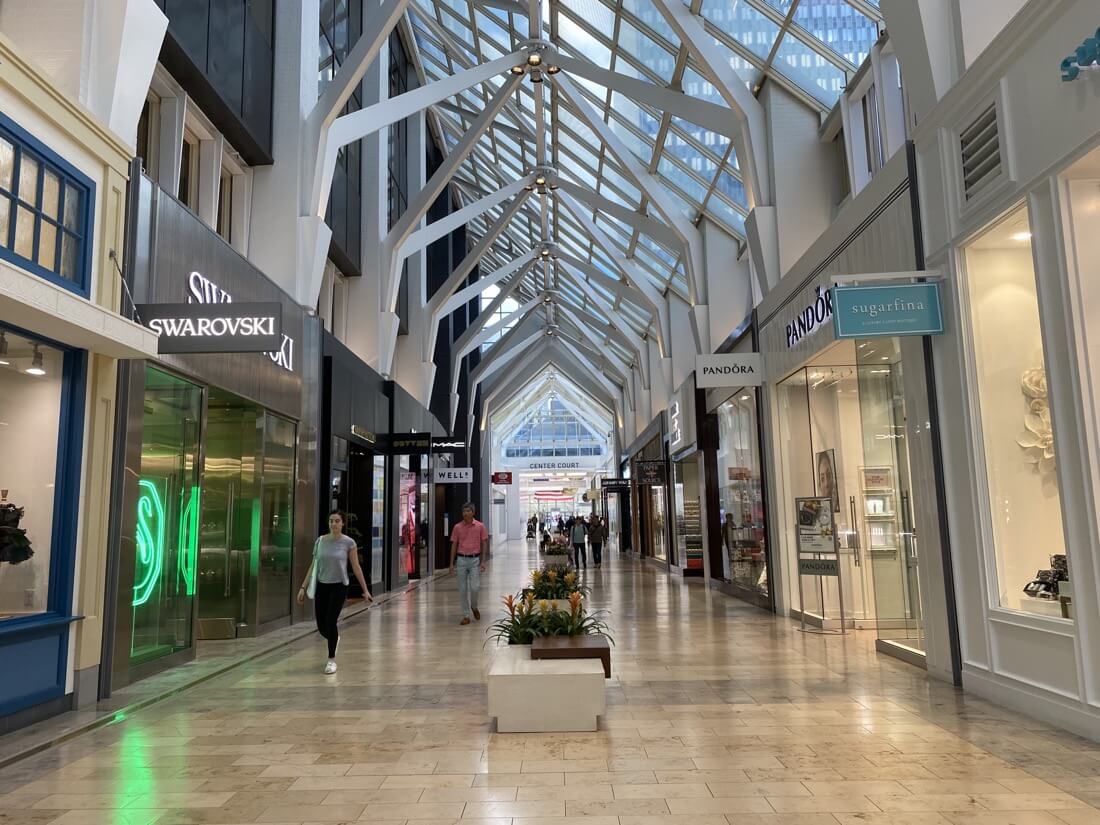 Mapparium
Located in the Mary Baker Eddy Library (210 Massachusetts Ave), the Mapparium is a giant glass globe that you can stand inside!
Built in 1935, this stained-glass globe is three stories tall and you can walk through on a glass walkway.
Bowling at Lucky Strike
Bowling is a classic rainy-day activity in Boston, and there is no better place to bowl than at Lucky Strike (145 Ipswich St).
Besides big ball bowling, you can also play in a giant arcade!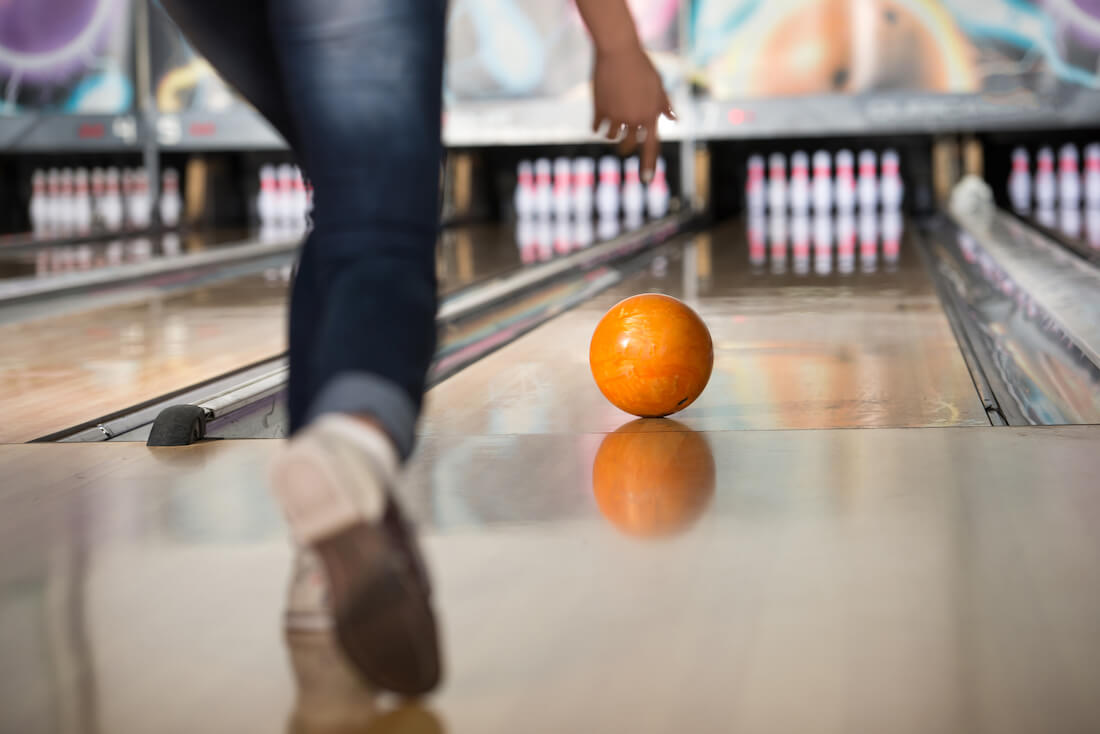 House of Blues
Music lovers, check this out: shows playing at the House of Blues (15 Lansdowne St) will make you forget about the stormy weather outside.
Featuring a different musical act almost every night (as long as the Red Sox aren't playing at Fenway), there is a fun show on their schedule that will suit anyone's musical interests.
Museum of Fine Arts
The Museum of Fine Arts (465 Huntington Ave) is a classic indoor Boston activity, boasting nearly 500,000 artworks from across the globe.
With exhibits from some of the most well-known artists of all time, you can wander through the galleries and get inspired on a dreary Boston day.
Isabella Stewart Gardner Museum
Going to the Isabella Stewart Gardner Museum (25 Evans Way) is one of the most fun things to do in Boston when it rains because of its amazing indoor garden.
This museum is installed in the late Gardner's mansion in the middle of the city, so you feel like you're wandering through somebody's abandoned home.
Samuel Adams Brewery
A selection of rainy day activities in Boston wouldn't be complete without a trip to the Samuel Adams Brewery (30 Germania St) in the city's Jamaica Plain neighborhood.
Open every day, this brewery and taproom is pushing the edge of craft beer and sensational beer recipes.
Sample the classic and rotating drafts and take a tour of this brewery to stave off the bad weather blues.
The brewery also features in our guide to the best date ideas in Boston.
JFK Presidential Museum & Library
Stopping by the JFK Presidential Museum and Library (Columbia Point) is one of the coolest things to do in Boston when it rains because it truly takes you on a total journey through the life of JFK while he was president.
Immerse yourself in the time period through exhibits, artifacts, and high-quality films and projections.
You'll leave the library knowing more than you ever thought possible about JFK's time in the office.
Final Thoughts
Whether you're a local or a visitor, there's no need to let the rain spoil your day in Boston.
We hope that this guide helped you discover plenty of things to do when it rains in Boston, and take advantage of the opportunity to explore all that the city has to offer.
Our Boston Guides