This article has links to products and services we love, which we may make commission from.

The best places to visit in Vermont all year round, from leaf peeping during New England's fall, to hitting the slopes in winter, the great spring awakening and water sports in summer.
Vermont is a four-season East Coast destination that we can't wait to share with you!
While most of Vermont's attractions are influenced by nature, The Green Mountain State also has cities. So if the charming, rural life doesn't float your boat, you can get aquatinted with small city life too.
This guide will detail where to see the most popular Vermont points of interest like its covered bridges, historic steeples, fall colors and, of course, where to experience the best snow.
So remove your Bernie Sanders mittens 'cause you will need your hands to write down an extensive list of notes for your next Vermont vacation.
And if you're looking for places to stay on your visit, you can check some historic hotels in New England located in Vermont.
Things to do in Southern Vermont
Since most visitors travel to Vermont from the south, we'll start by looking at the best places to visit there.
Brattleboro, Windham County
Brattleboro is a liberal art town which borders New Hampshire.
It has a population of 12,000.
Things to do in Brattleboro
Brattleboro puts on many sessions and shows at the Vermont Jazz Center, Brattleboro Museum and Art Center, and Hooker-Dunham Theater and Gallery.
There's also a packed calendar of festivals and events such as the Farmers' Market, The Brattleboro Women's Film Festival, Vermont Theatre Company's Shakespeare-in-the-Park (June and July) and the Winter Carnival.
If visiting on the first Friday of the month, join the Gallery Walk!
Grab a coffee at Duchess Coffee Co or a maple latte at Mocha Joe Roasting to kick start your day, then wander through Downtown and shop local.
Once you've worked up a thirst, head to Whetstone Craft Beers @ Whetstone Station and enjoy a drink on the deck overlooking the Connecticut River before it's time for dinner at Top of the Hill Grill BBQ.
If you are looking for a unique thing to do in Brattleboro, hike out to the abandoned Retreat Tower, which was built in 1887 for patients with ill mental health.
During summer, take a walk through Living Memorial Park and a dip at the pool.
If visiting in winter, the ski town Stratton is less than an hour's drive from Brattleboro, and you can stop at West Dummerston Covered Bridge on the way.
Check out our guide to covered bridges in Vermont for more!
For fall colors and water reflections, drive less than an hour to Grout Pond.
Bennington, Bennington County
Bennington is a touristy town nestled in a valley by the Green Mountains.
It proudly wears the slogan, "VT begins here".
Bennington is one of the most populated towns in Vermont, with a population of 15,333.
Things to do in Bennington
Visit the tallest human-made structure in the state, the 306-foot tall Bennington Monument and The Old First Church, the first Protestant church in Vermont.
The poet Robert Frost is buried in Bennington, and you can visit one of his homes at the Robert Frost Stone House Museum at Bennington College, where you will learn more about the regional history dating back to 1852 at the Bennington Museum.
Enjoy a walk through Willow Park, taking in Mt. Anthony and the Bennington Monument in the background.
If you are ticking off a New England covered bridges bucket list, you will score three in Bennington!
Silk Road, Paper Mill and Henry Covered Bridges over the Walloomsac River is located minutes away from each other by car.
If visiting during fall, there are a couple of drives you might want to check out for crazy colors!
Bennington to Woodford at Prospect Mountain Ski Area is less than 15 minutes by car, and it is also where you'll see trees and water reflections at Woodford State Park.
Mount Equinox Skyline Drive by Manchester is less than an hour's drive, where you can drive to the highest peak in the Taconic Range.
Grafton, Windham County
Grafton is a tiny village which enjoys tourism because it boasts of refurbished historic buildings set against the picturesque southern mountains.
Preservation of the town started in 1963 when investment banker, Dean Mathey, bought The Grafton Inn, one of the oldest inns in the US.
Things to do in Grafton
Hike the 10 miles of trails, then gorge on award-winning cheese.
Tap into nature's goodies at Plummer's Sugar House, third-generation sugarmakers cooking up maple syrup goodness!
The Grafton Historical Society has exhibitions about the town history in its house and barns.
Grafton is the southeastern gateway to Vermont's African American Heritage Trail, and it starts at the 'Journey's End' for Alec Turner, an enslaved person, and his family.
You can learn more about his family's story at The Turner Interpretive Center and the family cabin, Birchdale Camp.
The Green Mountain National Forest (GMNF)
Wondering where to go in Vermont for views, hikes and road trip routes?
400,000 acres of southwestern and central Vermont make up the adventure enthusiasts' playground, The Green Mountain National Forest.
This national forest is also part of the Appalachian Trail and Vermont's Long Trail, which is the oldest long-distance trail in the US.
Several hikes suit all abilities, from pond trails to cliff treks!
For turquoise watering holes, check out Warren Falls or, for flowing a waterfall, Moss Glen Falls.
You can also fish here if you have a Vermont fishing license.
For fall colors reflecting in the water, make time for Grout Pond, which has several trails under 3 miles.
While some roads close over winter, GMNF is an all-year-round park.
Come winter; snow activities take over the mountains.
The Green Mountains is one of the Southern Vermont attractions you have to experience, whether that be foot, car or staying overnight!
Read more about skiing at the Green Mountains below in our Killington section.
You may also like our guide to camping in Vermont.
Manchester
Manchester is a cute Vermont town with a busy Downtown area.
The population is 4,484.
Things to do in Manchester, VT
For an easy stroll, consider the Manchester Riverwalk, and for a day hike, the 10K Mount Equinox and Lookout Rock offer views over Manchester.
Alternatively, if you don't want to hike but would like to experience the views from the 3,848-foot summit of Mount Equinox, drive the Mount Equinox Skyline.
It is the longest privately owned, paved toll road in the United States.
History fans will want to set aside half a day for Hildene, the estate of Abraham Lincoln's son Robert.
Located in a Georgian Revival mansion, tours run throughout the day.
Southern Vermont Arts Center is a multi-disciplinary art gallery in a former Yester House country estate!
And for the wee kids and big kids, Pastime Pinball is the home of vintage pinball machines.
For food, order tacos at Gringo Jack's, pub grub at Cooper's Grouse, or for something a little more upmarket, The Silver Fork.
Sweet tooth visitors will want to take out artisan chocolates and pastries from Mother Myricks too!
If you are visiting in the fall, pop into the Equinox Valley Nursery to pick up a pumpkin and to see the decor.
From Manchester, you are only 30 minutes drive from Stratton Mountain Resort, one of the 20 best ski resorts on the East Coast.
You may also like our guide to Vermont in the fall.
Things to do in Central Vermont
As we move farther up the state, we come to Central Vermont, where you can expect more covered bridges, nature and good food!
Quechee State Park and Gorge
Quechee State Park isn't actually owned by the state; it is leased from the US Army Corps of Engineers.
Get your camera ready because this area not only has a river with a gorge it also has a covered bridge!
Located on Route 4, Quechee State Park is home to Vermont's deepest gorge at 165 feet deep.
It is thought to have developed over 13,000 years ago.
The water that runs through it is the Ottauquechee River, and some of it freezes over during winter!
In summer, you may catch divers by the Quechee Covered Bridge, unique sightseeing in Vermont activity.
Woodstock
Just to the west of Quechee Gorge is one of the prettiest towns in Vermont, Woodstock.
Not to be confused with Woodstock Music and Art Fair in New York.
Woodstock is cute all year round with its fairy-lit trees in winter, tulips in springs, foliage in fall and blue skies in summer; there is no right or wrong time to visit.
Things to do in Woodstock, VT
For Harry Potter vibes, visit the 1880s pink sandstone Norman Williams Public Library, which celebrates Woodstock as an 'unusually literate community' for the early 19th century.
Take a nosey at how the other half live at Marsh-Billings-Rockefeller Mansion in Marsh-Billings-Rockefeller National Historical Park, a Queen Anne–style mansion open at the weekend until the end of October.
Visit Billings Farm to see a working farm and museum dedicated to scientific-farming history, with interactive exhibits and demos.
Shop local at The Market on The Green in summer.
Take a ride with ease via a group e-bike tour guided by Woodstock Wheels.
For food, enjoy farm to table at Cloudland Farm, The Worthy Kitchen for pub grub or Woodstock Pizza Chef for relaxed dining.
Score three more covered bridges off your bucket list with Middle Covered Bridge, Taftsville Covered Bridge and Lincoln Covered Bridge.
Hands down, one of the prettiest places in Vermont has to be Sleepy Hollow Farm.
Woodstock also features in our Vermont fall road trip itinerary.
Killington
The Beast of The East, Killington, has over 70 miles of trails making it one of the best places in Vermont to go if you want powder!
Known for its location in the Green Mountains, Killington celebrates 'more days of lift-served skiing and riding than anywhere else in New England', and if the natural snow isn't dumping, snow guns do the job.
Killington has six peaks, one of which is the second biggest in Vermont.
Things to do in Killington
Ski and snowboard, of course!
Beginners should stick to the lower chairs for easy routes, which make up 28% of the resort, and more experienced sports fans can hit Bear Mountain for bumps.
33% of the mountains are suitable for intermediates and 39% for advanced.
Snowboarders love The Stash, an untamed park with features like wooden houses to board on.
At night, join other revelers at The Wobbly Barn for food, drinks and clubbing or the Pickle Barrel for live acts.
Outside of winter, you can ride up the K-1 Express Gondola to the top of 4,241-foot Killington Peak.
Killington, the heart of the Green Mountains, enjoys epic fall colors too.
Cooley Covered Bridge is a 30 minutes drive from Killington.
Groton State Forest Recreation Area
One of the best things to do in Vermont in the fall is to visit ponds surrounded by tricolored trees like Ricker Pond at the Groton State Forest Recreation Area.
Groton made up part of the route used by native Americans heading to Canada from 1704!
It has also played its part in Vermont's logging industry.
The area has seven parks – Ricker Pond, Big Deer State Park, Boulder Beach State Park, Kettle Pond State Park, New Discovery State Park, Seyon Lodge State Park and Stillwater State Park.
Things to do at Groton State Parks
Hike the 17 miles of trails or bike over 20 miles of gravel roads.
Swim at the beaches and use the public grills for BBQ.
Kayak at Ricker Pond.
Camp over at the state parks campgrounds and enjoy the quiet.
Montpelier
One of the more unique Vermont destinations to visit is Montpelier, as this is the smallest state capital in the whole of the US!
While the population is only just under 7500, its landscape is very popular.
This image is often used to represent New England online and in the media.
Things to do in Montpelier
Wander through the small city and appreciate the architecture of the 1859 Vermont State House Greek Revival building with its gold dome, the Italian Renaissance Revival Kellogg-Hubbard Library and the city's churches.
Enjoy the 1.7-mile walk by the Winooski River or a stroll through the 194-acre park, Hubbard Park.
Spend time at the Vermont History Museum to learn more about Native Americans who lived in the area.
Appreciate local talent through the city's street art on the Rabble Rouser building and the Recreation Center.
Join the Artwalk if you are in town when they run.
Head to Greenmount Cemetery to see the Black Agnes – dare to sit on her lap?
You won't find the Golden Arches here; Montpelier is the only state capital without a Mcdonald's.
Instead, dine on meat smoked by Ed at The Mad Taco or pasta at Sarducci's, then wash it down with Barr Hill Gin, a drink at Charlie O's dive bar or the Three Penny Taproom.
Why not treat yourself to Rabble-Rouser chocolates?
Don't miss the maple syrup and creemee ice cream at Bragg Farm, then swing by Coburn Covered Bridge.
Shop local at the Capital City Farmers' Market, Bear Pond Books and The Getup Vintage store.
Finally, look out for granite trains passing by during your stay.
Although some think this city is a little on the quiet side, others argue it is one of the most beautiful places in Vermont for its skyline and fall colors.
Things to do in Northern Vermont
St Johnsbury, Caledonia County
An honorable mention for St Johnsbury as this is home to Dog Mountain, Dog Chapel and the Stephen Huneck Gallery.
Dog Chapel is where people leave notes for their furry friends who have passed.
A very emotional place for some.
A visit to Dog Chapel is a must on our Vermont bucket list.
Queen City of Burlington
Many of the fun things to do in Vermont can be found in Burlington.
Craft beer, artisan food and sport, all by the shores of Lake Champlain.
Named after Samuel de Champlain, the European who named it after himself, the lake was originally called Caniadari Quaront by the Mohawk people.
Keep your eyes peeled for the lake monster!
Although you can do lots of city activities in Burlington, it still has a coastal vibe to it.
Visitors are spoilt for choice regarding scenery, with the Green Mountains also featuring in the landscape.
Burlington is the biggest city in VT.
Things to do in Burlington
Get your teeth sunk into the farm-to-table food scene or grab take-out Farmers' Market food and sit in the park.
For seafood, check out Bleu Northeast Kitchen and go for the fried freshwater Lake Champlain perch or for a daily menu, check out Hen of the Wood.
If upmarket pub grub is more your scene, head to The Farmhouse.
Since you're in Burlington, it would be rude not to try the local craft beer.
This local tour does all the hard work for you, acting as your designated driver for three hours as you sample beer from various local breweries!
Shop along the pedestrianized Church Street, and don't forget to pick up Lake Champlain Chocolates or Ben & Jerry's ice cream, which served its first-ever scoop just around the corner.
If you are a big fan of Ben & Jerry's, pencil in a visit to their factory just outside of Stowe (Waterbury-Stowe Rd Route 100) to see the Flavor Graveyard.
For art, the Shelburne Museum in the south of the city houses over 150,000 works exhibited in 39 buildings featuring American folk and decorative art.
It is also home to a covered bridge.
For history, consider Ethan Allen Homestead Museum, 'hero to some, rogue to others'.
Here you can also learn about the Abenaki People, whose presence on the Intervale dates back 13,000 years!
If visiting during ball season, catch a Vermont Lake Monsters game at Centennial Field, one of the oldest minor league stadiums in the US.
Lake Champlain Islands
You don't just have to look at the lakes; you can also visit its islands.
This is one of the places to see in Vermont if you prefer a crowd-free vacation.
To plan your visit, book your stay at one of the lakefront rentals in Vermont located around Lake Champlain.
Things to do on Lake Champlain Islands
Shop at the US's strangest gas station, Hero's Welcome General Store (North Hero) and pick up supplies and sandwiches at a century-old shop.
Visit a vineyard like Snowfarm or check out Hackett's Orchard.
Did you know that Vermont is known for its apples?
226 acres of Grand Isle State Park offers boating, swimming, camping, fishing, hiking, picnicking, bicycling, wildlife watching, water sports and winter sports.
To get to Lake Champlain Islands, you can hop aboard the Local Motion Island Line Bike Ferry or drive via Sandbar State Park.
Stowe and Mt Mansfield
Stowe is known as the ski capital of the east!
One of the pioneers of snowboarding and founder of Burton Snowboards, Jake Burton Carpenter, resided in Stowe, helping it secure its place on the winter sports map.
Stowe Ski Resort includes Mount Mansfield, the highest peak in Vermont (4,393 ft) and Spruce Peak (3,390 ft) for beginners.
Stowe has 116 trails and 485 skiable acres!
You can stay and/or dine on Spruce.
Close to Stowe is Mount Mansfield State Park.
Things to do in Stowe and Surrounding Areas
Visit the waterfalls – Bingham Falls, Moss Glen Falls and Sterling Moss Gorge.
Hit the shops on Main Street!
Take a tour of The Vermont Ski and Snowboard Museum or The Alchemist craft brewery, famous for its double IPA.
Swing by Nebraska Knoll Sugar Farm for high-quality syrup tapped by the Coty family.
Don't forget to try some apple cider at Stowe Cider or apple cider donuts before leaving Stowe.
For hiking, there is plenty of choice, from the easy Sunset Rock or Smuggler's Notch walks to The Hell Brook Trail (5.1 miles) at Mount Mansfield, which was originally called Mozdebiwajo (Moosehead Mountain) by the Abenaki tribe.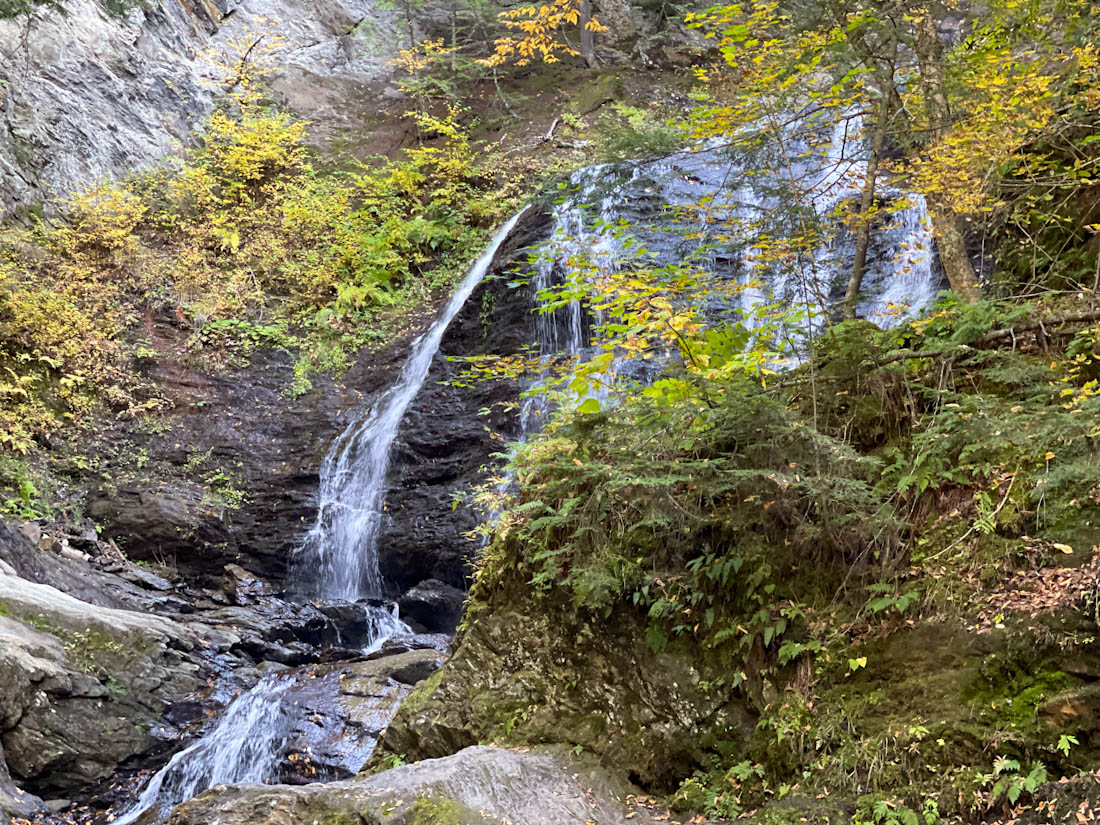 Hiking season in Vermont tends to kick off on Memorial Day Weekend.
But we're actually big fans of hiking the quieter trails and pretty foliage in Stowe in the fall.
Check out our guide to hiking in Stowe for more details.
Alternatively, drive the Stowe Scenic Auto Road or take the Gondola at Stowe Mountain Resort and dine at Cliff House Restaurant.
An unusual thing to do in Vermont is to visit and/or stay at the Trapp Family Lodge!
The Sound of Music family arrived from Nazi-occupied Austria in the early 1940s, touring as a performance group.
They fell for Stowe with its glorious mountains and settled on a farm where they built a lodge and you can book a room there!
It is an Alpine-style mega building with an onsite brewery and bier hall.
Another unique Vermont activity you can do in Stowe is play disc golf, where you throw plastic discs into metal baskets.
Let's squeeze one more bridge into your Vermont itinerary, the Gold Brook Covered Bridge, aka Emily's Bridge.
It's said to be haunted!
Mt. Pisgah and Lake Willoughby
Take on the moderate hike up Mt. Pisgah in Westmore for views of Lake Willoughby, which shows off gorgeous fall colors.
Leaves can make the trek slippy, so be cautious.
You will need snow shoes in winter.
Back to fall at Lake Willoughby…
This is where social media photographers get that jaw-dropping road trip fall pic with the lake to the side.
Read next: State Parks of Vermont.
Vermont Map
Please feel free to use this Vermont map which features all of the best things to do in Vermont, where to eat and Vermont covered bridges locations.
Does the simple way of life in the 802 appeal to you for your next trip? Tell us in the comments!
Vermont Destinations