This article has links to products and services we love, which we may make commission from.

Looking for the best places to visit in Rhode Island? While this might be the smallest state in the entire US, you'll be amazed at the variety of opportunities in this New England nook.
With stunning Atlantic coastline, vibrant urban centers, beautiful conservation areas, and some of the nation's longest-standing historical buildings, it's cliche but accurate to say there's something for everyone in Rhode Island.
Whether you're local or visiting, Rhode Island getaways are the perfect opportunity to enjoy natural beauty, culture, and history all without having to traipse across a huge state.
Take advantage of its small size and check out all the best places to go in RI.
Here are our recommendations for destinations, dining, accommodations, adventures, and more.
Best Places to Visit for Rhode Island Getaways
This tiny East Coast state packs a big punch when it comes to places to visit.
If you like city life, Providence is a little bit hipster, a little bit old-school, and a lot of fun!
Prefer nature? Hiking in Rhode Island offers plenty of easy but beautiful trails to enjoy.
And if you're into living like the rich and famous, Newport's mansions and yachts can't be beat.
Love the beach? From Narragansett to Block Island, this coastal state maximizes its opportunities for summertime fun.
For destination inspiration here are the best places to visit in Rhode Island for a perfect getaway.
Maybe add it to your East Coast road trip itinerary, too!
Providence: The Rhode Island Capital
While Providence may not draw the same international crowds as its neighbor Boston, this city should be on your New England bucket list!
Go see the Rhode Island State House, which looks like a little sibling to the US Capitol Building and boasts the fourth largest structural-stone dome in the entire world.
With Ivy League Brown University in the center of the city, you can bet there are plenty of hipster spots to draw the college crowd.
Head to Thayer Street for quirky shops and lots of cafes.
Walk through Brown campus to enjoy the historic environment.
Enjoy WaterFire on Saturday nights (usually May through November); Providence is built on water and its three rivers are set ablaze with bonfires to create a fun and beautiful atmosphere.
Providence also offers plenty of shopping opportunities, from Providence Place Mall to the multitude of independent shops catering to the college community.
And you can't skip the RISD (RI School of Design) Museum while in Providence, featuring up-and-coming creatives alongside regular exhibitions.
Check out our whole guide for more things to do in Providence.
Newport: Mansions, Yachts, Beaches, & Christmas Lights
Newport is most popular for its mega-mansions, which visitors love to ogle.
Visiting Newport in the summer means spending time at the beach or strolling around the marinas checking out boats.
You also can't skip the beautiful Newport Cliff Walk, a 3.5-mile coastal path offering stunning views of the sea and the mansions.
Visiting Newport in the winter means Christmas at the mansions.
Go to see the lights and decorations at these grand homes — it's quite an experience!
Check out our guide to Rhode Island in fall for spooky tours and fall foliage.
Pawtucket: History and Education
Tiny Pawtucket isn't on most visitors' Rhode Island bucket lists, but it should be!
Visit the Slater Mill National Historic Landmark to better understand how the industrial revolution affected this small state and beyond.
It's part of the Blackstone River Valley National Historical Park, managed by the National Park Services.
You might want to check out our favorite national parks on the East Coast if you're eager to learn more!
In Pawtucket, you can also visit the Daggett House, which is one of the oldest surviving buildings in Rhode Island.
Woonsocket: Ride the Polar Express
Yet another place in Rhode Island that doesn't receive lots of visitors, Woonsocket rests on the Massachusetts state line and is part of the Blackstone Valley.
From here, you can catch the Blackstone Valley Polar Express, which takes families on a magical journey each November and December.
Enjoy a 90-minute ride, complete with snacks, singing, and lots of fun for the little ones.
Check out our guide to Rhode Island in the winter for tons more seasonal ideas!
Block Island: Rhode Island's Island for Summertime Fun
The tiniest state has a tiny island off its coast that makes for such a fun Rhode Island getaway!
Head to Block Island to enjoy the bluffs and lighthouses that are iconic to New England.
Seek out the South East Lighthouse and the North Light; enjoy the views from Mohegan Bluffs or go for a walk through Rodman's Hollow (a conservation area).
Check our Rhode Island bucket list for a long list of things to do in Block Island.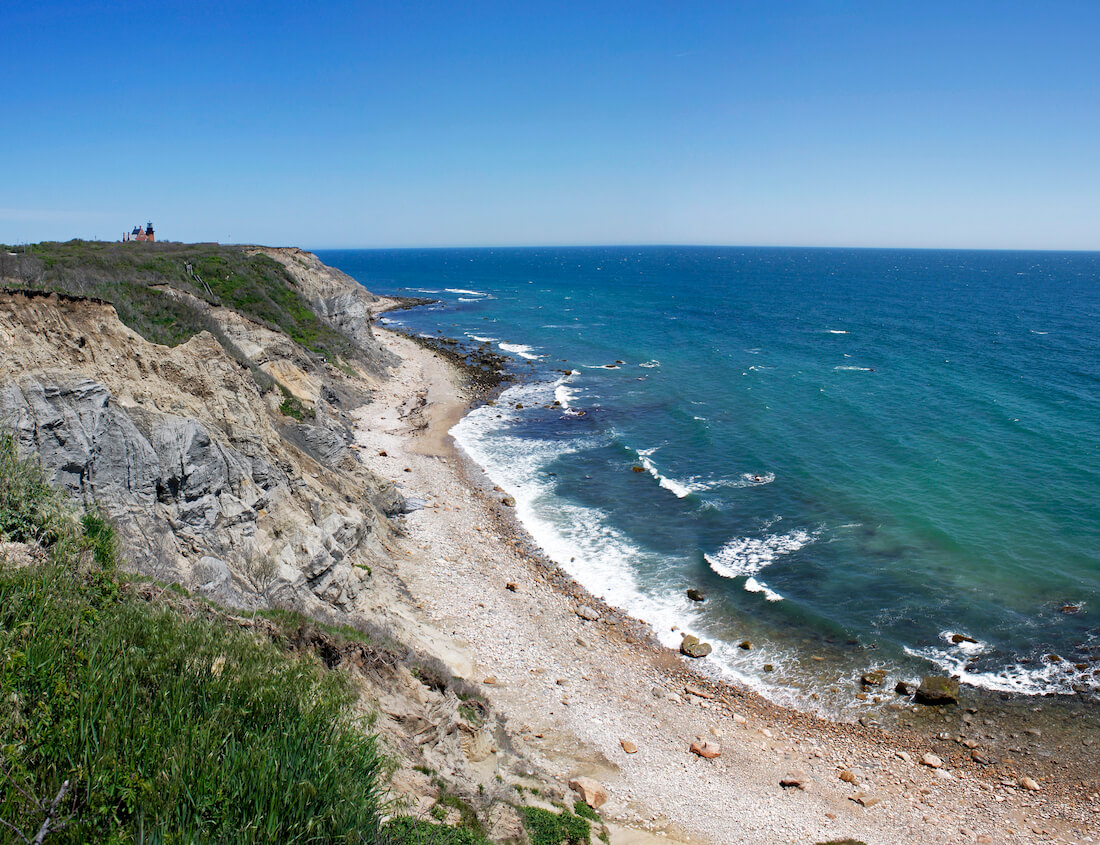 Narragansett: Beaches, Lighthouses, & More
For time by the sea, head to Scarborough, Narragansett, Salty Brine, or Roger Wheeler Beaches.
Salty Brine and Roger Wheeler are on Point Judith, where you can see the eponymous lighthouse.
Narragansett is most popular for its beaches, but there is so much more to learn about this place in Rhode Island.
Narragansett Bay gets its name from the Narragansett people, a prominent Algonquian American Indian tribe that controlled what is today called Rhode Island.
The Narragansett people have fought to regain their land and preserve their culture, though the US Supreme Court ruled against their legal claim to land in 2009.
Narragansett also features in Rhode Island in the spring guide.
Best Places to Eat in Rhode Island
For amazing seafood, go to Flo's Clam Shack
Flo's Clam Shack (4 Wave Ave, Middleton & 324 Park Ave, Portsmouth) is home to some of the freshest seafood you can get.
After a long day at the beach, absolutely nothing tastes better!
Serving hungry customers since 1936, you will have to make it to Rhode Island during the summer to catch Flo's while they're open for the season.
The deck looks out on the breathtaking Eastern Beach, so make sure you grab a seat outside.
You'll have to try the fried clams, but if you're extra hungry, go for the huge Lobster Roll Platter.
No trip to the coast is complete without a fresh meal at a clam shack, so you definitely won't want to miss this amazing spot.
For a romantic night out, head to Hemenway's
Hemenway's Restaurant (121 South Main St, Providence) is a highly innovative and 100% employee-owned business that has been serving both locals and visitors for decades.
The menu is always seasonal and creative, with a wide selection of the freshest seafood and most vibrant veggies.
They've been awarded the Wine Spectator's Award of Excellence every year since 2012, so get ready to face difficult choices when you open the wine menu!
Hemenway's is the perfect restaurant for your last night in Providence, a little getaway in Rhode Island before you head back to reality- a great place to take your date too.
For more romantic restaurants and places to visit in Providence, check out this guide.
For a sweet treat, visit Newport Creamery
Well-known for its incredibly thick and sweet frappes, Newport Creamery (multiple locations) is the perfect stop after dinner.
Newport Creamery features classic flavors and creative dishes, like the Cow'wich, an ice cream sandwich made with Oreo Cookie wafers.
Their ice cream is award-winning and their sundaes are over the top!
While Del's is a classic Rhode Island stop, you can meet up with the locals at Newport Creamery.
Eat "Farm to Table and Pond to Plate" at Matunuck Oyster Bar in South Kingston
Matunuck Oyster Bar (629 Succotash Rd) in South Kingston couldn't serve you a fresher plate of seafood.
Perry Raso was born and raised on the clam flats of Rhode Island, learning how to harvest shellfish, trap eels, dig for clams, and dive for steamers.
He earned two degrees in aquaculture and fisheries technology, and his passion is sharing his knowledge with others.
His restaurant is one of the best on the whole East Coast, sourcing ingredients locally and harvesting seafood from Narragansett Bay.
Enjoy clams and linguine or Togarashi scallops along with one of their fine wines or cold beers from a perfectly curated selection list.
Situated outdoors on Potter Pond, you can admire the amazing sunset and feast on the best, most local fresh dining.
Best Places to Stay in Rhode Island
For a historic trip to the past, stay at Weekapaug Inn in Westerly
Weekapaug Inn (25 Spray Rock Rd) in Westerly is an astounding property constructed in 1899 that overlooks the Quonochontaug Pond.
Westerly is home to some of the best beaches on the East Coast.
With lovely, soft sand and fresh surf, you'll be shocked you're still in New England!
With gentle sea breezes blowing in from the Atlantic and the scenic display of little sailboats moored in the pond, it will be almost impossible for you to leave these incredible lodgings.
The seamless combination of casual comfort and luxurious details is what makes the Weekapaug Inn truly unforgettable.
Both rooms and suites are available.
Experience Bed and Breakfast Perfection at Almondy Inn in Newport
Almondy Inn Bed and Breakfast (25 Pelham St) located in downtown Newport is a stunning 1890s Victorian property that has been restored to its original condition.
It's just a short walk to Narragansett Bay from here.
You'll also have easy access to the rest of the incredible shops, restaurants, and excitement in Newport.
Almondy offers an unforgettable Rhode Island getaway!
Stay in any of the six guest rooms, most complete with their own en-suite jacuzzi, and experience the comfort of a delicious breakfast every morning.
Almondy Inn Bed and Breakfast also features in our guide to romantic things to do in Newport.
Live Like the 1% at The Vanderbilt in Newport
Luxury meets modernity at The Vanderbilt, part of the Auberge Resorts Collection.
Seek out the secret bar in the parlor and marvel at the extraordinary artwork in this rejuvenated downtown mansion originally built in 1909.
With fine dining on-site, a luxury spa, a garden terrace, and an outdoor pool, you'll feel a world apart although you're right in the heart of it all.
The Newport Mansions are just minutes away and the Newport Cliff Walk is easily reached from The Vanderbilt.
Enjoy European Style at Shepherd's Run in South Kingstown, RI
Picture vineyards, stunning stone architecture, and a sprawling European-style estate…without the Transatlantic flight and jet lag.
That's Shepherd's Run.
Enjoy their wide selection of wines while you explore the architectural and landscaped beauty around this historic home.
Since 1933, Shepherd's Run has evolved from an elite summer home to today's welcoming space focused on wellness, community, and camaraderie.
For the Most Unique Rhode Island Getaway, Stay at the Rose Island Lighthouse
Adventure through the 18 acres that surround the beautiful Rose Island Lighthouse, which is still in operation!
This fully restored 1870s structure is Rhode Island's best-kept secret.
Meander through the secluded trails, take in the astounding sunrises, and climb up to the top of the lighthouse to take in the spectacular ocean views.
You can choose to stay in any of the four amazing rooms and suites, but if you don't want to miss out on panoramic views of Narragansett Bay and full apartment accommodations, book the Lighthouse Keeper's Apartment.
These rooms are best for couples, but can certainly accommodate 1 to 2 more adults.
The island is just a short, 15-minute ferry ride from Newport, so you hardly have to worry about a long trek to your secret getaway.
Best Outdoor Adventures in Rhode Island
Explore an Island Lighthouse at Beavertail State Park
For some of the best hiking trails, saltwater fishing, and a top-notch naturalist program, visit Beavertail State Park (Beavertail Rd) in Jamestown.
Located on the southernmost tip of Jamestown, the museum in the park features artifacts collected from the third-oldest lighthouse in North America!
The Beavertail Lighthouse was built in 1749 and rebuilt in 1753 after a fire destroyed the original.
Check the website and plan to go on a day the lighthouse tower is open for climbing to the top.
From there, you can admire the panoramic view of Narragansett Bay.
Travel by foot along the rocky coast and adventure around the point of this charming Rhode Island town.
Spot Amazing Wildlife at Arcadia Management Area
Enter Arcadia Management Area (260 Arcadia Rd) and surround yourself with more than 14,000 acres of beautiful forests.
Navigate the dozens of trails in one of the only parts of Rhode Island you might see a pileated woodpecker!
Prefer other outdoor adventures?
Come to Arcadia for fishing, hunting, biking, boating, and horseback riding.
All trails are well-maintained and well-marked.
Just be advised that all recreators must 'share the road' as bikers and horseback riders will be on the same trails as hikers.
Also be advised that there are fluorescent requirements during hunting season!
Make sure you bring a fluorescent orange cap, vest, or coat.
Meet Rhode Island's Seal Colony at Rome Point!
John H. Chafee Nature Preserve is home to a thriving seal colony (and a few sharks, too).
To get to the nature preserve, travel a short 3/4 of a mile north of the intersection between Route 1A and Route 138 on the west side of Narragansett Bay.
The public access parking area is on the right side of the road once you travel about a mile north of the intersection.
The hike to the point is about 1.25 miles along a mostly flat and gentle trail.
There is one short, steep hill to climb before you get to the point, but once you get there and look to the east, you'll see the seals' favorite outcropping of rocks.
From this vantage point, you might see the seals sunbathing on the rocks or swimming and jumping in the water.
It is definitely important to bring binoculars or a spotting scope.
The seals are quite a ways offshore because that is where they feel safest; always respect their space.
Best Museums to Visit in Rhode Island
Live Out Your Mansion Dreams at The Breakers
The Breakers (44 Ochre Point) in Newport is the summer cottage of the Vanderbilt family completed in 1895, exemplifying their unmatched wealth and status in the nation at that time.
Explore the grounds using the self-guided audio tour, found on your App Store.
If you'll be visiting with little ones, take them on the Children's Tour!
The Children's Tour is for kids under 13.
It is a whimsical and unique tour filled with games, mysteries, and fun lessons about the Vanderbilt family and the Gilded Age.
Immerse Yourself in Fine Art at RISD
The Rhode Island School of Design (20 North Main St) features one of the best museums on the East Coast.
Located in the heart of Providence, the museum was established in 1877 as a part of the vibrant art community in the city.
Their collection of more than 100,000 works spans the length of our entire human history and is from every corner of the globe.
Enjoy painting, sculptures, costumes and textiles, and furniture pieces that will inspire and excite your creative side!
Check their website for admission guidelines.
Transport Back into the Past at Rough Point Museum in Newport, RI
Rough Point Museum (680 Bellevue Ave) was the home of collector and philanthropist Doris Duke (1912-1993), and her collection on display is expansive and breathtaking.
Travel back in time while touring her beautiful home.
So many exhibits are on view, including fine and decorative arts, as well as elaborate displays of historic fashion.
Rough Point is a qualified Blue Star Museum, which means the museum offers free admission to active military personnel and their families from Armed Forces Day through Labor Day.
This mansion is on the famous Newport Cliff Walk, so make sure you stop here along the way!
Final Words
If you're ready to visit the best places in Rhode Island, we hope this guide has provided all the inspiration you need!
Let us know your favorite local spots in the comments.
Rhode Island Destinations