This article has links to products and services we love, which we may make commission from.

There are so many beautiful, historic, fun, and fascinating places to visit in New England. From Maine to Connecticut, you can enjoy the wild Atlantic coastline and charming island communities, historic homes and vibrant cities, outdoor adventures and artistic enclaves.
New England is a destination you do not want to skip!
We'll outline the best places to go in each state in New England: Maine, New Hampshire, Vermont, Massachusetts, Rhode Island, and Connecticut.
As locals who live in New England and love this region, we hope you get to experience even a fraction of these wonderful places.
But we really hope you add all of these spots to your New England bucket list and get out there to see them all!
If you can time it perfectly, you'll especially love New England in the fall.
Several of these spots can also be easily reached via a day trip from Boston if you'd prefer to plan your trip around that hub.
The Best Places to Go in New England
Where to Go in Maine
Maine is the most northerly New England state, with an extensive coastline stretching all the way toward Nova Scotia, Canada.
Inland Maine boasts beautiful state parks and scenery as well, so don't just stick to the water!
That said, the most popular spots in this New England state are definitely focused on the shore.
Dive into all our Maine travel guides as you plan your perfect trip.
Acadia National Park
Acadia National Park resides on Mount Desert Island, which is attached to the mainland by a bridge.
Once the summering ground for the Penobscot and Passamaquoddy tribes, it later became an outdoor playground for the rich.
It is now one of the most popular vacation destinations in Maine with tons of fun things to do.
There is an abundance of hiking trails in Acadia – from walks to forested ponds to high points with ocean vistas.
Acadia features in our guide to the best hikes on the East Coast, if you're eager to explore even more trails.
Some sections of the park road are closed in the winter months, however, so be sure to research times before you visit.
Get our tips for visiting Acadia in the fall so you can plan according to seasonal closures.
There are also 45 miles of beautifully built carriage paths (with stunning stone bridges) on land donated by John D. Rockefeller Jr.
These are popular for horseback riding and biking – just be sure to wear your helmet!
Cadillac Mountain is a popular spot for early birds who are rewarded with a beautiful sunrise and the honor of being the first (along with the town of Lubec further up the coast) to see the sun come up in the United States.
The 29-mile very scenic Loop Road is a great way to take in some of the highlights of the island.
When visiting Acadia, most visitors want to stay in the Bar Harbor area to enjoy all the dining, shops, and amenities of this coastal town.
While you're there, check out this culinary tour of the town to enjoy all the local flavors.
This historical tour of Bar Harbor is another local favorite to delve deeper into the people and stories that have made this area what it is today.
To learn more about the indigenous people of Maine, be sure to visit the Abbe Museum in Bar Harbor.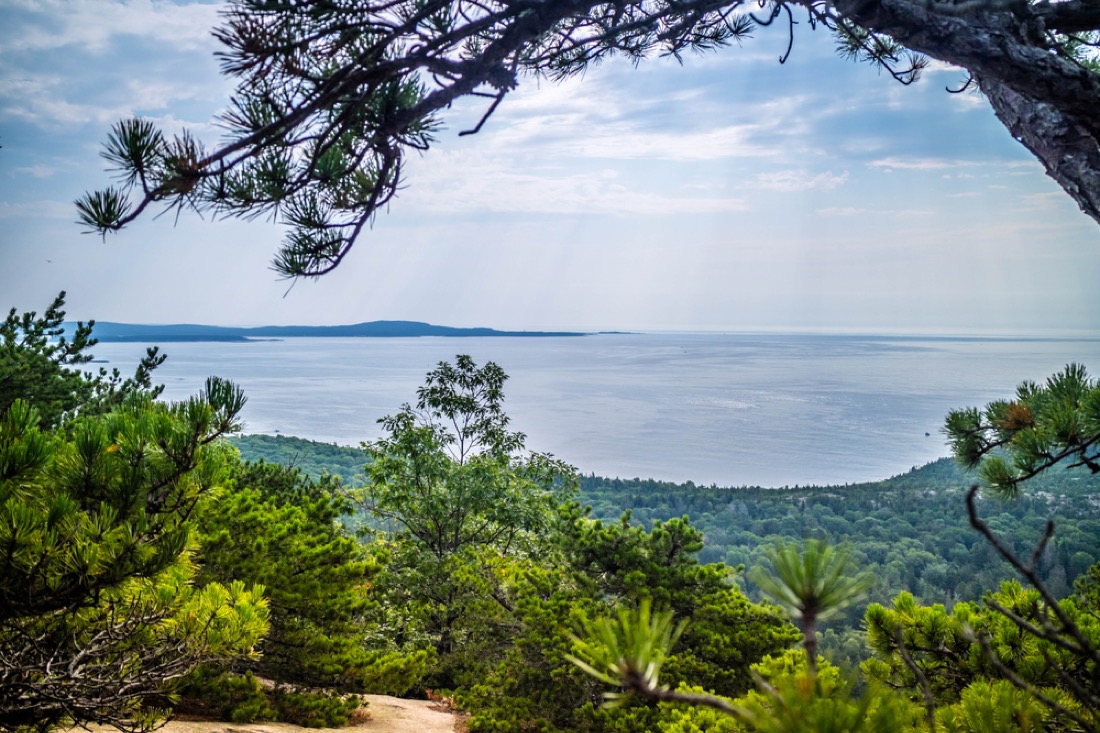 Baxter State Park
Baxter State Park includes Mount Katahdin, Maine's highest peak, and is well worth a visit by anyone who loves the great outdoors.
Katahdin is also the northern terminus of the Appalachian Trail.
The indigenous Penobscot people called it Ktaadn, which translated to "The Greatest Mountain."
While Katahdin is magnificent, don't forget there are other mountains, waterfalls, lakes, ponds, and forests to explore in Baxter State Park.
With 215 miles of trails and over 40 peaks and ridges, hikers of all levels can find ways to enjoy the wild beauty here.
Note that there are limits on the number of campers and day-use visitors in order to protect and preserve this wilderness park.
For this reason, it's important to plan ahead using the website or calling the visitor center for help in navigating the four-month rolling reservation system.
Also note that there is no electricity, potable water, paved roads, or cell phone service inside the park; pets (aside from service animals) are not allowed.
But what you will find deep in the northern Maine woods will make you forget all about the lack of modern conveniences.
There are stunning vistas, beautiful waterfalls, peaceful forest walks, and the potential for wildlife around every corner.
Remember though that wildlife should never be fed, and should be viewed from a respectful distance, as some wildlife such as bear and moose can be dangerous if surprised or protecting their young.
This beautiful wilderness should be on everyone's New England bucket list.
Kennebunkport
Kennebunkport is perhaps most famous for being where Walker's Point is located — better known as the Bush compound.
The Bush family isn't the only wealthy connection here, as the town is well-known as a vacation destination for the elite (similar to Newport in Rhode Island).
B&Bs abound, and independent shops and dining options add to the quintessential coastal Maine vibe.
Head to Dock Square to window-shop or grab a bite to eat.
In the summer, go on a whale-watching tour or relax at Mothers Beach, Gooch's Beach, or Colony Bay.
In the fall, Kennebunkport is a photographer's dream between all the autumnal decor and the pumpkin patch at Wallingford Farm.
As the holidays approach, the local favorite Christmas Prelude involves a two-week-long celebration that even involves Santa Claus arriving via lobster boat.
Portland
We recommend Portland as your first stop on a Boston to Maine road trip; check out the itinerary for full details and recommendations.
Maine's largest city doesn't feel like a city at all, with its small-town vibe, working waterfront, and Victorian architecture.
Portland has an elite reputation in the foodie community and has made all sorts of "must-visit" lists for its culinary scene.
Don't skip Duckfat for poutine or Eventide Oyster Co. for freshly shucked oysters.
The Old Port is a must-stop for more food and for shopping along original cobblestone streets – just watch your step!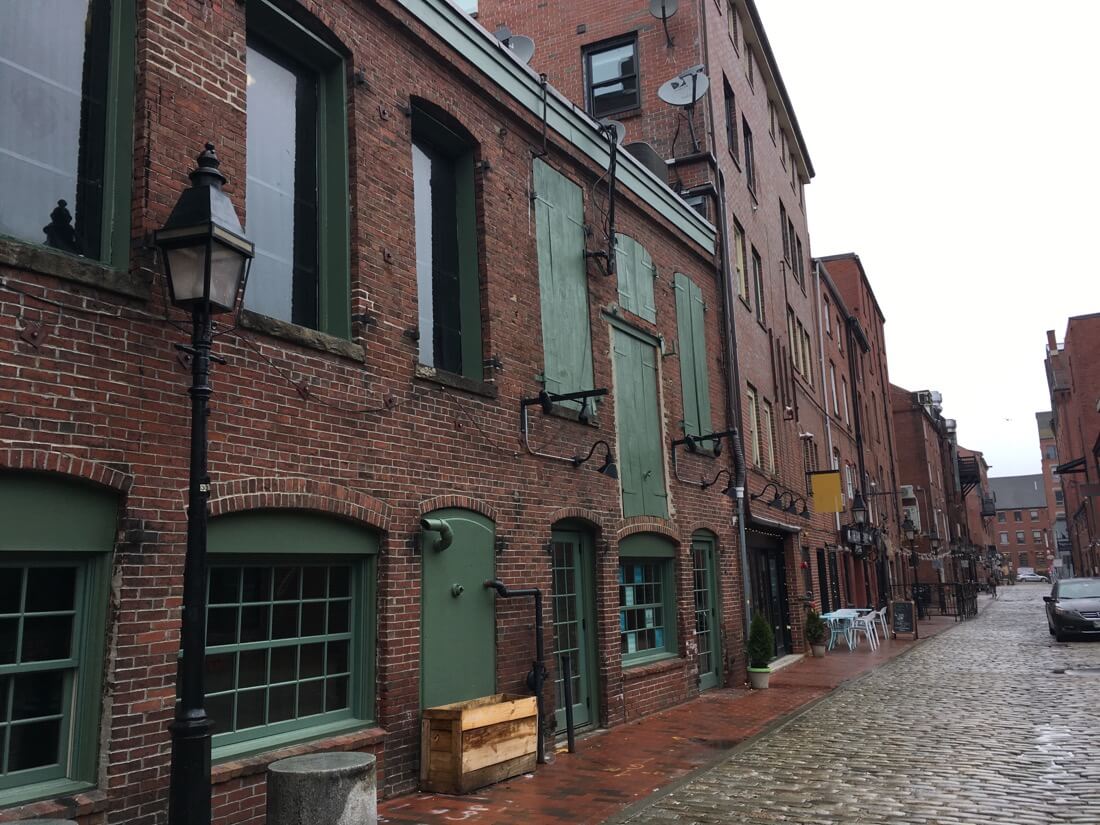 Portland also has lots to offer families.
Take the kids to the Maine Children's Museum or to nearby beaches and wildlife sanctuaries to wade in tide pools or walk in the woods.
Odds are good that you have seen a picture of the famous Portland Headlight.
Built in 1791, it was the first lighthouse constructed after the Revolutionary War and commissioned by George Washington himself.
It's actually located on Cape Elizabeth, just south of Portland.
Also be sure to make a stop at the Portland Observatory, the last surviving 19th Century signal tower on the Atlantic coast!
The 102 steps up the tower are well worth the effort for the views of the Casco Bay Islands and the city.
This harbor cruise of Casco Bay is a delightful way to end your day with sunset views of the city.
Check out our guide to find out where to stay in Portland.
York
York is located not far from the New Hampshire border, just in southern Maine along the coast.
Perhaps most famous for its Nubble Lighthouse at Cape Neddick, there are also several beaches around York that make it one of the best places to visit in New England in the summer.
Settled in 1624, York is a delight for history fans, who will particularly love the old cemeteries and historical sites such as the Old Gaol, whose oldest portion dates back to 1720.
For outdoor lovers, Mount Agamenticus rises above the area and is an easy 1-2 hour hike that ends with a fire tower view.
Affectionately known as "Mount A," the mountain is 690 feet high, traversed by 6 miles of trails and boasting views of the southern Maine coast and New Hampshire's White Mountains.
If you take a walk along York Beach, you'll see the old tower of Boon Island Light rising hauntingly above the dangerous shoals.
It is the tallest lighthouse in Maine — and all of New England!
From York Harbor Beach you can take the one-mile round-trip York Harbor Cliff Walk, one of Maine's most beautiful short walks.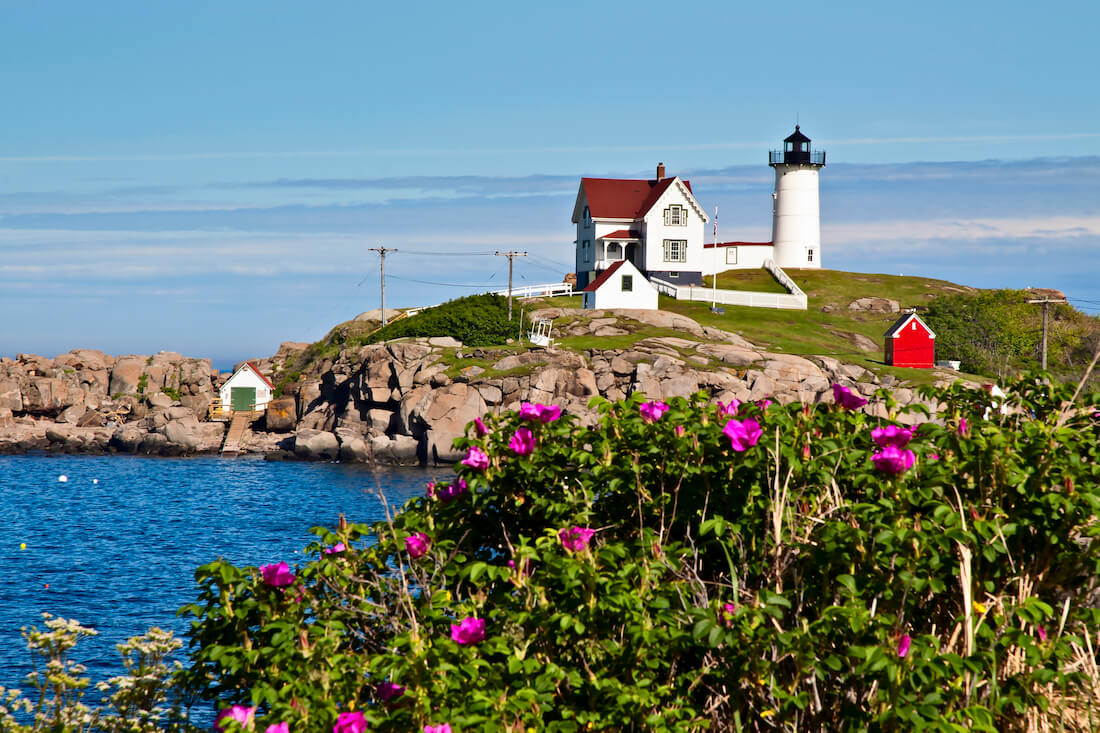 New Hampshire's Top Spots
The Granite State packs a punch for its small size, with a tiny bit of coastline on the Atlantic up to the gorgeous White Mountains.
Fall foliage in New Hampshire is always a draw, but this is truly a four-season state for outdoor fun.
Check out all our New Hampshire guides to dive into all the details.
Hampton Beach
Hampton Beach is New Hampshire's claim to the coastline, narrowly separating Maine from Massachusetts with a stretch of ocean sand and a popular summertime destination for locals.
A traditional boardwalk with arcades and ice cream stands attracts families, while comedy and live music offer entertainment in the evenings.
Next door is more popular Portsmouth — more on that town below!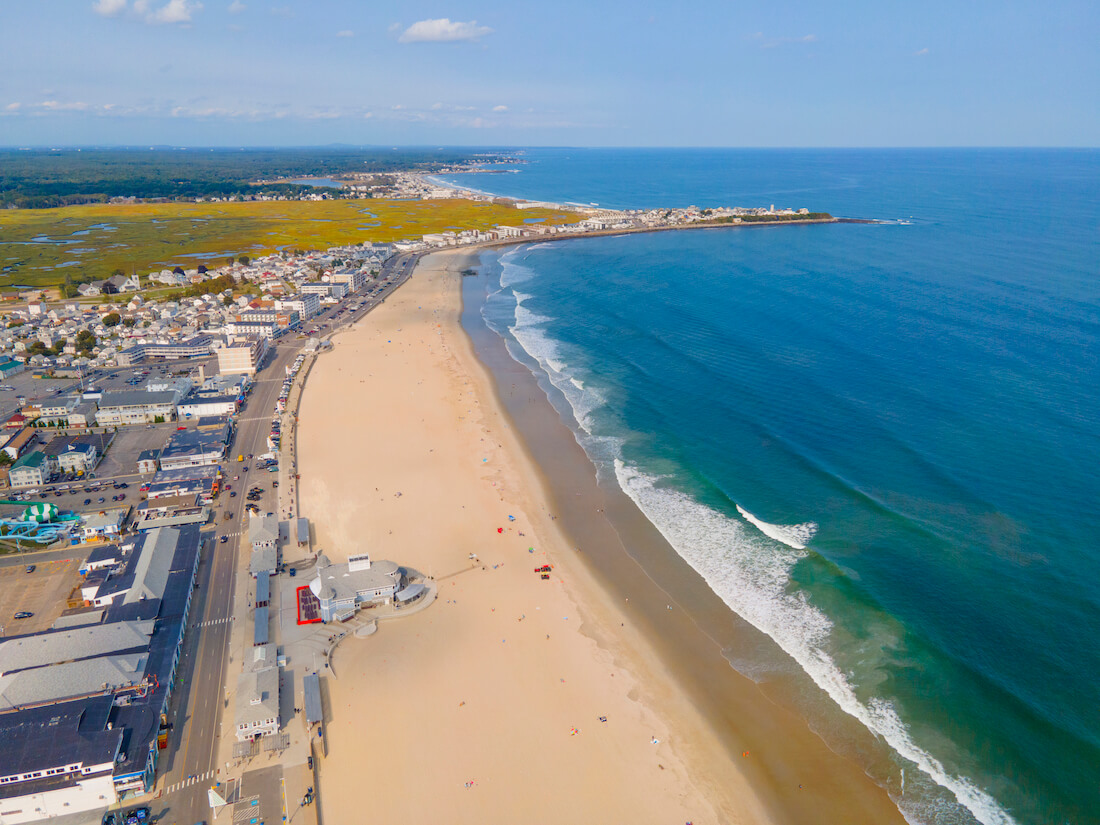 Lincoln
There are plenty of things to do in Lincoln NH that you'll want to head there year-round!
Summertime attracts hikers to Franconia Notch State Park and families to Whale's Tale Water Park.
Fall means leaf-peeping along the stunning Kancamagus Scenic Highway, while winter means skiing at Loon Mountain.
You can learn more about the locations on the Kancamagus by tuning into this audio tour.
From Lincoln, you should also visit the Flume Bridge, a beautiful covered bridge at the junction of Route 175 and Route 3 over the Pemigewasset.
Built in 1871, the Flume Bridge is a New England favorite!
Hikers will want to go to Flume Gorge in Franconia Notch State Park for a delightful 2-mile loop within the granite rock divide.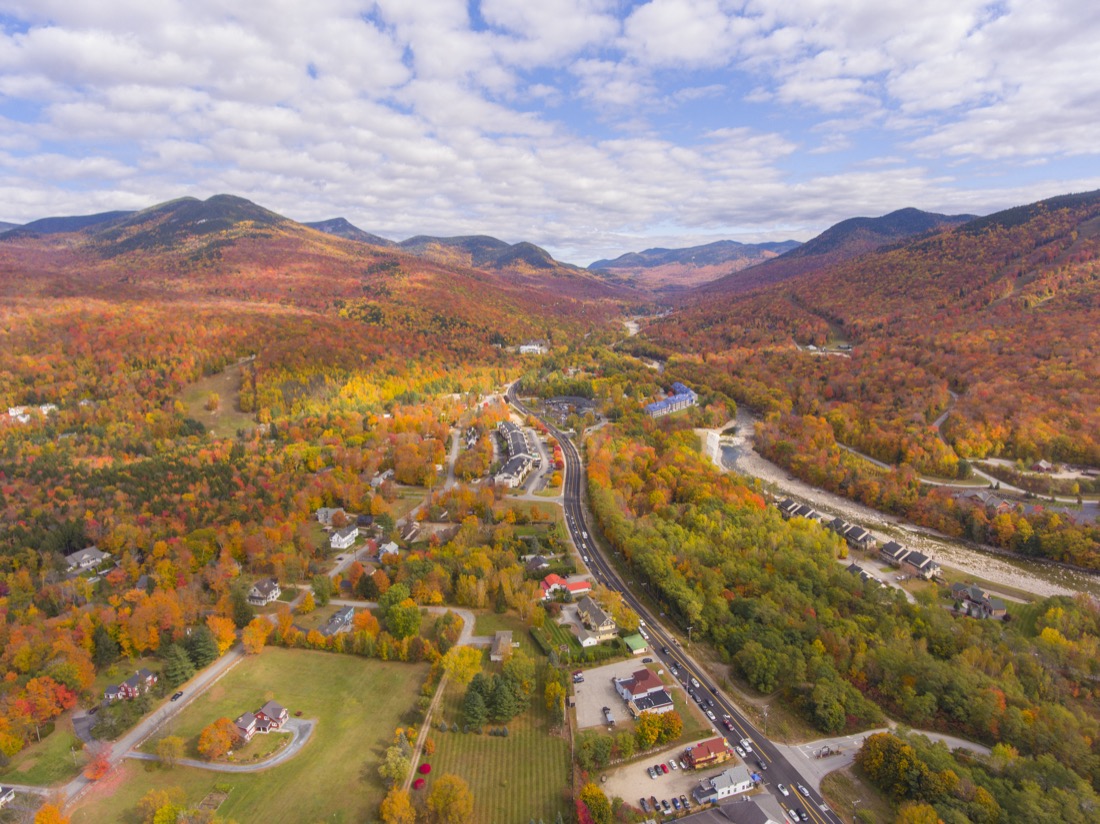 North Conway
North Conway is home to Cranmore Mountain Resort, a kid-friendly ski area with 56 trails, snowboarding terrain, and a tubing park.
Echo Lake State Park is a 118-acre state park popular for hiking, biking, and swimming.
Rock climbers take on the Cathedral Ledge challenge while hikers enjoy the 1.5-mile Artist Bluff Trail Loop or the Whitehorse Ledge Loop trail.
If waterfalls are more your thing, there is a wide variety to be found from the gentle Diana's Baths in North Conway to the mighty Arethusa Falls of nearby Crawford Notch.
North Conway also serves as a hub for shopping, dining, mini-golf, and more.
The Settlers Green Factory Outlets (2 Common Street, North Conway) attract visitors from all across New England due to the plentiful tax-free shopping opportunities.
North Conway also offers a vintage train station!
Built in 1874, climb aboard the Conway Scenic Railroad for various seasonal rides and fun.
Portsmouth
New Hampshire's only seaport, Portsmouth sits on the Piscataqua River in that tiny stretch of coastline New Hampshire claims between Maine and Massachusetts.
Historically one of the busiest ports in the US, Portsmouth is still one of the oldest working ports and remains a busy hub.
The first colonial community here was called Strawberry Banke for the abundance of wild strawberries.
Now the Strawberry Banke Museum keeps Portsmouth's history alive, telling the story of 300 years of architecture and history in a living history setting.
As an urban forestry center, Portsmouth has some good options for outdoor activities.
Check out the environmental learning center, tree farm, wildlife sanctuary, and many public outdoor spaces.
For a 2 wheeled adventure around town, try a guided bike tour!
Pretty Prescott Park is nice for a stroll in all seasons.
White Mountains of New Hampshire
New Hampshire's White Mountains have long been an outdoor playground and have been host to a myriad of historical figures who were drawn to their rugged allure.
A big part of the appeal here is the variety.
From beginner to expert, across all ranges of mobility or age, you can find something to enjoy in the White Mountains.
If it is leg-burning, grueling hikes you're after, you'll find an abundance of options along the famed Presidential Range.
Mount Washington is the ultimate hike for experienced mountaineer types.
It is also world-famous for its severe weather shifts, so being prepared is crucial as the mountain has claimed lives due to its extreme conditions.
If you're not up for the strenuous hike, don't worry, you can take the iconic Cog Railway, the spectacular Bretton Woods Skyway Gondola, or drive the Mt. Washington Road route instead!
Don't forget about winter fun – the White Mountains are host to an extensive array of trails for downhill skiing, cross-country skiing, and snowshoeing.
Head to the Franconia Inn & Village XC Ski Center, Mt. Washington Valley Ski Touring & Snowshoe Center, or the Omni Mount Washington Resort for wintertime fun!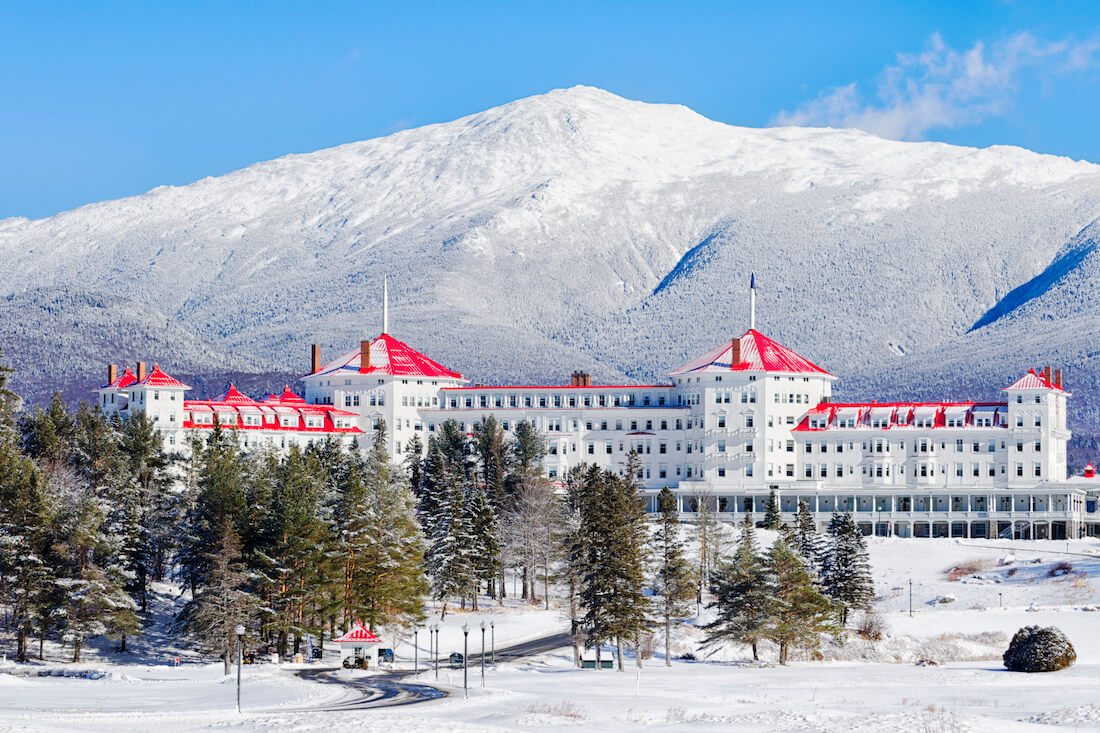 Visit Vermont: The Green Mountain State
Vermont is known as an outdoorsy place with lots of quaint small towns and beautiful landscapes.
It's also known as a very liberal state and it's famous as the home of Ben & Jerry's Ice Cream!
From summertime hikes in VT to jaw-dropping fall foliage and then gorgeous snow-covered vistas…this state is a stunner.
It's also ideal for a fall road trip!
Get all of our Vermont guides for more detailed information per location.
Burlington
Set in the beautiful landscape between New York's Adirondacks and Lake Champlain, Burlington is Vermont's largest city and one of its most popular places to go.
The city is a leader in sustainability, and in 2015 it was the first city in the US to run 100% on renewable resources.
Other firsts include the world's first lake-going steamboat (1808) and the first international hockey match.
Burlington is ranked as one of the best college towns in the US and is home to the University of Vermont, one of the first schools in the nation to admit women.
In this urban center of Vermont, you will find museums, restaurants, colleges, art, markets, breweries, and more.
Fancy a pint and a bite? Take a brew tour!
Check out our full guide for more things to do in Burlington.
Day trips from Burlington include Montreal in Canada, The Adirondacks in Upstate New York, and hiking in the Green Mountain National Forest.
Shelburne Museum
Before leaving Burlington, drive just 20 minutes south to the Shelburne Museum.
This is definitely one of the most interesting places in New England to visit for those who love American crafts and art!
Electra Havemeyer Webb founded the museum in 1947.
Webb collected entire buildings to serve as houses for her collections of American art – including barns, covered bridges, schoolhouses, and even a 220-foot Steamboat.
She collected these 18th and 19th-century buildings from New York and New England, and these 39 structures are now spread out across 45 acres to house the museum collections in Vermont.
There are over 150,000 objects including textiles, dolls, paintings, memorabilia, and much more.
The Shelburne Museum is billed as an "unparalleled and unique experience of American art, history, and design."
In addition to the broad representation of American art mediums, there is an extensive collection of implements related to blacksmithing, weaving, woodcarving, coopering, and other crafts.
Note that the museum is only open seasonally.
Green Mountain National Forest (GMNF)
The Green Mountain National Forest is a 4-season playground encompassing a sprawling 400,000 acres.
Recreational opportunities include hiking, paddling, mountain biking, swimming, leaf peeping, wildlife watching, camping, and much more.
Through-hikers pass through the forest on the Appalachian Trail and on the 272-mile Long Trail, which is the oldest long-distance hiking trail in the United States.
For those interested in shorter day hikes while visiting this New England gem, the selection is vast!
Enjoy waterfalls, ridgelines, and everything in between.
Moss Glen Falls is a lovely option (pictured below).
There are 7 campgrounds in the forest, as well as the Green Mountain National Forest Hut, and dispersed camping is allowed in the backcountry as long as you adhere to leave no trace principles and respect fragile ecosystems.
There are an astounding 2,000 archaeological and historical sites in the national forest, including indigenous sites, colonial homesteads, and Civilian Conservation Corps projects.
If you're an avid hiker, you might like these Southern Vermont hikes.
Stowe
Known as the ski capital of the East Coast, Stowe is tucked between the Green Mountains and the Worcester Range.
It's also home to the nation's oldest ski patrol.
If you want to hit the hills when they aren't snowy, Stowe is a mountain biking mecca with 65 miles of trails on Mansfield alone.
There are tons of great hikes in the Stowe area, too.
A mountain resort town and outdoor hub, there's a plethora of outdoor recreation to be accessed while keeping Stowe as a base.
Mount Mansfield is Stowe's most famous landmark and is Vermont's highest peak.
Covered bridges, carriage rides, ice skating, ice cream, maple syrup…Stowe is deeply-rooted in New England traditions.
It's a special place to make family memories.
The most famous family to fall in love with the Stowe area was the Von Trapps (of Sound of Music fame).
You can book a stay at their Lodge in Stowe.
Places to Go in Massachusetts
Home to New England's largest city, Massachusetts is the overall most populous of the New England states.
Go for history, culture, amenities, and some truly jaw-dropping natural beauty to boot!
Take a look at all of our Massachusetts guides for more detailed information.
Boston
If you're looking for New England's places to visit for history, be sure to add Boston to your list.
Originally called Shawmut by the indigenous Massachusett people, Boston got its current colonial name from Boston, England.
Shawmut is believed to be derived from an Algonquin word meaning "place of clear waters."
The Black Heritage Trail and Museum of African American History are both worthy of your Boston history list, as they have created an important space to learn about African Americans and their contributions to New England's history.
A walk along the popular Freedom Trail highlights the striking juxtaposition of old and new; learn even more during this 2.5-hour walking tour.
Modern high-rise condominiums tower over iconic Revolutionary War landmarks and the subway emerges steps away from the site of the Boston Massacre.
Skyscrapers rise above replica ships where rebels once dumped tea into Boston Harbor.
Sports fans at Boston Garden can look across the Charles River to the masts of the USS Constitution, which has been active in the US Navy since 1794.
The city sits on the ocean, yet visitors often miss the Boston Harbor Islands which are well worth including in your trip.
Not only are the islands rich in history, but ferries to the islands also offer beautiful views of the sea and the Boston skyline.
Boston has served as an ethnic melting pot over the years, which you will notice across various districts like Chinatown and Little Italy, as well as memorials such as the Irish Potato Famine Memorial — which is a tribute to the many Irish immigrants who fled to Boston.
In addition to the abundance of history, there really is something for everyone in Boston including sports, art, culture, nightlife, and recreation.
You can't miss Fenway Park, home of the Boston Red Sox; take a tour at whatever time of year you visit.
For an iconic Boston experience, you can't miss taking a Duck Boat Tour!
Martha's Vineyard
With 19 beaches, 5 lighthouses, and oodles of charming buildings, you'll be hard-pressed to find a better example of the quintessential Massachusetts coastal vibe than quaint Martha's Vineyard.
There's a reason it's one of the very best New England vacation spots!
Just across the water from Cape Cod, the island is a much quieter and less developed option for those looking to avoid the hustle and bustle of the Cape.
The Vineyard is bigger than you might think, with 6 towns spread out across 100 square miles.
You'll find all the classics you expect in these beach towns, from arcades to carousels to beach walks.
For an overview of the island, take a guided tour.
Plymouth
Known as "America's Hometown", Plymouth is where the Pilgrims made their home back in 1620.
Of course, there were people already living in the area at the time; learn about the Wampanoag and other local indigenous peoples at the Plimoth Patuxet Museums.
There are plenty of other things to do in Plymouth to make your visit educational and fun!
Check out White Horse Beach or step aboard the replica Mayflower II; dine on fresh seafood caught that day or go support the Mayflower Brewing Company with a local beer.
Plymouth is located about an hour south of Boston and can be reached by car or by bus.
It's located just before the bridges to Cape Cod, so you can avoid most of the Cape traffic in the summer while still enjoying similar summertime fun!
Plymouth is a very family-friendly destination.
Take the kids to learn and play without the high prices typically seen down the Cape.
Provincetown
Provincetown (or Ptown) is at the very tip of Cape Cod and is one of the best places to visit in New England, especially in the summer!
Head to Race Point Beach and hike the dunes to get to Race Point Lighthouse.
Or head to Herring Cove Beach for calmer waves and water on the more sheltered Cape side of Provincetown.
Here's a helpful guide to the beaches of Ptown to see where you should go.
Beyond the beaches, visit the Provincetown Art Association and Museum (PAAM), shop and eat along popular Commercial Street, and peruse modern art at the Cortile Gallery.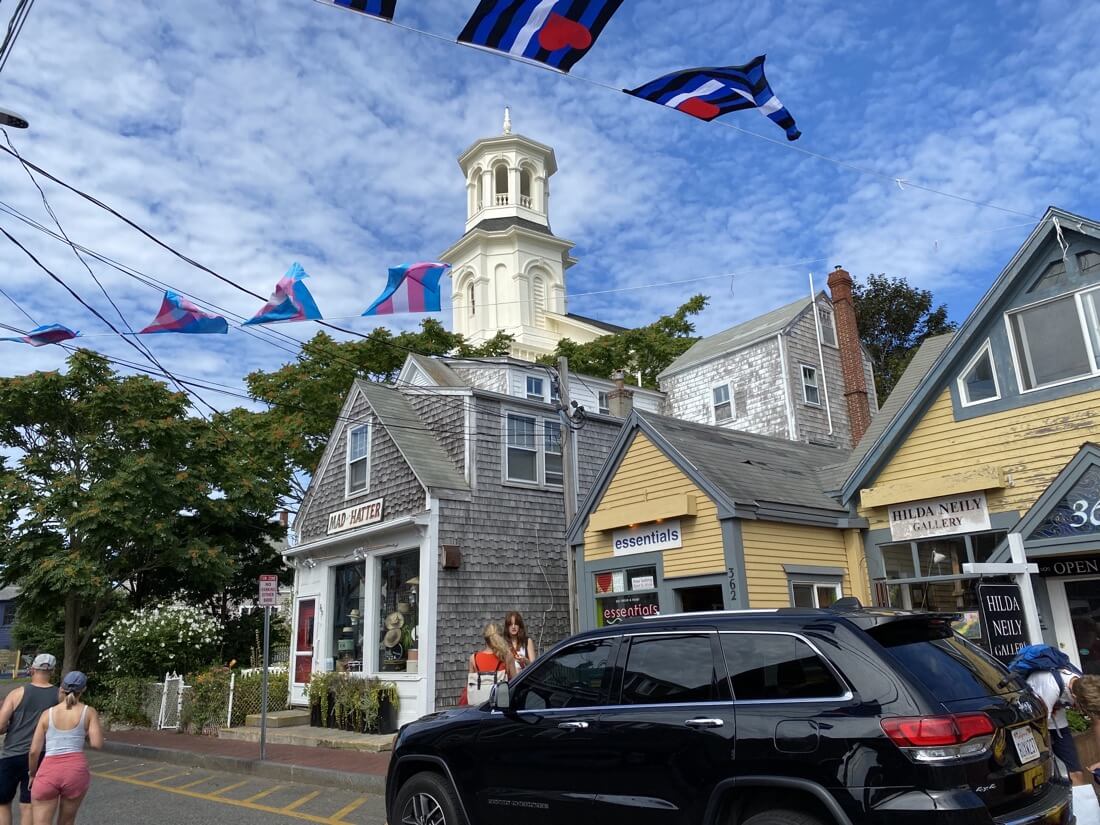 There are tons of fun things to do in Ptown, which is why so many people go back year after year for a summer vacation.
Check out our guide on where to stay in Provincetown to plan your getaway.
Western Mass & the Berkshires
The smaller towns of Western Mass attract visitors looking for a little off-beat adventure and fun.
With multiple prominent colleges in the area, the student vibe is strong in Amherst, Northampton, Easthampton, and other nearby towns.
Known as artist enclaves and liberal sanctuaries, these towns offer plenty of fun things to do year-round.
In Amherst, head to the Eric Carle Museum of Picture Book Art or the Emily Dickinson Museum to honor two very different writers.
Or get outdoors and hike part of the Metacomet-Monadnock Trail or simply stroll the Botanic Gardens of Smith College.
In Northampton, check out Northampton Brewery, listen to live music at Bishop's Lounge, or browse the shelves at Raven Used Books.
Beyond these main towns in Western Mass, keep heading west into the beautiful Berkshires.
These mountains traverse state lines between Massachusetts and New York, offering residents of both states gorgeous weekend getaways.
From summertime tranquility to stunning fall foliage, the Berkshires are definitely a top place to go in New England!
Planning a romantic getaway?
Check out our suggestions for fun and romantic date ideas in the Berkshires before you go!
Rhode Island Places to Visit
The smallest state in the whole country is an awesome place to visit in New England!
While it might be tiny, Rhode Island boasts a beautiful coastline — including islands — as well as vibrant urban spaces.
Check out all of our Rhode Island guides for more inspiration.
Block Island
Reachable only by ferry, Block Island sits 12 miles from the mainland and has retained a slower-paced, more rural feel than its nearby coastal counterparts.
The island is only 7 miles long, but there are an unexpected 17 miles of beaches around its shores.
Over 40% of the island is set aside for conservation, so if you want to get outside you will have a variety of options for recreational activities.
The Rose Farm Inn is a lovely spot to stay on your visit to Block Island.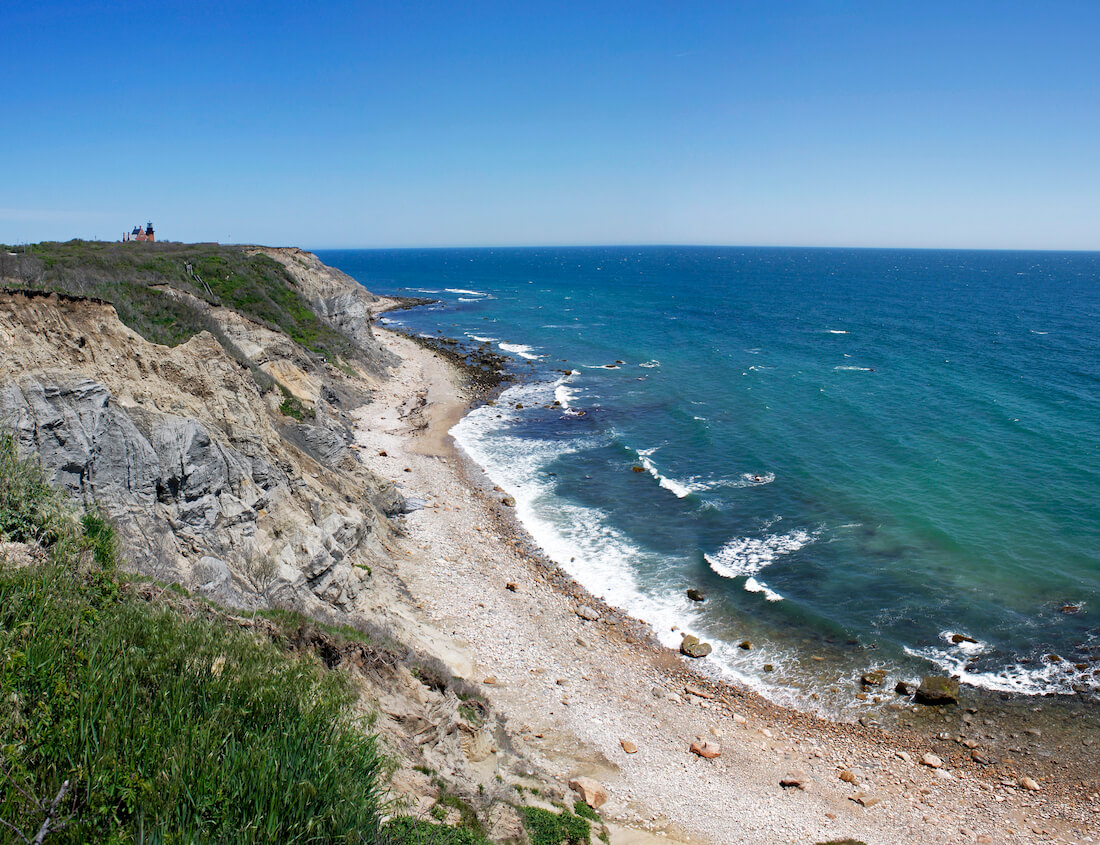 Narragansett
Dubbed "Gansett" by the locals, Narragansett is a popular destination for beach lovers and is home to 4 of Rhode Island's most loved beaches.
Roger Wheeler Beach is protected by a breakwater barrier, which breaks up the choppy waves, making it a great option for families.
Salty Brine State Beach is another family-friendly option with calm surf.
Scarborough Beach is the most well-known of Narragansett beaches, with 26 acres and 2,325 feet of white sandy beach.
Surfing is a popular pastime in this coastal town, and you'll find multiple businesses offering surf lessons for all skill levels.
The Towers, built in the late 1800s when there were 19 luxury hotels in Narragansett, is probably the most well-known landmark in town.
Once part of the Narraganset Pier Casino, The Towers have stood over fire and hurricane, and have been incorporated into other structures over the years.
When it's time to eat, you'll have seafood options galore, from lobster rolls to clam chowder.
Georges of Galilee is one of the best-rated restaurants in town.
Newport
Newport has long been one of the premier New England vacation spots for the wealthy, and you can still find all the trappings that you would expect to accompany that wealth.
Well-known wealthy families such as the Vanderbilts and Kennedys were well-established on the Newport scene.
The opulence of the Gilded Age is still on full display in the famous mansions that overlook the sea, both as private homes and as museums that are open to the public.
You might expect Newport to be stuck in the past, but the city is enjoying an exciting new Gilded Age with a wealth of new cultural, educational, and culinary attractions. 
There is the International Tennis Hall of Fame, which includes a collection of 25,000 tennis objects, a Roger Federer hologram, and interactive exhibits.
For the bibliophile, the Redwood Library and Atheneum opened in 1747 and is the oldest continually operating lending library in the US.
You will also find classic and world-renowned seafood fare like lobster rolls, clam cakes, oysters, and chowder — plenty of options for the discerning foodie.
Get some fresh ocean air in your lungs on the Newport Cliff Walk, a 3.5-mile walk sandwiched between nature's seaside grandeur and the manmade grandeur of cliffside mansions.
For a faster-paced scenic tour of the seaside, you can feel the wind in your hair while driving along the iconic 10-mile Ocean Drive.
Newport calls itself the sailing capital of the world, so if you want to get right out on the water, you're in luck!
Not a sailor? You can still get out on the water on a harbor cruise.
Connecticut
Groton
The Submarine Force Library and Museum in Groton offers an in-depth look at the history of the US submarine force with a collection of 33,000 artifacts.
The centerpiece of the collection is the USS Nautilus (SSN-571) which was launched in 1955 as the first nuclear-powered submarine in the world.
Visitors can take a self-guided audio tour of the submarine.
Mystic
If you love the ocean and all things related to the sea, Mystic is one of the best towns to visit in New England for a maritime experience.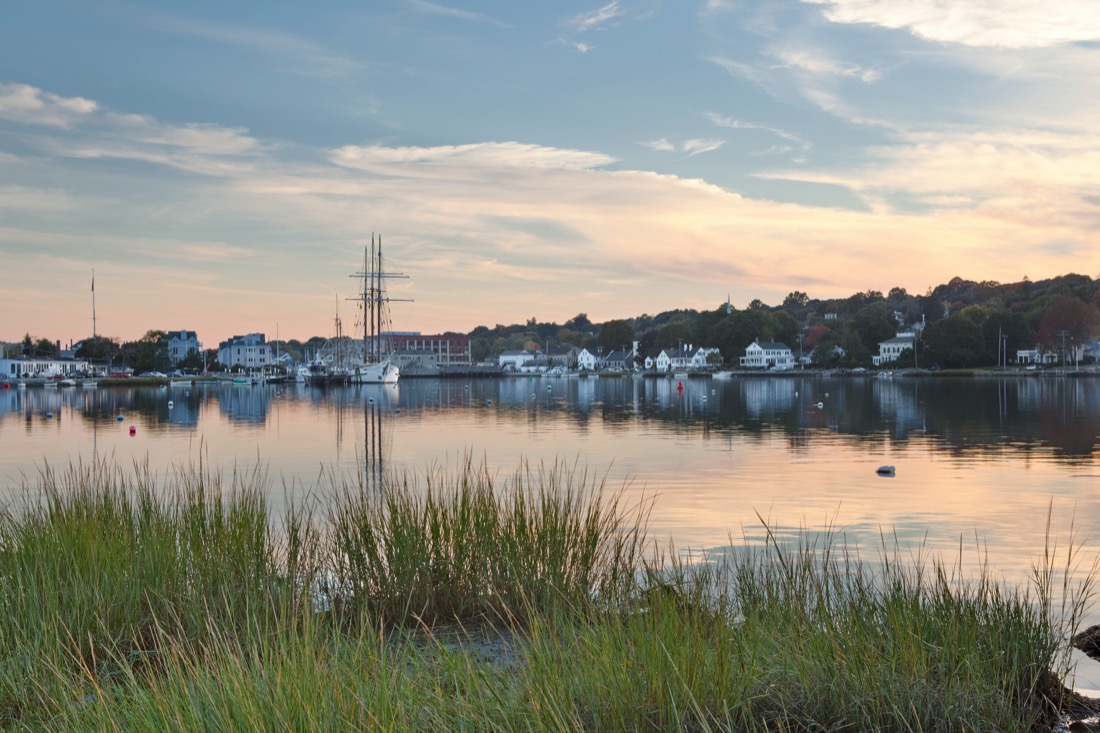 The Mystic Seaport Museum will immediately set the tone of your visit with the magic of tall ship masts reaching for the sky.
The museum is the largest maritime museum in the US, and one of the first living history museums in the US.
In 1941, the museum acquired the Charles W. Morgan, which was the only remaining wooden sailing whaler.
The collection of ships includes historic vessels as well as modern recreations such as the recreation of the slave ship La Amistad, whose construction began in 2000.
In 2007, La Amistad launched a 14,000-mile voyage between the UK, Lisbon, West Africa, and the Caribbean, which marked the Atlantic slave trade route.
The purpose of this voyage was to commemorate the 200th anniversary of the end of the slave trade in Great Britain.
The ships are set in a replica 19th-century seafaring village.
The Mystic Seaport Museum is also a research facility, supporting a graduate-level summer academic program and undergraduate maritime studies in conjunction with Williams College.
Find out more in our guide to Connecticut in fall.
Final Words
How many of these places in New England have you already visited? How many have you added to your bucket list?
Share your favorite spots in the comments below!