This article has links to products and services we love, which we may make commission from.

Road trips surrounded by snow-capped mountains, coastal towns with lobster shacks, and small cities with interesting stories, this article reveals the best places to visit in Maine and when to visit them!
To help you get your bearings, we'll look at the the state's cities and the prettiest towns in Maine in sections and provide maps so you can visualize the regions.
At Hey! East Coast USA we like to create organized destination guides so you can plan your trip with ease!
Did you find this guide useful? Did we miss your favorite Maine attraction? Tell us in the comments below.
Read our ultimate Maine bucket list guide for all the fun activities to try and places to visit in the towns and cities of the state.
You may also like our best places to visit in New Hampshire guide.
Best Places to Go in Maine
Things to do in Southern Maine
Let's kick off this guide to the best places to see in Maine by looking at one of the most popular regions, Southern Maine.
This area includes the biggest city, Portland and the coastal towns of York, Ogunquit, Kennebunk and Kennebunkport.
For reference, it takes just over one hour to drive from Boston, MA to York, ME and just under two hours from Boston, MA to Portland, ME.
Portland International Jetport is two miles west of downtown Portland, ME so you can fly in and pick up a car rental from the city.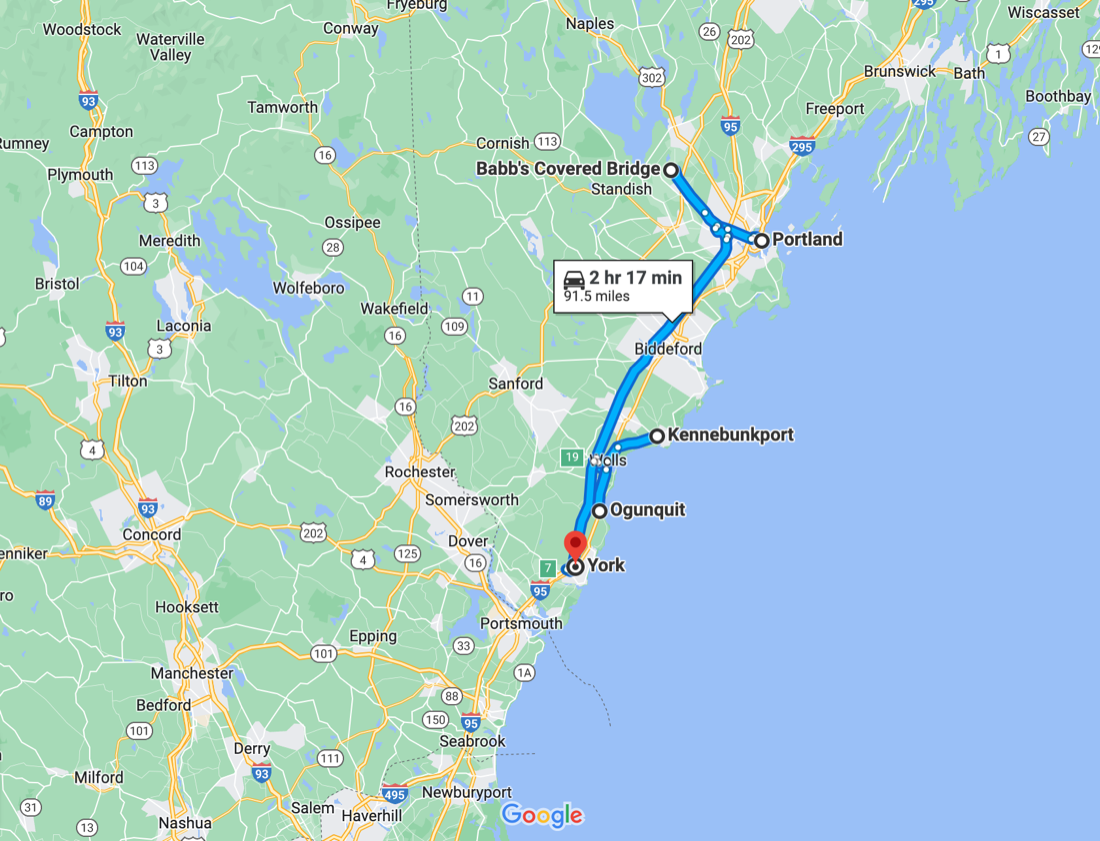 1. Things to do in Portland, the Historic City with a Shore and Islands
Portland is Maine's largest city by population and one of the best places to live in the US.
This is a walkable city with different neighborhoods so you can divide your time up in each area.
The Old Port District is where you will find cobbled streets and converted warehouses, craft beer, lobster rolls and a working port.
The Old Port is one of the best areas to stay in and you can read more about hotels in the city in our guide, where to stay in Portland, ME.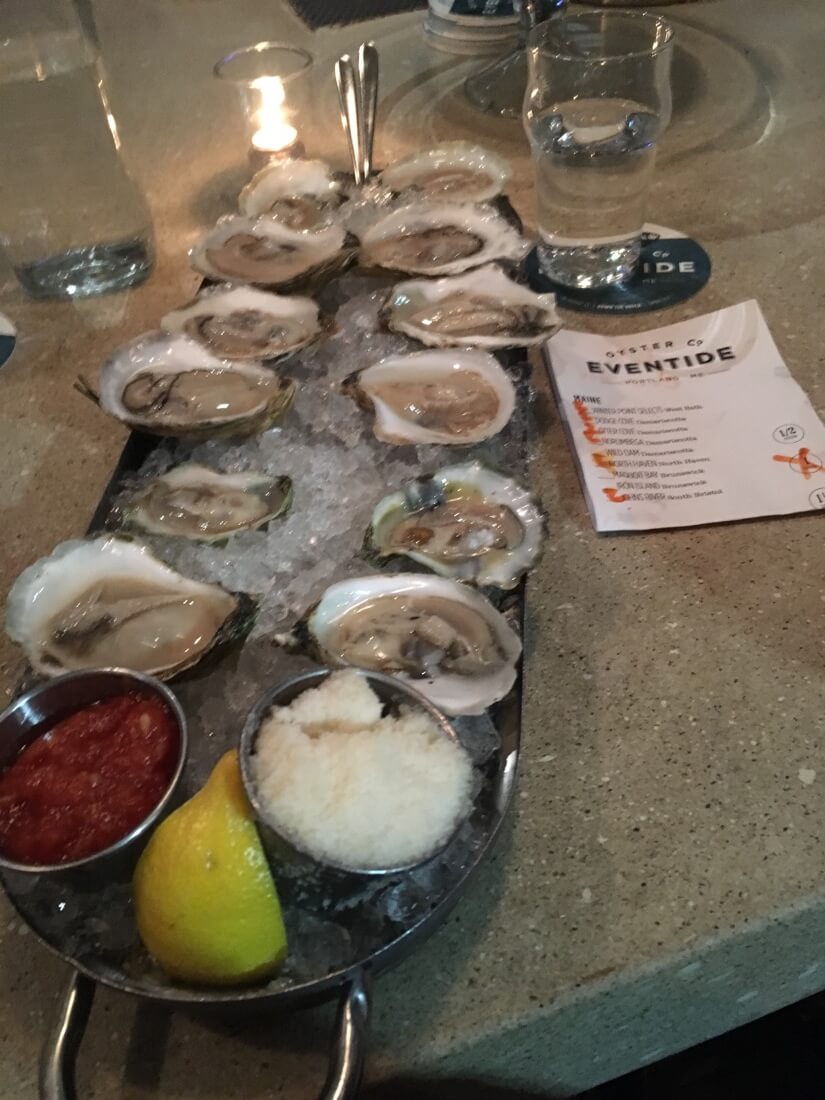 Did you know that Maine has over 3000 islands?
From the pier, you can hop aboard a ferry to the Casco Bay Islands such as Peaks Island (17 minutes one way), Little Diamond Island (15 minutes one-way), Great Diamond Island (20-25 minutes one-way), Long Island (30-60 minutes one-way), Chebeague Island (60-90 minutes one-way) and Cliff Island (60-120 minutes one-way).
Many of these islands were previously homeland to Indigenous people before settlers took over.
Find out more about Peaks Island in our guide to Maine summer vacation ideas.
Back on dry land, head to the Arts District which is just a few blocks away to spend time at the Portland Museum of Art and Maine College of Art (MECA).
Check out the schedule for shows at the State Theatre or the Merrill Auditorium.
The West End is popular with photographers who like to capture historic buildings.
While you are in the West End you can also visit the Victoria Mansion Museum and enjoy the green space at the Western Promenade.
On the opposite side of the city is the East End neighborhood where you will find Munjoy Hill, the Eastern Promenade, East End Beach and the Portland Observatory, a historic maritime signal tower.
In South Portland, which is a city in its own right, you can check out two of Maine's many lighthouses – Bug Light at Bug Light Park and Spring Point Ledge Lighthouse.
South Portland is also where you will find Fort Preble ruins and a large shopping mall if you plan to pick up some souvenirs for yourself!
You may also like our guides to Portland in the fall or in the winter for more planning tips.
2. Detour to Freeport For Shopping and a New England Desert…
Just north of Portland is Freeport, a town that draws the crowds for its brand outlets and shopping opportunities on the shores of Casco Bay.
It is also home to the giant L.L Bean boot.
The Desert of Maine is a unique East Coast attraction with 40-acres of glacial sand dunes surrounded by forest, one of the more unique places to visit in Maine!
On the road between Portland and Freeport you'll find Falmouth Foreside which has a quirky town landing market shop called Town Landing Market.
3. Detour to Windham For a Covered Bridge Shot
If you want to take a photograph of one of the sought-after New England covered bridges, Babb's Covered Bridge is a 40 minute drive from Portland towards Windham.
It is a bit out of the way but you will find the local park, Shaw Park and Pleasant River close by for kayaking in summer and foliage in fall.
Now it's time to head down to the towns and villages on the southeast coast.
4. Cape Elizabeth For The Most Photographed Lighthouse in Maine
If you've spent any time looking at Maine photos on social media it is likely you will be familiar with the Portland Head Light at Fort Williams Park in the town of Cape Elizabeth.
The lighthouse is a 15-minute drive from Portland and it is the oldest in the state.
It is also the first lighthouse completed fully by federal funding and was first lit in 1791.
The building you see next to the lighthouse is the Keepers' Quarters which is home to the award-winning museum and gift shop.
Fort Williams Park offers 90-acres for hiking and picnic spots so you can make a half day of your visit.
Since this is one of the top Maine tourist attractions, expect crowds especially in summer and fall.
Just 15 minutes drive away is Crescent Beach State Park which is a small beach area with public restrooms and a snack bar.
You may also like our list of Maine state parks.
5. Things to do in Kennebunk and Kennebunkport and a Huge Christmas Event
The Kennebunk and Kennebunkport are neighboring villages in York County that are often discussed, and visited, as a pair.
Separated by the Kennebunk River, The Kennebunks promise all-year-round fun and an award-winning Christmas experience at Kennebunkport!
Check out our in-depth guides for Kennebunk and for Kennebunkport to plan your time in both.
While The Kennebunks are both touristy spots, especially in summer, Mainers tend to live more on the Kennebunk side whereas Kennebunkport is home to the Bush compound, Walker's Point, hence why it is referred to as the town fit for presidents.
Regardless of where you choose to stay, you can enjoy shopping and dining at Dock Square, beach days at Mothers Beach, Gooch's Beach or Colony Bay, whale watching tours in summer, pumpkin picking at Wallingford Farm in fall and a 2-week festive schedule at Christmas where Santa sails down the water in a lobster sleigh.
Or you can just wander the streets looking for the information boards created by the Museums on the Streets team.
At this stage, we'd like to point out that Maine is one of the whitest states in the US so much of the history you will learn while visiting the towns and cities will be from a white person's narrative.
There are some attempts though, Rev. Lara K-J Campbell has been researching the town's relationship with enslaved people and the freed community after discovering a shape on the church wall which was identified as seats fitted in 1803 for the people of color.
Kennebunk Town's local Historian, Kathy Ostrander Roberts, delivered a talk on Black History in Kennebunk which you can watch here.
Don't miss the cute pastel buildings at the unique Maine Art Hill in Kennebunk.
Kennebunk is also home to the famous yellow Wedding Cake House at 104 Summer Street.
Want to get to know the villages better? Reserve a spot on this walking tour.
Prefer to learn through tasting what a town has to offer? Go for this food tour.
6. Things to do in Ogunquit, the Fun, Young Town with Award-Winning Beach
Ogunquit Beach was named one of the top 10 beaches by TripAdvisor and it was the only beach in the northeast to make it to the list!
This absolutely stunning southern coastal town is famous for its grassy dunes and cliff walk, Marginal Way, which leads to the cute village of Perkins Cove.
The 1-¼ miles (just over 2 km) walk beginning at Shore Road is suitable for strollers but not bikes so leave your pedals at home.
Dogs are welcome but only off-season.
Ogunquit is a super liberal beach town with gay-friendly bars popular with those who can't get out to P-Town in Massachusetts.
There is so much choice when it comes to Ogunquit's restaurants.
If you arrive in time for brunch you can get breakfast burritos, omelets, pancakes and even acai bowls!
For lunch and dinner there are plenty of options for seafood, pizza, Thai and burgers.
Or if you just want to grab takeout or picnic food, head to the Village Market on Main Street.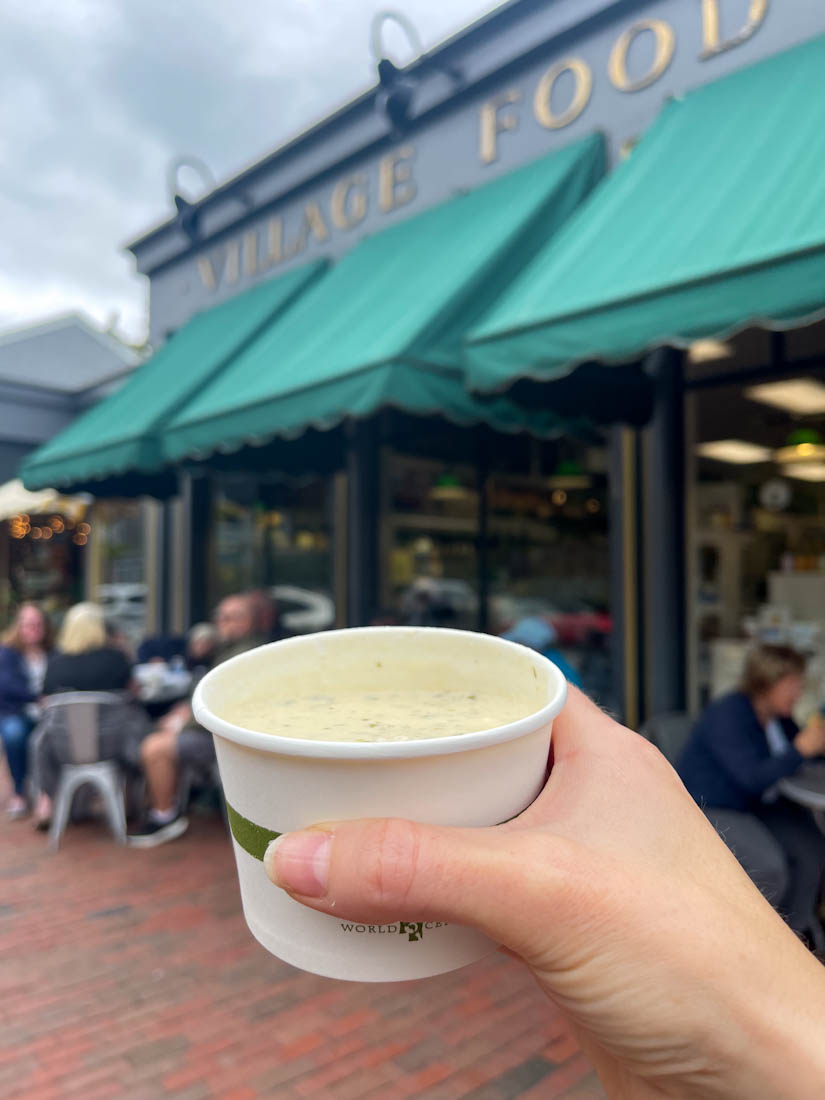 Other things to do in Ogunquit include, visiting the Ogunquit Museum of American Art, learning about the town's history at the Ogunquit Heritage Museum in Captain James Winn House and catching a show at the Playhouse.
Ogunquit is less than an hour from Portland and worth a stop on your Maine road trip itinerary.
For a full list of activities and places to visit in Ogunquit, check this guide.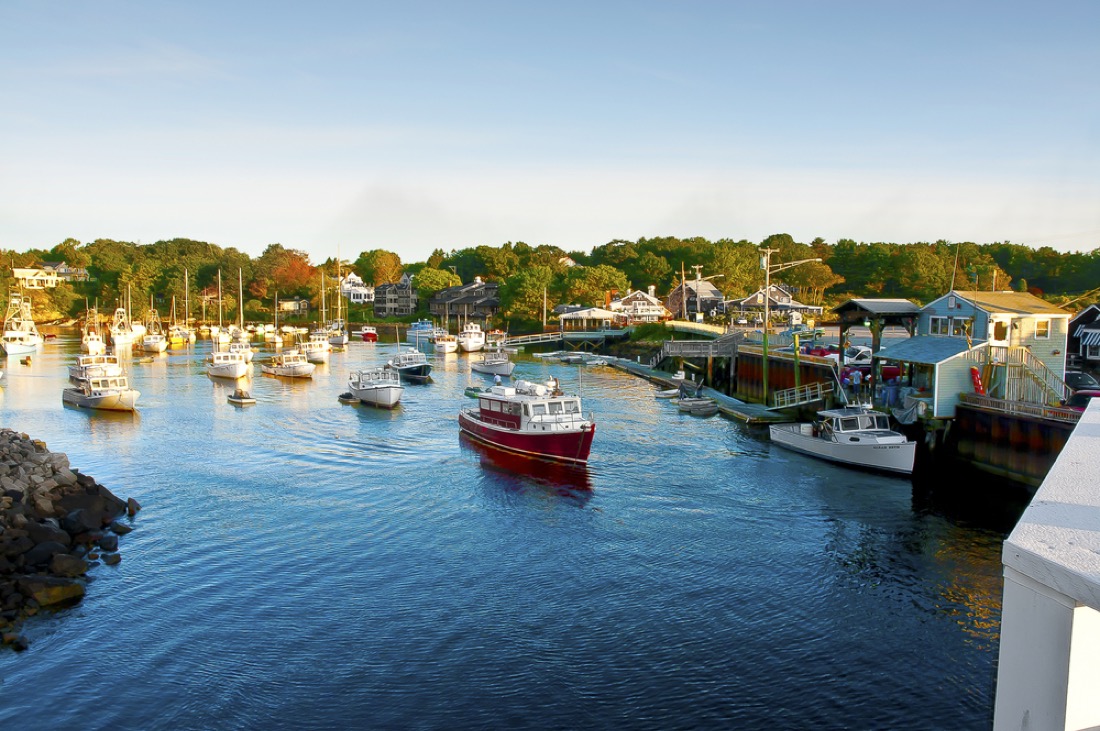 7. Things to do in York – Beaches, Hikes and Nubble Lighthouse
York is a pretty town in York County, close to the southern tip of Maine.
It is a popular beach town for Mainers and visitors who want to spend time in the sun with the Atlantic Ocean on the Gulf of Maine lapping beside them.
Sandwiched between Short Sands and Long Sands Beach is another famous Maine landmark, Nubble Lighthouse at Cape Neddick.
Nubble was built in 1879 and is located at Sohier Park which you can reach by car.
There is a gift shop on-site.
York is also home to York Beach at York Harbor so there is plenty of choice for beach fans.
It does get very busy during the summer months so if you are keen to visit the town of York but aren't fussed about the sun, visit in spring.
Mount Agamenticus offers a number of hiking trails which take less than an hour.
York is less than an hour from Portland so it can also be done as a day trip from the city or a stop on a road trip.
Experience all the top things to do in York with our tips and recommendations.
Brunswick, Bath and Boothbay – Midcoast Maine
North of Portland and just before the Down East region, you will find Brunswick and Bath, on the famous Route 1, and Boothbay.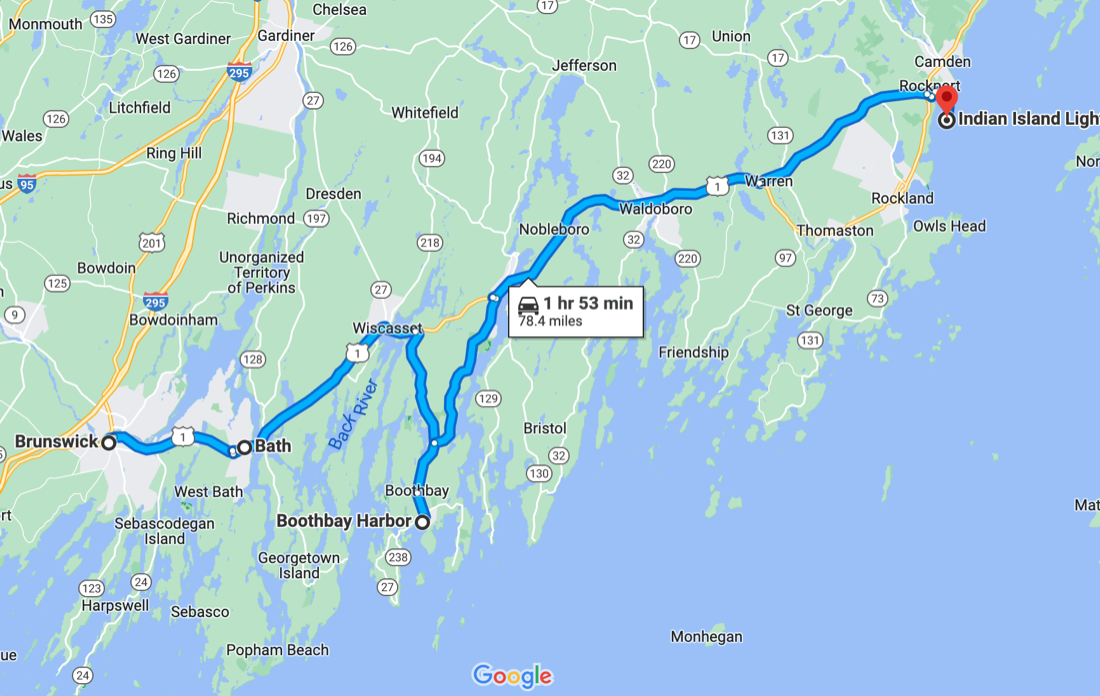 8. Things do in Brunswick – Food, History and Arrive by Train
Brunswick is less visited by tourists who tend to stick around Southern Maine and then head straight up to Downeast to visit Acadia National Park.
However, this Cumberland County town is worth a visit, especially if you plan to travel by train as you can take advantage of the Amtrak Station which stops in Brunswick after traveling 146-mile from Boston!
Things to do in Brunswick include admiring the blooms in spring, visiting The Bowdoin College Museum of Art or the abolitionist Harriet Beecher Stowe House and dining on a whole variety of food from American diner meals to Vietnamese.
Seasonal events include the Rolling Slumber Bed Races where teams push beds on wheels around the town, ice skating on Coffin Pond and the Outdoors Art Festival.
If visiting during fall, you might just catch the foliage at Runaround Pond near Durham.
9. Things to do in Bath For Maritime Fans and July 4th
Bath is located in Sagadahoc County and is known as The City of Ships.
It puts on a big show for July 4th through its Bath Heritage Day Festival which lasts several days.
Other things to do in Bath include learning about maritime history at Maine Maritime Museum and visiting Doubling Point Lighthouse.
Check out our guide to staying in Maine for fall foliage, which features Bath as a great spot.
10. Things to do in Boothbay Harbor
If sea kayaking is your sport of choice you'll love Boothbay.
This attractive Lincoln County town is a busy one in summer, attracting visitors with its water sports, breweries and seafood.
There's plenty to do aside from eating and drinking though!
Listen to live music at Pythian Opera House, learn about local history at the Boothbay Region Historical Museum, check out a wealthy captain's house at Castle Tucker and Nickels-Sortwell House, follow the Lincoln Arts Festival for seasonal events and ride a locomotive at the Railway Village.
Boothbay also has its own Museum in Streets plaques and a free sculpture trail.
Speaking of sculptures, Coastal Maine Botanical Gardens has huge ones!
There are two lighthouses close to Boothbay.
The 30 feet high Burnt Island Lighthouse is located at Burnt Island and Indian Island Lighthouse is 1.5 hours drive up the coast in Rockport.
Downeast and Acadia
Downeast or Down East refers to the towns and cities in the northeastern parts of the state.
This section also includes one of the most visited parks in the US, Acadia National Park.
You may also like our guide to the best national parks on the East Coast.
Check out our Boston to Acadia National Park road trip itinerary if you're starting your journey in MA.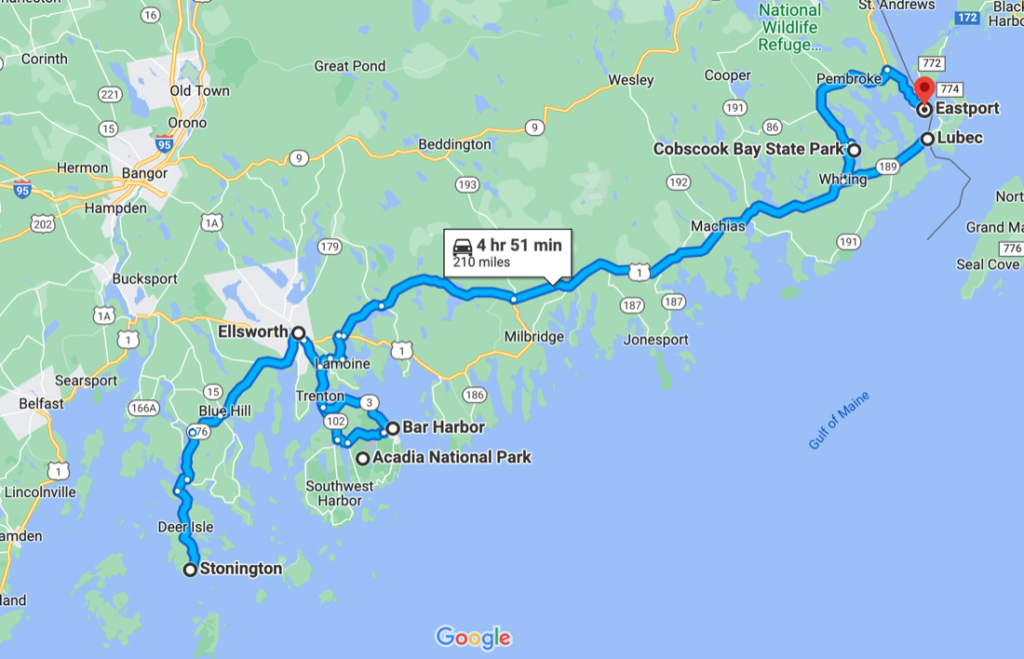 11. Things to do in Stonington and Deer Isle
You've maybe noticed that regardless of the amount of coastal towns in this guide to the best places to vacation in Maine, you've not seen many bridges!
Well, a trip to Stonington takes you over the Deer Isle-Sedgwick suspension bridge.
The Deer Isle sits are on the eastern side of Penobscot Bay and Stonington is situated at the south of the island.
This island is known for two things – granite and lobsters.
Things to do on Deer Isle include, the Lighthouse Trail where you receive a stamp for each of the eight lighthouses you visit, hiking the Settlement Quarry for island views, catching a show at the Opera House Arts and gorging on seafood.
There are also day trips that launch from Deer Isle!
You can take a boat to Isle au Haut which is where you will find portions of Acadia National Park.
Planning a trip with a large group? Why not hire your own private island?
Yes, you can hire a huge house on Spruce Island and spend your days kayaking and nights by the campfire.
Does it get more New England than that?
12. Detour: Things to do in Bangor For Stephen King Fans
Not part of the Downeast itinerary but too good to miss, the city of Bangor is a fun place for those who like museums and Stephen King novels or movies.
47 W Broadway is where you will find one of Stephen King's private homes, a Victorian mansion with black iron bats on the gate.
Bangor inspired King, and you can see this at Thomas Hill Standpipe (IT) and the second oldest public cemetery in the US, Mount Hope Cemetery (Pet Cemetery).
Other things to do include The Maine Discovery Museum, Zillman Art Museum-University of Maine for modern and contemporary exhibitions and The Hill House which was commissioned by Thomas A. Hill and designed by Richard Upjohn.
There are also live waterfront concerts, craft beer bars and a 1.8 mile loop at Indian Trail Park or 680 acres of nature at Bangor City Forest.
Take a souvenir snap of the Greetings From Bangor mural at the corner of Main and Union Street.
Bangor is also known as the Queen City of the East and it is where you will find a 31 foot statue of the folk hero, lumberjack Paul Bunyan.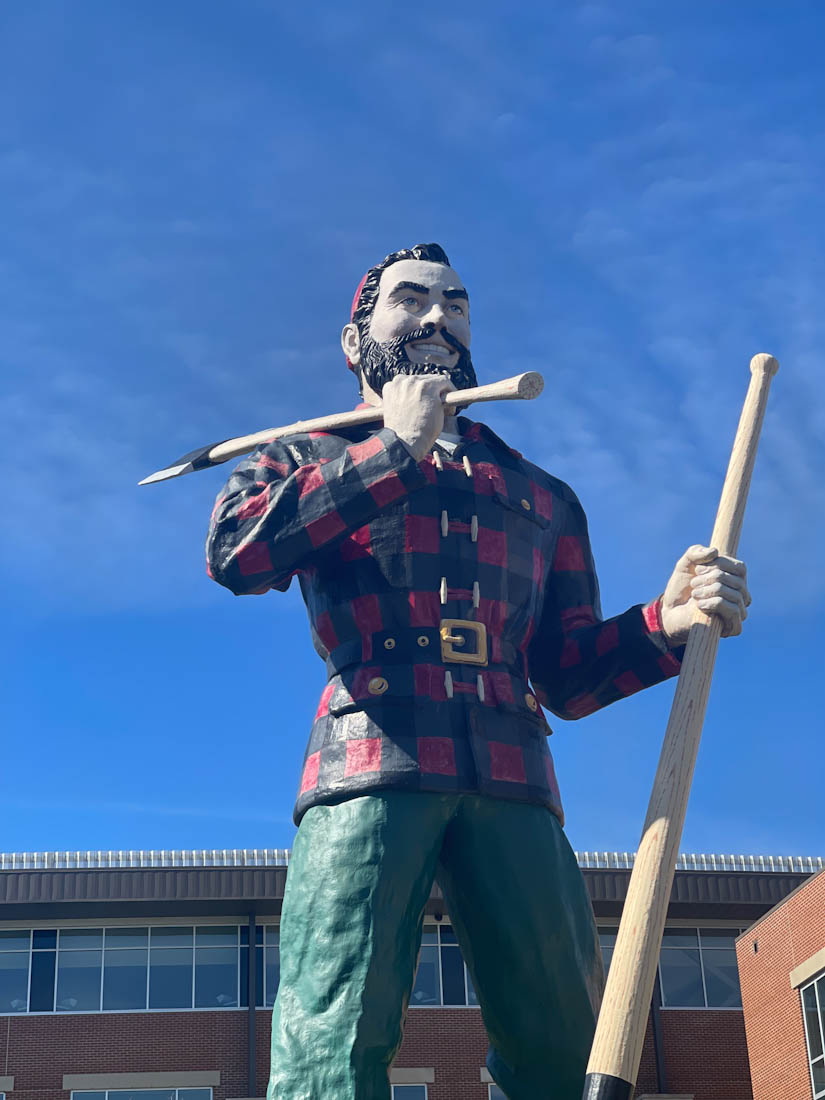 13. Ellsworth and Acadia National Park
Ellsworth was named after US Founding Father Oliver Ellsworth and is the gateway to one of the most visited parks in the US, Acadia National Park.
From Ellsworth, visitors drive to Acadia National Park which is 50,000 acres along the Atlantic Coastline of Maine,
The park map includes Mount Desert Island, Schoodic Peninsula, Isle au Haut, and other outer islands.
Usually people spend three to four days at this national park using a car to get around the 45 miles of carriage roads.
However, if you don't want to drive there is an Island Explorer Shuttle Bus which operates from June 23 to early October.
Visitors pay for park entry and if you plan to drive up to the highest point on the United States' East Coast, Cadillac Mountain before October 22, you also buy a vehicle registration before arriving so be prepared.
Most first time visitors stick to the east side of the park, following the 27-mile Park Road Loop which takes around three to four hours with stops.
Cadillac Mountain is on the east of the park too.
The Loop is open from April 15 through to Dec 1.
Stops along the Loop will be very busy and you may struggle to find parking at the likes of Sand Beach unless you go very early or why not enjoy the park once everyone leaves by joining a stargazing tour led by a ranger?
Bar Harbor is the most popular town on Mt Desert Island for accommodations, shopping and galleries.
Check out our guide on where to stay in Bar Harbor to learn more about your options.
There are four NPS campsites at Acadia, one on the east side (Blackwoods), one of the west (Seawall), the third is located on the Schoodic Peninsula and has electric hook-ups (Schoodic Woods) and the fourth is situated on Isle au Haut, accessed by boat (Duck Harbor).
The official campsites tend to close around the start of October.
There are also 12 private campsites around the island.
Acadia National Park was originally named Sieur de Monts National Monument in 1916 then Lafayette National Park in 1919, in 1929 it was changed to Acadia National Park.
The Wabanaki People; Passamaquoddy, Penobscot, Maliseet and Micmac, called Mount Desert Island, Pemetic or 'the sloping land' and records show they've lived on the East Coast for 12,000 years.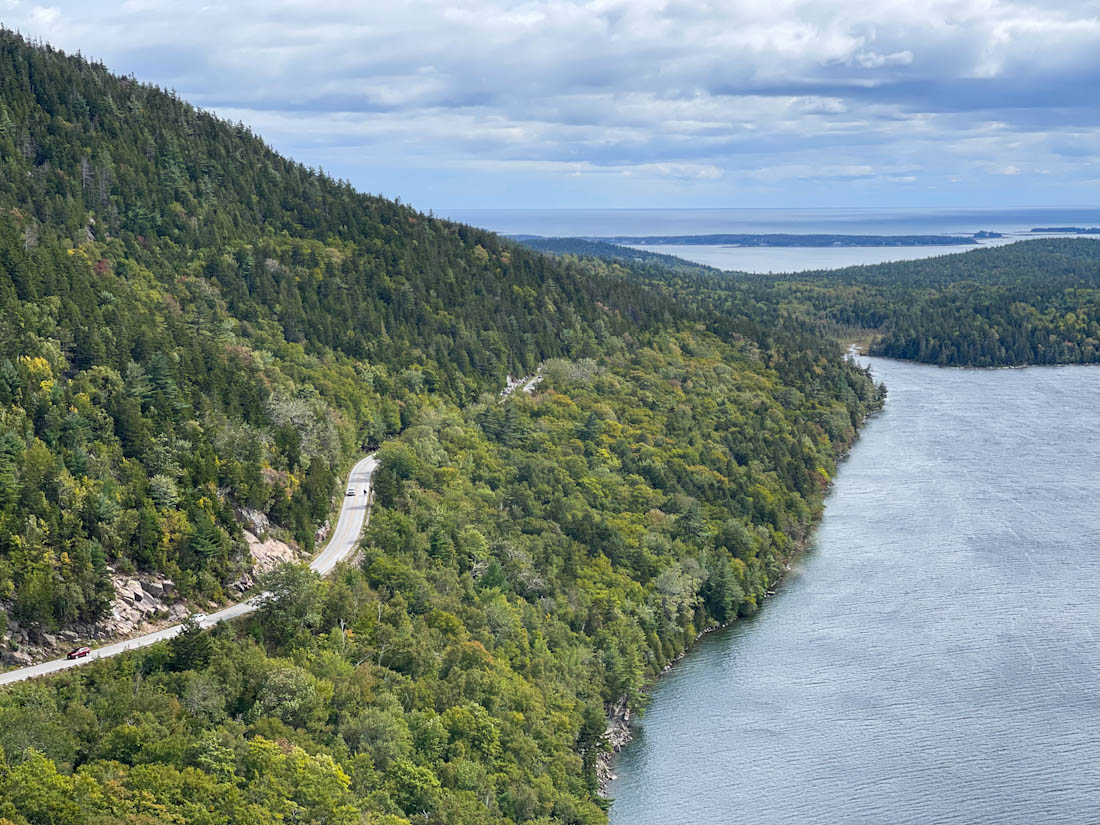 14. Things to do in Bar Harbor
We've already mentioned that Bar Harbor is found on Mount Desert Island above but we wanted to give it its own section as it is one of the must see places in Maine, according to footfall!
Things to do include, shopping on Main Street, taking a picture of the Balance Rock, dining at one of the many cafes and restaurants and enjoying a few drinks but not too many if you are up early for the sunset Mount Cadillac Drive in the morning!
Bar Harbor has an annual Early Bird Pyjama Sale and Bed Race where locals run down the street with beds on wheels.
This is one of the best vacation spots in Maine for those looking to spend time in Acadia National Park and beyond.
Here's our guide to Bar Harbor in the fall if you plan to visit for an autumn vacation.
Next up, a long stretch to Lubec!
Take a detour to Wild Blueberry Land if visiting during summer or fall.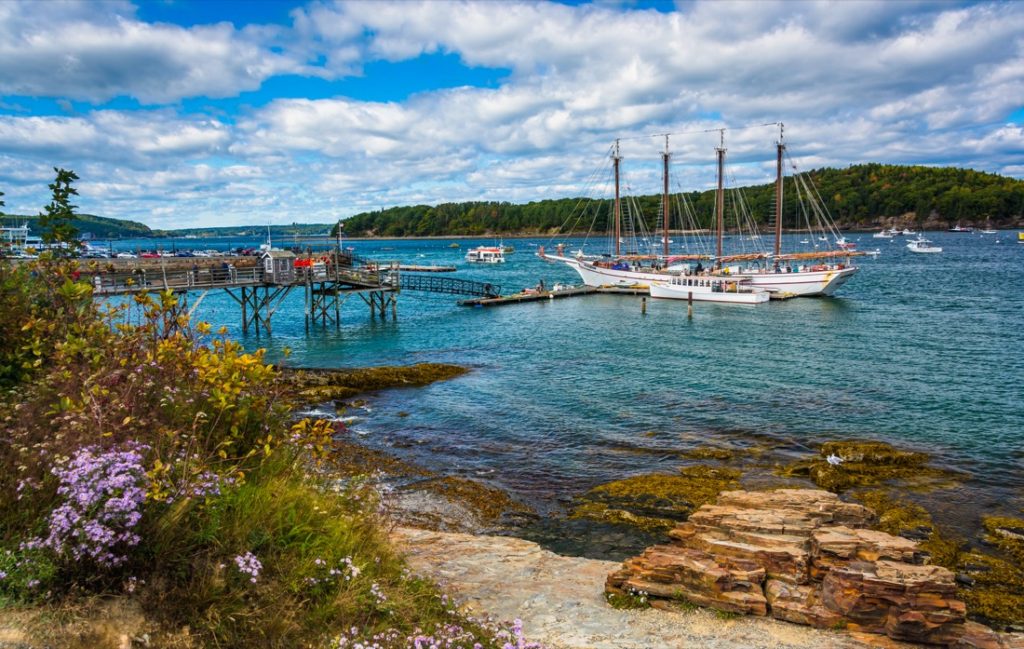 15. Things to do at Cobscook Bay for Paddlers
Cobscook Shores Park System (Old Farm Point Shorefront Park) is a relatively new area of development near Lubec which has 15 parklands for kayaking, picnicking, hiking, biking, camping and paddling.
Water sports enthusiastic can access 12 miles of undeveloped beaches, bluffs, coves and islands, for free.
A welcomed slice of tranquility after the madness of Acadia in summer or fall!
16. Things to do in Lubec
Lubec holds a special title as it is where you will experience the first sunrise in the US!
You won't find any malls, theaters or fast food joints in Lubec, but you will be able to shop at the local market.
You've maybe seen Lubec on social media, this is where the iconic red and white striped lighthouse is.
East Quoddy Head Lighthouse is located on the eastern tip of Campobello Island on the Bay of Fundy and since it is actually located in Canada, you will need your passport.
Campobello is one of three Fundy Islands and home to Roosevelt Campobello International Park, which preserves Franklin D. Roosevelt's summer retreat home.
Lubec is part of The Bold Coast Scenic Highway which consists of 125 miles from Milbridge to Eastport.
Lubec and Fundy also feature in our prettiest towns in Maine guide.
17. Things to do in Eastport – Home of The Old Sow
Eastport is Maine's least populated city with 1300 residents and it is known for its high tides.
Things to do in Eastport include whale watching cruises around the Eastport/Bay of Fundy area to explore the largest tidal whirlpool in the Western Hemisphere, The Old Sow near Deer Island!
There is also a family-friendly Pirate Festival held each year which features a parade and vendors.
Mount Katahdin at Baxter State Park in Maine's Highlands
Katahdin is the highest peak in Maine and forms part of the Appalachian Trail.
The highest elevation point of this National Natural Landmark located in Baxter State Park, is 5,269 feet (1,606 m).
Katahdin means Great Mountain and was named this by the Penobscot Native Americans.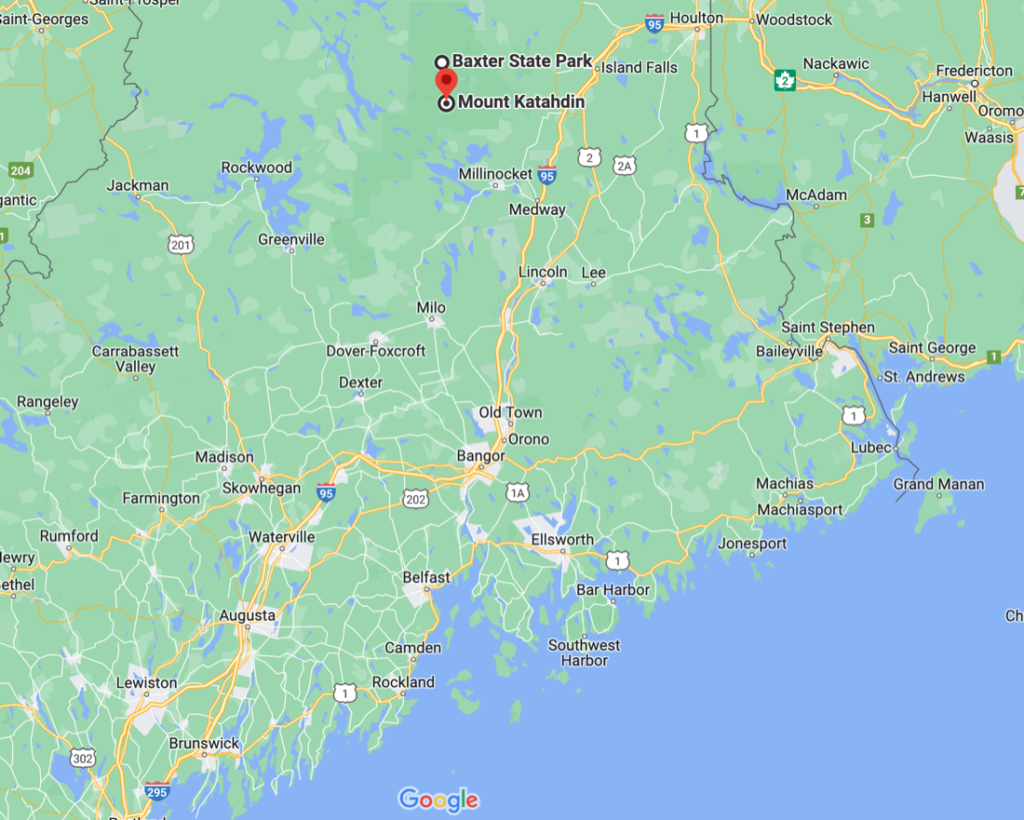 18. Katahdin Hiking Trails
All hiking routes to the summit of Katahdin are challenging and take on average 8-12 hours to complete.
The start of the Hunt Trail is at Baxter State Park's Katahdin Stream Campground which leads you 5.2 miles up to Baxter Peak, passing noisy waterfalls and steep inclines through boulders, until you reach above the tree line.
Next up is a scrambling session until the top near the summit.
Other trails include the 3.4 mile Abol Trail, 3.2 mile Helon Taylor Trail, 1.7 miles Cathedral Trail and the 2.2 Saddle Trail which has the least elevation.
Some hikers go up Hunt and down Abol and vice versa but you would need to work out how to get back to your starting point if you have parked your car there.
Technical hiking thrill-seekers choose the Knife Edge Trail which includes 1.1 miles connecting Katahdin and Pamola peaks. Don't look down!
Remember to reserve your hiking spot and pack light if you can.
You don't have to hike to the summit to enjoy Baxter Park.
Other things to do include taking in the views of Mt Katahdin from the Golden Road at North Woods, kayaking at the many ponds, although kayak availability is very limited so hire early to avoid disappointment and seeking out the Big and Little Niagara Falls!
Look out for moose in the ponds during summer and fall.
Accommodation wise you can camp just outside of Baxter Park at Abol Campground and General Store which has showers or at one of the campsites inside the park which are primitive and do not have showering facilities.
Unfortunately, Black flies are common so remember your bug spray and cover up during peak season.
You may also like our guide to East Coast hikes which features trails in different states.
Rangeley Lakes Region
Head to Maine's Western Mountains and Lakes Region during fall to see the sweeping orange, red and yellow tones surrounding lakes and ponds or visit during summer to explore the hiking trails.
Skiers could consider Saddleback Ski Area for peaks over 4,000 feet or the many cross-country routes.
This region has the best vacation spots in Maine for couples or families who want to avoid crowds and like the outdoors.
Let's find out more about The Jewel of the Western Maine Mountains.
Rangeley also features in our guide to things to do in Maine in the spring.
19. Things to do at Rangeley State Park
In the heart of Maine's Western Mountain Range lies Rangeley Lake State Park.
At 869 acres, this small state park offers hiking, camping, fishing and winter sports.
This state park is part of the 52 miles of the Rangeley National Lakes Scenic Bypass.
If you're looking for places to stay around the area, you can find some in our guide to lakefront rentals in Maine.
20. Things to do at Mt Blue State Park
Mt Blue State Park is the largest state park in Maine, at approximately 8,000 acres.
The park has two sections separated by Webb Lake.
There are easy hikes such as the Center Hill Scenic Trail (0.5 miles round trip) and longer hikes to the summit of Mt Blue (3.2 miles round trip).
In winter, cross-country skiers make use of the 15 miles of trails.
21. Height of Land Overlook
The Height of Land Overlook (Route 17, Roxbury, ME 04275) is a rest stop with striking views of Mooselookmeguntic and Upper Richardson lakes.
Other overlooks include Shelton Noyes Overlook and Whipwillow Farm Overlook.
You may also like our guide to hiking in New Hampshire, which is just over the border from these West Coast mountains.
Final Words
We hope you've enjoyed our fun things to do in Maine guide and can take tips away for your next vacation.
Here is a map of Maine with the locations discussed in this guide.
Feel free to leave any questions in the comments section.