This article has links to products and services we love, which we may make commission from.

The best places to stay in Salem, Massachusetts include haunted houses, historic inns and cozy B&Bs! Move over deadbeat chains and regular lodgings, Salem is home to unique accommodation. Whether you are visiting to learn about the witch trials or to be by this New England coast, you're guaranteed a bed with a backstory.
Due to the age of the buildings, the majority the hotels in Salem don't have escalators so consider this before you pack for your trip to The Witch City.
If you plan to visit over Hallowe'en, expect prices to increase and if you see availability, book there and then to avoid disappointment.
You ma also like our guide things to do in Salem and haunted hotels in New England!
Best Places To Stay in Salem, MA
The Hotel Salem for Modern Rooms in Central Location
The Hotel Salem (209 Essex Street) is a lively place to stay in Salem.
Housed in a former high-end clothing store, this hotel features 44 rooms and loft-style suites with living rooms.
Located in a red-bricked building on a cobbled pedestrian street, this stylish accommodation isn't just a hotel, it also puts on events for locals and visitors.
It has a 24-hour front desk, luggage storage space and free WiFi throughout.
Each room has a smart TV with satellite channels, air-conditioning, a mini-fridge and a safe.
An elevator takes guests to the upper floors, this isn't the case for every hotel in Salem.
There are two dining options on-site.
A coffee and cocktail bar and the rooftop restaurant with Salem views.
Guests love its proximity to Salem's top attractions.
It's only a 5-minute walk to the Salem Witch Museum and 9 minutes to Salem Maritime National Historic Site.
If driving, the hotel is 6 miles from Interstate 95 but there is no parking directly at the hotel and the closest recommended garage is expensive so consider a parking garage in town.
Check availability on Expedia, Hotels, or Booking.
The Salem Inn for Variety and Pet-Friendly
The Salem Inn (7 Summer Street) has three historic buildings under the one hotel.
The largest, The West House, was built in 1834 by Captain Nathaniel West, the first Salem captain to circumnavigate the globe.
It has 22 guest rooms and is pet friendly so you can bring your furry friends to Salem if you choose to stay here.
The Curwen House has 11 guest rooms and was built in 1854 by James B. Curwen and his brother, Captain Samuel R. Curwen.
The building is an Italianate Revival home with a decorative front.
Finally, The Peabody House was built in 1874.
It's a grand Dutch Colonial-style home with four family suites and two romantic rooms.
This Salem hotel has free WiFi, parking and breakfast are included in the rate.
All three houses are central and only a 6-minute walk from the Salem Museum.
The Salem Inn is also included in our list of haunted hotels in New England – making this a great accommodation for those looking for a bit of thrill during their stay.
Book your stay on Expedia, Hotels, or Booking.
The Merchant Hotel For Historic Stay With Deck
The Merchant Hotel (148 Washington Street) is an 11-room boutique Salem hotel.
It rightfully boasts heated bathroom floors, gas fireplaces, plush linens, USB charging outlets, and LED TVs with Apple TV.
The design and interior woodwork is credited to Salem architect, Samuel McIntire whose portfolio includes 407 homes.
Previously the home of Joshua Ward, the three-story Federal-style brick house was built in 1784 making it one of the first brick houses in Salem.
Before that, it is documented that the home of George Corwin — the High Sheriff of Essex County during the Salem witch trials — was located at this spot.
The Joshua Ward House is said to be one of the most haunted buildings in Salem.
It does have another claim to fame, President Washington is a former guest.
You can stay in the George Washington King Deluxe room.
Guests love sitting by the fireplace or outside on the upper deck with a bottle of wine after a day of sightseeing in Salem.
This property isn't suitable for visitors who struggle with stairs as there is no elevator.
Parking is available for an additional fee and must be reserved in advance.
Book your stay on Expedia, Hotels, or Booking.
The Daniels House Bed and Breakfast For Time Travel Charm
The Daniels House Bed and Breakfast (1 Daniels Street) is a three-story historical house with a colorful past.
It was built by shipbuilders and mariners, Stephen Daniels I or Stephen Daniels II between 1667 and 1693 then extended around 1756 by another resident, Samuel Silsbee who was a carpenter.
In the next years, it became a day nursery, boarding house and tea room stuffed with antiques.
After that, it became a bed and breakfast with Catherine "Kay" Gill as the host for 55 years until 2018.
The following year the current owners, Patrick Bentivegna and Adele Lee, renovated and opened The Daniels Bed and Breakfast once again for lodgings and tours.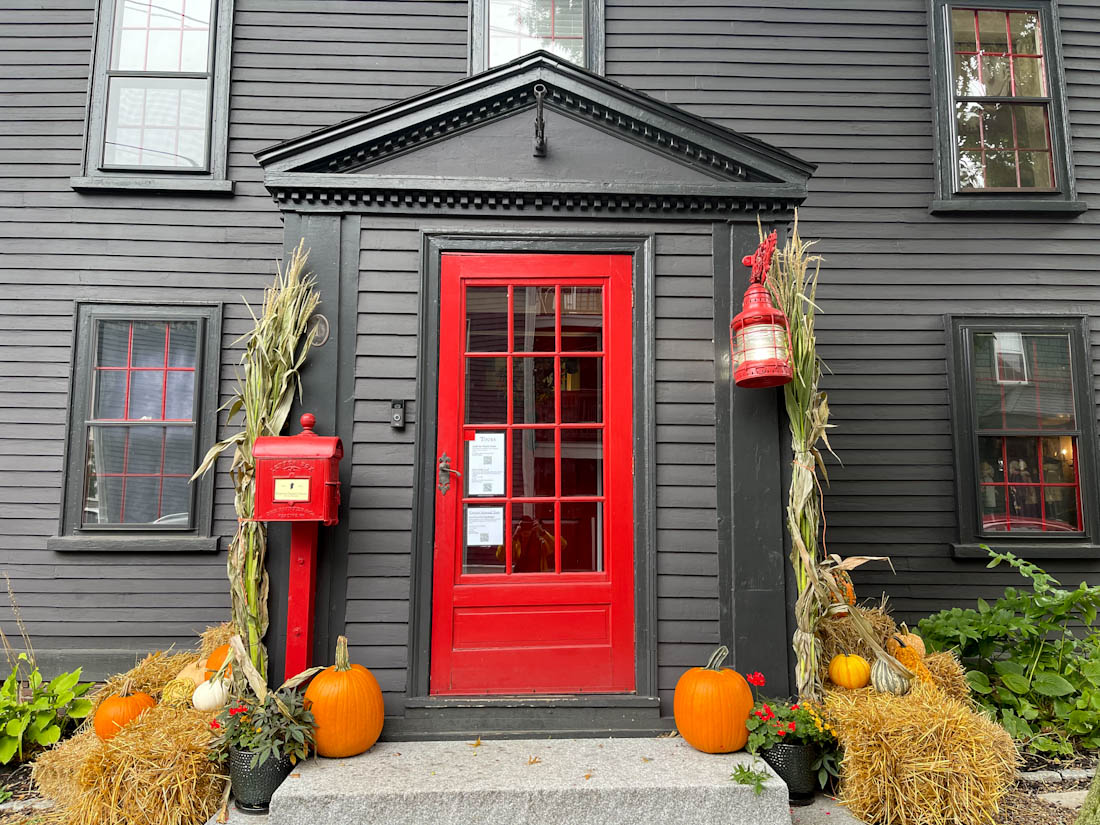 Bedrooms feature antique furnishings, 4-poster canopy beds and some have fireplaces.
They also have air-conditioning for your comfort.
Every morning continental breakfast is served in a traditional dining area.
Uniquely, the public can take a tour of The Daniels House; naturally, rooms are not accessed so guests are not disturbed.
Tours come highly recommended.
Like The West House of the Salem Inn, Daniels accepts pawsome guests so your best behaved dogs can stay with you.
As with the majority of hotels in Salem, there is no elevator at the property.
Parking is included.
Guests like the location, away from the crowds but still only a 5 minutes walk to attractions such as The Witches Museum.
Book it on Expedia, Hotels, or Booking.
Hampton Inn Salem
If you prefer a US chain, the Hampton Inn Salem (11 Dodge Street) is worth checking out.
Hotel features include concierge service, a 24-hour desk, an attractive lobby, gym and indoor pool.
Spacious and clean rooms include air conditioning, a flat-screen TV with cable channels, a microwave, a coffee machine, a shower, a hairdryer and a desk.
Free WiFi is located throughout the hotel.
Guests love that Salem's points of interest are within walking distance.
Check availability and book on Expedia, Hotels, or Booking.
Salem Waterfront Hotel & Suites
Salem Waterfront Hotel & Suites (225 Derby Street) sits by the water of Pickering Wharf Marina which is within walking distance of downtown Salem.
Rooms feature AC, coffeemakers, flat-screen TVs and suites also include mini-fridges and microwaves.
The hotel has a heated indoor pool and a fitness center.
If you don't feel like dining out, the Regatta Pub serves casual American dining on-site.
It also has outdoor fire pits and fire towers if you prefer to sit outside.
This Salem hotel has parking and offers golf cart rides to the shops and restaurants at Pickering Wharf Marina.
Book your stay on Expedia, Hotels, or Booking
Salem Apartments
If you're wondering where to stay in Salem with a large group or friends or family and would prefer the ability to cook for yourself, the following apartment rentals might be the better option for you.
Broom & Board
The Broom & Board (4 Winthrop Street) is an upmarket apartment in Salem.
It has four bedrooms and can house up to 10 guests.
There are two full bathrooms and a fully equipped kitchen with a washer and dryer.
Located on a quiet side street but close to Salem's attractions.
Off-street parking can accommodate two cars.
Check availability on Expedia, Hotels, or Booking.
Dow Street Apartment
This apartment is located at 40-42 Dow Street on the North Shore of Salem.
The 3-bed apartments have air-conditioning, flat-screen TVs and kitchens.
Private parking is available at the building.
Places to Stay in Salem, MA Summary
As you can see, what Salem accommodation lacks in numbers, it makes up for in character and variety!
From hotels in historic houses to accessible apartments with fully equipped kitchens, there's lodging to suit every style of travel and reason for visiting Salem.
Our Salem Travel Guides
Which Salem hotel did you choose? Tell us in the comments.