This article has links to products and services we love, which we may make commission from.

Boston is known for its rich history, cultural heritage, and food- offering residents and visitors alike a diverse range of experiences and fun activities to enjoy.
But this city is also full of parks and green spaces that offer plenty of beautiful ways to soak up some fresh air and see new landscapes.
If you're planning to visit, this guide will explore some of the best parks in Boston- perfect for those looking for a relaxing place to have a picnic, a morning jog, an afternoon stroll, or other ways to take advantage of the outdoors.
From scenic waterfront parks to sprawling urban green spaces, there's something for everyone in this city.
You may also like our guide to free things to do in Boston– if you're looking to explore more places in the city on a budget.
Best Parks in Boston
Bunker Hill Monument, Charlestown
The Bunker Hill Monument (Monument Sq) is an official U.S. National Historic Landmark and marks the spot of one of the first battles in the American Revolutionary War.
While the monument itself is beautiful, this area of the Boston National Historical Park is a beautiful spot to watch the sunset on a clear day.
Climb almost 30 steps to the top of the monument to take in the amazing view, or, enjoy it from the base, which is wheelchair accessible.
Bunker Hill is part of the Boston Freedom Trail.
City Square Park, Charlestown
City Square Park, a beautiful green space with gardens, winding paths, and an annual summer concert series, was once an industrial wasteland.
The park, which is located along the Freedom Trail in Boston's oldest neighborhood, was established in 1996 and has been a well-loved park ever since.
Paul Revere Park, Charlestown
If you're looking for some nice public parks in Boston to bring your dog, you should check out Paul Revere Park (Chelsea St and New Rutherford Ave).
The playground on site is also great for toddlers and there are benches around the park to sit and rest.
Take the 93 Bus to Chelsea St and get off the Warren St stop if you're taking public transportation; parking a car can be tricky, so plan accordingly.
For parking ideas, check our guide to parking in Boston.
North End Park
North End Park in Boston is a great place for a leisurely day out.
The park is surrounded by lush greenery and colorful flowers, with kid-friendly amenities like a playground, which includes swings and a sandbox.
One of the great things about this place is it has a dog park where you can take your furry friends to play and socialize with other dogs.
Piers Park
Piers Park in east Boston (95 Marginal St) sports a unique combination of natural beauty, recreational facilities, and community spirit.
It's one of many parks in Boston, Massachusetts where you can enjoy the harbor, views of the city skyline, a beautiful promenade, and several pavilions which makes it a lovely place to visit in the city.
It really is one of the best photo spots in Boston!
You can also enjoy the amphitheater, fitness equipment, and a big playground for the kids.
Piers Park is also an important gathering place for the local community, hosting events and festivals throughout the year like New Year's Eve, Eastie Week, and more.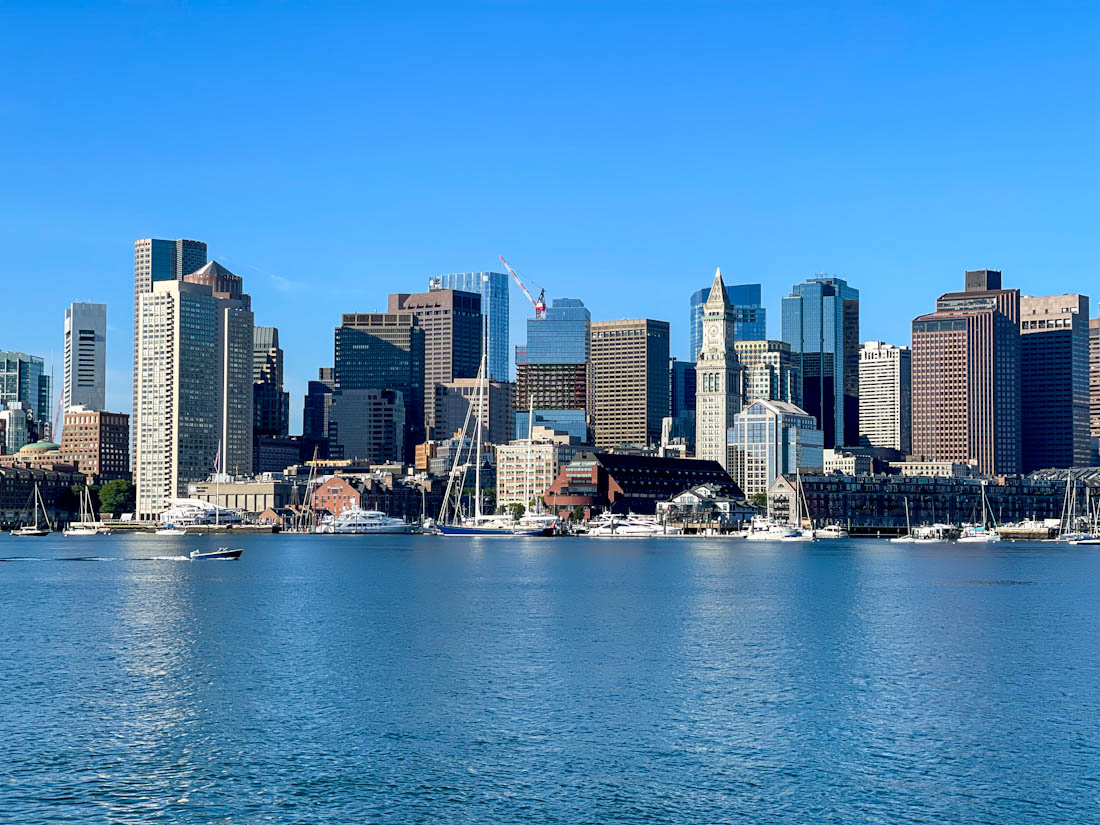 Rose Kennedy Greenway Boston
The Rose Kennedy Greenway (Atlantic Ave) is one of the most famous Boston city parks, and for good reason.
With a carousel, seven fountain fixtures, wine and beer gardens, and incredible landscaping, you'll find something to enjoy for the whole family.
Besides all of the amazing outdoor amenities, you'll find tons of food trucks along Rowes Wharf Plaza or Dewey Square, depending on the day.
Christopher Columbus Park
Christopher Columbus Park in Boston (100 Atlantic Ave) is a beautiful waterfront park located in the North End of Boston.
The park offers stunning views of the harbor and the city skyline, making it a popular spot for picnics and relaxation.
Visitors can stroll along the scenic walkways, sit and relax on the benches, and enjoy the serene atmosphere surrounded by lush greenery.
There's also a playground for children and several sculptures and fountains scattered throughout the park.
Christopher Columbus Park also features in our guide to Christmas lights in Boston.
Boston Harborwalk
While Boston Harborwalk is technically a Boston public park, it can be more accurately described as a 43-mile connecting path between all of the city's waterfront neighborhoods.
From lower Dorchester to East Boston, the Harborwalk provides a long, wheelchair-accessible path that leads to forty additional parks, twelve museums, and hundreds of restaurants and museums.
Start your journey at any point along the Harborwalk and see where the adventure takes you!
If you're planning to stay after sundown, you may want to check out some fun nighttime activities in Boston.
Post Office Square
Post Office Square is at the center of the Financial District, and within the square is the beautiful Norman B. Leventhal Park (Franklin and Pearl St).
This is a well-loved Boston historical park, thanks to its deep history as a site for maritime manufacturing, the stunning architecture around its borders, and a watering trough for horses-turned-fountain in 1912.
Also, this park in Boston's downtown area features amazing green spaces and some of the most convenient parking directly below at the Garage.
The Esplanade
Head to The Esplanade (Storrow Dr) if you're looking for a nice park in Boston to host a picnic.
Nestled along the Charles River, bring a lunch and a blanket and set up anywhere in the green space.
For three miles, the Esplanade continues between the Museum of Science (1 Science Park) and the Boston University Bridge.
During spring, dozens of cherry blossoms bloom along the Charles River Esplanade in Boston and are a famous attraction.
Next to the Riverwalk is the huge green space and Hatch Memorial Shell, a stage for live performances!
The Esplanade also features in our guide to fall in Massachusetts.
Esplanade Playground
The Esplanade Playgrounds is one of the free public parks in Boston that is kid-friendly.
Kids from across the city can enjoy the place all year-round and the Esplanade Playspace is off the Boylston St station on the Green Line and the Charles MGH station on the Red Line.
There are three playgrounds designed for different age groups, though the Charlesbank Playground is the most wheelchair accessible.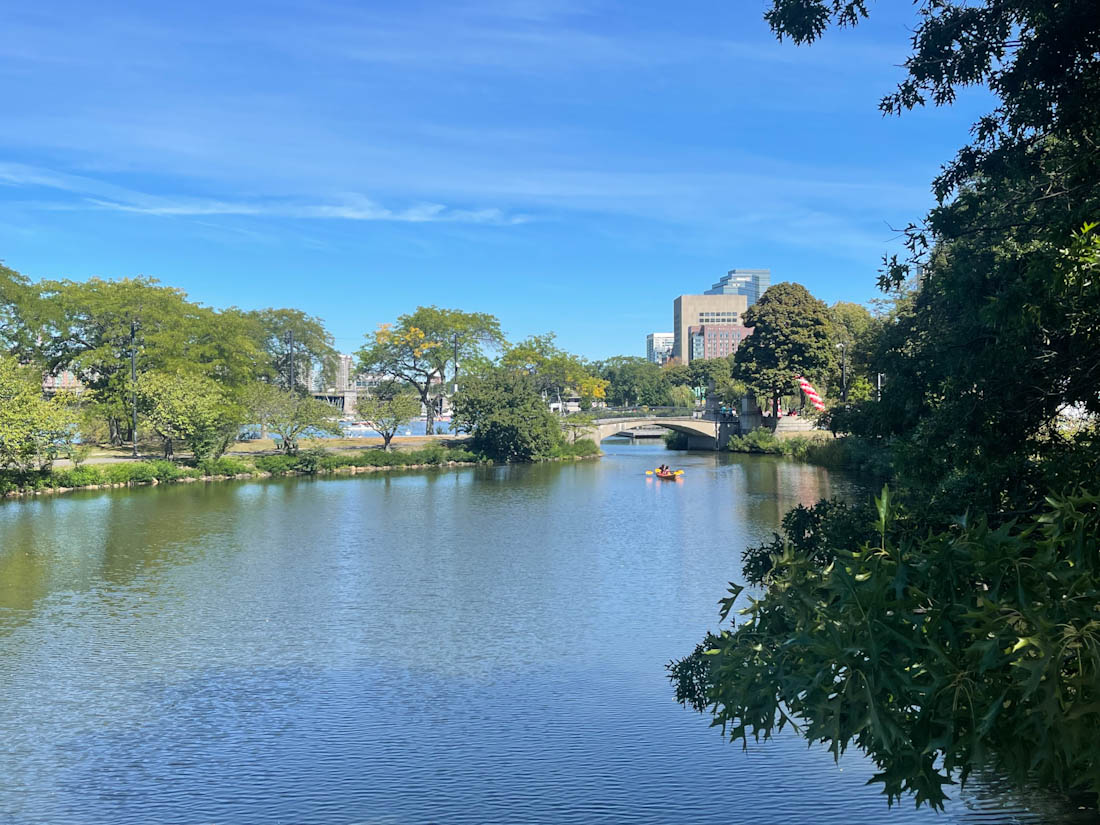 Boston Common
If we're talking about the best parks in the Boston area, then the Boston Common (115 Boylston St) is definitely a must-see.
The place is one of the most famous green spaces in the state, featuring the beautiful Frog Pond, a carousel, softball fields, and lots of stately trees.
Most people even consider it the main park in Boston, thanks to its spot in history as America's oldest park.
It's also a great spot for a romantic date or picnic with a partner.
The beautiful Boston Commons are included in this comprehensive Boston history and culture walking tour, so be sure to book it to learn more!
Boston Public Garden
Located just next to Boston Common, the Public Garden (4 Charles St) is another iconic downtown Boston park that is known as America's first public botanical garden.
Enjoy the unique plants and gardens, picnic by the Lagoon, and take a ride on Boston Public Garden Swan Boats, a staple of the park for more than 100 years.
To get to the gardens, hop off the Green Line at the Arlington Station or park in the Boston Common Garage if you decide to drive.
Martin's Park
Martin's Park (64 Sleeper St) is a particularly special Boston public park because it was designed and built from the beginning to be inclusive of all abilities.
With space to learn, gain strength, collaborate, and play, every structure includes features for every child, including those with any kind of limited ability.
This South Boston park is also designed to be climate-resilient, which means that it will be able to withstand some of the worst impacts of climate change.
Isabella Street Park
Isabella Street Park is located in the heart of Boston's Bay Village neighborhood.
The park features lush gardens with some shaded areas to relax and enjoy the surroundings.
This is also a perfect opportunity to take in the views of Bay Village's tree-lined blocks and redbrick row houses.
Commonwealth Ave Mall
The Commonwealth Ave Mall (484 Commonwealth Ave) is 32 acres large and was designed in 1856 to resemble a classic French boulevard, making it to the list of Boston parks that have been around since the 19th century.
Elegant trees, public monuments, and a lush promenade contribute to this park's overall stunning beauty.
The park also connects the Public Garden to the Back Bay Fens, which means you can enjoy all three without ever leaving green space.
Castle Island and Carson Beach
Castle Island and Carson Beach (2010 Day Blvd) is a Boston city park that has it all.
There is free parking near the historic Fort Independence, as well as metered street parking near Carson Beach.
You can swim in the water, picnic along the green, or walk the Castle Island Loop or Pleasure Bay Loop.
Back Bay Fens
Of all the parks around Boston, the Back Bay Fens (125 Fenway) is one of the best spots for birding, gardening, and sports.
The Charles River was dammed in 1910, so the area became a freshwater marsh, which is a beautiful sight to see.
Plus, the iconic Fenway Park was named after the Fens, so complete your park adventure by taking a tour of the stadium!
East First Street Dog Park
East First St Dog Park (768 E 1st St) is a fenced-in area that is perfect to bring your pups all year round.
With tons of space to run around, as well as some agility equipment for training, your dogs will love exploring and playing in this area.
Be aware of what time you go to the park, especially in summer, because there is very little shade within the area.
Moakley Park
Moakley Park (1005 Columbia Rd) is a fun waterfront park in Boston with sporting areas, water play, and accessible playgrounds.
The park is also working on developments to help the city improve its actions towards climate change, making it a more resilient space and a sustainable solution.
The park also hosts monthly clean-up events, so be sure to check their website for the schedule and do your part.
Jamaica Pond Boston
Jamaica Pond is what is called a pure glacial kettle hole, a beautiful spot to play, picnic, and walk.
The path that surrounds the pond is 1.5 miles long and the fields around are perfect to relax and enjoy a sunny afternoon.
Summer Sundays also feature live music and movies, so check out their website for the event schedule.
This place is part also of the Emerald Necklace in Boston- a series of interconnected parks and green spaces that forms a nearly seven-mile chain of parks through the heart of the city and includes places like the Boston Common and the Public Garden.
McConnell Park and Savin Hill Beach
Looking for fun parks in Boston that are active locations for sports and fitness?
McConnell Park (30 Denny St) is a great park to play baseball and other field games.
Besides two grass fields and a turf field, you'll also find a playground and a toddler play area.
After playing ball, you can enjoy Savin Hill Beach, where you can swim or sunbathe in the afternoon.
Arnold Arboretum
Arnold Arboretum (125 Arborway) is a truly big park in Boston, and it might just be one of the most beautiful.
Artfully designed and cared for, the gardens, wooded areas, and walkways make for a calm, meditative stroll in this lush natural area.
Picnics are not allowed in the park except on Lilac Sunday, which is a popular event when 400 lilac trees are in full bloom.
The arboretum also features in our guide to spring in Massachusetts.
Thomas Park
Thomas Park on Dorchester Heights in Boston offers a unique blend of history and recreation.
Visitors can start by exploring the historic fortifications in the area, which played a significant role in the American Revolution.
The park features the historic Dorchester Heights Monument, built in 1902, to mark the site of a critical battle in 1776, where colonial forces successfully occupied the heights and forced the British to evacuate the city.
You can take a leisurely stroll along the historic walking paths that wind through the park and find plenty of spots to relax and take in the panoramic views of the city.
Jackson Square Park at Southwest Corridor Park
If you're looking for the best parks in the Boston area for kids, look no further than Jackson Square Park at Southwest Corridor Park.
You won't believe the stunning play structures, designed by talented architects, that sprawl across the playground.
Colorful climbing ladders, tunnels, and more await the most adventurous kids in your life.
For more ideas on kid-friendly activities in Boston, check this guide.
Franklin Park Boston
Franklin Park (1 Franklin Park Rd) is a truly big park in Boston, spreading over 485 acres and containing woods, playing fields, historical monuments, and more.
In here you'll find a golf course, a stadium, and multiple playgrounds within the largest open space in the city.
It's also the largest among the Emerald Necklace parks in Boston.
Final Thoughts
We hoped you enjoyed reading our list of parks in Boston.
Let us know in the comments which one is your favorite or share your experience if you've had the chance to visit any of these parks.
Our Boston Guides