This article has links to products and services we love, which we may make commission from.

Every year, millions of Americans jet off to faraway lands to take in the fantastic sights that this planet has to offer.
However, did you know that sometimes you don't have to go much farther than your backyard to see some genuinely wondrous things?
If you want to take a break from it all and soak in as much nature as possible, these national parks on the East Coast will do precisely that.
America's national parks hold beauty, wonder, and history that so many people love to enjoy time and time again, be sure to download the official NPS app before you go to get all of their best top tips.
Best National Parks on the East Coast
1. Acadia National Park, Maine
Acadia is on Mount Desert Island along the coast of Maine, 264 miles from Boston and 50 miles from Bangor, Maine.
The average stay is 3-4 days long, but with so much to see and do, you might never want to leave; there are miles and miles of shoreline to explore, 125 miles of hiking trails, and 45 miles of carriage roads-not to mention all of the water-based activities you can do.
This National Park in the Northeast is open year-round; however, various parts of the Park close during the winter, such as some of the picnic areas, unpaved roads, some beaches, etc., so be sure to plan accordingly.
You can spend your time in this National Park on the East Coast by being active and hiking, cycling, and swimming, or by enjoying leisurely days spent stargazing tide-pooling or birdwatching.
If you love to hike, you should check out our best hiking trails on the East Coast guide.
Acadia National Park was originally named Sieur de Monts National Monument in 1916 then Lafayette National Park in 1919.
In 1929 it was changed to Acadia National Park.
Some of the land was 'donated' by wealthy women such as Bar Harbor resident, Eliza Homans.
Naturally, the land where Acadia sits today was connected to people before these titles were given.
The Wabanaki People; Passamaquoddy, Penobscot, Maliseet and Micmac, called Mount Desert Island, Pemetic or 'the sloping land' and records show they've lived on the East Coast for 12,000 years.
See where else you should visit on a Maine summer vacation beyond Acadia and explore more of this beautiful state.
And check out these hotels in Bar Harbor to make your trip planning for Acadia even easier.
Alternatively, consider Moseley Cottage Inn and Town Motel (12 Atlantic Ave) through Expedia, Hotels, and Booking or Bar Harbor Grand Hotel (269 Main St), also on Expedia, Hotels, and Booking.
Things to do at Acadia National Park
Start at Acadia National Park Visitors Center; you can get a park map, ask the rangers any questions you may have, and even get a souvenir.
Spend some time with a park ranger between mid-May and mid-October; park rangers offer hikes, walks, boat cruises, talks, evening amphitheater programs, and children's programs, as well as opportunities to view peregrine falcons and raptors.
Stay at one of the campgrounds; Blackwoods, which is closest to the Park, Seawall which is the least crowded; Schoodic Woods is the newest campground; and Duck Harbor, which is on the more remote island of Isle au Haut and is only accessed by boat.
Do the Acadia National park audio tour via your phone to learn more about the area as you drive past important locations. You can purchase it at Viator and GetYourGuide. We can personally recommend the audio tour.
Take the 3-4 hour drive around The Park Loop Road; it is 27 miles long and shows you the forests, ocean, mountains, and lakes; be sure to make plenty of stops to take in the sights.
Hike or drive up Cadillac Mountain, the East Coast's highest mountain at 1,530 feet and get the best 360 views.
Relax at Echo Lake Beach and even take a dip in the water during the summer months.
Board a cruise and see the Park in a whole new light, take a daytime cruise or a more romantic nighttime one.
Take in the sights and- depending on the time of day- sounds at Thunder Hole.
Top Tips for Acadia National Park
No camping, campfires, or overnight parking is permitted outside of designated campgrounds; an online reservation is required to enter park campgrounds, and you must purchase firewood on site.
During the winter months, parts of the Park are closed or have abbreviated hours, be sure to check the website if you plan to visit between November-April.
While Acadia is dog friendly, all pets must always be kept on a leash no longer than 6 feet and are prohibited in certain areas.
Don't feed, approach, or provoke any wild animals in the Park, especially snowy owls, nesting loons and turtles, and baby seals on beaches.
Get any passes and permits online before you arrive.
The only restaurant is the Jordan Pond House Restaurant; however, there are six picnic areas and is permitted site-wide, excluding campgrounds (unless you have a permit).
Restrooms are in the centers, beaches, picnic areas, stores, and restaurants.
You can find the official website here.
If you're looking for more information about the park, check out our comprehensive guide to Acadia National Park.
Acadia National Park also features in our guide to best Memorial Day weekend getaways on the East Coast.
2. Cuyahoga River National Park, Ohio
Ohio's only national park, Cuyahoga Valley National Park is one of the smallest national parks in the Eastern US making it a great spot for a quick weekend away.

The park is nestled between two cities, Clevland 22 miles north, and Akron 18 miles south with the winding Cuyahoga River running through it, this park is filled with tall trees, waterfalls, trails, arts and culture events, and more at this Eastern US national park.

The park is free of charge and they strive to be as accessible for all; the park map and guide is available in several formats: printed brochure, braille booklet, audio-only audio description, and text-only audio description.
Things to do in Cuyanoga River National Park
Enjoy a trip on the Cuyahoga Valley Scenic Railroad, the 130-year-old train provides passengers the opportunity to possibly spot eagles, deer, beavers, and herons in their natural habitat.
Bike or hike The Towpath Trail and follow the historic route of the Ohio & Erie Canal.
Explore the Beaver Marsh, the exceptional scenery and wildlife make it one of the park's most popular destinations.
See a 60-foot waterfall at Brandywine Falls, one of the most favorite locations in the park.
Marvel at the Ritchie Ledges, millions of years old they were once wrecked by humans but are a top preservation concern today.
Hike up 1.5miles to see the Great Falls, a 15-foot waterfall that is beautiful to see.
Get connected to the arts and culture of the area through one of the many programs that are hosted throughout the year.
Visit in the winter and rent skis or snowshoes to see the park in a whole new way.
Over 125 miles of hiking trails are available, ranging from easy to difficult.
Splah out on the water in a canoe or kayak, but you have to bring your own.
If you like to kayak, check out our guide to paddling in CT.
Top Tips for Cuyahoga Valley National Park
You can get food and drink at the Trail Mix stores within the park or one of the other dining opportunities in and near the park or picnic at one of the several areas provided, some even with grills.
A valid Ohio fishing license is required to fish in the park although exceptions may apply, and fees vary. Children under 16 years of age do not require a license.
Camping of any kind isn't permitted, but there are many places to in and around the park, such as Stanford House and The Inn at Brandywine Falls.
You can find the official website here.
For accommodation, check out Country Inn & Suites by Radisson in Macedonia which has free parking and can found on Expedia, Hotels, and Booking.
3. Shenandoah National Park, Virginia
Located 75 miles away (an hour and a half drive) from Washington DC, you'll find the beloved Shenandoah National Park, known to be one of the best national parks in the USA.
This East Coast national park truly does have it all; you can hike, drive, swim, fish, picnic, camp, cycle, bird-watch, photograph wildlife — and more; it truly is one of the best state parks on the East Coast.
The Park is open 24 hours a day, seven days a week, and fees very affordable with children under 16 going in free.
Things to do at Shenandoah National Park
Do the Shenandoah National Park self-driving audio guide via Viator or GetYourGuide.
Take the 105-mile trip around Skyline Drive, built nearly a century ago, and goes through the Park's entire length; be mindful of the strict 35 mph speed limit as you enjoy your leisurely 3-4 hour drive seeing the best the Park has to offer.
Test your endurance on the Old Rag Mountain Hike, a favorite amongst locals and tourists alike; as it's one of the most well-known hikes, arrive as early as possible to beat the potential crowds.
Enjoy a more family-friendly mile-and-a-half hike at Dark Hollow Falls. See our guide to the best hikes in Shenandoah National Park for more information.
If you want a road less traveled, Knob Mountain – Jeremy's Run goes around a beautiful area of the Park featuring one of the most picturesque streams in Shenandoah.
Start your trip by speaking with the staff at Dickey Ridge Visitor Center who are bursting with information and helpful tips- you can also get snacks, water, & use a restroom here.
Go rock-climbing, rappelling, and caving on a guided tour.
Top Tips for Shenandoah National Park
Choose from 5 campgrounds with various facilities where you can stay; booking in advance is highly recommended, and you can reserve up to 6 months before your stay.
There are three onsite lodging facilities to choose from spread throughout the Park, and it is highly recommended to book as much in advance as possible.
There are six locked, primitive cabins at various locations equipped with mattresses, blankets, and cookware, with a pit toilet and spring water nearby.
There are 10 locations throughout the Park where you can find food or bring your own and choose to picnic at one of the seven designated locations.
Most picnic areas have restrooms and visitor centers, lodges, waysides, and some trails.
You can find the official website here.
This yurt inside of Shenandoah is a cool experience and can be booked via VRBO or Booking.
For a hotel conveniently close to the Shenandoah National Park, check out Holiday Inn Express & Suites Charlottesville on Expedia, Hotels, or Booking.
For more state parks in VA, read this guide.
4. New River Gorge National Park, West Virginia
Named for the New River, one of the oldest rivers on the continent, if you're planning a trip to a national park in the East, America's newest National Park is the place to go.
A park brochure is available in audio description via a free app called UniDescription App or text-only at any park visitor center.
New River Gorge National River does not charge an entrance fee and no camping fees, making it an excellent option for a budget-friendly national park on the East Coast.
Things to do in New River Gorge National Park
Join a ranger or park partner for free hikes, talks, and activities; all programs are beginner level and low impact and free unless otherwise noted.
All of the camping areas (except War Ridge) provide easy access to the river for fishing and boating.
Take your camera to the New River Gorge Bridge, one of the most photographed places in West Virginia represented on the state commemorative quarter.
Go whitewater rafting down the rapids on the New River; you can choose between easier and more challenging routes to suit every expertise level.
Take a guided rafting tour with a trained guide who will provide everything needed for the trip that can last anywhere from several hours to several days.
Go rock climbing on "The New," one of the most popular climbing areas in the country where the cliffs range from 30 to 120 feet in height.
Take a trip around the New River Gorge scenic drive, an 83 mile 3-hour trip where you'll see the best the Park has to offer.
Top Tips for New River Gorge National Park
The Park does not have any lodging facilities, but facilities are available in surrounding towns; only primitive camping with no drinking water or hookups and limited restroom facilities are allowed.
Swimming is not recommended as the New River has powerful currents, rocky banks and shoals, and sudden dropoffs.
Water is available at Canyon Rim Visitor Center, and markets and eating establishments are available in nearby towns.
Restaurants and grocery stores are in Beckley, Fayetteville, Sandstone, Glen Jean, Oak Hill, Mount Hope, Beaver, Hinton, and other towns around the Park.
You can find the official website here.
For hotels, Tru By Hilton is located in Beckley, less than 20 minutes drive to New River Gorge National Park.
Check out rates for your vacation dates at Expedia, Hotels, and Booking.
5. Congaree National Park, South Carolina
An easy 30-minute drive from Columbia lies Congaree National Park, one of the best national parks in the East Coast for wildlife lovers.
With over 25 miles of hiking trails and 2.4 miles of boardwalk, there is always something amazing to see in one of the oldest and tallest forests east of the Mississippi.
Congaree National Park has free entry; however, you must pre-book your tickets at least 48 hours in advance if you want to camp.
The Longleaf Campground and Bluff Campground both have fees, however, backcountry camping is free.
Things to Do in Congaree National Park
Explore Cedar Creek in a canoe (bring your own, or you can rent one in Columbia, SC), and paddle through 15 miles through the Congaree wilderness.
If you're not confident on your own, take a guided tour down Cedar Creek with a professional.
Hit one (or more) of the ten trails. They're marked "easy," "medium," and "difficult," so plan accordingly to make sure you get the most out of your hike; also, due to the changing flood levels, some hikes may become unaccessible with short notice.
Pay a visit to the Harry Hampton Visitor Center to speak with the park rangers who will help you plan your visit and give you all their best tips and tricks.
Top Tips for Congaree National Park
Ranger and volunteer guided programs are on Saturdays year-round.
There is no food in the Park but can be easily accessed from Columbia, SC.
There are no food services within the Park. Limited food options are available in the town of Gadsden, approximately ten minutes from the Park. A wide variety of restaurants are available in Columbia.
There are restrooms available at various locations on the boardwalk.
Fishing is allowed within Congaree National Park with a valid South Carolina fishing license.
Before beginning a trip on the water, make sure that you have the proper equipment such as a personal flotation device, whistle, weather-appropriate clothing, water, map, compass, food, sunscreen, and insect repellent.
You can find the official website here.
6. Great Smoky Mountains National Park, North Carolina/Tennessee
This famous East Coast national park straddles North Carolina and Tennessee; the three main entrances are in Gatlinburg, TN; Townsend, TN; and Cherokee, NC.
The most visited National Park in the United States, The Great Smoky Mountains, was chartered by the United States Congress in 1934 and officially dedicated by President Franklin D. Roosevelt in 1940.
This heavily forested Park is truly a must-see; the recommended stay is at least one week- but it would be impossible to experience everything this Park has to offer.
The Park itself is open year-round, but many of the facilities and some of the roads close seasonally, and it has no entrance fee.
You can get to know the area better using the Great Smoky Mountain audio tour, which you can purchase and download through Viator and GetYourGuide.
Things to do at Great Smoky Mountains National Park
Drive Cades Cove Loop and get a taste of the American pioneer life as you drive or cycle around the loop, stop off to take photos, pictures and spot the wildlife; be sure to check the schedule before you go; there is one car-free day a week.
Gaze out at Cataloochee, a little off the beaten path; this is a scenic mountain drive that ends with preserved buildings and wild elk.
Hike up to Clingmans Dome; this steep walk will lead you to the highest peak in the Park, where you can see Tennessee, North Carolina, and Virginia on a clear day.
Drive the Roaring Fork Motor Nature Trail and experience the winding mountain road- best done in off-peak times to avoid the crowds- you can stop off and enjoy the hikes and waterfalls.
Begin your exploration of the Park at a visitor center, where you can pick up a park map or newspaper, have your questions answered, and purchase books and guides to the Park.
Check out the Pigeon Forge Titanic Museum to learn more about the fateful night.
Top Tips for Great Smoky Mountains National Park
There are minimal dining facilities in the Park; Cades Cove Campground Store, Elkmont Campground Concession, Smokemont Riding Stables provide various food and snack options, and limited grocery and camp necessities outside the Park are more facilities available.
Le Conte Lodge is the only lodging facility in the Park; however, there is a wide assortment of accommodations just outside the Park.
Smoky Mountains National Park offers multiple types of onsite camping; backcountry for backpackers, frontcountry in a developed campground, group campgrounds for eight or more, and horse camps for those with horses.
Toilet facilities are available at many locations around the Park.
You can find the official website here.
Check out Greystone Lodge on the River for a large resort with fitness suite and outdoor pool.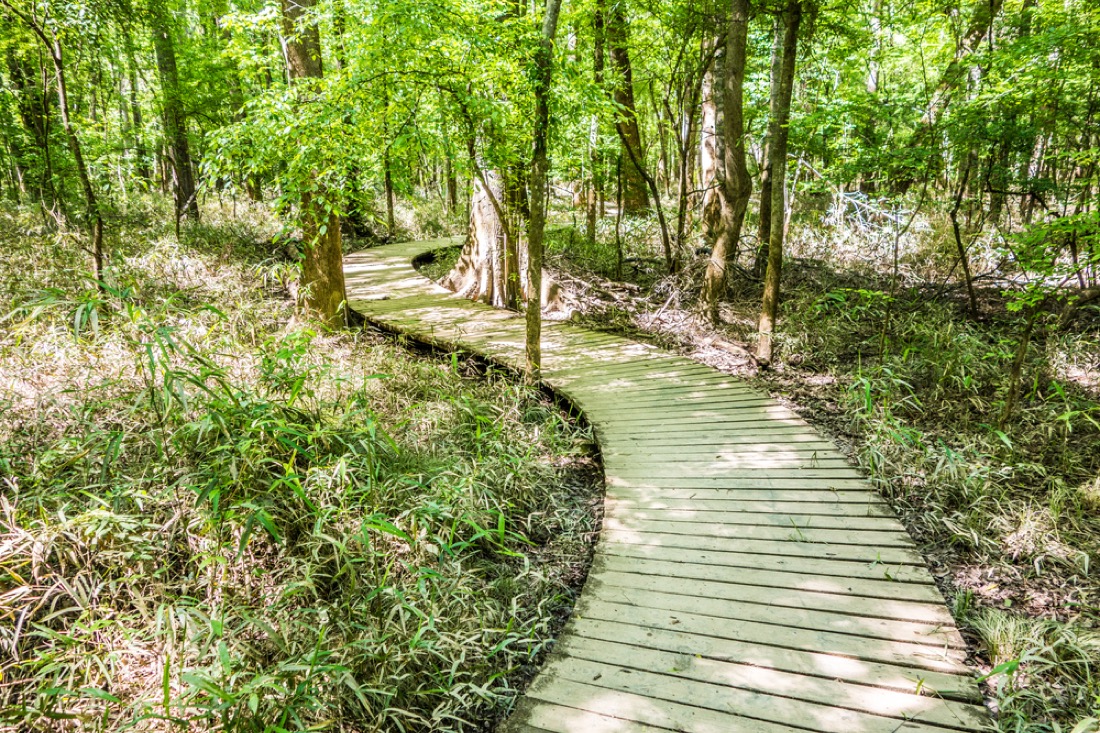 7. Mammoth Cave National Park, Kentucky
If you're ever on an East Coast national parks road trip, you have to stop at Mammoth Cave National Park; this must-see spot is the world's longest known cave system.
An hour and a half outside of Louisville, Mammoth Cave National Park stretches 85 miles and includes river valleys, forests, historic churches and cemeteries, sinkholes, hiking/biking/equestrian trails, and so much more.
Entry to Mammoth Cave National Park is free of charge. There is, however, a charge to tour the cave, stay in campgrounds, or reserve picnic shelters.
Things to Do in Mammoth Cave National Park
Go paddling, canoeing, kayaking, or fishing in the thirty miles of the Green and Nolin Rivers.
See the view from above at one of the overlook points: Doyel Valley, Sunset Point, Green River Bluffs, and Turnhole Bend.
Take a cave tour (or 2); there are different park tours of various difficulties and durations.
Spend an evening stargazing and maybe get a peek at the International Space Station, which frequently passes over.
Relax at the river and go fishing- however, be aware that mercury traces could be in the fish, so think twice before eating your catch.
Find adventure on one of the three bike trails or one of the 18 hiking trails.
Bring your horse or book a guided horseback ride for anyone from a beginner to a seasoned rider.
Get to know the historical side of the Park by spending time in one of the four cemeteries tracing back centuries.
Top Tips for Mammoth Cave National Park
There are two restaurants are located inside the Park, Green River Grill and Spelunkers Café & Ice Cream Parlor
Other food options are available near the visitor center area.
The temperature in the caves averages 54 degrees year-round, so if you visit in the summer, pack warmer clothes.
The Lodge at Mammoth Cave offers over seventy rooms in the Park, or you can stay at one of the three developed campgrounds and several backcountry campsites available for reservation.
Reserve your cave tour tickets and campground space in advance.
You can find the official website here.
There's a number of rentals in Mammoth Cave National Park like this lakefront accommodation with private dock, booked through VRBO or Booking.
If you like the idea of staying on the water, check out our guide to lakeside rentals in Maine, Vermont, and New Hampshire.
8. Harpers Ferry National Historic Park, WV/VA/MD
The only national historic park on our list, Harpers Ferry, spans West Virginia, Virginia, and Maryland.
Spend a few days visiting this quaint, historic community, where you can stroll the picturesque streets, visit exhibits and museums, or hike the trails and battlefields.!
Shuttle buses transport visitors from the Visitor Center to Lower Town, where about four street blocks are lined with museums and exhibits.
Things to do at Harpers Ferry National Historic Park
Take a family and dog-friendly guided ghost tour of Harpers Ferry.
Watch for peregrine falcons, the once nearly extinct species has made a strong comeback in the last few decades.
Go hiking on some of the 22 miles of hiking trails; they range from easy to strenuous to suit all abilities.
Learn about the rich history of how Harpers Ferry was a stop on the Underground Railroad Network to Freedom and its Park in the Lewis & Clark National Historical Trail.
See the Harpers Ferry Armory, the second federal armory created by the United States government.
The Park is well known for its rock climb opportunities and a broad range of rock types.
Cycle, the C & O Canal towpath, is known to be the best place in the Park to ride bikes.
Top Tips for Harpers Ferry National Historic Park
Camping is not allowed within Harpers Ferry National Historical Park.
Drinking water is not available on the trails; however, there are water fountains at the Visitor Center and Lower Town.
Horses, bicycles, and motorized vehicles are not allowed on any of the trails in Harpers Ferry NHP.
Cyclists are allowed to bike on the streets of Harpers Ferry but not on sidewalks or park trails. Riding your bike downhill from the park entrance and Visitor Center parking lot is not allowed.
You can find the official website here.
Harper has a variety of cabins and houses within walking distance to Harpers Ferry National Historic Park like this tavern building built in 1830.
9. Dry Tortugas National Park, Florida
Departing from Key West, FL, your adventure will begin by boat or plane for a 68-mile trip until you reach Dry Tortugas National Park, a 100-square mile park made up of 7 small islands.
This gorgeous East Coast national park is known for its flourishing sea life and bird population, as well as the colorful coral reefs; visitors spend their time snorkeling, picnicking, swimming, birdwatching, camping, scuba diving, fishing, and kayaking.
The Park is open all day year-round; however, some islands have closures for nesting wildlife.
Things to do at Dry Tortugas National Park
Take a guided tour of Fort Jefferson, a massive unfinished brick fortress utilized in the Civil War.
Visit Garden Key, the most inhabited island, where you can fish, camp, snorkel, and swim.
Go to Loggerhead Island and see shipwrecks, the lighthouse, and where the historic Carnegie Laboratory for Marine Ecology once stood- and kept an eye out for loggerhead sea turtles.
Take a stroll along the shoreline of Bush Key, an uninhabited island.
Explore the island via canoe or kayak – but be sure to bring the proper provisions and get the free permit beforehand.
Lounge on the pristine sandy beaches and gaze out into the clear blue water.
Top Tips for Dry Tortugas National Park
All coral reef, fish, and cultural artifacts are protected. You should not fear an attack from the marine wildlife, but bumping into them could cause serious harm to both of you.
Swim at your own risk; there's no lifeguard on duty; don't seem alone, and beware of a strong sudden current.
Campsites are first-come, first-served, and can only be reserved for large groups, and be sure to bring all of your supplies.
There are no restaurants, shops, or any other services that offer food, water, or fuel available on the islands of Dry Tortugas National Park.
Restrooms are available throughout the Park and are also on the ferry.
You can find the official website here.
You may also like our guide to Key West.
10. Everglades National Park, Florida
The Everglades, located on the most southern tip of Florida, is known for being one of the best national parks on the East Coast.
Just a short hour-long drive from Miami, this Park is the largest subtropical wilderness in the United States.
It's open year-round and more popular in the dry season (November to March) than the wet season (April to November).
The entrance fee to the Everglades National Park is good for seven consecutive days starting from the day of purchase.
It is free for anyone 16 and under.
In this Park, you can go cycling, bird watching, boating, camping, kayaking, canoeing, fishing, geocaching, hiking, take a guided tour, view wildlife, and so much more.
Things to do at Everglades National Park
At Shark Valley, you can walk, bike, ride a tram along a 15-mile loop road and see some of the Park's best wildlife concentrations, see a 360-degree view from the observation tower.
Take a boat — your own or a scheduled sightseeing boat tour — to explore the Ten Thousand Islands from the Gulf Coast Visitor Center.
Take a guided tour, either by boat, kayak, airboat or on foot, to see the best of the Everglades from all angles. We went with Everglades City Airboat Tours as there is no unethical touching of gators.
Go on a canoe or kayak trip for anywhere from a few hours to a few days.
Hike an interpretive trail, a short trail that tells a story about the Park, its inhabitants, and its history.
Watch out for 'gators- literally; both alligators and crocodiles live in the Everglades.
Top Tips for Everglades National Park
Swimming/snorkeling is prohibited in all canals, ponds, freshwater lakes, marked channels, and boat basins inside the Park.
Everglades National Park provides a limited variety of snack foods and beverages sold at the Ernest F. Coe Visitor Center bookstore, at the Royal Palm Visitor Center bookstore, at the Flamingo marina at the Gulf Coast Visitor Center store.
Restrooms are available at the visitor centers, West Lake Park, and campgrounds.
You can find the official website here.
For accommodation less than 30 minutes from the Everglades, check out Garden Inn Homestead on Expedia, and Booking.
11. Biscayne National Park, Florida
Outdoor enthusiasts will love spending their time fishing, diving, snorkeling, boating, paddling, hiking, camping, wildlife watching, and more.
There are no entrance fees to the Park; however, there is a cost per night to use tent site and boat docking.
Things to do at Biscayne National Park
Take a free boating class to improve boating skills, learn about coral reefs and other resources, and understand navigation rules.
Go fishing and keep a careful eye out for spiny lobster, snapper, grouper, tarpon, and bonefish.
Take a guided boat tour from the Dante Fascell Visitor Center to enjoy the beautiful scenery while learning about the Park's history, wildlife, and ecosystems.
Explore the mangrove-fringed shorelines and shallow bay waters of the Park via canoe and kayak.
Go snorkeling and diving to investigate the remains of shipwrecks on the Maritime Heritage Trail.
Visit the northernmost Florida keys and discover living coral reefs by boat
Adventure away on Boca Chita Key, the most visited island in the Park, where people love to see the historic lighthouse.
Check out Elliott Key, the largest island in the Park, where people love to camp, picnic, swim, watch for wildlife, and hike.
Spend some time on land at Adams Key, where Presidents Harding, Hoover, Johnson, and Nixon retreated at the famed Cocolobo Club, and now a lovely space to picnic.
The Park is home to hundreds of species of flora and fauna and even 20 endangered species; see how many you can find.
Learn about the Park and its history at the Dante Fascell Visitor Center, Gallery, and Museum.
See the historic houses at Stiltsville, in the northern part of the Park.
Top Tips for Biscayne National Park
Restrooms are available in the campgrounds and visitor centers.
To get beyond the visitor center area requires a boat. There are no bridges or ferries to the islands or campgrounds and only one mile of road in the entire Park.
There are no dining options on Biscayne National Park; pack and enjoy a picnic.
You can find the official website here.
Final Words
It's called "America the Beautiful" for a reason and these National Parks prove it!
No matter if you want to rock climb, hike, fish, swim, or chase waterfalls, there is definitely a National Park in the East Coast for you.