This article has links to products and services we love, which we may make commission from.

When looking for the best hikes on the East Coast, there are a lot of things to keep in mind before you go. What difficulty level are you prepared to endure? How much time do you want to spend on the hike? Do you prefer a more the mountains or a green forest? Do you plan to camp overnight?
Whether you're a seasoned hiker or this is your first expedition, the planning process is an invaluable part of having a safe, fun, and memorable experience.
Don't let the stress of planning an amazing East Coast hiking trip; we've curated a list of the best hikes on the East Coast that range in difficulty level, terrain options, and all of the need-to-know information so you can explore and adventure your heart out.
You might also like our guide to the best Memorial Day Weekend camping spots all along the East Coast.
Best Hikes on the East Coast For All Levels
1. Mount Katahdin, ME – Highest Mountain in Maine
Mount Katahdin can be found in Baxter State Park in the Maine Highlands, with the closest town, Millinocket, 25 minutes away, and the nearest major city, Portland, four hours away.
This National Natural Landmark is one of the best hiking trails in the US and is hiked by 30,000 people, but don't mistake its popularity for ease; this climb will take between 8-12 hours and can be very difficult.
Katahdin means "The Greatest Mountain," and at 5,268 miles high, it lives up to its name; this is not a beginner hike but is best suited for someone with lots of experience under their belt.
Mount Katahdin is a massif consisting of multiple peaks; the tallest is Baxter Peak and is the official northern terminus of the Appalachian Trail; the remaining peaks are Howe Peak, Hamlin Peak, South Peak, and Pamola Peak.
You can climb up various ways to reach the peaks with all trails given the highest classification of very strenuous aside from Saddle, which is deemed severe, and Hamlin Ridge Trail and Chimney Pond, which are both classed as moderate.
The most popular trail is Knife Edge, a section of the mountain where it is only two to three feet wide at points and also wholly exposed so take care and precaution to avoid serious injury.
Be aware that an Appalachian Trail Hiker Permitted and yellow hiker registration sheet must be acquired in person at the Katahdin Stream Campground Ranger station before attempting to summit.
The Penobscot River flows from Mount Katahdin and is culturally important to the local Penobscot Indian Nation and other Wabanaki tribes.
It is the longest river in Maine and the second longest in New England.
You can camp in Baxter State Park in authorized campgrounds is allowed via reservation only from May 15- Oct 22 and Dec 1 – March 31.
Mount Katahdin also features in our guide the best places to visit in Maine.
Top Tips for Mount Katahdin
Reserve your parking pass up to two weeks in advance for $5 for Katahdin trailheads.
Entry into Baxter State Park costs $15 per car.
Budget your time; if you aren't up by mid-afternoon, chances are you won't have time to make it down before dark.
Stay on the trail to avoid needing search and rescue, and sign the trail register if you get lost.
Outhouses are sparse along the trails.
Entry is limited, so come early if you want to be able to hike.
Pets are not allowed.
No food, amenities, or cooking supplies are available for purchase within the park.
What to Pack for Mount Katahdin
A topographical map and compass
Sunscreen
Extra layers
Headlamp/flashlight
Bug repellant
Whistle
Knife
First aid
Matches
Food and drink
Space blanket
2. Mount Washington Trail, NH – Great For Seasoned Hikers
Located in the White Mountain National Forest about an hour and a half from Concord, NH, Mount Washington is just under 8 miles long and is best for a seasoned hiker who knows what they are getting themselves into.
This famous hike comes with many warning labels; it is known for some of the worst weather in the world and is one of the deadliest mountains.
At 6,228 feet, it is the highest peak on the East Coast, and those gorgeous views will come at the cost of the crowd; this extremely popular trail is one of the best hikes in the Northeast.
If you're planning to hike the entire trail, set aside at least 8 hours and even more if you are an inexperienced hiker.
Don't be surprised if you get to the top and find the weather different from at the bottom; with hurricane-force winds, intense fog, and temperatures below freezing, it could feel completely different from when you started (even in the summer).
You can take a variety of paths to the top: If you start from the East, you will have free parking options, an outfitter store, trail information, lodging, dining and can take the Tuckerman Ravine, Tuckerman-Lion Head, Boott Spur Trail, or Huntington Ravine Trail up to the summit.
You can take the Ammonoosuc Ravine Trail/Crawford Path or the Jewell Trail/Gulfside trail from the West.
There's only the Crawford Path from the South, and from the North, you can take Gulfside Trail.
The trails are rated "hard" except for the Ammonoosuc River Loop, which is classified as "easy."
Prefer to hike with a guide, this customized day hike with an expert could be the best option for you.
If you're too tired to hike or want a different experience, you can drive the Auto Road to the summit; prices start at $39.
Check out our guide to the best hikes in NH for more ideas in the area.
Top Tips for Mount Washington Trail
The weather is unpredictable and can turn extremely fast, so you must be prepared for any and everything.
It is open year-round but is recommended to go from May – October.
Dogs are permitted but must be kept on a leash.
Food, drink, and toilets are available in the visitor's center.
There is a Hiker Shuttle that travels from the summit to the base, but it cannot be booked in advance and will cost $50+ to take.
Lodging is available through the Appalachian Mountain Club
What to Pack for Mount Washington Trail
Map
Compass
Water and food
Matches
First aid kit
Flashlight
Extra clothing
Whistle
Knife
Shelter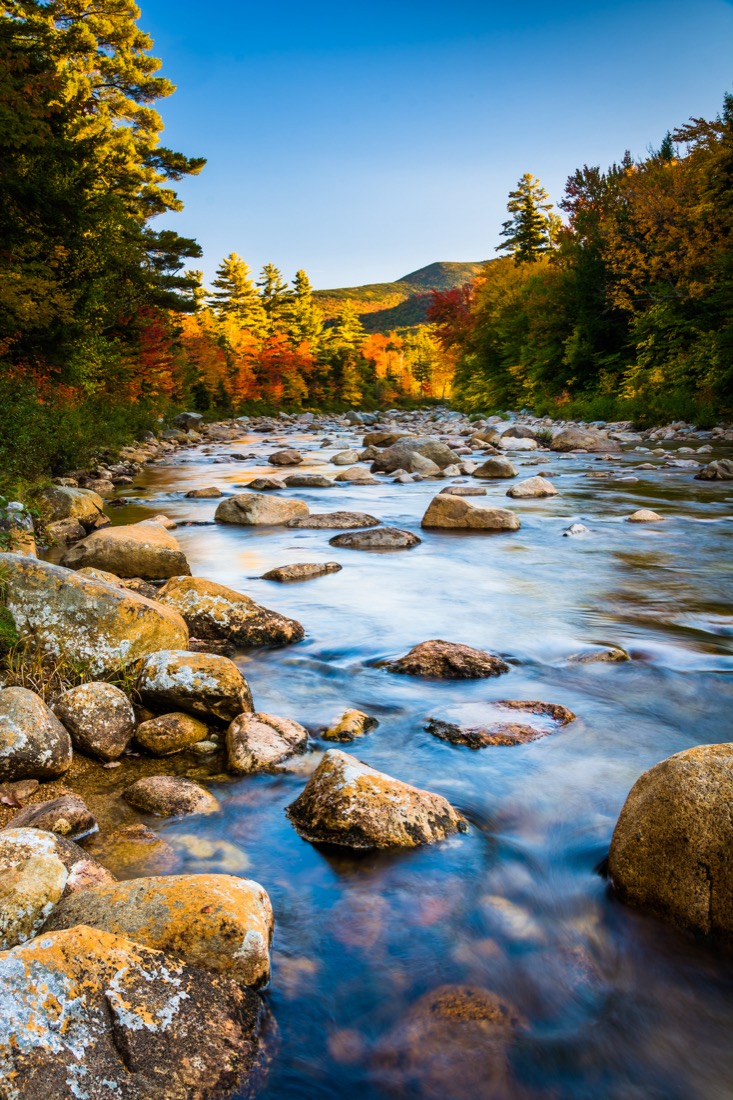 3. Mount Tom Tower Trail, CT – Best for Family Hikes
The Mount Tom Tower Trail can be found in the Mount Tom State Park, a 40-minute drive from Bristol, CT, and just outside the neighboring towns of Morris and Litchfield.
This family-friendly East Coast hike is excellent for people of all ages and more inclusive for those with physical limitations; however, it can be steep and rocky at various parts, so be sure to wear proper footwear.
The hike itself only takes about an hour to go up and come back down the 2.5-mile loop, making it ideal for beginners or anyone who wants to include it as part of a day's itinerary but not take up the whole day.
The most beloved part of this hike is the stop tower and the view at the top, which gives a 360-degree view of the Connecticut woodlands.
The 34 foot high and 100-year-old stone tower is on the National Register of Historic Places, and visitors can climb to the top to see as far as Massachusetts and New York on a clear day.
Because it is such a short hike, you can spend the rest of your day picnicking, fishing, and spending time in the water at Mount Tom Pond, which is a short distance from the trailhead.
The small beach area has restrooms, a snack bar, and a lifeguard on duty during the day.
Top Tips for Mount Tom Tower Trail
Limited parking will fill up quickly with no overflow options, so arrive early.
The beach is a small area and can quickly get crowded.
Pets on a leash are permitted in picnic areas and on hiking trails but not on the beach.
It's best to go when it hasn't recently rained; the wet leaves can cause the path to become slippery.
The park costs $10 per vehicle on a weekday and $15 on a weekend/holiday.
What to Pack for Mount Tom Tower Trail
Sunscreen
Binoculars
Swimsuit
A picnic lunch
Fishing supplies
Canoe/kayak/paddleboard
You may also like our guide to kayaking in Connecticut.
4. Mount Marcy, NY- Great For Variety
Mount Marcy is the highest point in New York, with an elevation of 5,344 feet, and is situated in the heart of the Adirondack High Peaks region, 235 miles from NYC and 10 miles from Lake Placid.
It's a great trail option for seasoned hikers who have the endurance to withstand the long hike and potentially harsh climates.
This isn't an overly challenging but a varied terrain, so pace yourself as it may feel like a longer hike than it is with the various steep parts, particularly the last mile to the summit.
At the summit, you can see for miles and miles, all the way to Montreal and Vermont on a clear day,
There are four main trail options: the shortest and most frequently used is the Van Hoevenberg Trail, which starts at the Adirondak Loj near Heart Lake, the Johns Brook Trail from the Garden parking north of the mountain in Keene Valley is a slightly longer option, and the longest options are Upper Works or Elk Lake which approach from the South.
The shortest route will take a minimum of 7 hours for the 15-mile hike but prepare for a 12-hour journey for the longer routes.
The Van Hoevenberg Trail offers a lovely spot to take a break halfway to the top at the Phelps Brook and Indian Falls, where you can take in the sites — including a waterfall — while you rest; it's also a great spot to refill your water bottle.
Top Tips for Mount Marcy
Lodges, cabins, and camping are all available but must be booked in advance and have varying costs.
Dining is provided in the lodges and The Hungry Hiker, the High Peaks Information Center, but check opening times before you arrive as they change seasonally.
Parking costs $15/day and $7 after 1 pm; they do not take reservations, and areas fill quickly in the summer, arrive as early as possible.
Bathrooms are located at the parking lot and camp store, and a few outhouses are available on the trail.
What to Pack for Mount Marcy
First aid kit
Matches
Sunscreen
Bug repellant
Food and water
Shoes with tread
Map/compass
Moisture-wicking clothing
Extra layers
Rain gear
Flashlight/headlamp
Emergency shelter and kit
5. Patowmack Canal Trail, VA – Best For History Fans
The Great Falls National Park, located on the border of Virginia and Maryland, is the easy and accessible 2.5-mile roundtrip Patowmack Canal Trail.
The Great Falls National Park has 15 miles of hiking trails with varying degrees of difficulty; this trail is ideal for anyone looking to have more of a stroll than a strenuous hike and is suitable for all ages; it is a mostly flat trail and only takes about 1.5 hours at most.
To hike the entire trail, park your car in the upper parking lot and follow the path towards the visitor center.
This is the best hiking on the East Coast for any American history lovers, the trail follows the remains of the historic Patowmack Canal, one of the first canals ever to be built in the United States and was constructed by George Washington.
There are three overlooks where you can see the falls, and this trail passes all of them, particularly overlook 2; after the overlooks, there is a picnic area where you can enjoy the sights while you eat.
Top Tips for Patowmack Canal Trail
Entry to Great Falls National Park for a vehicle costs $20; admission for a person on foot is $10 and is valid for one week.
Swimming and wading in the Potomac River are prohibited.
No horses or bikes are allowed.
Hikers can pick up a brochure for the self-guided tour of the Canal at the visitor center.
Sections of this trail can be muddy after it rains, especially in the Holding Basin.
The Visitor Center restrooms open 9:30 – 5:30, bathrooms in Matildaville & Old Carriage Road Trail open 7 am – Dark.
There are limited food options in the park, but many in the surrounding areas just outside.
What to Pack for Patowmack Canal Trail
A packed lunch and water
Sunscreen
Bug repellant
Comfortable shoes
6. Little Smith Mountain Trail Dadeville, AL – Views of Talladega National Forest
If you're looking for a moderate but adventurous trail for adults only to spend an afternoon on that isn't crowded, Little Smith Mountain Trail in the Wind Creek State Park hits every mark.
Just a 15-minute drive from Dadeville, AL, the Little Smith Mountain Trail, part of the Smith Mountain Fire Tower Trail, is just under 2.5 miles long and takes between 1-2 hours to reach the 475-foot summit return to the bottom.
This trail is well known for its views and rock formations, but is also the most challenging part due to the sheer cliffs that require the cautious footing, be sure to follow the rectangular paint blazes on trees to identify the correct trail paths; a double blaze either indicates a trail intersection or a sharp change in direction.
At the summit, you'll find the historic 90-foot fire lookout tower that's stood since 1939 and has recently been refurbished after falling into disarray, and is open to visitors daily until 30 minutes after sunset.
The tower offers a 270-degree view of Lake Martin and fantastic views of the mountains of Talladega National Forest.
Once you've returned to the bottom, you can spend the rest of the day on Lake Martin; 44,000-acre manufactured reservoir that has over 750 miles of wooded shoreline where you can swim, boat, fish, water ski, camp, and golf.
One popular spot to hang out is the D.A.R.E. Park, a great location to stroll around and enjoy the outdoors on its sandy beach harbor.
Top Tips for Little Smith Mountain Trail
Watch out for pine straw which could make the ground slippery.
Pets are not allowed on the tower but are permitted on the trail on a leash.
Several benches are along the way to rest if you want to take your time.
There are various restaurants within a short driving distance from the mountain, located around the perimeter of Lake Martin.
Entrance fees to the state park vary by age but are between $2-$5 per person per day and $4 per vehicle.
What to Pack for Little Smith Mountain Trail
Bathing suit
Trekking poles and sturdy shoes
A packed lunch
Sunscreen
Bug Repellant
7. Three Ridges Trail, VA – Blue Mountains Hike
A moderately challenging hike that is suitable for anyone looking for a bit of adventure, the Three Ridges is tucked into the Blue Ridge Mountains, 30 minutes away from Charlottesville, VA.
The 11 miles of trail are located east of the Blue Ridge Parkway and north of the Tye River, where elevations range from 1000 feet at the Tye River to 4000 feet at Three Ridges.
You'll begin and end your hike at the Reed's Gap trailhead, and during6-7 hour long hike, you'll see breathtaking sights, local wildlife (potentially including bears), and even a waterfall.
On a nice day, you can take your time and enjoy a swim, a packed lunch, and an extended break to appreciate the nature around you.
This is a very popular hike and can often be extremely crowded at peak times, so if you can go on weekdays or less busy times, you may enjoy your experience more.
Top Tips for Three Ridges Trail
Temperatures can change from extreme heat to extreme cold, so be prepared and pack accordingly.
The parking lot is relatively small, so it's recommended to arrive as early as possible.
Dogs are also able to use this trail but must be kept on a leash.
There are limited food options in the wilderness, but there are restaurants within a short drive.
Toilets are located at the visitor centers and designated campgrounds
Camping is available and can be reserved in advance; there are various lodging options through the mountains.
What to Pack for Three Ridges Trail
Swimwear
Extra layers
Bug repellant
Sunscreen
Laminated map
Whistle
Bear-resistant food containers
First aid kit
Food and water
8. Mount Mitchell Trail, NC – Hike or Drive For Views
One of the nation's first state parks, Mount Mitchell State Park, an hour's drive from Asheville, NC, is home to many different trails, including the famous Mount Mitchell, located in the Black Mountain Campground.
This 12-mile round trip to the highest mountain on the East Coast is accessible by the Mount Mitchell Trail and is great for anyone looking for a challenge with a good amount of hiking experience but not recommended for children under 13 or anyone with health concerns.
However, if you fall into the latter category, you can drive to the top for a short walk on the paved ground to the observation deck to talk in the spectacular views.
Visitors should prepare for 6-8 hours to complete the trip and be aware that there is no descending shuttle.
On the way up the 6,684-foot high summit to the observation deck, you'll find plaques marking the peaks surrounding you and historical markers describing the scientists and explorers who discovered and mapped the mountain.
There is a little museum, gift shop, snack stand, and restrooms at the observation deck.
There's also an option for a mile-high picnic at the year-round picnic area, at the north end of the summit parking lot; there, you'll find 40 picnic tables, stone grills, drinking water as well as two picnic shelters with fireplaces that are perfect for group picnics.
Top Tips for Mount Mitchell Trail
Dogs are also able to use this trail but must be kept on a leash.
It is not uncommon to see black bears, particularly in the summer; stay alert and use the bear-resistant food storage option.
Check the hours before arriving as they change throughout the year, and the park gates close and lock at posted closing times.
A restaurant is located a half-mile from the park office that is open from May to October with scenic views.
Visitors can pick and eat wild blackberries, blueberries, and raspberries in late summer.
There are no admission fees; however, if you'd like to camp at Black Mountain Campground, costs vary from $25- $50.
Try to plan for clear weather; you can see as far as 85 miles from the summit.
What to Pack for Mount Mitchell Trail
Extra layers
Bug repellant
First aid kit
Walking poles and sturdy boots
Sunscreen
Water and snacks
Flashlight
9. Babel Tower, NC – Great Half Day Hike
Babel Tower Trail is a 3-mile scenic hike in the Linville Gorge deep in the mountains of western North Carolina, an hour and a half north of Asheville.
Linville Gorge is 12 miles long and is known for spots like Table Rock, Hawksbill Mountain, and Shortoff Mountain.
The Babel Tower Trail begins at the gorge's western rim and continues northeast; this is a beautiful hike for anyone who wants to take in the best that nature has to offer.
While not a challenging hike, the initial part is descending, so be wary of having enough energy to hike back up the 3054-foot ascent over the rocks and roots and unmarked trails to complete your journey.
On the descent, you'll travel through a thick and green forest, beautiful wildflowers, and rocky terrains as you find the Babel Tower spire.
You'll be able to hear the waterfalls before you see them as you reach the gorge floor and take in the fantastic surroundings and maybe even go for a swim.
The hike can easily be complete in 2-3 hours or less if you don't want to stop at the top.
Top Tips for Babel Tower
Open year-round from dawn to dusk.
The trail can be tricky with rocks and roots; wear sturdy boots.
Dogs are allowed.
A free camping permit is needed for weekends and holidays May-October for a group of up to 10 people to stay for three days and two nights.
There are many dining options in Linville, just outside of the falls.
Restrooms are available through the falls.
What to Pack for Babel Tower
Swimsuit
Sunscreen
Sturdy shoes
Water and snacks
Bug repellant
10. Rocky Top Trail, TN – Smoky Mountains National Park
Nestled in the Smoky Mountains National Park, the strenuous 10.5 mile Rocky Top Trail features three separate summits and 360-degree views.
This iconic hike is surrounded by mountains on the East Coast and is not suited for beginners but more for someone looking for a day-long hike filled with beauty and adventure.
Providing a challenge to even well-seasoned hikers, this scenic trail begins at the Anthony Creek Trailhead, passes the Crib Gap Trail junction and the Russell Field Trail to the Bote Mountain Trail, and at this point, you'll turn right, heading towards Rocky Top.
If you're hiking during the warmer months, the trail is lined with lush grass and wildflowers and is an excellent spot for a bit of rest if you need one.
Soon you'll come to Spence Field and the Appalachian Trail, where you'll eventually come upon the first of the three summits, Rocky Top with the lowest elevation of 164 feet, followed by the second unnamed summit, and finally ending with the third and highest summit at 1040 feet, Thunderhead Mountain.
If you want to see the views from above the Smoky Mountains, check out this helicopter tour.
Read more about the best East Coast National Parks.
Top Tips for Rocky Top Trail
There is one lodge available within the park and backcountry and front-country camping, group campgrounds, and horse camps at varying fees.
Limited food and drink options are available within the park, but many are located in the surrounding community.
There is no entrance fee to the Smoky Mountains National Park.
Toilet facilities are available at various locations around the park.
What to Pack for Rocky Top Trail
Sturdy boots
Rain jacket
Food and drinks
Sunscreen
Bug repellant
Flashlight/headlamp
Park map
11. Jacks River Trail, GA – Great for Waterfalls
On the border of Tennessee and Georgia is the Cohutta Wilderness and the Jacks River Trail, aptly named for the river that flows alongside it and one of the most beautiful hikes on the East Coast.
It is a one-hour drive from the nearest town, Chatsworth and is an ideal East Coast trail hike for someone who wants a moderate challenge.
Hikers should be wary that they will be crossing the river many times, which adds an extra element to the excursion and that it will take at least 10 hours to complete.
The 18-mile round trip hike starts from the Dally Gap trailhead and continues southwest through the lush forest filled with flora and fauna, passing the Benton MacKaye Trail to get to Jacks River Valley, where you'll cross the first one many creeks.
Eventually, as you go along Jacks River, you'll come to a stunning waterfall just downstream from where you'll need to cross to begin climbing the elevation to reach a set of bursting waterfalls and whitewater.
After passing a fantastic mountain view, you'll re-enter the forest where you'll come across multi-tiered waterfalls and a final crossing of Jack's River before you'll have to turn back to complete your journey, be wary of the slippery rocks and fast-moving water as they can be extremely dangerous.
Top Tips for Jacks River Trail
There is no entry fee for Cohutta Wilderness.
Toilets are only available at the developed campgrounds.
Dispersed, campground, group, and RV camping are available as well as cabin rentals.
Hikers and backpackers should leave a detailed trip plan with someone expecting their return since cell service is unpredictable in this mountainous area.
Purchase all amenities and food/drink at one of the neighboring towns before entering the trailheads.
Free parking is available at the Dally Gap trailhead.
Always tell someone where you're going and avoid trails along the rivers and creeks in the weeks following heavy rain.
Top Tips for Jacks River Trail
There is no entry fee for Cohutta Wilderness.
Toilets are only available at the developed campgrounds.
Dispersed, campground, group, and RV camping are available as well as cabin rentals.
Hikers and backpackers should leave a detailed trip plan with someone expecting their return since cell service is unpredictable in this mountainous area.
Purchase all amenities and food/drink at one of the neighboring towns before entering the trailheads.
Free parking is available at the Dally Gap trailhead.
Always tell someone where you're going and avoid trails along the rivers and creeks in the weeks following heavy rain.
Want to explore more of this gorgeous state? Check out our guide to the awesome things to do in North Georgia.
12. Shark Valley Trail, FL – Best For Paved Path
Enjoy the best of what Florida has to offer — hot weather, gators, and relaxing day sightseeing— in the Everglades National Park's Shark Valley Trail.
This is one of the best East Coast hikes for families and anyone with accessibility issues, the 15-mile long trail is flat and paved or you can also take a two-hour tram tour if you prefer not to walk for $14-$27, depending on age.
Despite the park's location in the heart of the swampy Everglades, it is only an hour from Miami and can quickly be completed in 2-3 hours.
This is an excellent trail for animal lovers; you'll be able to see gators, crocodiles, birds, turtles, fish, and more.
Have a packed lunch at the 50-foot tall observation tower, which is located halfway through the trail, and take in the best views of the Everglades.
Top Tips for Shark Valley Trail
Everglades National Park charges a fee to enter. Prices are $30 per vehicle or vessel or $25 per motorcycle. If you are entering on foot, bike, or paddle-craft the fee is $15 per person.
There are a few limited food options in the park, but there are many options in nearby Miami.
Restrooms are available throughout the park and at the observation tower.
Frontcountry and wilderness camping are available, but reservations and permits must be pre-organized.
This trail is subject to flood-related closures; make sure to plan.
Final Words
These are our favorite hiking destinations on the East Coast and can't recommend them enough, however, we have barely scratched the surface of the amazing destinations you can hike.
No matter where you visit, as long as you are packed appropriately and have planned ahead, you will have a marvellous time.
Bookmark for later! Save to your East Coast hiking board
Our Hiking Guides for the East Coast