This article has links to products and services we love, which we may make commission from.

With 110 miles of coastline, the beaches on Nantucket are plentiful and varied. The island is a popular summer destination off the coast of Cape Cod in Massachusetts, attracting celebrities and lifelong visitors who summer there each year, in addition to its small year-round population.
Despite the island being a more expensive destination, all of the beaches on Nantucket are free to access by foot (some have parking or car permit fees).
There are some private beaches, so just take care not to cross into private property or park outside of designated areas for beach access.
Organized by location, these are all of Nantucket's beaches that you can visit this year, with details for each one so you know what to expect and what type of visitor each beach is best suited to.
If you're eager to hit the links while you're here, this is the guide you need for Nantucket golf course information.
You might also like our guides to the Martha's Vineyard towns and the best things to do there if you're looking for more MA island getaways.
Or explore more before you take the ferry with our favorite things to do on the Cape.
Beaches on Nantucket's North Shore
40th Pole Beach
The beaches on Nantucket's north shore tend to have warmer water and calm waves, and 40th Pole Beach (Eel Point Rd) is one of the most popular north shore beaches.
You'll find soft sand, seashells, and marine mammals (stay more than 150 feet away from animals!) at 40th Pole.
You can fish on the beach with a permit, but you won't find any amenities other than seasonal restrooms, so be sure to come prepared.
Dionis Beach
Dionis Beach (Eel Point Rd) is a popular beach among travelers and locals alike, and for good reason.
You'll find soft, white sand, large dunes, and calm waves, as well as lifeguards on duty in the summer.
This beach features a large parking lot, bathrooms, changing rooms, and vending machines.
Washing Pond Beach
Washing Pond Beach (38 Washing Pond Rd) is a small beach with parking for a few dozen cars and access to the bike path.
To reach the beach, you need to walk for a while through the dunes and soft sand, but when you arrive, you'll find tide pools, seashells, and gentle waves.
Steps Beach
Steps Beach (23 Lincoln Ave) is another small beach along Nantucket's north shore that features soft sand and small waves.
You'll have to use many stairs to get to the beach and back to your car, but you'll be afforded amazing views of Great Point!
In the late summer, you'll also find glow-in-the-dark marine animals, called bioluminescent jellies, swimming in the water.
Jetties Beach
Jetties Beach (4 Bathing Beach Rd) is one of the best beaches on Nantucket, thanks to its proximity to town, its annual summer events, and calm, shallow waters.
You'll find lots of amenities here, including a big parking lot, a playground, restrooms and changing rooms, plus several nearby restaurants.
This is the most accessible beach on Nantucket because you don't have to hike up and down large dunes to get to the water.
Brant Point Beach
Located close to town, Brant Point Beach is a beautiful beach and stars the second oldest lighthouse in the country, the Brant Point Lighthouse.
Brant Point has calm water, but you will experience some larger waves, thanks to the high boat traffic nearby.
Be sure to visit in June when the beach roses are in bloom!
If you also head to Martha's Vineyard during your trip, take an exciting scavenger hunt to get to know the area and see the Nantucket Sound from a different angle!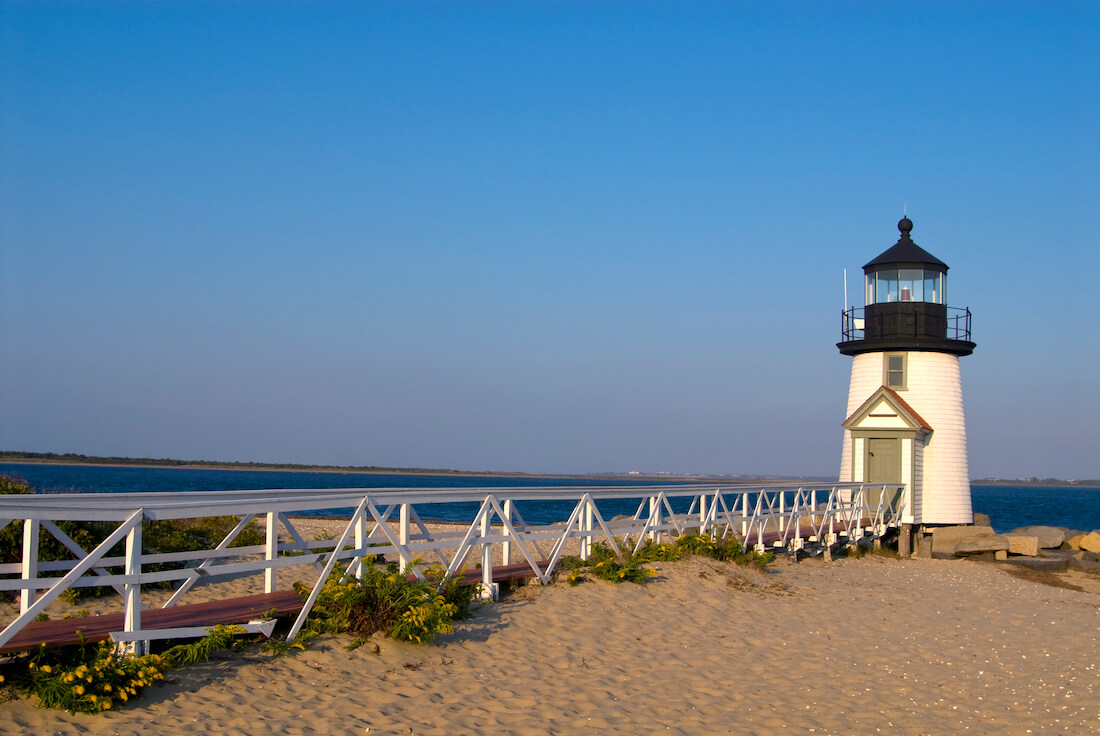 Children's Beach, Nantucket
One of the few Nantucket beaches located right in town, Children's Beach and Playground (15 Harbor Way) is an amazing swimming spot and place to play for all ages.
You'll find accessible parking, restrooms, playground features, and an accessible walkway that runs parallel to the beach.
Stop by the nearby cafes for a refreshing snack after playing and exploring!
We also have a comprehensive list on all things to do in Nantucket, MA, featuring Children's beach.
Francis St Beach
Francis St Beach (Washington St), located very close to town, is the best beach on Nantucket to rent kayaks!
Paddle out on the water and see if you can make it to the Coatue-Coskata Wildlife Refuge from the shore.
You'll also find a playground and restrooms on-site.
Coatue Beach
Coatue Beach (Wauwinet Rd) is part of the larger wildlife refuge that protects almost 400 acres of barrier beach.
Rare, migratory birds can often be found in this area.
It is also important to note that these beaches are generally difficult to access.
You'll need to travel across the sand in four-wheel drive vehicles, which requires a permit, or by foot.
Coskata Beach
Another beach on the wildlife refuge is Coskata (Wauwinet Rd), which is just further down the barrier beach natural area.
You'll find incredible habitats, including sandy beaches and dunes, and forests.
Don't be surprised if you spot wildlife on your trip, including deer, horseshoe crabs, seals, and shorebirds.
Great Point Beach
The furthest beach in the wildlife refuge is Great Point (Wauwinet Rd), and it is perfect for adventurers and nature lovers alike.
The iconic Great Point Lighthouse (also called Nantucket Lighthouse) marks the tip of the barrier beach.
This is the best place to spot grey seals basking in the sun.
The beach is only accessible by walking 7 miles from the access road, or by driving over the sand with a required permit.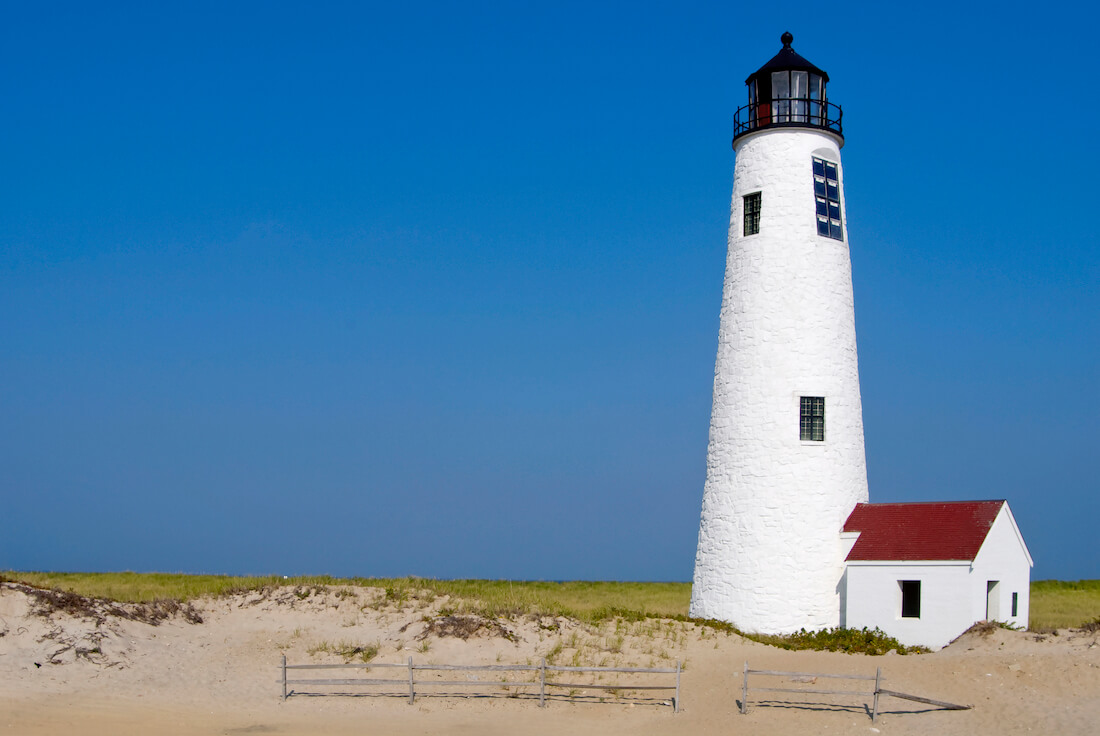 East Shore Beaches
Quidnet Beach and Sesachacha Pond
While the east shore of Nantucket is not especially well-known for its beaches, there are two great ones to make note of.
Quidnet Beach and Sesachacha Pond (Sesachacha Rd) are good places to explore if you think you might get tired of spending your whole day on just one beach.
Spend some time at the pond, which is good for young families thanks to its total lack of waves and current, and then hike over the dunes to the beach for more waves and excitement!
Parking is very difficult here, but you'll have an amazing view of the Sankaty Lighthouse!
Sconset Beach
Sconset Beach (7 Gully Rd) is the other notable beach on the eastern shore of Nantucket.
You'll find a small parking lot and a bench overlooking the water to enjoy the views.
This beach is also generally accessible for those with mobility issues, thanks to its easy walk over the sand.
You can get to the beach using the NRTA shuttle, and the 'Sconset village, with its restaurants and shops, is a short walk away.
Beaches on the South Shore
Cisco Beach
Cisco Beach (Hummock Pond Rd) is one of the most popular Nantucket Beaches among surfers, thanks to its large waves and soft white sands.
Lifeguards are on duty at Cisco, but families with smaller children may find the waves to be too dangerous.
This beach is best accessed by the bike path, though there is a parking lot that becomes very busy during the peak season.
Ladies Beach
Ladies Beach (Bartlett Farm Rd and Proprietors Rd) is a beautiful beach located close to the iconic Bartlett Farm.
The strong waves and currents can be very fun for strong swimmers and dangerous for young children.
You'll find parking nearby, and you'll have to hike through steep dunes to access the beach.
Miacomet Beach
The beautiful Miacomet Beach (36 W Miacomet Rd) is absolutely amazing for surfing and strong swimming, but the rip current can be very strong.
You won't find restrooms or concession stands here, but you'll find a small parking lot.
The nearby Miacomet Pond is much calmer and more suited to young children.
Surfside Beach
While the beaches on Nantucket Sound to the north are some of the most popular, Surfside (Surfside Rd) is the favored beach on the south shore.
The beach is wide and flat and is notable for its large waves that touch the shore with a calming, beautiful sound.
The waves don't get as intense as in other parts of Nantucket, but in the right conditions, the surf can be heavy.
You'll find accessible parking, a concession stand, and restrooms at Surfside.
Be prepared to walk along a long sandy path from the parking lot to the water.
Fisherman's Beach
Fisherman's Beach (39 Nonantum Ave) is quieter compared to Surfside Beach, but the quality of the sand and surf is just as good.
The main differences between the two are that Fisherman's Beach lacks concession stands, lifeguards, and bathrooms.
You also have to descend multiple steps to reach the beach, rather than a long, sandy path.
This beach features a Little Free Library for you to exchange a book you've read for one you haven't.
Be sure to bring an old book to the beach!
Nobadeer Beach
If you're looking for a fun beach for young people, head to Nobadeer Beach (69 Nobadeer Ave).
The surf is abundant, there are lifeguards on duty, and you'll love the soft, wide beach for picnics and games.
Keep an eye out for the occasional food truck that stops by!
There is very little parking and the beach is accessed only by a very steep path.
Madequecham Beach
Madaquecham Beach (10 Waquoit Rd) can be found at the end of a long dirt road on the southeastern shore of Nantucket.
The waves and currents are strong here, so the beach is best suited for strong swimmers and surfers.
You won't find restrooms or lifeguards here, so make sure you are prepared.
Tom Nevers Beach
Tom Nevers Beach (130 Tom Nevers Rd) is close to the cliffs on Nantucket's south shore, which makes for amazing views.
To access this beach, you need to clamber down a steep slope of loose sand, so keep this in mind for both your arrival and departure from the beach when you need to climb back up.
Low Beach
If you're hoping to avoid the biggest crowds at the most popular beaches on Nantucket, head to Low Beach (Ocean Ave).
Though you'll have to travel far out of town, the beach is pretty easy to access.
Explore the dune system, try to spot wildlife, and be careful swimming in the strong current.
Low Beach is one of the best spots to look for migratory and nesting birds, so head out on a hike to get away from the hustle and bustle of Nantucket's peak season!
Madaket Beach
Madaket Beach (3 Chicago St) is one of the best beaches of Nantucket to watch the sunset, so pack a romantic dinner and head there in the evening.
Located on the western edge of Nantucket, this beach is known for its stronger waves and undertow; take care before swimming here.
But it's an absolutely idyllic spot for sunbathing and sunsets!
In season, there is an accessible ramp that connects the parking lot to the beach, which makes the sunset views available to more types of visitors.
You can get to this beach using the seasonal NRTA shuttle, so you won't need to worry about parking (which is limited).
We also featured this gorgeous beach on our list of the best beaches in Massachusetts, so check out the guide if you're ready to visit more sandy shores!
Final Words
We hope this guide to Nantucket's beaches helped you plan your vacation this summer! Enjoy the variety of beaches available on this tiny island, and share your favorite spots in the comments below!
Massachusetts Guides
Massachusetts Destinations