This article has links to products and services we love, which we may make commission from.

Looking for the best beaches in Massachusetts for those long summer days? Whether you want a secluded stretch of sand or a conveniently close beach near Boston, our guide covers all the best MA beaches so you can truly enjoy the Bay State.
With such famous summer spots as Cape Cod, Martha's Vineyard, and Nantucket, you could guess that this tiny state boasts plenty of coastal beauty.
But there are so many more beaches to explore than just those popular ones!
Head to the North Shore for lovely scenery and plenty of amenities, all within an hour of Boston.
Or explore the South Shore for lesser-visited stretches of sand.
Whatever you're seeking, the MA coastline is sure to offer it.
These are the top beaches in Massachusetts for families, for convenience, and for the most beautiful views to bask in on a hot summer day.
You might also like our guide to the best beaches in Provincetown if you're planning a trip to the tip of the Cape or our guide to the most majestic waterfalls in Massachusetts.
Most Beautiful Beaches in Massachusetts
From the Cape and Islands to the North and South Shores, MA beaches boast gorgeous sand and stunning vistas.
But not all beaches are beautiful!
These are the top beaches in MA if you're looking for scenery.
Crane Beach in Ipswich
This is a stunning beach located on 1200 acres of the Crane Estate in Ipswich.
Crane Beach (310 Argilla Road, Ipswich) offers so much more than a day at the beach.
With soaking up the sun and swimming as the main attraction, you will also find five miles of trails to take in all the wildlife, dunes, and pine forests that Crane Estate has to see.
There are lifeguards on duty, refreshments stands, stores, and restrooms available.
Dogs are welcome from October to March.
Singing Beach in Manchester-by-the-Sea
Singing Beach (119 Beach St, Manchester-by-the-Sea) is a stunning crescent-shaped beach located on the North Shore in Massachusetts.
You will find this beach is only a mile long, so the crowd is kept to a minimum.
There is an area of the beach that is designated for football, volleyball, and other beach games, while the rest of the beach is for soaking in the sun.
Singing Beach is easy to find once you make the hour drive from Boston to Manchester; simply walk a half-mile up Beach Street, and you will end up with your toes in the singing sand.
Boston offers a commuter train right into the heart of Manchester, from where you can easily walk to the beach.
Dogs are welcomed on Singing Beach from October to April; for the rest of the year, they are not allowed.
There is minimal paid parking available, as well as a walk-on fee to gain access to the beach.
Singing Beach also features in our guide to things to do on the North Shore of MA.
Race Point Beach in Provincetown
Race Point Beach (Race Point Road, Provincetown) extends more than 40 miles along the northern tip of Cape Cod.
With Race Point Lighthouse and the Old Harbor Life-Saving Station, you can enjoy a bit of history and architecture after sunbathing and playing in the sea.
The dunes and waves make this beach a fun space for older kids to burn off energy.
There are bathrooms, showers, and changing rooms available in-season.
Large mats offer accessibility points.
Get your fast ferry tickets from Boston to Ptown so you're ready for a day of sand and sea.
Race Point is one of our favorite spots for date ideas on Cape Cod, too!
Coast Guard Beach in Eastham
Coast Guard Beach (2 Ocean View Drive, Eastham) rests on the Cape Cod National Seashore not far from Provincetown.
In fact, it was on Coast Guard Beach that passengers aboard the Mayflower first touched shore 65 days after leaving England, in 1620.
The beach offers plenty of wildlife sightings, from seals and shorebirds to the occasional shark — so watch for warnings (though they are rare).
This is definitely one of the most beautiful beaches in MA.
Seasonal restrooms and changing rooms are available.
There are wheelchair-accessible ramps leading to the shore.
A free shuttle is available to take visitors from the parking area at Little Creek to the beach in peak season when only residents and those with handicap stickers can park in the main lot.
Katama Beach (South Beach) on Martha's Vineyard
Katama Beach (555 Katama Road, Edgartown), also called South Beach, offers plenty of parking as well as bike racks.
As the largest public beach on Martha's Vineyard, you'll have plenty of space to enjoy on this extensive stretch of sand.
Lifeguards are on duty during the summer months.
This beach is perfect for swimming, bodyboarding, sunbathing, and sunsets.
Restrooms, changing facilities, and showers are available.
A snack bar is also available on the beach.
Avoid the hassle of parking and ferry reservations with this day trip from Boston to the Vineyard.
Explore the rest of the Martha's Vineyard beaches while you're here.
Madaket Beach on Nantucket
The island of Nantucket rests about 30 miles off the southern shore of Cape Cod, offering a truly dreamy summer getaway.
Madaket Beach (Pensylvania Ave, Nantucket) is the most beautiful beach in MA for watching an extraordinary sunset.
It's often considered to be the best beach on Nantucket.
There is parking available as well as restrooms, but no restaurants or concessions right on the beach.
The beach is not fully accessible: a ramp from the parking area to the beach is available during the peak season; otherwise, there is a drop-off from the parking area to the beach.
Lifeguards are on duty during the summer.
Note the surf can be quite rough here, so this isn't the best beach for swimming.
Nantucket is also featured in our guide to Massachusetts in fall.
Best Beaches in Massachusetts for Families
Take the kids to the beach for a day of sandcastle-building, bodyboarding, swimming, splashing, and generally enjoying being carefree.
You might also want to check out our guide to the best things to do with kids in Boston.
Duxbury Beach in Duxbury
You can get to Duxbury Beach (435 Gurnet Road) from the Powder Point Bridge or Gurnet Road from Marshfield.
You and your family can enjoy a variety of beach activities and on-site restaurants.
The beach is on the rocky side, so sandals are recommended when walking on the beach.
There are ample parking spaces and great trails for biking or taking a stroll.
Nantasket Beach in Hull
Located in Hull, MA, Nantasket Beach (212 Nantasket Avenue) is a popular summertime destination for families.
Gorgeous ocean views and clean sandy beaches make for a fun family day, making sand sculptures and splashing in the sparkling blue water.
This is also one of the best sea glass beaches in Massachusetts, so keep an eye out as you stroll the sand!
Your family can also enjoy the nearby trails for a pleasant stroll or enjoy the scenic biking trails.
Paid parking is available, but the parking lot fills up quickly, so it's recommended to arrive early.
There are lifeguards on the beach seven days a week, and bathhouses are available to use.
Savin Hill Beach in Dorchester
A part of Dorchester Shores Reservation, Savin Hill Beach (68 Denny Street, Dorchester), is excellent for a quiet day at the beach.
Located near UMass Boston, Savin Hill Beach doesn't get as crowded as the other more popular beaches in MA.
It is family-friendly and a fantastic way to beat the heat splashing around in the water or building sandcastles.
Savin Hill Beach is wheelchair accessible and has a playground nearby, a baseball field, a lifeguard on the beach, and restrooms.
You will find there to be lots of free parking in a nearby parking lot.
Wollaston Beach in Quincy
A great beach to take your family, Wollaston Beach (Quincy Shore Drive, Quincy) is located on the Western Shore of Quincy Bay.
The sand is perfect for making castles or burying dad, and there is a playground close by.
Lifeguards patrol the beach, and if your family gets bored of swimming, then canoeing and kayaking are available.
Wollaston Beach is close to Winnetu Oceanside Resort, a family-friendly resort that makes for the ultimate getaway.
The Best Beaches in Boston
Boston is right on the water, but it isn't really known for having nice beaches right in the heart of the city.
That doesn't mean you can't get some sun without leaving city limits!
These are the best beaches in Boston for hot summer days when you don't feel like traveling far.
Carson Beach
Located in the South Boston area, Carson Beach (William J Boulevard) is part of a variety of parks and beaches along the South shoreline.
It is not deemed the most secluded or beautiful beach in Massachusetts, but it certainly does hit the spot on a sweltering summer day.
You will find lots to do at Carson Beach; aside from swimming and suntanning, you can hop on your bicycle and head out for an adventure.
There are also areas to play volleyball, restrooms, and spots to eat lunch or enjoy an ice cream cone.
You will find lifeguards on-site, and leashed dogs are welcomed year-round.
To get to Carson Beach, take the Red Line to JFK/ UMASS station, and Carson beach is a short walk across from Morrissey Boulevard.
There is parking available if you prefer to drive but arrive earlier.
The spots fill up early in the day.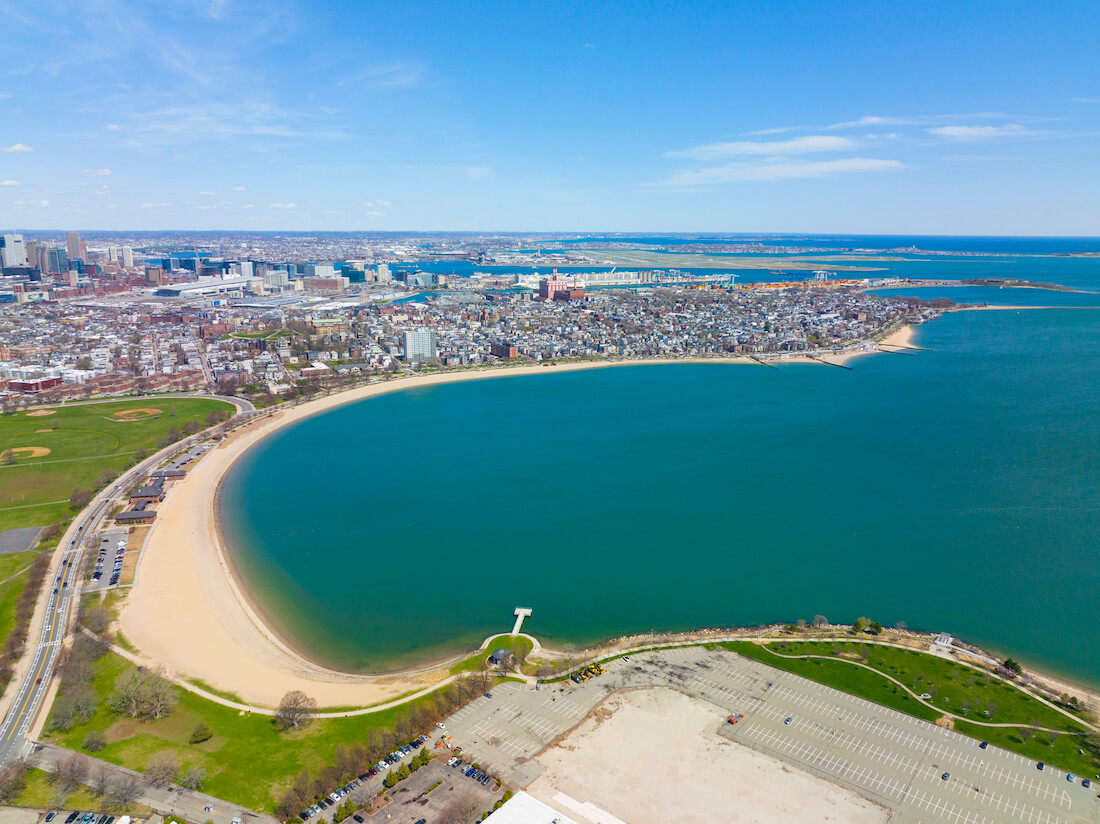 M Street Beach
M Street Beach (William J Boulevard and M Street) is another beach that lines the South shoreline of Boston.
It is a more popular beach with a younger crowd.
It tends to fill up quickly, showing up early to get a spot on the beach is ideal.
If you are driving, arriving early will increase your chances of getting a parking spot.
You will find M Street Beach a few blocks away from Carson Beach, just past the Curley Community Center.
You may also like our guide to parks in Boston.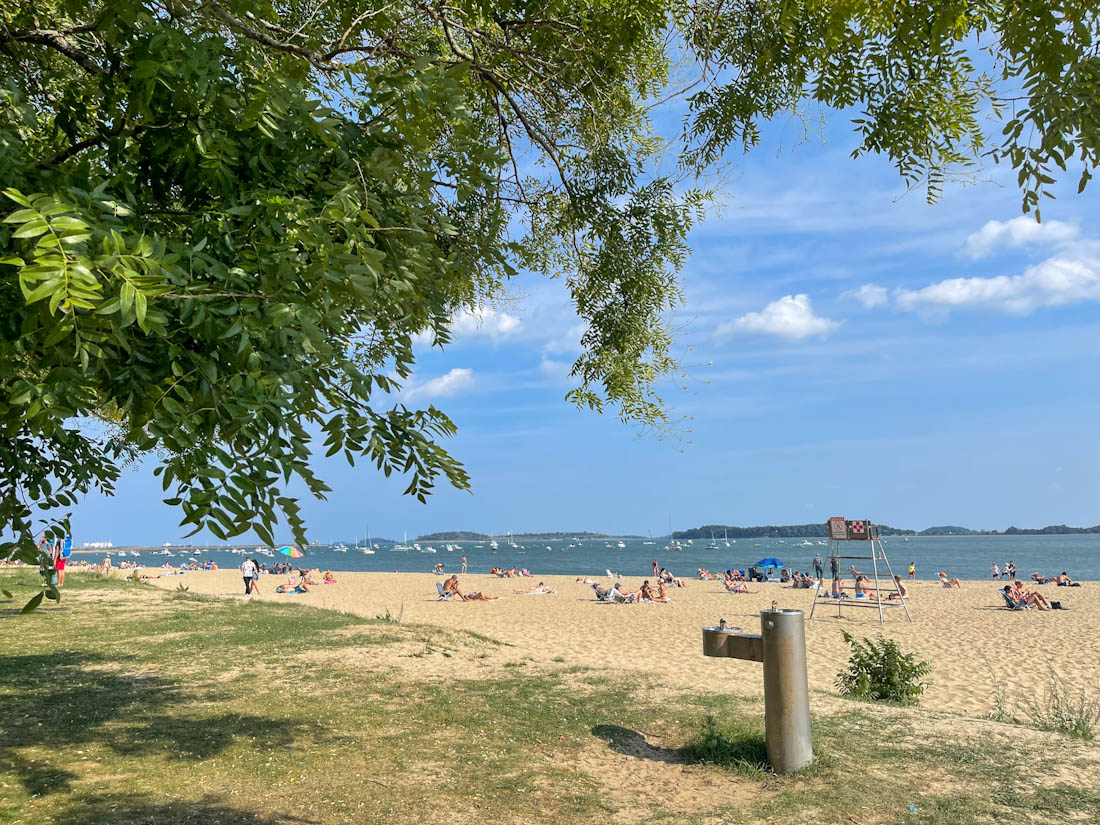 Castle Island Beach
Mix a day of historical landmarks with summertime fun on Castle Island (2010 William J Day Boulevard).
Splash around at the beach is an excellent way to cool off on a hot Boston day.
Castle Island is the home of Fort Independence, erected in 1634 and perfect for learning about American history.
Learn more about US history with these free things to do in Boston.
You can dine at the popular Sullivans to get the full Castle Island experience.
Located a little past M Street Beach, you can take the MBTA buses 5, 7, 9, 10, or 11, depending on your starting location.
There is also parking available, but it does tend to fill up quickly.
Constitution Beach
You will find Constitution Beach (Orient Heights) in East Boston.
It is a great beach to take your family or indulge in a little alone time.
You can watch the planes arriving at and departing from Logan Airport or watch boats come and go in Boston harbor.
Lifeguards are on the beach, along with concession stands, tennis courts, playgrounds, and lots of sheltered benches to sit at.
Lovells Island
Part of the 34 Boston Harbor Islands, Lovells Island is a must-visit with its pristine beaches.
There are a plethora of activities to check out on Lovells Island; you can check out shipwrecks, dunes, trails, a fort built in 1899, picnic areas, and of course, a beach.
You can also camp on Lovells Island if that's your thing.
Spectacle Island
Perhaps offering the best beach in Boston, Spectacle Island is another of the Harbor Islands that you can't miss.
Explore the island's 114 acres by hiking on land or swimming along the shore.
Lifeguards are on duty and the beach is accessible.
Stop by the visitor center to learn more about the Harbor Islands; restrooms are also inside.
Be sure to snap a pic of the gorgeous Boston skyline from Spectacle Island!
The ferry from Long Wharf takes approximately 30 minutes and is offered Fridays, Saturdays, and Sundays in the spring and summer.
Get to Long Wharf via the T; Aquarium on the Blue Line, State or Haymarket on the Orange Line, or Haymarket on the Green Line.
After a day at one of the Harbor Islands beaches, treat yourself to a sunset champagne sail around Boston Harbor for more beautiful skyline views.
Rowes Wharf is 3 piers over from Long Wharf for convenience.
Best Beaches Near Boston: North and South Shore
These are the best beaches around Boston if you're looking for an easy day trip to the sea while staying in the city.
Want more ideas for easy escapes?
Check out our guide to the best day trips from Boston.
Long Beach in Nahant
Located about a half-hour drive north of Boston, Nahant is a tiny island community connected to the mainland by a long causeway.
Along this long causeway is Nahant Beach, aka Long Beach.
With soft sand, plenty of parking, and toilets available, this is one of the most popular beaches for locals in the area.
During the summer weekends, expect to wait to get into the parking lot if you arrive after 10am.
During the week, there is ample parking and tons of space to spread out on the sand.
A small waterfront restaurant is convenient at the end of the causeway, or head into Nahant or back along the shore toward Swampscott for drinks or food.
Parking is paid at entry by cash, card, or the Yodel app.
Download the app to skip most of the line whenever possible.
Lifeguards are on duty during the summer months.
Dogs are not allowed on the beach between April 1 and September 15.
Good Harbor Beach in Gloucester
Located an hour north of Boston in the town of Gloucester, Good Harbor Beach is a white sand beach getaway.
You will find the beach off Thatcher Road coming from Boston, taking Route 95/128 North straight into Gloucester.
Good Harbor Beach is a top-rated beach, and it would be best to arrive as early in the morning as possible to make sure you get a good parking spot.
During the summer months, you will find concession stands with all your beachy needs, lifeguards on duty, and restrooms available.
The beach is handicapped-accessible and dog friendly.
Plum Island Beach in Newburyport
Referencing the plum trees that grow in the sandy dunes, Plum Island Beach (N Reservation Terrace, Newburyport) is located a little under an hour north of Boston.
An enjoyable day trip for a family, there are many activities, including bird-watching, kayaking, fishing, or checking out the island restaurants.
Plum Island Beach is eleven miles long and has three popular destinations: The Refuge, Plum Island Center, and The North Point.
When you cross the bridge onto Plum Island, you can turn right on Sunset Drive to go to The Refuge; head straight if you want to visit Plum Island Center, and if you are heading to Northern Point, continue driving through Plum Center for a few miles.
There are parking lots throughout the Island, but they fill up fast in the summer.
The biggest parking lot is found on the North Point of the Island.
Plum also features in our Massachusetts bucket list.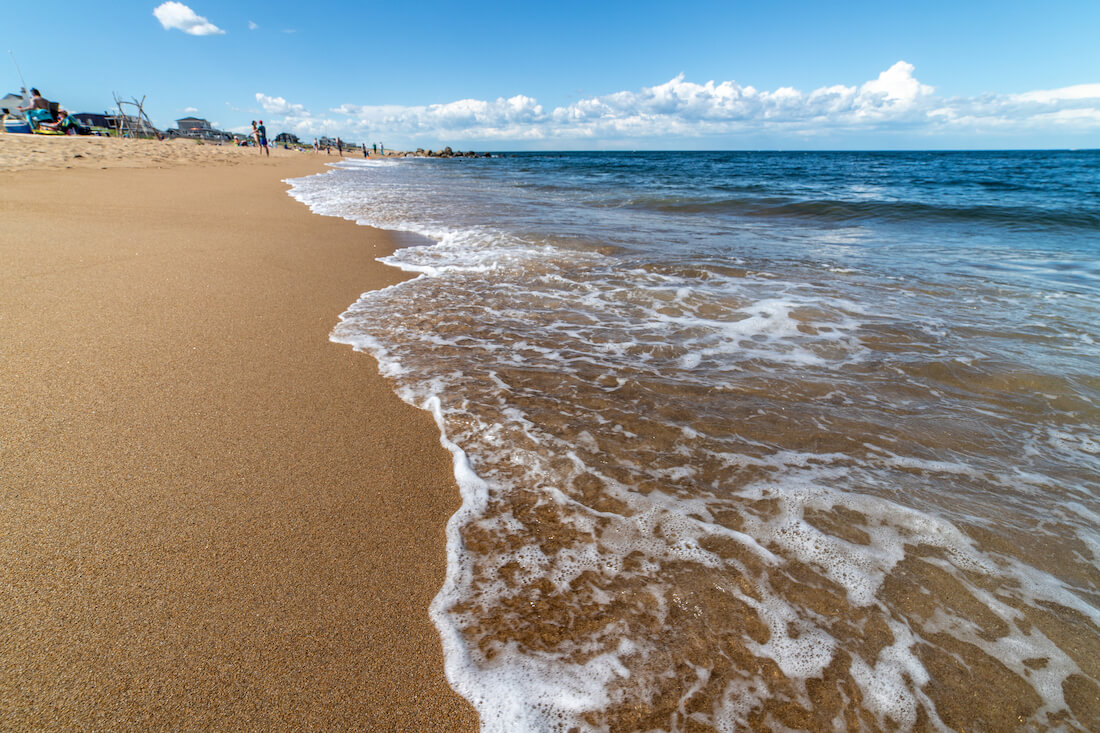 Revere Beach in Revere
A day spent lying in the sun and taking in the panoramic views is a must during the summer months.
Revere Beach is a trailblazer for beaches in America.
It was the first public beach and is host to many festivals, including Sand Sculpting, Kite, and Art Festivals.
From May until September, dogs are not allowed on the beach, but they are welcomed throughout the rest of the year.
Revere Beach (350 Revere Beach Boulevard, Revere) is five miles north of Boston.
If you drive towards 600 Ocean Avenue in Revere, you will end up in the Southern section of the beach.
Taking Revere Beach Boulevard will land you in the Northern area of the beach.
Scusset Beach in Sagamore
Scusset Beach (20 Scusset Beach Road, Sagamore) is about an hour's drive south of Boston.
It is easy to spend the day at Scusset Beach with your family doing activities like fishing, swimming, and hiking.
You can also enjoy the picnic areas and refreshment stands.
You will feel safe knowing that there is a lifeguard on duty.
The beach is located within a campground, and dogs are not allowed on the beach.
Final Words
Did we miss your favorite beaches in Massachusetts? Share your tips with fellow sunbathers, swimmers, and surf-walkers in the comments below.