This article has links to products and services we love, which we may make commission from.

Looking for the best beaches in Delaware? When you're choosing where to take your next beach vacation, you might be thinking of places like The Outer Banks, Miami, or Los Angeles.
Delaware, the second smallest state in the nation, is often overlooked for its nearby larger states like Maryland, Virginia, and New Jersey when vacationers are choosing a spot to visit.

Other than President Joe Biden and being the first state to ratify the Constitution, there isn't too much that the world knows Delaware for – but don't let its size fool you; this tiny state can pack a big punch, especially down in the southern part of the state at the Delaware Beaches.

The next time you need some sand and saltwater in your life, pull up this guide and start planning a trip to the best Delaware Beaches.
You may also like our guide to the dreamy beach resorts in Delaware.
For an ultimate list of things to do in Delaware, read our DE bucket list.
The Best Beaches in Delaware to Vacation
1. Woodland Beach, Smyrna DE
Smyrna is home to Woodland Beach, a once-thriving town and beloved beach resort complete with its own amusement park was unfortunately destroyed in a bout of bad weather in the late 19th century and it never seemed to fully recover.
While not known to be a swimming beach, the calm waters make it popular for dipping your toes in during a sunset stroll.
The main attraction for this beach is the 24-hour fishing pier, this modern steel pier is lit all night meaning you can fish for as long as you'd like.
Things to Know
To fish, crab, or clam anywhere in Delaware, you must get a recreational fishing license every year.
The beach is narrow and disappears during high tide, be sure to check tide times before going.
Bring bug spray in the warmer months, the area can often have a lot of bugs.
There is plenty of free parking available.
There are Port-a-Potties in the parking lot.
There aren't dining options on the beach so bring a picnic or venture into town for food.
Things to Do at Woodland Beach
Get a boozy milkshake in The Painted Stave, a distillery housed in the historic Smyrna Theater.
"Hunt" for Horseshoe Crabs, the beach is full of them during when they're in season in late spring/ early summer.
Catch yourself some dinner from the pier where you can fish and crab all day and night long.
Stroll down the quaint downtown Symrna main street and grab lunch at The Odd Fellows Cafe, a favorite mom-and-pop restaurant.
Look out for ghosts – the beach – along with the rest of the town is known as being the most haunted place in the state.
Get yourself a delicious bushel of Blue Crabs from the family-owned and operated Boondocks Restaurant and Package Store.
Search for sea glass, this beach is a popular spot with sea glass enthusiasts and jewelry makers.
2. Bowers Beach, Bowers DE – For the Anglers
This maritime community has faced hardship with the collapse of its pier and damage to sand dunes but investment in Bowers Beach and the commitment from locals makes it an up-and-coming beach in the middle of Delaware.
This town is where settlers from the north first set foot on a sandy beach! 
Historically, Bowers Beach was a stop on the Frederica steamboat's route, bringing in tourists from Philadelphia while the boat re-loaded.
Today, at Bowers Beach you can walk, watch the boats and schooners, run, sunbathe, hunt for sea glass and shells, and fish.
Fishing is permitted at the jetty. Fishing fans as asked to leave no trace by not starting fires and bringing a bag to collect their trash.
Visitors are asked to help keep Bowers Beach "Delaware's Best Kept Secret". 
Things to Know
Lots of available parking, about a 5-10 minute walk from the water.
Bring lots of bug spray, it can get very buggy in the summertime.
You can go into the water, but these are very calm and shallow waters unless you go far out, more for wading than swimming.
Dogs are allowed but must remain leashed while on the beach.
Bring water shoes if you plan to go in the Bay, it can be very rocky and uneven.
Things to Do at Bowers Beach
Watch the fisherman work and taste the freshest catch at JP's Wharf; a seasonal restaurant that is only open when the water is warm enough to fish.
Book Captain's Lady Charters to take a fishing expedition or a private cruise on the Delaware Bay.
Visit the Bowers Beach Maritime Museum, a pirate museum that tells the history of Delaware Bay and the pirates that patrolled its shores – they even host a Buccaneer Bash every Memorial Day Weekend.
Try some of the famous wings at the Bayside Tavern and enjoy a drink (or two or three).
Take advantage of the calm waters and try kayaking, canoeing, or boating.
Bring your gear and grab some bait from Bowers Bayside Bait and Snacks and spend the day fishing.
3. Slaughter Beach, Milton DE – For the Nature Lover
If you're looking to zen and avoid the mounds of crowds that famous beaches usually attract, you'll love spending the day at Slaughter Beach, the northernmost part of the Delaware Beaches, 15 minutes from Milton, Delaware.
The beach is nestled in the northern part of the Prime Hook National Wildlife Refuge, making this an ideal spot for wildlife enthusiasts.
On the beach, you'll see lots of wildlife too, like birds, crabs, horseshoe crabs (it's a horseshoe crab sanctuary), and maybe even a dolphin if you're lucky.
This is the sort of place where you can relax and let the calm waters and the natural beauty around you envelop you in peace.
However, if you want to do more than just relaxing beach activities, you might get bored quickly.
Things to Know
There is no fee for parking or entering, and public restrooms are available on the beach.
Dogs are allowed but are to remain leashed.
You can fish, canoe, kayak, or swim in the water.
Things To Do at Slaughter Beach
Explore Prime Hook National Wildlife Refuge; it is open daily, and entry is free; they also have activities you can partake in.
Have some lunch and enjoy a beer tasting at Dogfish Head Brewery; you can also stay at the Inn.
Try something new and head to The Brimming Horn Meadery to sample their meads.
Visit Lavender Fields Farm to see the fields bloom in the spring/early summer but enjoy the gardens and shop year-round.
Check out Milton Historical Society, open Wednesday to Saturday from 11 am to 4 pm, where you can learn all about the town through the ages.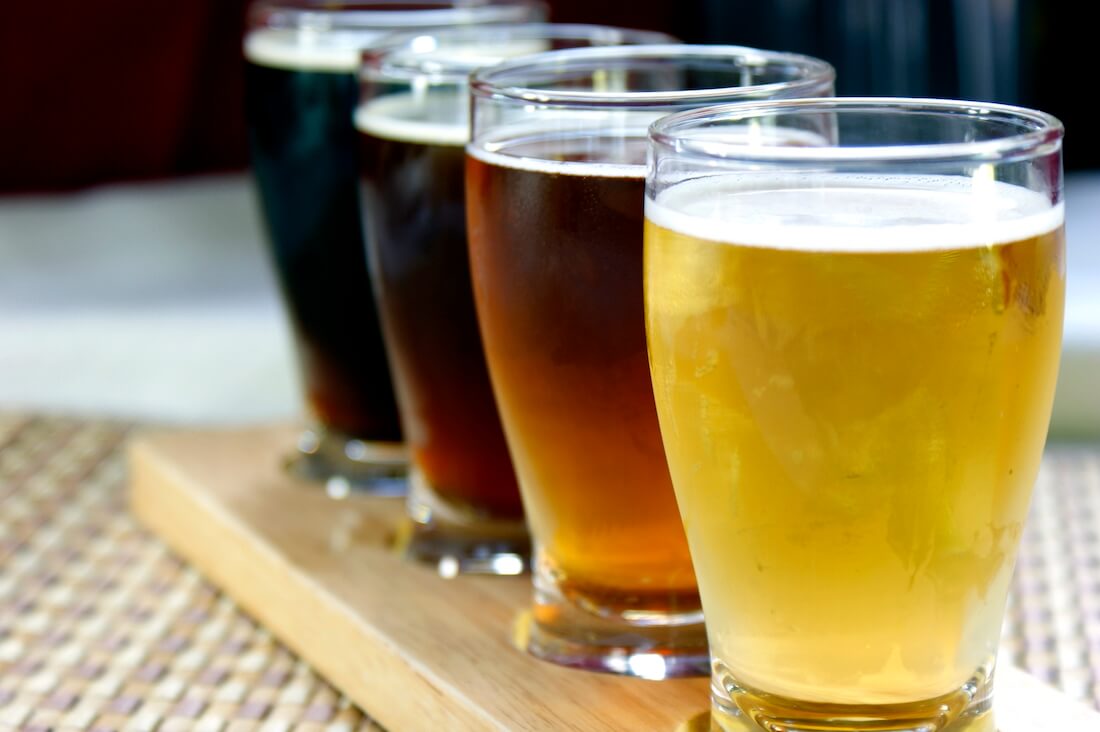 4. Lewes Beach, Lewes DE – For the "Small Town" Lover
This historic town is beloved by locals and tourists alike for its fantastic beach and the charm it holds around every corner.
Lewes Beach is more popular than Slaughter but quieter than Rehoboth; it is great for families wanting a safe place to vacation or couples looking for a semi-secluded and romantic spot.
The town, which affectionately calls itself "The First Town In The First State," is filled with historical attractions and museums that you can easily access within a short work.
The perfect day in Lewes would be breakfast in one of the colorful cafes, play on the beach in the afternoon, check out some boutiques in the early evening, and enjoy a glass of wine with your dinner at one of the many top-rated dining establishments.
Families love this beach as the bay water is calm.
Visit over July 4th to experience the community fireworks and parade.
Enjoy IPAs at Big Oyster Brewery, pizza at Half Full and tasty pretzels at On The Rocks Dockside Grill.
You can also take the ferry over to Cape May in New Jersey from Lewes.
Lewes is also close enough to the beaches at Dewey, Rehoboth and Bethany so you can beach hop or day trip along the coast.
Fenwick Island State Park is about an hour away.
Things to Know
Parking meters are in effect for on-street parking and parking lots in the downtown area between May 1 and October 14 and at parking lots at Lewes Beach between May 1 and September 30.
Dogs are not allowed on Lewes Beach from 8:00 am and 6:30 pm between May 1 and September 30.
Lifeguards only work between Memorial Day and Labor Day.
Alcohol is not allowed, and events such as bonfires must have a permit.
Lewes Beach has free access and is open from 7 am to dusk with public restrooms and shower facilities.
Lewes is an easily walkable town; cycling is also a popular option for getting around if you don't want to drive.
Things to Do at Lewes Beach
Take a day trip to Cape May, New Jersey via the Cape May – Lewes Ferry.
Tour the Zwaanendael Museum, showcasing the history of one of America's earliest settlements.
Explore the Lightship Overfalls, a restored lightship that is a National Historic Landmark.
Spend happy hour at Nassau Valley Vineyards, where you can take a guided tour and partake in a wine tasting.
Head to Crooked Hammock Brewery, a favorite amongst Delawareans, to taste their local craft beers, listen to live music, and eat some home-cooked meals.
If you're going to spend time in Cape May, you can take a sunset cruise and try to spot some dolphins.
Check out this guide to Lewes for more ideas.
5. Cape Henlopen State Park, Cape Henlopen DE – For The WW2 Buff
This park is within the confines of Lewes but is a private beach, so it has a lot more to offer than just sand and sun.
Once a WW2 coastal defense site, the Cape Henlopen State Park spans 6 miles of coastline and is well known for its "point," where the Delaware Bay meets the Atlantic Ocean.
If you're looking for a quieter spot to enjoy the water, have fun with water sports, or cycle/hike on land, and want to get a peek into some Delaware history, you can do all of that here.
If hiking is your thing, you might like our guide to the best East Coast hikes.
Things to Know
An entrance permit costs $5 for in-state residents or $10 for out-of-state residents, and you can come and go throughout the day.
There is ample parking space available.
Lifeguards are only present from Memorial Day to Labor Day.
The beach is wheelchair accessible thanks to Mobi-Mat equipment that creates a path from the beach from the boardwalk.
There are free public showers and restrooms, as well as a snack bar.
Things to Do at Cape Henlopen State Park
Make the most of the water; you can swim, boat, fish, kayak, paddle-board, and wind-surf.
Camp at the designated campgrounds, either in a tent or in a cabin.
Visit the Fort Miles Museum to learn about the part in history that Delaware played in WW2.
Explore the Seaside Nature Center, where you can experience the Touch Tank and observe the aquariums.
Take a bike ride with your bike or through the first-come, first-serve Borrow-A-Bike program and cycle (or hike) the Bike Loop Trail.
Check out the Beach Plum Island Nature Preserve, the only publicly owned wild beach in Delaware; part of the beach is for pedestrian use, but the rest is used for wildlife conservation and is off-limits to people.
Climb up the Observation Tower, originally a WW2 fire control tower that gives a great 360 view.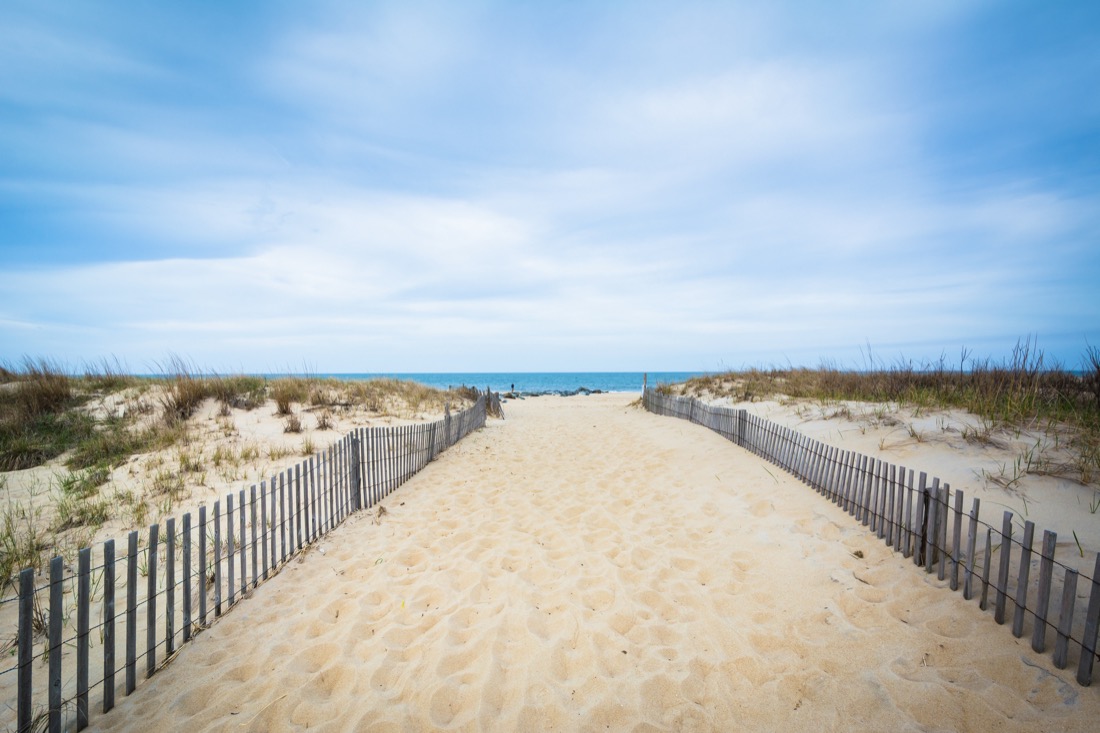 6. Rehoboth Beach, Rehoboth DE – For The Ultimate Tourist
This is the most well-known Delaware beach town and is the most crowded — and touristy — option.
Rehoboth Beach is known for its boardwalk, amusement park, and miles of beach to thousands of visitors all year long — but especially in the summer.
People visit Rehoboth Beach for so many reasons; to enjoy a classic beach vacation with their family, to take advantage of the tax-free shopping outlets, or to partake in the various festivals held all year long; there's something for everyone.
This famous beach means crowded beaches and parking areas and potentially long waits at restaurants; if you're vacationing at Rehoboth Beach, you'll want to plan and reserve as much as possible.
There are really nice accommodation options at Rehoboth Beach and you can find out more about them in our guide to best beach resorts in Delaware.
Things to Know
Tents, tarps, cabanas, pavilions, and canopies are prohibited from the beach; you are allowed to have an anchored umbrella or baby tent.
Grills, campfires, or other devices requiring fire are not allowed.
Smoking is prohibited in all parks and playgrounds, the bandstand plaza, boardwalk and access ways, dune crossings, and the beach except in designated smoking areas.
The beach is closed from 1 am – 5 am 
Alcohol is not allowed on the beach, boardwalk, or public streets within the city limits.
Dogs are prohibited from the beach and boardwalk from May 1-September 30.
Bikes, skateboards, and rollerblades/skates are not allowed on the boardwalk from May 15 – September 15.
$2-$3/hour parking meters with a maximum of 12 hours are in effect from 10 am-10 pm the Friday before Memorial Day through the second Sunday following Labor Day, excluding Mondays.
Beach wheelchairs are available from 10:00 am to 5:00 pm starting Memorial Day weekend.
Things to Do at Rehoboth Beach
Walk down the mile-long boardwalk, where you'll see tourist shops, candy stores, bookshops, boutiques, and more.
Enjoy performances at The Rehoboth Beach Bandstand; The Rehoboth Beach Bandstand Summer Concert Series takes place annually from mid-June through Labor Day.
Have fun in Funland; the 50-year-old establishment is an icon that locals and tourists love to visit during its open season; Mother's Day Weekend, and runs through Labor Day.
Shop at the Tanger Outlets, featuring huge discounts on brands like Calvin Klein, Nike, Michael Kors, and more.
Go wild at Jungle Jim's; this family-friendly waterpark offers everything from a lazy river to giant water slides.
Stroll down Penny Lane Mall, a European-style street with iconic boutiques and shops.
Catch a show at the Clear Space Theatre, the only professional theatre company in the area.
You may also like our guide, things to do at Rehoboth Beach.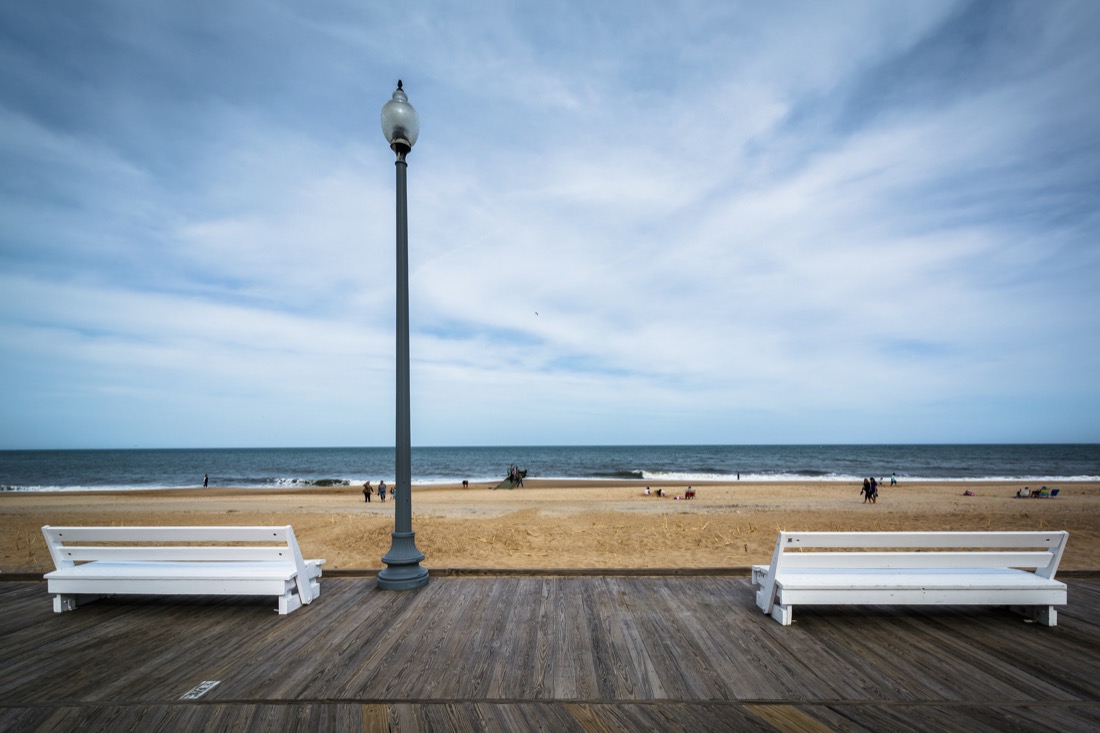 7. Gordon's Pond, Rehoboth DE – For The Laid-Back 
A much lesser-known beach area about two miles north of the business of Rehoboth is Gordon Pond Wildlife Area.
While technically a part of Cape Henlopen State Park, Gordon's Pond is a semi-secret spot that even some locals don't know.
Here you can is a place where visitors can enjoy wildlife watching, hiking, biking, and taking in the stunning natural sights that this lovely locale offers.
Things to Know
The beach and trail are wheelchair-accessible and dog friendly.
Because it is a part of Cape Henlopen, the same entrance fee applies.
Lifeguards are only present from Memorial Day to Labor Day.
There are free public showers and restrooms, as well as a snack bar.
Things to Do at Gordon's Pond
Have a picnic at the pavilion; with seating for up to 50 people, a fire ring, a barbecue grill, and dune access, you can enjoy your dinner with a view.
Walk or bike the 3-mile trail where you can try to spot an osprey or bald eagle; the trail is considered a "superhighway," one of only four in North America.
Take a calm swim in the much less crowded waters or enjoy a walk on the quieter sands.
Go fishing and keep an eye out for the most popular species: bluefish, dusky smooth-hound, and black seabass.
8. Dewey Beach, Dewey DE – For The Partygoer
Dewey Beach is well known amongst locals for being the town with the biggest nightlife and party scene; however, the beach is a place for anyone, especially if you enjoy water sports.
While still considered family-friendly, this beach will be best suited for someone who wants to do more than read a good book and take a stroll through nature.
Dewey has been awarded Superstar Beach Status from the National Resources Defense Council 4 times in the last decade; this beach is not one to miss on your next Delaware summer vacation.
Things to Know
The beach is open every day from 5:30 am to 1:00 am
Alcohol is not allowed on the beach from May 15 – September 15 but is permitted from September 16 – May 14.
Glass bottles are not allowed on the beach; dogs are only allowed with a license.
Bonfires are allowed on the beach if you've got a permit.
You can bring your umbrella and chairs or rent them from the Delaware beach rental shops.
There are three public restrooms available, and the beach is wheelchair accessible.
You can bring your food or get food and drinks from the snack bars.
Parking fees are only in effect from May 15 – September 15; you can download the Parkmobile app to avoid needing coins to pay.
Things to Do at Dewey Beach
Get a bird's eye view and go parasailing to get the most incredible views of the beach.
Experience the best of Dewey's nightlife at Bottle & Cork, Northbeach, The Starboard, The Rusty Rudder, and Nalu, where you'll be able to drink, dance, and enjoy live music.
Grab some dinner at Grotto's Pizza, an iconic Delaware staple.
Relax on a scenic cruise around the Delaware Bay or turn it into a party with your friends on the Cycleboat – a boat and bar hybrid.
Find some adventure and try out water sports; you can surf, windsurf, kayak, canoe, jet ski, water ski, and more. 
Get some local, fresh Delaware produce and souvenirs from Fifer's Farm Market; Fifer's Farm is a beloved statewide icon.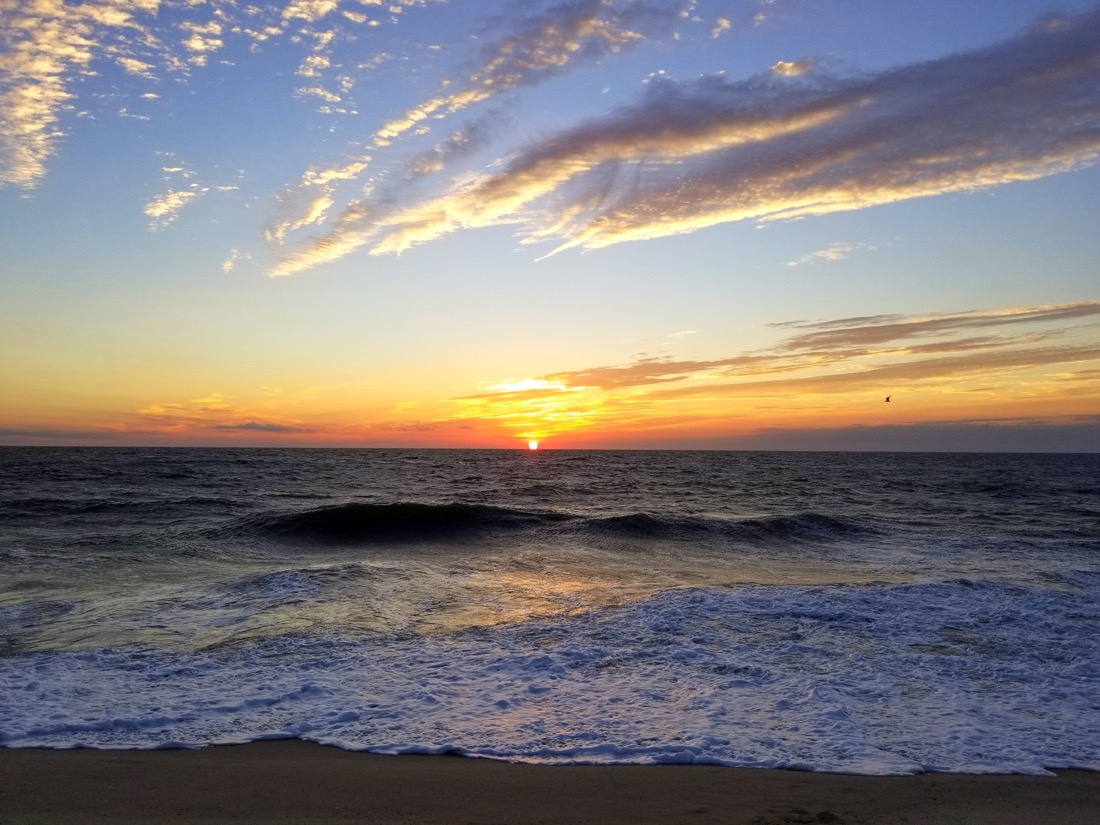 9. Delaware Seashore State Park, Rehoboth DE – For The Campers
Delaware Seashore State Park is an excellent spot for anyone who wants to kick back in their tent or camper and enjoy the six miles of ocean and 20 miles of bay shoreline.
With the Delaware Bay to the North, the Atlantic Ocean to the East, and the Rehoboth Bay and Indian River Bay to the West, you can experience both calm and more adventurous waters depending on where you stand.
If you want proximity to the favorite tourist beaches like Rehoboth and Dewey but want a calmer and more relaxing experience, the Seashore State Park is the perfect spot to spend a day or two.
Things to Know
The park is open daily from 8 am to sunset.
Daily entrance fee passes are $5 for in-state vehicles and $10 for out-of-state vehicles.
The beach has restrooms with showers, changing rooms, and concession stands and had life guards between Memorial Day and Labor Day from 9 am – 5 pm daily.
The beach is wheelchair accessible.
The two campsites are on either side of the Indian River Inlet; the Northside has electricity, water, and sewer service, and the Southside has electric, water, and sewer and no hookup sites.
You can also stay year-round at the fully furnished Cottages at Indian River Marina.
Things to Do at Delaware Seashore State Park
Go fishing along the banks of the Indian River Inlet or on the ocean beaches.
Visit the Indian River Life-Saving Station Museum, a nearly 200-year-old restored station that features maritime exhibits and historical re-enactors today.
You can go on a self-guided tour of the museum using your smartphone to access the audio guide.
Windsurf, sail, kayak, or canoe in the calm water of the bays.
Hike, bike, or horseback ride on the six family-friendly trails.
Take a self-guided educational hike; scan the QR codes at the trailheads as you hike through the trails.
Explore the Burton Island Nature Preserve, a tiny island that is half marshland and half forest in the middle of the Rehoboth and Indian River Bays, accessible via a flat 1-mile loop trail.
10. Bethany Beach, Bethany DE – For The Slower Paced 
Immediately south of the Delaware Seashore State Park, you'll stumble upon the sleepy town of Bethany Beach, which gains a population of over 10,000 additional people during the summer months. 
You'll get the best of both worlds; well-kept beaches with amenities and loads of activities and a quiet small town that holds tons of that classic seaside charm.
You can spend the day lazing on the beach watching out for dolphins, you don't even have to get up for snacks, the vendor services will come directly to you; or you can check out the boardwalk, go kayaking, or check out the local shops for treats and souvenirs.
Things to Know
The beach is guarded from Memorial Day to Labor Day from 9:30 am – 5:30 pm and beach hours are from 5:00 am to 1:00 am; you cannot sleep on the beach or boardwalk area from 10:00 pm to 8:00 am.
You cannot have glass bottles/containers, alcohol on the beach, or have an open flame without a permit.
Dogs are not allowed on the beach or the boardwalk, and you cannot ride a bike on the boardwalk from May 15 to September 30.
Parking is free except from May 15 through September 15, when all public parking spaces are either pay-to-park or require a parking permit.
Things to Do at Bethany Beach
Stroll down the 1/2 mile-long boardwalk to see all of the shops, eateries, and boutiques.
Ride the Bethany Beach Trolley, an old-fashioned trolley that costs 25 cents per trip and goes all over the town during the summer season.
Fill your pockets at Candy Kitchen, a Maryland transplant brand that has become an iconic part of the Delaware Beaches.
Grab a snack at Fisher's Popcorn, a brand that originated in the nearby Ocean City, Maryland but is still beloved by Delawareans.
Check out the Bethany Beach Nature Center and Conservation Area, open year-round to encourage awareness of the Bays and Wetlands.
Stock up at the Bethany Beach Farmers Market, where you can get fresh produce, flowers, bread, pastries, and more.
Visit South Bethany's York Beach Mall Shopping Center to get a taste of the local flavor. 
11. Fenwick Island Beach, Fenwick Island DE – For The Calm Travellers
The southernmost beach of the Delaware Beaches and tip of the state, Fenwick Island, sits between the Atlantic Ocean and the Assawoman Bay.

The unique geography allows visitors to have two different experiences based on their location, the ocean side of the bayside.
You can spend time in the state park or the public beach, but no matter where you are, you'll appreciate the quiet beauty of this town and everything it offers.
Things to Know
Entrance fees to the state park are $5 for in-state and $10 for out-of-state visitors and are open from 8 am to sunset year-round.
Fenwick Island Public Beach does not allow animals or alcoholic beverages from May to September. 
Glass containers and smoking are prohibited, and permits are required for bonfires year-round.
Things to Do at Fenwick Island
Visit Fenwick Island State Park sandwiched between the ocean and the bay; the ocean side is a more typical beach with people lounging on the sand and swimming in the water, lifeguards patrol during the summer season during daytime hours, and on-site bathrooms, showers, changing rooms, food concession & a gift shop. The bayside is used more for fishing, recreational crabbing and clamming, sailing, windsurfing, and kayaking – either through their equipment or rented on-site.
Explore the Discover Sea Shipwreck Museum to learn about the maritime heritage of the area.
See the Fenwick Island Lighthouse, commissioned in 1856; this lighthouse is still operational today.
Stroll down Fenwick Boardwalk, a small boardwalk with tasty treats like ice cream from Hershey's Creamery, pizzas, funnel cakes, and more.
Go adventuring at the Viking Golf & Go-Karts Water Park, where you can play 18-hole mini golf, relax on a lazy river, race go-karts, and more.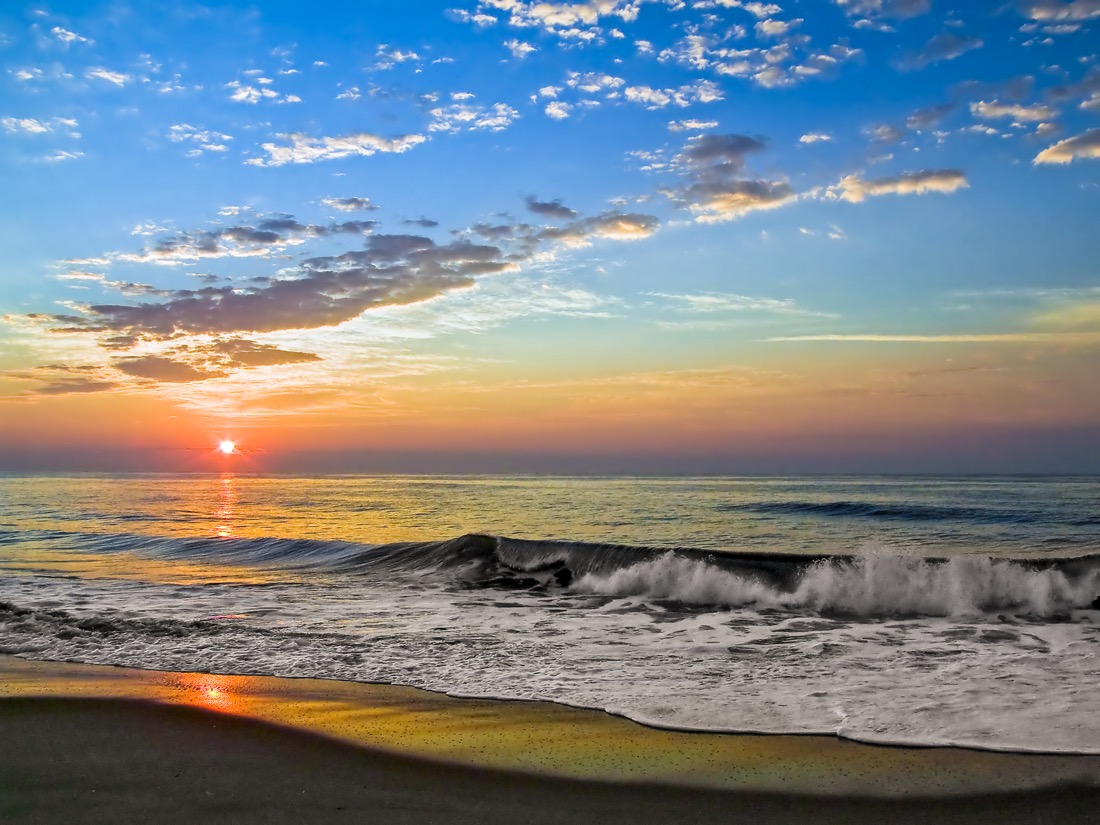 12. Ocean City, Maryland – For The Out-Of-Towners
Though technically in Maryland and not Delaware, only about 20 minutes from the DE/MD border lies the very famous and popular Ocean City, Maryland, or OCMD as it is commonly called.
This town has been home to many generations of American vacationers from the surrounding area; the 10-mile beach has something for everyone, free family-friendly activities, romantic itineraries for couples, a national mall outlet for the shop-a-holic, and popular nightlife spots for partygoers.
Things to Know
No alcoholic beverages or glass containers, excessively loud music, or bonfires without a permit on the beach year-round.
No dogs are permitted on the beach or boardwalk from May 1 to September 30.
Paid parking is in effect from April 1 through October 31 and can be paid via the Parkmobile app, coins, or cards.
No sleeping on the beach from 10 pm to 6 am.
The beach is equipped with rails for access.
Things to Do at Ocean City
Try a new water activity like jet skiing, paddle boarding, kayaking, parasailing, fishing, sailing, surfing, and more.
See the very famous three-mile boardwalk filled with arcades, shops, rides, and more.
Take a sunset cruise to relax and enjoy the sights or a "booze cruise" to start the night off right.
Visit Frontier Town, a cowboy-themed water park where you can camp or enjoy the rides.
Grab your gear and go fishing at the Oceanic Fishing Pier.
Try waterfront dining at the very popular Seacrets, where you can continue the night at the bar or nightclub.
Shop the day away at the Outlets Ocean City with top brands like Coach, Under Armour, Adidas, and more.
Delaware Beaches Map
You can use the free beaches in Delaware map by clicking this link.
Delaware's beaches also feature in our east coast road trip guide.
Final Thoughts
Who knew such a small state had so much to offer? Delaware may be tiny, but it's big on character and charm and makes for a great vacation spot.
Whether you're in a neighboring state or ready to hop a plane to spend a few weeks lazing in the sun, you can't go wrong with a trip to the best Delaware Beaches.
Pin to your Delaware planning board for later