This article has links to products and services we love, which we may make commission from.

Dreaming of the most beautiful towns in Maine? The Pine State is popular for its foliage and its coast, which means there is a lovely mix of small Maine towns located in rural settings as well as bustling summer coastal stops.
We'll consider the Maine tourist towns and more remote options for those who like to vacation with fewer crowds.
In this guide, we will discuss the prettiest towns in Maine and what to do there, but you can also check out our guides to the best cities, summer vacation spots and best places to visit, which features mountains, towns, parks and stunning beaches.
Maine's Most Beautiful Towns in Alphabetical Order
1. Bar Harbor
According to footfall, one of the best vacation towns in Maine is Bar Harbor and its fame comes from its location in Acadia National Park on Mount Desert Island!
The overnight base for many travelers to one of Maine's most popular tourist attractions, there are plenty of Bar Harbor hotels and other lodging options for all budgets, as well as lots of restaurants and shops.
Things to do in Bar Harbor
Break the bank at the shops on Main Street, picking up souvenirs at The Acadia Shop or Cool As A Moose.
Take a picture of the Balance Rock on the Shore Path; a large boulder suspected to be the remains from the ice age.
Dine at one of the many restaurants such as pub grub at Geddy's or seafood at Lobster Co.
Most of your activities will take place around Acadia's road called The Loop.
Bar Harbor has a strange yearly event called the Early Bird Pyjama Sale and Bed Race, where locals run down the street with beds on wheels.
Find out more about the national parks on the East Coast.
You may also like our guide to Bar Harbor in the fall.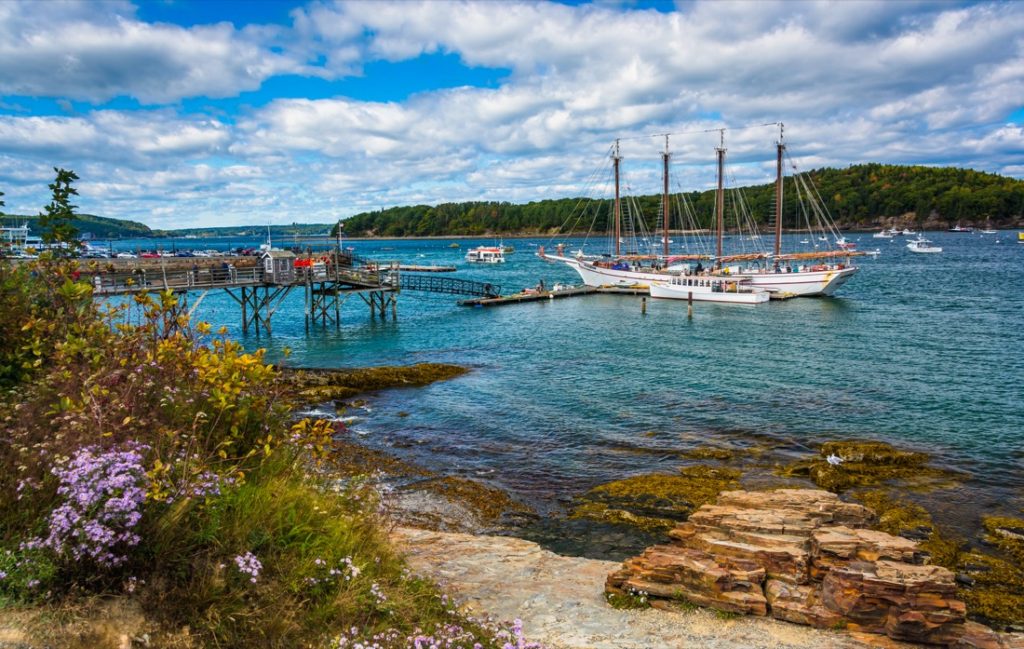 2. Boothbay Harbor
Boothbay is a lovely waterfront town which draws in water sports fans with its kayaking, sailing and yachting opportunities.
The town is also home to the 30-foot-high Burnt Island Lighthouse, located at Burnt Island.
One of the most attractive attractions in Boothbay is the Coastal Maine Botanical Gardens for its Dahlia Garden and huge sculptures!
Things to do in Boothbay
If water sports aren't your thing, there are plenty of other things to do.
Learn about the town's local history at the Boothbay Region Historical Museum or have a snoop around a wealthy captain's house at Castle Tucker and Nickels-Sortwell House.
Music fans should check out what's on at Pythian Opera House and art fans should check out the free sculpture trail.
Boothbay is close to Bath, The City of Ships, which features in our Maine city guide.
3. Cape Elizabeth
Cape Elizabeth is home to the most photographed lighthouses in Maine and that is saying something as there are many!
The striking white Portland Head Light is located on cliffs at Fort Williams Park, which is a 15-minute drive from Portland.
Taking the crown of the oldest lighthouse, Portland Head Light is also the first to be fully completed by federal funding.
It was first lit in 1791 and you can learn more about it at the award-winning museum in the Keepers' Quarters next to the lighthouse.
Things to do in Pretty Cape Elizabeth
Fort Williams Park is 90 acres, perfect for light hikes.
There are also picnic spots in the park.
Dig your feet into the golden sands of Crescent Beach State Park, which has calm waters.
Visit Portland!
Portland is close to Cape Elizabeth and is usually visited as a day trip from the city.
Kennebunk and Kennebunkport
Kennebunk and Kennebunkport are directly located next door to each other, so they are often visited at the same time and are referred to as The Kennebunks.
For some, The Kennebunks are the prettiest towns in Maine, with Kennebunkport enjoying a presidential seal of approval…
This is where Walker's Point, the Bush compound, is situated!
Both towns are popular with tourists all year round, and increasingly more so at winter for the award-winning Christmas Prelude, so expect crowds during high season and in December.
If you plan to stay in one of the lovely B&Bs in this pretty Maine town, make a booking early to avoid disappointment.
Or you can try staying at one of the haunted hotels in Kennebunk and Kennebunkport featured in this guide.
Things to do in Kennebunk and Kennebunkport
There is plenty to do in Kennebunk and Kennebunkport so plan to spend more than a day here if you can.
Hit the shops and dine at Dock Square, arrange beach days at either Mothers Beach, Gooch's Beach or Colony Bay and book a whale watching tour in summer.
Don't miss the cute pastel buildings at the unique Maine Art Hill in Kennebunk.
If you like history, check out the information boards created by the Museums on the Streets team.
There is also this walking tour and a delicious food tour.
Since Maine is one of the whitest states in the US, most of the history you will learn while visiting its towns will be from a white person's narrative.
For more diversity, check out Rev. Lara K-J Campbell's research and Kennebunk Town's local Historian, Kathy Ostrander Roberts's session on YouTube here.
If visiting in fall, photograph the door fall decor and plan to go pumpkin picking at Wallingford Farm.
You might also like our guide to where to stay in Maine for fall foliage to get extra photo ops!
In December, Santa sails in a lobster boat during the 2-week Christmas Prelude.
Plus you can visit decorated houses, do the Christmas tree trail and drink spiked cider and festive cocktails.
Doesn't this make them the best coastal towns to visit in Maine this December? Tell us in the comments!
Kennebunk is also where you will find the famous yellow Wedding Cake House at 104 Summer Street.
So beautiful! It was once the most photographed building in Maine.
The Kennebunks also feature in our summer vacations ideas in Maine guide.
Kittery
Kittery is Maine's oldest town and it has a very large seat called the Big Easy Chair!
Things to do in Kittery
Visit the former defense fort and enjoy expansive views from Fort McClary State Historic Site then head to Chauncey Creek Lobster Pier or Warren's Lobster House to enjoy a riverside lunch.
Downtown Kittery has bright street artwork on its street barriers and hip cafes and restaurants that serve more than just seafood.
Don't forget to pick up pastries at Lil's and stop by Lost Coast for vintage finds in a bright building!
Badger's Island is where you will find a building covered in buoys.
Once you've had enough of looking at this beautiful Maine town head to The Kittery Outlets – America's Maine Street for Outlet Shopping.
Kittery is also one of our favorite day trips from Boston in the fall.
Lubec
Ah, Lubec!
One of the best small towns to visit in Maine because this is where you can catch the first sunrise in the US!
Lubec is super low-key with no malls, theaters or fast food restaurants.
Things to do in Lubec
Visit East Quoddy Head Lighthouse, located on the eastern tip of Campobello Island on the Bay of Fundy but…
surprise… Fundy is actually located in Canada, so you will need your passport.
While visiting Campobello Island, you can also experience Roosevelt Campobello International Park, which preserves Franklin D. Roosevelt's summer retreat home.
We've included Lubec and Fundy in our best places to visit in Maine guide. Do you agree?
Ogunquit
Next up on our list of best towns to visit in Maine is an award-winning beach town called Ogunquit.
Fans love Ogunquit for its food, beaches, coastal walk and liberal vibe.
Things to do in Ogunquit
In Ogunquit, you can eat more than just lobster!
Choose between burritos, omelets, pancakes, acai bowls for breakfast and seafood, pizza, Thai and burgers for lunch or dinner.
The Village Market on Main Street is a popular stop for picnics and road trippers.
So what makes it one of the most beautiful towns in Maine?
Marginal Way, is a 1-¼ miles (just over 2 km cliff walk leading to a cute area called Perkins Cove.
Dogs can do the walk during the off-season.
If it rains during your visit head indoors to Ogunquit Museum of American Art, Ogunquit Heritage Museum in Captain James Winn House or see a show at the Playhouse.
This is one of the best coastal towns to visit in Maine for younger visitors.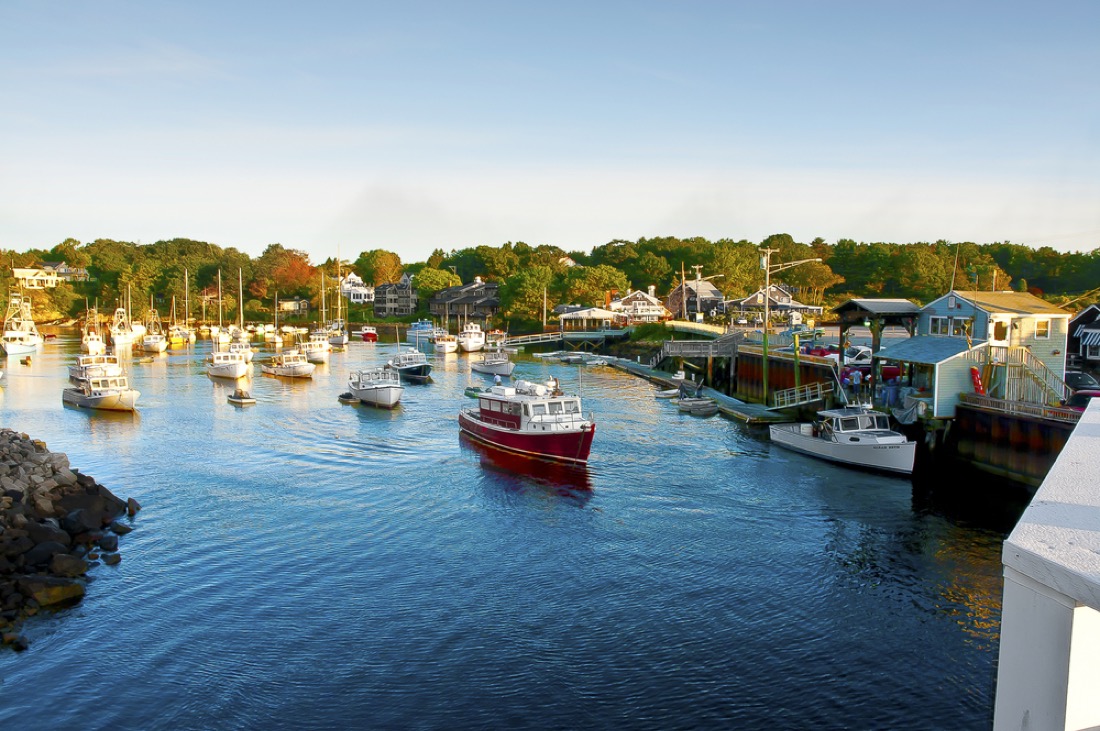 Rockport
Rockport is one of the most picturesque towns in Maine and it is close to its sister town, Camden so it can be visited as part of a dual trip!
Forbes named Rockport one of the US's prettiest cities, and it is known for its arty, chilled vibes.
Rockport Marine Park is a free, public grassy space with boat launches for kayaks.
Music fans should read up on the Bay Chamber Concerts or historic Rockport Opera House schedule and art fans should see what's on at the Maine Center for Contemporary Art in Rockland, which is a 15 minutes drive away.
The area is famous for its Indian Island Lighthouse which was established in 1850.
Roxbury
Roxbury is one of the best towns to visit in Maine in the fall because it is part of the Rangeley Lakes Region.
This is a tiny town with a population of under 500!
Things to do in Roxbury and Around the Area
Enjoy a road trip around The Jewel of the Western Maine Mountains.
Take advantage of The Height of Land Overlook (Route 17, Roxbury, ME 04275) rest stop for views of Mooselookmeguntic and Upper Richardson lakes.
You may also like our guide to hiking in New Hampshire, just over the border from the West Coast mountains on this side of Maine.
Stonington
To get to Stonington you need to cross the Deer Isle-Sedgwick suspension bridge so if you are the passenger, get your phone out to video the gorgeous crossing!
Stonington is located at the south of the Deer Isle which sits on the eastern side of Penobscot Bay.
Things to do in Stonington
Once known for its granite, Deer Isle and Stonington is now appreciated for its solitude, a huge contrast from other popular Main towns in the area!
Life is slow in Stonington but there are still things to do to keep you entertained.
For example, checking out the Lighthouse Trail where you receive a stamp for each of the eight lighthouses you visit.
Visiting the Settlement Quarry for epic views, consider this at sunset.
Or catching a performance at the Opera House Arts then dining out on seafood.
One of the really unique things about Deer Isle is that you can do a day trip to one of the most visited national parks in the US, Acadia.

A day trip to Isle au Haut offers ruggedness and remoteness as passengers have to arrive by boat!
The island has 6 miles (8 km) of paved roads and seven miles (11 km) of unpaved roads which are rough to ride on so you need mountain bikes if cycling.
If you enjoy rambling, there are 18 miles (29 km) of trails.
Sugarloaf
OK, not technically a town but Sugarloaf Mountain in Carrabassett Valley, Franklin County caters for winter sports enthusiasts like any other town does!
Things to do at Sugarloaf
Hit the slopes! There are 160 of them.
Sugarloaf has over 50KM of groomed trails for Nordic Skiing and has hosted premier events such as the U.S. Alpine Nationals, the U.S. Freestyle Nationals, the U.S. Snowboard Grand Prix, the National Junior Olympics, the North American Championship Series, and the S.I.S.E. Cup Eastern Masters Championships.
Adventurous and experienced skiers can take advantage of the cat skiing opportunities at Burnt Mountain.
If you don't want to ski you can snowbike, snowshoe and ice skate instead.
Fill up at 45 North, Bullwinkle's and Java Joes.
Sugarloaf also has a fun annual Reggae Festival that features in our guide to visiting Maine in the spring.
York
Close to the southern tip of Maine, you'll find York, one of the must see towns in Maine for its well known lighthouse.
Mainers and visitors flock to Short Sands Beach, Long Sands Beach and York Beach at the harbor when temperatures start to increase.
At Short Sands, you'll find Fun-O-Rama arcade where you can play skee ball and enjoy ice-cream with 'jimmies' also known as sprinkles or hundreds and thousands.
Nubble Lighthouse at Cape Neddick is located in Sohier Park and was built in 1879.
Nubble was built in 1879 and is located at Sohier Park which you can reach by car.
Each year Nubble has an official summer lighting schedule so the lighthouse looks festive even at night in summer!
Since this is one of the best towns in Maine to visit, expect crowds during summer.
To escape, head to the mountains!
Mount Agamenticus has a variety of hiking trails which take less than an hour.
Here's more on the best East Coast hikes.
Cape Neddick Lobster Pound is a popular photography spot for its dark, wooden building draped in buoys.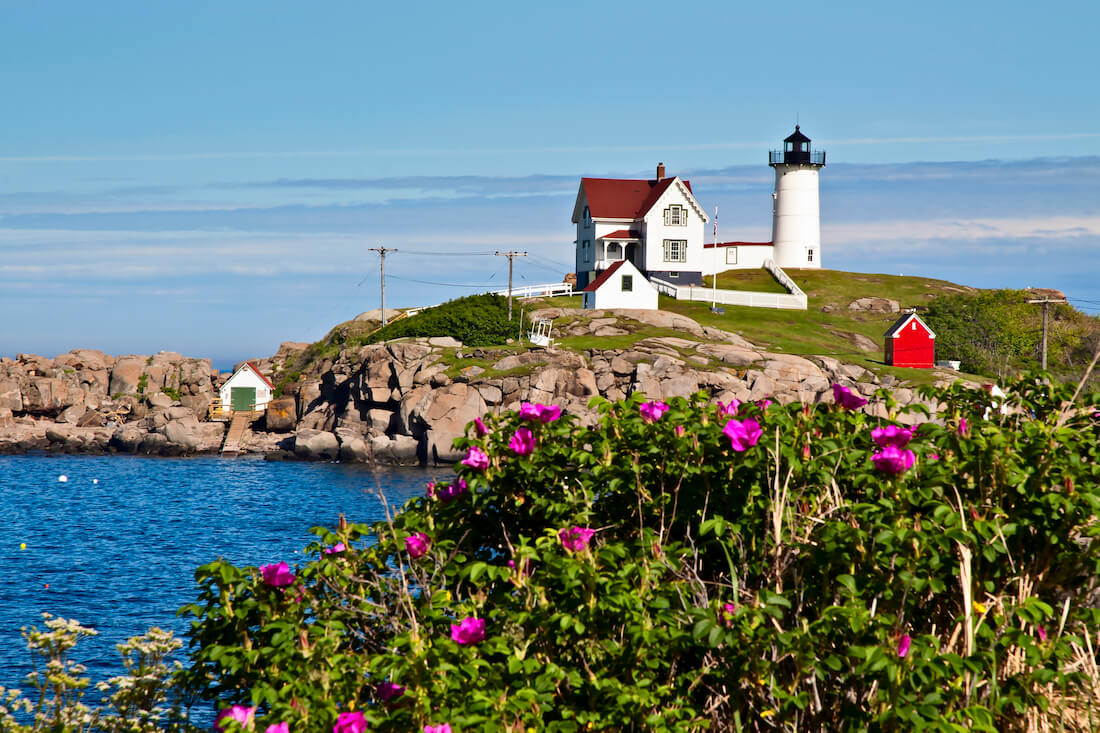 Which of these cute towns to visit in Maine do you plan to visit? Tell us in the comments!