This article has links to products and services we love, which we may make commission from.

Looking for the best beaches in Hilton Head for your summer vacation? Whether you're taking the whole family or looking for a relaxing getaway, Hilton Head Island offers endless natural beauty and tons of fun for all!
The main stretch of Hilton Head beach covers 12 miles of sandy shoreline that draws visitors every summer.
Hilton Head Island's official beach season begins on April 1st each year and lasts through September 30th, which tells you just how beautiful the weather here can be to have such a long beach season!
While there are plenty of other things to do — especially golf — the beaches on Hilton Head Island are what draw people back year after year.
If you're looking for more things to do in South Carolina, check out our guide to spending Memorial Day Weekend at Myrtle Beach and all the fun things to do there.
Alternatively, you might want to explore the best beaches in North Carolina for families if you're taking the kids on a summer vacation.
Beaches in Hilton Head South Carolina
Pine Island Beach and Dolphin Head
Located at the northwesternmost point of the island, Pine Island Beach is known for its rocky terrain.
It is not the best place for swimming, and the natural debris reminds you of another tree-strewn area: Jekyll Island.
What it has going for it is their small picnic area, which has few permanent seats, but a wide area to camp.
Nearby, enjoy even more natural beauty and adventure at Pinckney Island Wildlife Refuge, located between Hilton Head Island and Bluffton.
Full of wetlands and wildlife, you can walk or bike on its trails, observe birds and other wildlife, and be thankful for this natural barrier.
Fish Haul Beach Park
The name itself suggests what the popular activity is at Fish Haul Beach Park, but you can also collect seashells and go crabbing.
This location also has plenty of free parking.
This park has a lot of alligator signs, which is a stark reminder that the area is still very much a swamp.
Prefer to stay far away from any gators?
This parasailing adventure is just about as far away as you could get, while offering stunning views over all of Hilton Head Island.
Islanders Beach Park
Islanders Beach is beloved by locals, giving it a unique vibe on Hilton Head Island.
Islanders Beach Park also has a playground, which comes in handy for the kids who can't or don't want to swim!
It's also great so the kids don't have to be confined to less kid-friendly activities at a resort.
In the spirit of youth, Islanders Beach Park has a beach toy to borrow bin.
Now, we know what you're thinking: Are we really expecting a 7-year-old to take a toy and bring it back?
Maybe that's the point, and the point of life lessons.
Near the entrance of the parking lot, you'll find a stand that resembles a birdhouse that houses free books.
The concept is that if you take a book to read, you'll give another book as a replacement in return — similar to the toy borrowing bin.
The bookstand is called "Take Me To The Sea"' with tiny pebbles on the side.
Looking to teach the kids more important life lessons?
Drive 10 minutes from Islanders Beach Park to visit the Gullah Museum of Hilton Head Island (12 Georgianna Drive).
This area, known as the Low Country, has a rich African-American history.
The Gullah Geechee culture and language shape a unique identity among many Blacks in the American South.
Learn about the Gullah-Geechee culture from a renowned local storyteller and historian, Louise Miller Cohen.
Tours are by direct booking only.
Burke's Beach
Burke's Beach has probably the easiest access of any of the northeastern beaches in Hilton Head South Carolina, with metered parking and a nice trail to the water.
There are no residential properties to navigate or be in the way.
With more open space and no resorts, you'll see flying kites and surfers as part of the landscape.
Take a load off at Sea Salts Beverage Company (10 Surfwatch Way) with a tasty rum punch while you're there.
After enjoying a day at Burke's Beach, drive the 12 minutes across the island to depart on this lovely 2-hour private sunset cruise.
Palmetto Dunes
Situated on the northern part of the east oceanfront, Palmetto Dunes could definitely be considered the best beach at Hilton Head.
This stretch is connected to multiple resorts that you might want to obtain day passes to, including Disney's Beach House, Omni Hilton Head, Marriott, Hampton Place, among others.
Leamington Beach House is a community center where you can find respite before or after hitting the sand.
You'll be able to get through via Shipyard Beach access.
Note: Many of the guest passes for the resorts are at a daily rate.
To maximize the most value for your dollar, arrive within the first two hours of opening; perhaps have breakfast there and then grab your chair.
Coligny Beach
Coligny Beach is the main beach on Hilton Head Island, South Carolina, smack dab at the end of Pope Ave.
Is this the best beach on Hilton Head?
That might be subjective, but it's surely the largest and most popular.
You'll find plenty of rentals to bike, rollerblade, fish, and enjoy other water sports.
While there isn't a traditional pier, there is a small boardwalk to the beach from the parking lots, as well as restrooms to change.
For first-time visitors to Hilton Head Island, Coligny Beach is the showcase beach and an introduction to the rest of the South Carolina beaches up and down the Atlantic coast.
You might be surprised at first: these aren't the deep sun-soaked beaches of Miami, the white sandy beaches of the Gulf Coast, or the black beaches of Hawai'i.
The sand is pale and at some spots hard, but the water comes in deep, creating craters that are perfect for building sandcastles.
The breeze is cool, which is especially needed in the South Carolina heat.
The seagulls and other wildlife bring tranquility, and that's why you came to Hilton Head in the first place.
Note: The beach chairs you see setup look like they might be owned and run by the city; however, they are operated by the nearby Beach Head Resort.
A cabana boy will be walking around taking reservations for the hour or the day.
Looking for more water-based fun?
Drive 7 minutes across the island from Coligny Beach and enjoy this unique 2-hour guided Creek Cat tour.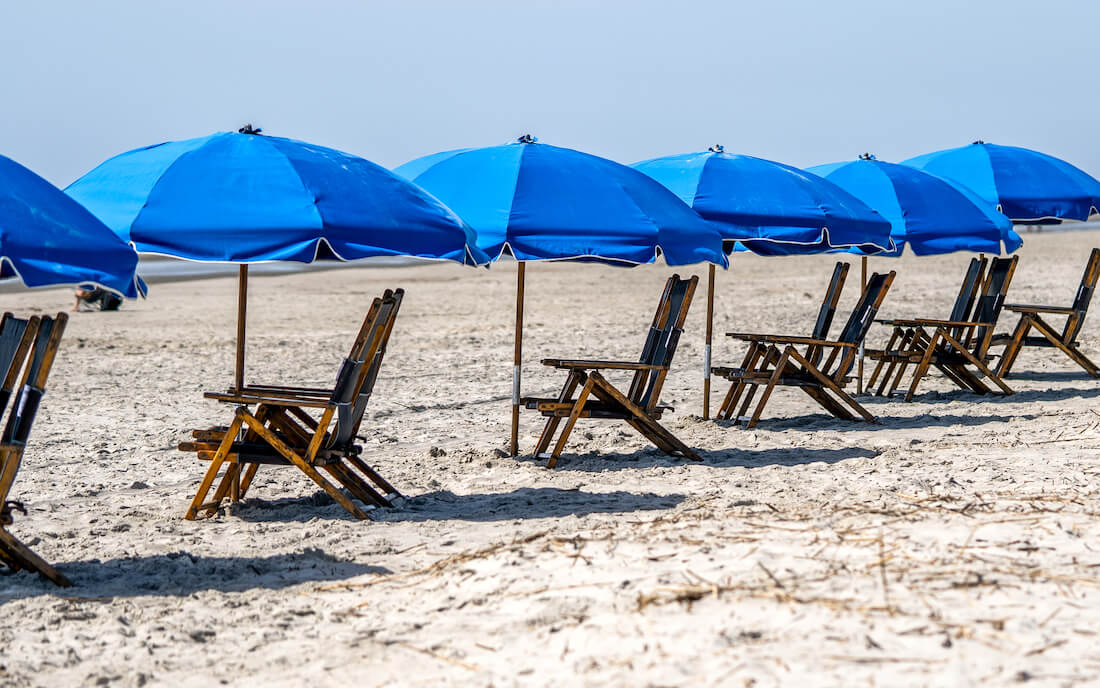 Folly Field Beach
At Folly Field Beach in Hilton Head, there's no rollerblading, no skateboards, and no bike riding.
But you'll find umbrella rentals and showers, and perhaps pick-up games of flag football and beach volleyball.
Folly Field Beach is one of the best Hilton Head beaches for kids.
The houses along this stretch feel like the residents live there year-round instead of second vacation properties and resorts.
That brings a different vibe to the beach altogether.
There is beach access along Folly Field Road.
After a day of fun and games, head to nearby Shelter Cove.
The main attraction here is the shopping itself.
The developed marshland has become a place to enjoy a nice dinner in the town. The band and plaza bring weekly music and civic events to the stage.
There are tons of dining choices that'll whet your appetite, including Wayback Burgers, Poseidon, and Tio's American Kitchen.
South Beach
Tucked away at the southernmost edge of Sea Pines in Hilton Head is South Beach.
South Beach offers a much quieter stretch of oceanfront with views of Daufuskie Island and Tybee Island.
Even though the beach caters to the residents of South Beach villas, and other houses on the block, there is public access to the beach along Sea Pines Drive between Painted Bunting Road and Belted Kingfisher (what names!)
If you've worked up some appetite or need a cool down, hike up 5 minutes north to Salty Dog Cafe or Salty Dog Ice Cream Factory (232 S. Sea Pines Drive), both located at the South Beach Marina overlooking Braddock Cove.
Note: When using a beach affronting a residential neighborhood, use utmost respect by not blocking driveways, blaring loud music, or yelling loudly.
These pathways are adjacent to the residents' backyards.
After spending the day at South Beach, drive 10 minutes to explore Harbour Town.
This community was built around water, with the Harbour Town Lighthouse as a beacon and central meeting.
Take a tour inside the lighthouse, where you'll get a detailed history of the Island during critical periods of American history.
The Hag Point ferry to Daufuskie Island also departs from the Harbour Town pier.
But if you want to jump onto an entirely different adventure, step aboard the Black Dagger to seek out sunken treasure.
This route is especially good with kids, who become pirates for the day.
And, of course, you have to stop for delectable ice cream at Cups and Cones (149 Lighthouse Rd).
Private or Community Hilton Head Beaches
Not all the beach access in Hilton Head is public or straightforward.
While all beaches are public from the ocean to the high water mark, you'll need a public access point to reach each individual beach
To help you plan better and avoid disappointment, these Hilton Head beaches are less accessible, unless you're staying in one of the homes along them.
Alternatively, you can choose to walk or bike to reach these points; it's up to you how far you want to go from your car or accommodations.
Hickory Forest Beach
This is more marsh than beach, with natural debris strewn over the little sand there is.
It is hidden away except for those who live in the subdivision.
Bradley Beach
At Bradley Beach on Hilton Head Island, 11 homeowners have the best access, unless you are walking up and down the sand for miles.
Singleton Beach
Similar to Bradley Beach, unless you are friends or family of the 21 homeowners that align Singleton Beach, access is limited.
However, the particular location and curvature make for some of the most beautiful beach sunrises on Hilton Head Island, if you can manage to get there.
Final Words
We hope this helps you plan your summer beach vacation to Hilton Head.
Did we mention the best beach on Hilton Head Island that you love? If not, please share it in the comments below!
Check out our map of Hilton Head beaches for easy reference.