This article has links to products and services we love, which we may make commission from.

Organizing a trip to Bar Harbor in fall? While it is a gorgeous year-round destination, Bar Harbor in October is truly incomparable and is one of the most popular times to visit for good reason.
Located on Mount Desert Island by Frenchman Bay in Maine, this town is a busy stopover for those visiting Acadia National Park.
Mount Desert Island is the sixth largest island in the country, it has it all; from sweeping cliffs to rocky beaches to thick forest, you can sightsee, hike, swim, sail, bike, kayak and more.
Not sure where to stay in Bar Harbor?
This guide will help you find the best luxury option, but if you need more affordable option, check out this guide, and if you want to bring your furry friend on vacation, this guide has the best pet friendly hotel options.
Best Things to do Outside in Bar Harbor in Fall
If you're coming to see Bar Harbor fall colors, you have to spend time in Acadia National Park.
Since it is nearly 50,000 miles you could come a dozen times and still feel as if you haven't made a dent but there are a few must-see spots that you need to visit before your trip is over.
Acadia National Park
Acadia National Park is one of the country's top 10 most visited national parks and draws people to Bar Harbor in the fall for the incredible views and foliage.
You can take a self guided driving tour to cover the most ground.
Most visitors stay overnight for two nights at Bar Harbor and enter the park each day.
It is recommended that you reserve your accommodation ahead of time, especially during fall in Bar Harbor as this is a busy time of year.
One of the most popular things to do in Acadia National Park is to drive up Cadillac Mountain which needs to be booked before your visit.
There are many of fall viewpoints in Acadia, including Eagle Lake Overlook.
Stretch your legs at Jordan Pond Trail, which is a relatively easy 3.1-mile loop trail near Mount Desert.
Another hike to consider is the Bubble Rock.
For sunset, drive to to Bass Habor Head Lighthouse which sits on the rocks.
You may also like our guide to the most best places to visit in Maine and must-do visits for fall in New England.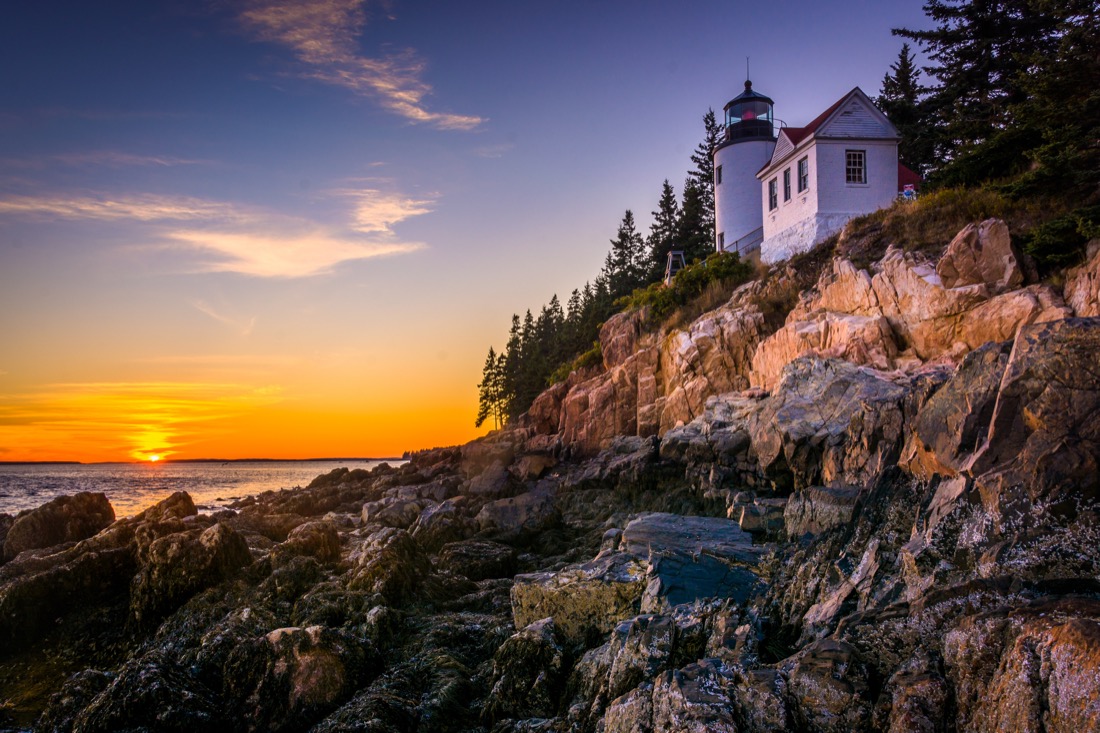 Hulls Cove Visitor Center
Your first stop in Acadia National Park needs to be the Hulls Cove Visitor Center.
Not only does the center have its own interesting history, but it also is the spot to purchase your entrance pass to the park, ask a ranger all of your questions, and pick up a souvenir.
Frenchman Bay
Known as "Maine's most dramatic bay", Frenchman Bay is a beloved spot for catching the sunrise, watching the lobster boats, and taking in the incredible views of the Bar Island, Bald Porcupine, Sheep Porcupine, and Long Porcupine Islands.
It is named after Samuel de Champlain, a French explorer who visited the area in 1604.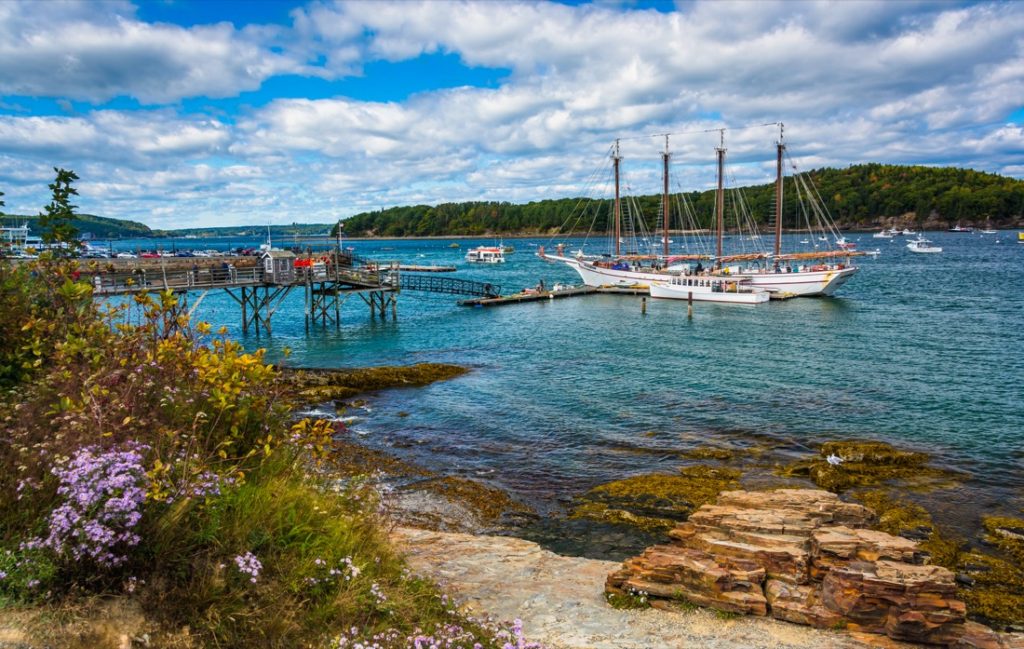 Bar Island Land Bridge
The "bridge" of the Bar Island Land Bridge is actually a sandbar that is only accessible between two hours before and two hours after low tide.
This bridge will give you a path to explore the beauty of Bar Island.
Asticou Azalea Garden
Located at Northeast Harbor, Asticou Azalea Garden (ME-3, Mt Desert) puts on a lovely fall show.
Enjoy the zen of the green space, reflections in the pond water, and the color pop from the plants.
Donations welcome.
Indoor Activities in Bar Harbor in Fal
Temperatures in Bar Harbor, Maine in the fall hover around the 50s, but that will drop down at night or on a rainy day, so having some indoor options ready to go is always a smart idea.
Don't let the inclement weather ruin your plans, bring the kids to the natural history museum or catch a film at the historic theater or curl up with a good book and some hot chocolate.
Abbe Museum
Abbe Museum has a downtown Bar Harbor and an Acadia National Park location.
Both spots educate visitors on the history and cultures of the Native people in Maine, the Wabanaki.
George B. Dorr Museum of Natural History
The George B. Dorr Museum of Natural History has a tide pool full of aquatic critters and a diorama of coastal Maine wildlife.
It encourages visitors to touch and experience the exhibits.
Sherman's
Maine's oldest bookstore, Sherman's, has nine shops along Maine's coast, including its original location, Bar Harbor.
Not only will you find a book on every topic you could ever imagine, but they also have meet and greets, book signings, and other literary events.
Criterion Theatre
For nearly a century, Criterion Theatre has been an iconic establishment on Mount Desert Island.
You can catch a film most days, or if you're lucky, you can see a live music or comedy event.
Sightseeing in Bar Harbor in Fall
There are so many fun things to do in October in Bar Harbor but if you're only coming for a short trip its hard to see and do it all.
Taking a sightseeing tour is not only a great way to cover a lot of ground but the guides will tell you all sorts of interesting information.
So whether you want to spot a whale or a ghost or you'd rather tour the town via cafes and restaurants there's tons of sightseeing options.
Bar Harbor Whale Watching Co.
One of the most well known activities in town, Bar Harbor Whale Watching Co., offers a variety of seaside adventures, but the whale watching tours are the most popular.
Enjoy a half day in the Gulf of Maine learning about the local species while trying to spot a whale.
Bar Harbor Ghost Tours
Every night at 8 pm prepare for the scare with Bar Harbor Ghost Tours as you learn about the spookier side of the town and try to spot a ghost of your own.
Walking Culinary Tour
This culinary walking tour is a great way to explore the town and learn about its history while trying some of the most delicious options from the most popular eateries.
The tours lasts three hours and provides samples from multiple local eateries.
Oli's Trolley
Oli's Trolley offers narrated tours of Acadia National Park and downtown Bar Harbor.
Give your legs a rest while you learn something new, and get your camera ready for Bar Harbor fall foliage snaps.
Downtown Bar Harbor
The colorful and charming downtown Bar Harbor is full of insta-worthy photo ops and little cafes, art galleries, restaurants, gift shops, boutiques, bars and more, all in one little area.
Where to Eat or Drink in Bar Harbor in Fall
Honestly, there are very few places that aren't worth stopping in for a little treat, cup of coffee, or of course a lobster roll (or two, we won't judge.)
One of the greatest things about Bar Harbor is that it's a fairly small place so you can easily make a good dent in the foodie scene even if you only visit for the weekend.
Galyn's
If you wander down to Bar Harbor town pier, you must visit Galyn's and try their delicious seafood while admiring the incredible views outside and relaxing in the cozy spaces inside.
Choco-Latte Cafe
Do gourmet chocolate, freshly made bagels, and organic coffee roasted in Acadia sound good to you?
You'll have to make a stop at Choco-Latte Cafe!
Atlantic Brewing Company
With two locations, you have to visit Atlantic Brewing Company at least once.
Their Midtown, a modern brewery and taproom in downtown Bar Harbor and Town Hill, a brewery with a BBQ in a quaint country setting.
Jordan Pond House
Located inside Acadia National Park, Jordan Pond House is infamous for its tradition of popovers and tea and the beautiful views you can enjoy simultaneously.
Festivals in Bar Harbor in Fall
There are so many cool things to do in Bar Harbor, Maine in autumn.
All over Maine there are dozens and dozens are festivals in the fall, but when you come to Bar Harbor you can enjoy a classic Oktoberfest or an unusual nighttime festival.
Plus if you have the time, take a short trip to Bangor for one of the state's biggest and most well known fall festivals.
Acadia Night Sky Festival
Every September, the Acadia Night Sky Festival has programs, events, and activities to learn about astronomy and promote the protection of the night sky.
Acadia Oktoberfest
Acadia Oktoberfest is a weekend full of shopping, live music, eating, wine tasting, beer tasting, games, contests, artisan crafts and sightseeing at Bass Harbor.
Maine Harvest Festival
About an hour west of Bar Harbor, Maine Harvest Festival in Bangor celebrates the state's best vintners, brewers, distillers, artisans, fresh farm produce, food, and more.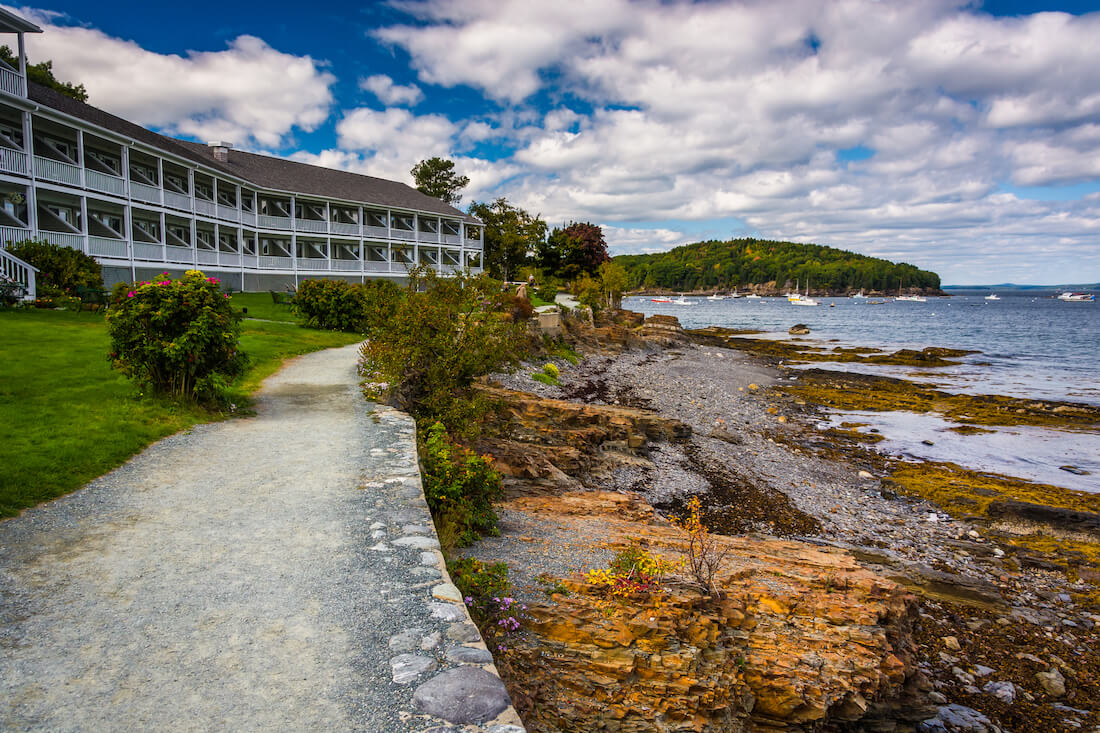 Bar Harbor Fall Map
If your main motivation is to see the gorgeous trees changing color (and who could blame you?) this website has all the details on Bar Harbor peak fall foliage.
Final Thoughts
If going to Maine in the fall has been on your bucket list for years, now is the time to make it happen!
Go explore the great outdoors or live a cute coastal life in town or find a perfect balance of the two, you won't regret it.
Want to explore more of Maine? This guide will help you find the best mountains, beaches and cities for your next trip and this guide is all about our favorite towns in Maine that we know you'll love too.