This article has links to products and services we love, which we may make commission from.

3 days in Miami is ample time to get a flavor of what this vibrant South Florida city is all about.
This 3-day Miami itinerary reveals how to spend each day, starting in the morning through until night. It will even provide ideas for those looking to party all the way to sunrise.
Miami is a city of neighborhoods and each one offers its own unique flair, culture, food, and things to do. Since it is possible to spend time in multiple areas in a day, our Miami weekend getaway advice will show you how!
We appreciate that not everyone's travel style is the same so we've shared multiple options for you to pick and choose from which means you can build your own itinerary, for free.
It is worth noting that Miami and Miami Beach are two cities connected by bridges. You could easily spend a weekend in Miami or Miami Beach alone or do a day trip or evening while being based at the other. We'll include some ideas so you can experience both the Magic City and the beaches and art deco of South Beach in Miami Beach.
How to Spend 3 Days in Miami Itinerary
We've taken the stress out of the big question, 'how do I plan a trip to Miami' by splitting each day into morning, afternoon, and evening.
Let's get started with day one.
If you don't actually have three days in Miami, check out our guide to 24 hours in the city.
Day One in Miami
Your first morning in Miami sees you cigar shopping and salsa dancing in the city's Cuban and Latin American neighborhood, Little Havana.
Then in the afternoon, you'll get the chance to see the city skyline from Biscayne Bay.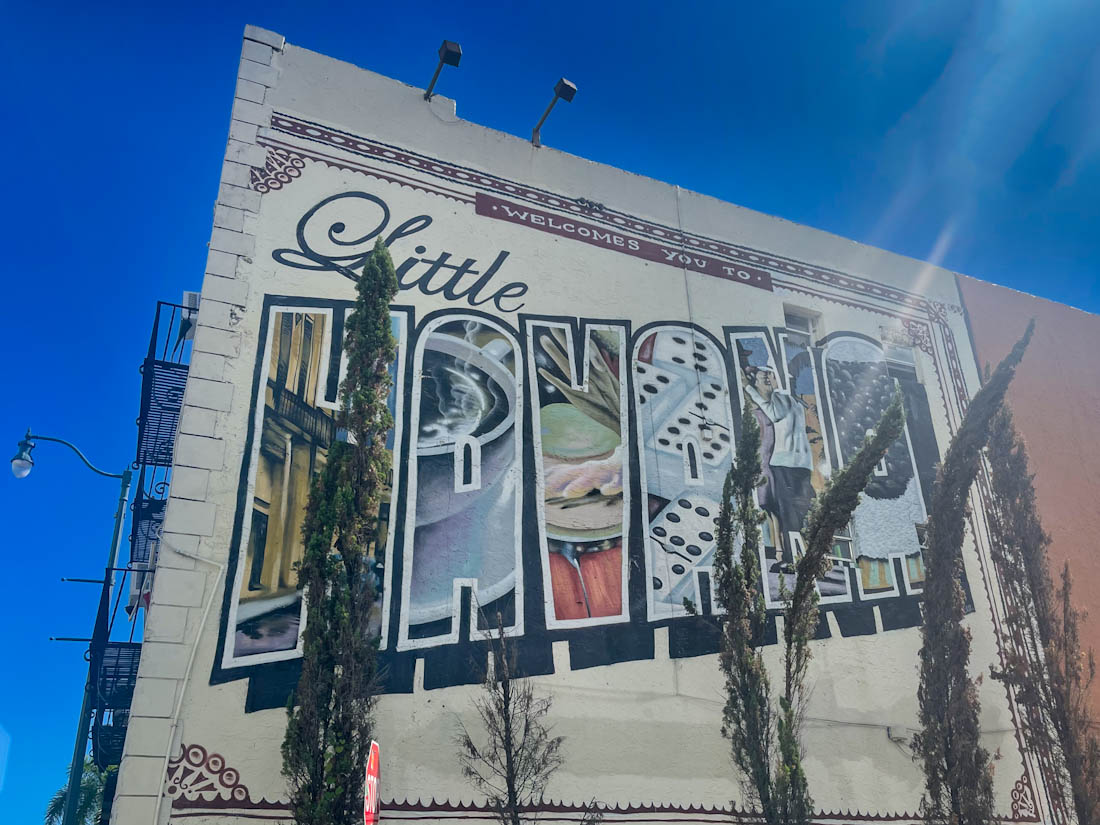 Morning: Little Havana – Salsa, Cigars, & Azúcar
Hopefully breakfast isn't offered by your accommodation because you will want to try Cuban desayuno, which means breakfast in Spanish.
The most popular Little Havana restaurant is Versailles (3555 SW 8th St), the cultural hub established in 1971.
You will also find a filling breakfast at El Palacio De Los Jugos (1545 SW 27th Ave), another local favorite.
Once you've demolished your eggs, bacon, and Cuban toast, hop in a taxi to Calle Ocho, the heartbeat of Little Havana.
At Calle Ocho you can see cigars being made by rollers, watch locals play dominoes at Maximo Gomez Park, pay your respects at The Bay of Pigs memorial, eat gelato at Azúcar, and listen to live music at the Ball & Chain.
If you want to spend more time here during your Miami weekend trip, check out our guide, things to do in Little Havana, which details what to do, where to eat, and tips for visiting.
Next up on our Miami three day itinerary, is Downtown Miami, which can be reached by taxi or trolley.
Afternoon: Miami Downtown and Biscayne Bay Tour
If you ask locals what to see in Miami, they will most likely suggest enjoying the city from the water.
There are a number of tours that allow you to either sail along or make a big slash in Biscayne Bay.
This cruise sails to Miami's islands and by the million dollar homes, then to South Beach in Miami Beach.
Alternatively, you can join a jet-ski tour, where the company drops you off by platoon boat then you zoom about the bay, with or without a guide.
After your water based adventure, take a stroll along the Miami Riverwalk at Bayfront Park, and grab lunch or a drink at Bayside Marketplace.
Other Downtown attractions include the rooftop at Area 31 (270 Biscayne Blvd Way), museums, and art galleries.
Read our guide, things to do in Downtown Miami for more.
Night: Brickell
Right next door to Downtown is the shiny skyscrapers of Brickell.
At first, Brickell, which is named after Mary and William Brickell, one of the first real estate families in the city, appears to just be an expensive residential and office area.
However, behind the glistening facades of the towers is a number of nighttime attractions.
Shop, dine, drink, and play at the Brickell City Centre (701 South Miami Ave) entertainment space.
Reserve a sought-after table at the 40th floor of the EAST Miami hotel's rooftop bar, Sugar (788 Brickell Plaza #40) or La Mar on the lesser-known Brickell Key (500 Brickell Key Dr).
For more things to do at night Miami, read this guide.
Day Two in Miami
The morning of this 2 days in Miami guide is immersed in street art at Wynwood, then continues with a creative theme, with a trip to the chic Design District.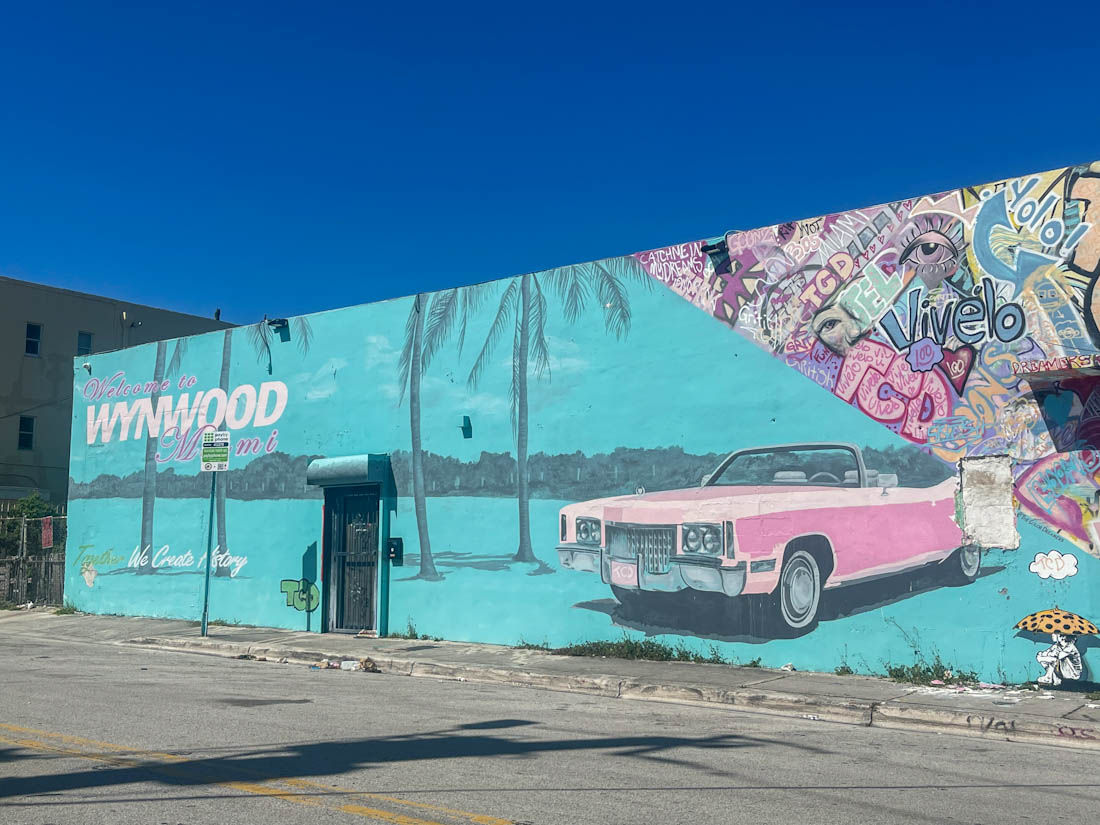 Morning: Wynwood for Street Art
Since day visits to Wynwood are mostly spent outdoors, it is best to visit Wynwood in the morning to avoid the midday sun.
But you'll also want to return at night to sample the epic nightlife, especially if you are into live music.
The most popular thing to do in Wynwood is to visit the murals splashed on the open air museum of Wynwood Walls.
You can do this self-guided or as part of a tour led by a local art enthusiast.
Alternatively, you can just experience the art "outside of the walls", as all of the streets around this colorful Miami neighborhood are covered in murals.
For food, consider Wynwood Marketplace, Zak the Baker (295 NW 26th St), Mad Butcher (2300 NW 2nd Ave), or Coyo Tacos (2320 NW 2nd Ave).
Our guide on things to do in Wynwood reveals where to find some of the best murals as well as other fun attractions.
Afternoon: Design District for Shopping
From Wynwood, Miami's Design District can be reached by foot, free trolley or taxi.
There's nowhere else like the Design District in Miami, or even anywhere else like it in the state of Florida.
While most visit to give their credit cards a good workout at the lux stores, others go to see the incredible contemporary art and architectural design that makes up the car garages, storefronts, and social areas.
Here you can swing in two person hammocks, slide down a pink chute in a car park, and enjoy a designer stamped espresso at the Dior Cafe!
Find out more in our guide to the best things to do in the Design District.
Night: Partying in Miami
If you are in Miami to hit the dance floor or just enjoy a drink in a unique bar, there are plenty of choices in Wynwood, Brickell, Downtown, or over in Miami Beach.
Even if you've visited Wynwood during the day, it is well worth going back at night as it becomes unrecognizable when darkness falls.
Here you can brewery hop, listen to vinyl parties at Dante's Hi-Fi (519 NW 26th St), dance to DJs at the OG, Gramps, sneak into a speakeasy at Mad Butcher (2300 NW 2nd Ave) or Coyo Tacos (2320 NW 2nd Ave), sing karaoke at 1-800-Lucky (143 NW 23rd St), or sip on drinks at the rooftops of at ASTRA (2121 NW 2nd Ave) and Jungle (51 NW 23rd St).
Gramps does a cool Christmas bar if you are spending three days in Miami in December.
If you prefer to stay more central to Downtown and Brickell, here you'll find international DJs Club Space, live bands at The Corner, or the infamous event space and str1p club, E11ven.
Alternatively, if you're ready for Miami Beach, the most famous club, LIV, is located in the Fontainebleau Hotel.
Other night activities at The Beach include experiencing the Art Deco hotels all lit up around Ocean Drive and dining at Gianni's at Villa Casa Casuarina for a romantic Miami date idea.
While this guide provides plenty of options for 3 nights in Miami, you may also find our guide to Miami at night useful.
Day Three: Miami Beach or Coconut Grove & Coral Gables
Since today is your last day in Miami, you'll need to make a tough decision on how to end your trip on a high.
This weekend getaway to Miami itinerary provides three options, a South Beach day trip, food and culture in Coconut Grove and Coral Gables, or a day trip to the wild Key West.
Miami Beach
While you can just spend a morning in Miami Beach you won't see much during that time.
Hence why we suggest going big or going home by committing a full day of your weekend in Miami itinerary to 'The Beach'.
If cool buildings, fit people, and the Atlantic Ocean is your vibe, I think you'll agree with us!
Morning: South Beach
South Beach (SoBe) was the first neighborhood carved out of the swamps that Miami Beach once was.
Public transport between Downtown Miami and Miami Beach isn't ideal, the quickest option is to book a car share ride or take advantage of the hop on and off bus tour.
Alternatively, if you like to walk around cities, the Venetian Causeway is a number of bridges that connect the city with the beach while directing you past million dollar homes!
Starting at the southern tip of Miami Beach is South of Fifth, or SoFi, where you'll find South Pointe Park.
This is a spot where locals and visitors like to watch the cruise ships come in.
The park also has a pier and a beach, which draws in fewer crowds than the touristy South Beach.
For food, head to Joe's for the South Florida favorite, stone crabs, or enjoy big plates of comfort food at Big Pink.
Next, make your way up SoBe, to the Jewish Museum of Florida (301 Washington Ave), where you can learn more about the Jewish community in Miami.
Afternoon: Ocean Drive or a Pool Party
One of the coolest things about Miami Beach is the Art Deco, known as Tropical Deco, buildings designed around Ocean Drive and Collins Avenue.
Many of the buildings are hotels with bars and restaurants so you can visit the interior as well as appreciate the facades.
We go into a lot of detail about many of the Art Deco hotels in this guide including, The Avalon, The Essex, and The Tony.
Alternatively, if your 3 day trip to Miami isn't complete without a pool party, plan your vacation around Hyde's weekend events, Goodtime Hotel's Strawberry Moon pool, book a room at The Clevelander, or get a day pass to use Nikki Beach's cabanas.
Night: Ocean Drive & Clubbing
To really see Ocean Drive in all of its glory, you should swing by at night to check out the neon pinks, greens, and purples lights!
There's plenty of dining opportunities in Miami Beach such as Prime 112 (112 Ocean Dr), which is located in the oldest building on the barrier island, Gianni's at at the Villa Casa Casuarina, the former Versace Mansion (1116 Ocean Dr), and Time Out Market (1601 Drexel Ave).
If clubbing is your scene, Liv (4441 Collins Ave), Story (136 Collins Ave), and Mr Jones (320 Lincoln Rd) all provide the typical Miami Beach extravagant night with music, steamers, and big drink bills – is that your style of 3 day Miami getaway, tell us in the comments!
Find out more in our guides to Miami Beach, South Beach, and Art Deco hotels.
Coconut Grove & Coral Gables
If affluent areas with lots of history are more your thing, consider spending the day in the first neighborhood built in Miami, Coconut Grove, and, one of the first planned communities in South Florida, Coral Gables.
We've not stipulated which neighborhood to visit in the morning or afternoon as it really depends what you want to do there.
The Grove is a fun place for those who like to people watch, house hunt outside of their budget, and brunch or lunch!
For brunch, book a table at GreenStreet Cafe (3468 Main Hwy), or for lunch grab pizzas at Harry's (2996 McFarlane Rd).
Visit Charles Avenue, which was initially called Evangelist Street, to find out more about the first Black community in mainland South Florida who arrived from the Bahamas in the 1800s for work.
Look out for the century old giant oaks, hardwood hammock, and banyan trees, as well as the roaming peacocks!
Enjoy a drink by the marina at Monty's (2550 S Bayshore Dr) or the Bayshore Club (3391 Pan American Dr), the latter is located next to the Art Deco Miami City Hall which can be reached by trolley.
Find out more in our guide to Coconut Grove.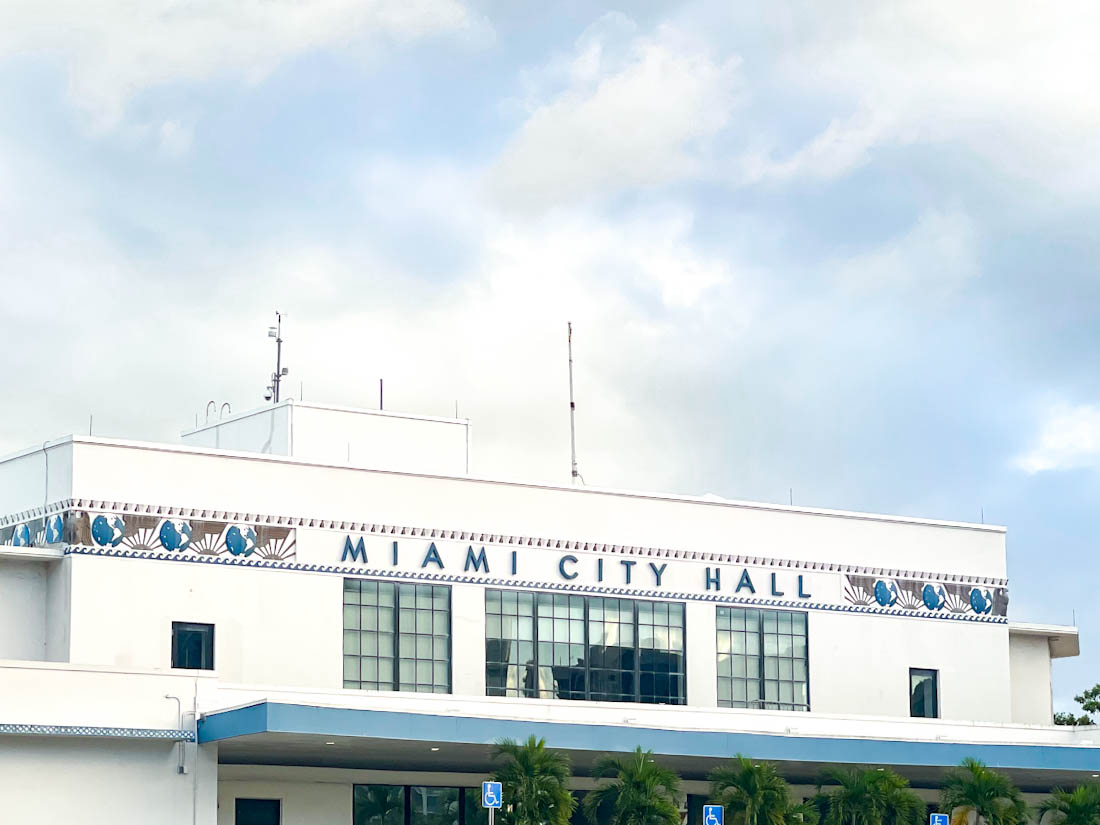 Coral Gables is also referred to as The City Beautiful, and is George E. Merrick's Mediterranean Revival creation.
This is the perfect neighborhood for those planning to see architecture and learn more about the history during their 3 day weekend in Miami.
Wander along the Magnificent Mile, stopping at Books and Books for a coffee in the courtyard or an ice pop at Morelia Gourmet Paletas.
At the end of the street you'll find Coral Gables City Hall (405 Biltmore Way) and a statue of Merrick.
Avid fans can also tour Merrick's home (907 Coral Way), or his finest hotel building, The Biltmore.
Cool off in the stunning Venetian Pool (2701 De Soto Blvd) which opened to the public in 1924.
Find out more in our guide to Coral Gables.
Coral Gables also features in our guide, things to do in Miami.
A Day Trip to Key West
If two days in Miami feels like enough you can take a day tour from Downtown to Key West, which is part of the lovely Florida Keys archipelago!
This bus tour departs from Bayside Marketplace or Ocean Drive early in the morning and arrives back late at night, giving you a solid day in Key West.
The trip includes a drive over the Seven Mile Bridge, with a comfort stop along the way.
In Key West, you can visit Hemingway's home (907 Whitehead St), climb the steps of the Key West Lighthouse Museum (938 Whitehead St), visit the southernmost point in continental USA, and party on Duval Street.
Find out more about this Miami day trip option in this guide, and more in our romantic things to do in Key West.
Did you decide to spend 3 days in Miami and Key West? Do let us know.
Final Words
Sheesh! I'm tired just writing this 3 perfect days Miami article.
Honestly, Miami is such a fun city, regardless if this is your first time or tenth time, there will always be something new to do.
Did we miss anything on our guide to Miami in 3 days? Tell us in the comments!
Miami Travel Tips
Parking in Miami
As with most US cities, parking is at a premium rate in Miami so it is recommended to the leave car behind if you are staying a beach or city hotel.
Hotel parking rates can be found for around $40 per night.
PayByPhone or SpotHero apps can help you find street parking or parking lots.
Drinking then driving is not tolerated in Miami and there are sobriety tests around the city.
Make sure you have a designate a driver if drinking, or use ride shares such as Uber or Lyft.
Getting Around Miami
Downtown and Brickell can be accessed via foot or Metromover.
Buses and the free trolleys connect other neighborhood but crowds can create long wait times, so download the transit tracker before you arrive.
Most locals drive or book taxis via car share apps like Uber.
Alternatively, consider e-scooters or e-bikes for Downtown.
If you are visiting Miami for the first time and fancy a tour that saves your feet, there is a hop on a half-day bus tour with a multi-language audio guide.
Arriving in Miami
There is one airport in the city – Miami International which is 7 miles from Downtown, some visitors arrive via Fort Lauderdale, which is 25 miles from Downtown.
Miami has some train options.
Amtrak's station is located 8303 NW 37th Avenue and the South Florida local link Brightline is located at 600 NW 1st Ave.
Miami Map
Here is a map of Miami with all of the attractions, hotels, bars and restaurants discussed in this 3-day Miami itinerary.
Our Miami Guides
Miami By Neighborhood